A friend asked for some tips on packing lower-plastic and lower-waste lunches for her school-age son. This rather surprised me, since this particular friend is genuine cloth-diapering, Keystone XL Pipeline-protesting, etsy-craft-selling kind of girl. And in fact, when further questioned, it turned out my friend was already packing a pretty green lunch, but was looking to cut down on some of the "stuff-in-baggies" problem that plagues the sack lunch.
Sandwich in bag, cheddar bunnies in bag, granola bar in bag, baby carrots in bag…and a lot of those bags tend to be plastic. But that's what kids do: they make even the most well intentioned of us cut a corner here and there in the name of day-to-day sanity and survival. Let's not get into the styrofoam contains that cluttered my trash can in December after take-out Pho night (I needed it to get through the holidays, I swear!). Right, moving on…
Since I pack daily lunches for Homebrew Husband, our second grader, and often the toddler and me as well, I should have it down by now. But a lot of time I'm looking around for something a kid will eat at 11 pm or 7 am and thinking, in my haze, "this is why people buy those industrial sized boxes of Fruit Snacks."
When I am organized and prepared, it is as easy to throw together a low-waste lunch as it would be to throw together a convenience component lunch. It's just that about half the time I've fallen off the "organization wagon" and find myself at 11 pm with no bread. Still, no one ever goes hungry.
Let's take a look at a typical low-waste kids lunch in our house. This was Bella's lunch yesterday: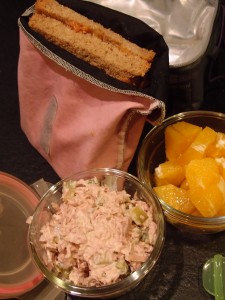 You're looking at a PB & Peach Jam sandwich on homemade honey-wheat egg bread, orange sections and what we call "tuna mayo." I guess the rest of the world knows tuna mayo as tuna salad, but I never add anything "salady." There are no onions, carrot dice, celery bits or garlic. There is never pepper or mustard, because my kid can detect even 1 part per million of anything spicy in her food. There is only tuna, mayo, and (occasionally) diced up lacto-fermented pickles. We also do salmon mayo and chicken mayo. Anything with mayo is a hit with my daughter
Sandwiches and dryish snacks like dried fruit, nuts, jerky, cheese, hard fruits and veggies, and treats like cookies or zucchini bread or homemade granola bars usually get tucked in a washable reusable bag. I have a few ReUsies cloth snack bags, and several my mom made for me as a gift in a similar style. Wet stuff, like tuna mayo, oranges, pears, pasta, yogurt and the like get packaged in a reusable lidded container.
We have a bunch of old rigid Rubbermaid plastic containers that store leftovers and lunch components, but slowly we are transitioning to these predominantly glass SnapWare style containers when the sets go on sale at Costco and they become more reasonably priced. In a pinch, I've also sent Bella into school with glass canning jars fitted with a plastic screw-on lid. Those lids aren't 100% leakproof, though, and you just can't expect a school lunch box to not get tossed around, so canning jars aren't my first choice.
Because the bread, jam and pickles are homemade, and the oranges come with their own convenient compostable container called a peel, the only direct waste from this lunch is one recycled tuna can. Technically some fraction of the plastic mayo jar and peanut butter container waste would be "owned" by this sandwich, but that's getting quite nitpicky.
My kid is pretty responsible, so we don't lose too many spoons or containers, and she is good about bringing back leftovers for reuse or composting.
The one thing I worry about in packing lunches like this is that my kid will feel weird. I mean, she likes to eat a big bowl of tuna mayo (she specifically requests it, actually) but she also notices that everyone else in her class eats food that comes in a shiny foil wrapper, and that other kids have GoGurt tubes while she has a glass container of homemade plain yogurt cheese topped with maple syrup (which is divine, by the way). I worry she's going to be the mostly-all-natural, odd-girl-out in a few years, when kids really start to pay attention to that stuff.
If you pack lunches for big or little people, including yourself, how do you minimize waste and maximize homemade in the process? Do your kids eat homemade, or do they put their foot down for food with cartoon character branding?
1