So you picked up a copy of Wild Fermentation and became a lacto-fermentation groupie, huh? It happens, I get it, it happened to me. And why wouldn't you want to ferment everything in sight? The result is tasty, nutritious, rooted in the oldest traditions of food preservation and kinda badass in a "I dance with the microbes in the pale moonlight," kind of way.
But, in the immortal words of Gregory House, "microbes can be sneaky." Lacto-fermentaion can go wrong…wrong temperature, wrong salt, wrong brine strength and you end up with pickles no one is going to eat.
Dixiebelle over at Eat At Dixiebelle's talked recently about some fermentation troubles she's been having. It can be discouraging to jump head first into the brined life only to discover that there are pitfalls in the art and science of lacto-fermentation. Although I maintain that lacto-fermentation is the easiest food preservation technique going, I've run into some weird stuff and you might too.
Here's how to know if your weird stuff isn't actually that weird.
First, a disclaimer: if your lacto-fermented stuff is slimy, slippery, super mushy, funky smelling (in a bad way, not a normal pickle way), changes color dramatically (like it turns pink) or otherwise appears to be weird in the ferment itself, chuck that shit out and don't eat it. Let's be honest: no one reading this blog on their iPad or their Dell laptop is actually facing starvation if they throw out their tenderly-made but now-questionable pickles, so why risk it? For details, check this out this safety sheet on what is and is not acceptable in pickled products.
Now that we've gotten that out of the way, the vast majority of sketchy stuff you'll see when you ferment is just fine and isn't going to hurt you, assuming you've followed some basic fermentation rules:
Keep it clean – all jars, weights, utensils, etc. should be strictly clean. I don't necessarily sterilize, but I make sure crocks, etc are sparkling clean and free of any residue.
Keep it under brine – you must weight down your 'kraut or your pickles or your beans, all the way. They will want to float to the top. Don't let them. Fermentation is an anaerobic process. Add air and you get rot.
Keep it salty – especially as you start out, follow an established recipe for brine strength or ratio of salt to cabbage for sauerkraut. I swear by Sandor Katz's brine ratio of 3 tablespoons sea salt to each quart of water for brining.
If you've done all of the above, and you are seeing weirdness in your ferment, chances are you are looking at surface yeasts or molds.
A whitish bloom that covers the surface of the ferment and is often described as "scum" is probably wild yeasts growing on the brine surface where they have access to air. The edges of this picture show the whitish scum. This is totally normal. Skim off and discard.
If white or bluish splotches that sit like unwelcome lily pads on your brine show up, floating on your brine, your ferment has grown little mold colonies. They are also taking advantage of the air-contact space on the top of the brine. While gross, these are also normal…ish. Skim off and discard.
The important thing to remember about either of these scenarios is that they are a surface issue, and the ferment, which is submerged, is protected by the salty/acidic brine. Again, anything unexpected inside the ferment itself is always grounds for starting over from scratch.
So now that you know what is normal, I'll come clean about my own fermentation head-scratcher situation. The other day, I noticed something funky on my own batch of kraut. It was a little freaky, I'll admit, and not something I'd ever seen before on a ferment.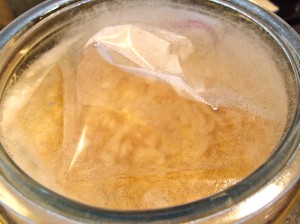 There was a whitish, fuzzy mold growing around the perimeter of my glass kraut crock, between the ziplock baggie filled with water that I used to weight down the sauerkraut and the glass lid. It looked like the kind of mold that might grow on a strawberry or a peach. Normally, I'd file this under "don't risk it" and sadly toss out my kraut.
But, when I carefully removed the baggie and the mold that was attached to it, and wiped away all visible signs of the mold from the edge of the jar, underneath the baggie my sauerkraut was pristine. It had good texture and color and it smelled right.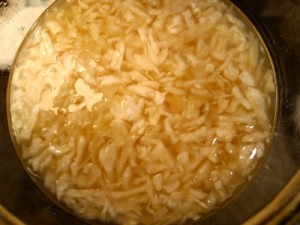 It's been a few days and the kraut has stayed mold free. I replaced the mold-covered, water-filled baggie with a new, clean, water-filled baggie. (Yes, I am aware that it is not ideal to use plastic like this in a ferment that gets acidic and I'm working on a suitable substitute weight for these glass crocks.)
As of now, the kraut still looks good, smells good and tastes good – I tasted it and I'm still here to tell the tale. I'm thinking it's time to move this ferment into refrigerated cold storage, but that it is still safe to consume.
However, since I know people with more lacto-fermentation experience than I (and perhaps even a spores, mold, and fungi expert or two!) occasionally read this blog, if I need to put down the fork and the crock and go see a mold specialist right now, someone tell me, ok?
What are your fermentation flops? And what would you do with kraut that grew some fuzz, but only above the brine weight?
575