Sometimes we face the question of whether to Do It Ourselves or cough up some cash and let a professional handle the particulars. Let's say there's a spectrum: make jam would be an easy DIY call. Perform brain surgery on your child would be an easy Hire The Pros call.
In between, things are less obvious. Should I attempt to fix my own dishwasher when it leaks all over my floor? Should I raise chickens for meat and slaughter them myself? Reroof my own house? Sharpen the blades on my push lawnmower? Hmmm….good cases can be made for both DIY or Pro, depending on the particulars.
What we need is a helpful flowchart to help us determine when we should do it ourselves and when we should hire that help: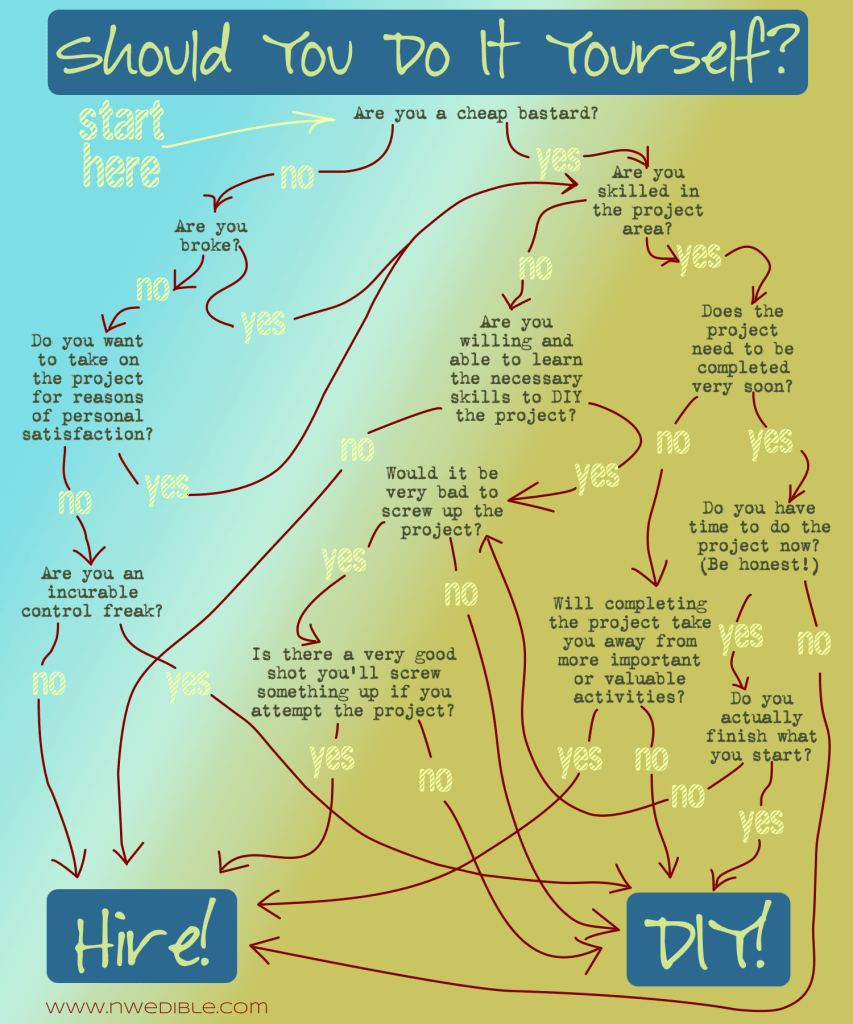 I faced the DIY vs. Pro dilemma not too long ago. Last weekend, as my regular readers know, I migrated my site from Blogger to a self-hosted WordPress site. Unless you are also a blogger, the particulars don't really matter, except to say that if this migration process isn't done right, madness ensues and all the content I've built up over the past year becomes essentially unfindable through Google and my readers look around saying, "What the hell just happened?" Not good.
So, I opted to hire a pro (who also puts out the migration steps for free should you have the technical cajones to DIY this kind of thing) to handle the technical aspects of the move to WordPress and I'm so glad I did. If you use Blogger and are thinking of switching to a self-hosted WordPress platform, let me know if you have questions about how the transition went.
Thanks again to everyone for your kind words about the new site, and your patience as I worked through design issues and re-categorization of all the posts. My apologies to any subscribers who got pretty much the entire back-catalog of posts re-delivered as "Updated." That's all done now. As always, let me know if anything looks weird.
Have a great weekend. Enjoy those DIY projects, and don't feel bad about the Hire A Guy ones either.
1