If you're like me, you are in the thick of canning season.
Over the past three weeks or so I've gotten something like 240 pounds of tomatoes turned into sauce, chopped tomatoes, salsa, various relishes, savory jams, etc. So it's fair to say I've peeled many, many tomatoes. At this point, I think I've honed the process down to the fastest, most efficient way to peel tomatoes for processing, but if you know of any tips or tricks I'm missing, please share in the comments!
Just in case any regular readers aren't familiar with the standard tomato-peeling process, it goes something like this:
Cut small X in the bottom end of each tomato.
Bring a pot of water up to a boil.
Blanch a few tomatoes at a time in the boiling water.
Transfer blanched tomatoes to ice water bath to stop the cooking and to cool the tomatoes so you can handle them.
Use a paring knife to peel away the loosened tomato skin, then core the tomatoes and process as directed by recipe (chop, halve, crush, etc.)
I have concluded that this is a stupid way of blanching and peeling tomatoes for canning if you are working with a lot of tomatoes. It forces you to handle each tomato about a dozen times, necessitates coring tomatoes that are already peeled (a slippery job), utilizes all the ice in your ice maker and is generally inefficient. When I'm canning 100 pounds of tomatoes at a time, inefficient is the enemy.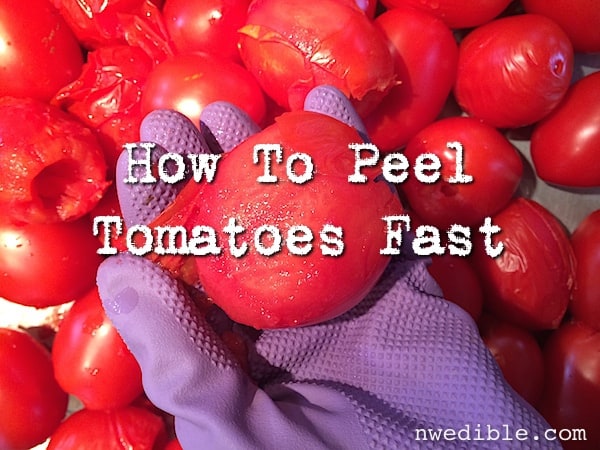 A Better Way
Fast tomato processing requires the right tools and the right set-up. I'm going to go through the steps to most efficiently process tomatoes through the peeling stage in rather redonkulous detail. So much detail, in fact, that you will think "how could doing all this save time when it takes me five minutes just to read this stupid blog post?" I just ask that you trust me – this set up is faster to implement than it is to explain.
You Will Need:
A big-ass pot of water on the highest heat your stove can muster. Bigger is better. If you don't have a big pot, go borrow one from a neighbor. The more water is in your pot, the higher temperature it will hold when tomatoes are added and the faster you can cycle batches of tomatoes through the boiling water.
A big-ass skimmer, slotted spoon, or shallow sieve. Whatever you have that will allow you to remove the tomatoes from the water in as few dips as possible. This is not the time to hunt around for each individual tomato. Think batches! I use a big, inexpensive Chinese-style deep-fry skimmer (like this). This is an extremely versatile tool and highly recommended.
A big-ass sheetpan or several (are you noticing a theme?) upon which to set your blanched tomatoes.
New, inexpensive rubber dish-washing gloves. They should not be big-ass gloves unless you happen to have big-ass hands. A comfortable but not overly large fit is best. The gloves should be new so you can dedicate a pair specifically to peeling tomatoes and other food-prep tasks.
Don't use rubber gloves that have been used to scour moldy fish remains off a casserole dish (gross) or have spent time inside the bacteriological soup that is your typical wash tub (also gross). Spring for the extra $2 at the grocery store for a new pair, and make sure they have grippy, textured fingers. That will be important later on. When not in use, dry these gloves well and keep them with your other canning gear.
Set Up Two Stations
You will need two stations – a Wash/Core Station and a Blanch/Peel Station. These details seem fiddly but trust me – setting up your work station the right way will save you a ton of time over the course of 100 pounds of tomatoes.
Your Wash/Core Station should be at your sink. As always, start by sorting through your tomatoes to get rid of any tomatoes with mold, soft spots or decay. For canning, tomatoes that are just ripe but slightly firmer than you'd prefer for fresh eating are good. The fastest way to wash tomatoes is to clean and sanitize your sink. Fill it with cool water and add a few drops of soap and several big glugs of white vinegar. Dump all your perfect tomatoes in the water and give it a swirl. No need to rinse – the blanching process itself will rinse the tomatoes of any residue.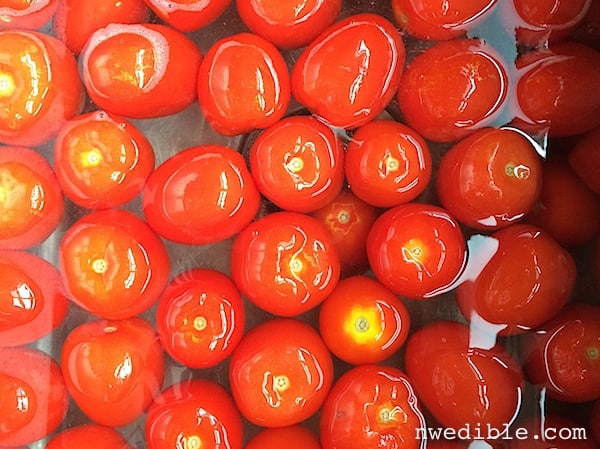 Adjacent to your sink, set a medium colander and a medium bowl. If you are right handed, set these items to the right of your sink, with the colander just behind the bowl. Set a small paring knife next to the bowl.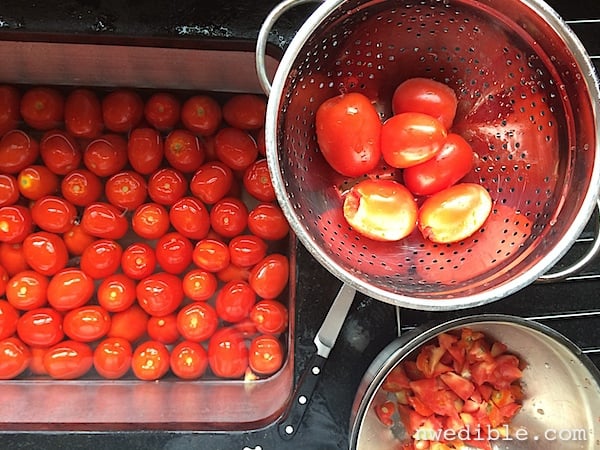 Your Blanch/Peel Station will be at your stove. Set that big-ass pot on your strongest burner (lid on) and bring it up to a boil. Set a sheetpan next to the pot. If you are right handed, it will probably make the most sense to put the sheetpan to the right of the pot, but the logistics of your stove and countertop may prevent this. Set the big-ass skimmer on the sheetpan and have those gloves handy.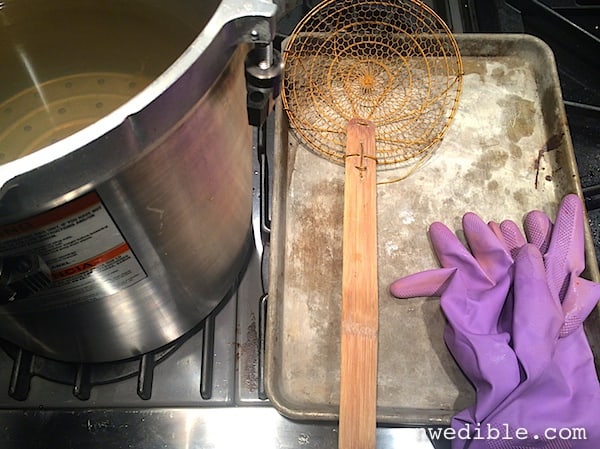 Step by Step
All these instructions assume you are right handed. If you are left handed, flip everything around so it's comfortable and efficient for you.
Stand at your Wash/Core station, comfortably in front of the colander and bowl. Hold your paring knife in your right hand, just over the bowl. Reach your left hand down into the sink, grab a tomato and bring it to your paring knife. Use the knife to twist out the tomato core. Move your left hand, still holding the tomato, back slightly and drop it in the colander.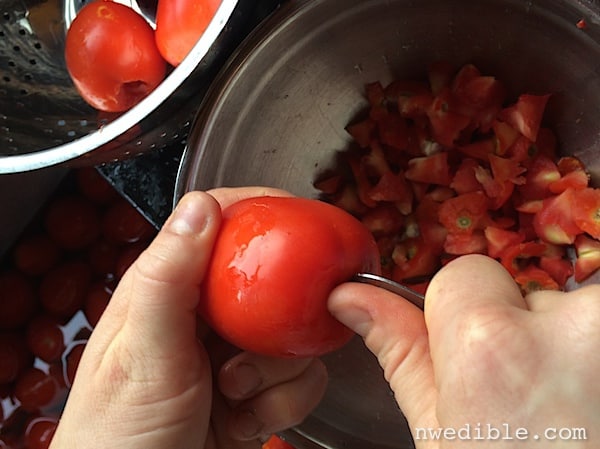 Repeat this step of grabbing a tomato with your left hand and bringing the tomato to the knife in your right hand to core as many times as it takes to fill up your colander. If you are doing this right, at no point should you switch hands or move the tomato any more than absolutely necessary. You should also not have to move or take any steps back and forth to grab or prep the tomatoes. If you have to move much while doing this, finesse your setup until you can complete your task with the minimum amount of motion.
You want to fill the colander with as many tomatoes as you can core in about a minute. This should be between 10-20, depending on how fast you are. Put on awesome music or pretend it's a race – whatever gets you moving.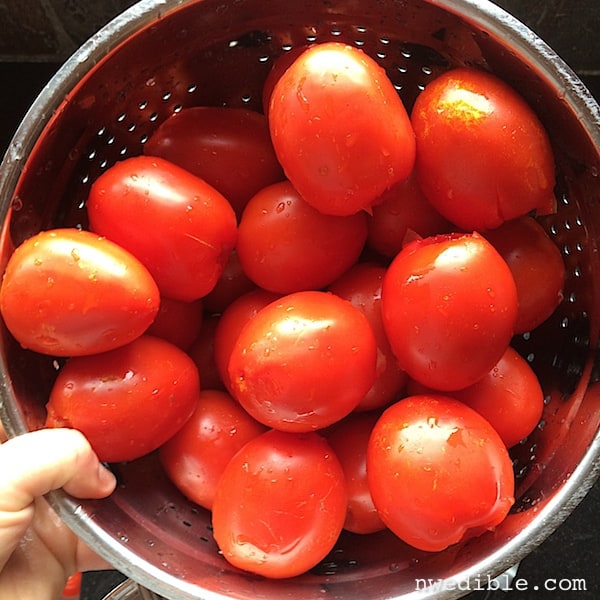 When the colander has your "one minute of tomatoes" in it, set down your knife and take the colander to the pot of boiling water. Dump the cored tomatoes into the pot of boiling water and return to your Wash/Core Station.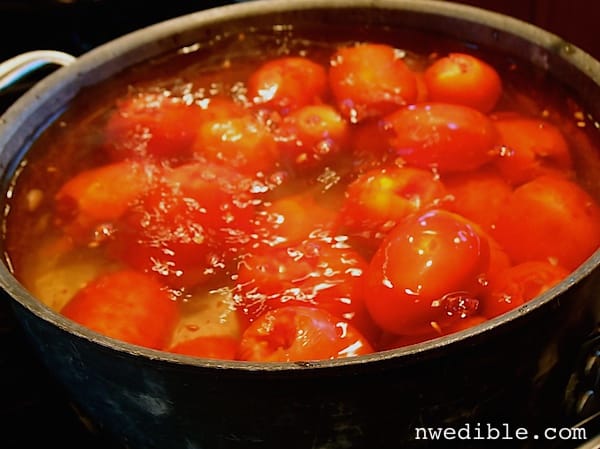 Continue coring tomatoes as before for one more minute, give or take, as your first batch of tomatoes blanches.   The idea here is that, as one batch of tomatoes blanches, you are preparing the next batch for the blanching water with a minimum of wasted time and effort.
When Batch One is finished blanching, after about a minute, take Batch Two with you in the colander to the Blanch/Peel Station. Use your big-ass skimmer to scoop out the Batch One tomatoes, shake off the extra water, and set them on your sheetpan in a single layer. Do not be tempted to mound the tomatoes up – they need to be in a single layer to cool effectively.
Give your pot of water a second to return to a boil while you have a sip of water (hydrate!), then drop Batch Two into the boiling water. Repeat this process as many times as necessary until you have filled up your available sheet pans and/or blanched all your tomatoes.
Now Peel
Put on those dedicated rubber gloves. Some of your tomatoes are going to be hot, but that's not a problem when you are wearing thick rubber gloves. That rubber sheath will kill much of your sensitivity for such things. At least, that's what my guy friends in college were always saying.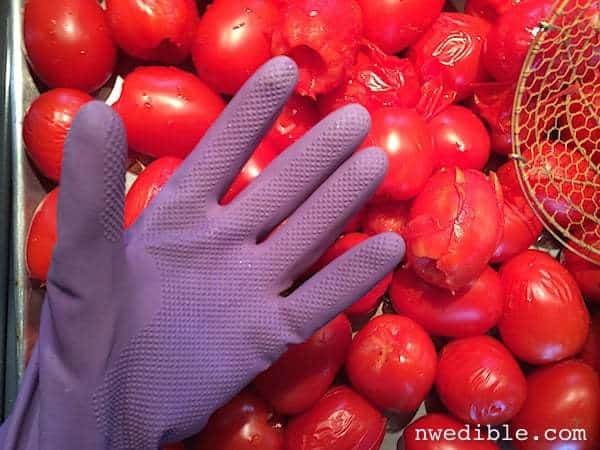 With the grippy rubber gloves on, just pick up the tomatoes and slip them right out of their skins. Put the tomatoes aside for whatever process you'll be giving them and drop the skins back on the sheetpan – you'll want them to combine with the cores later for Nearly Free Tomato Sauce.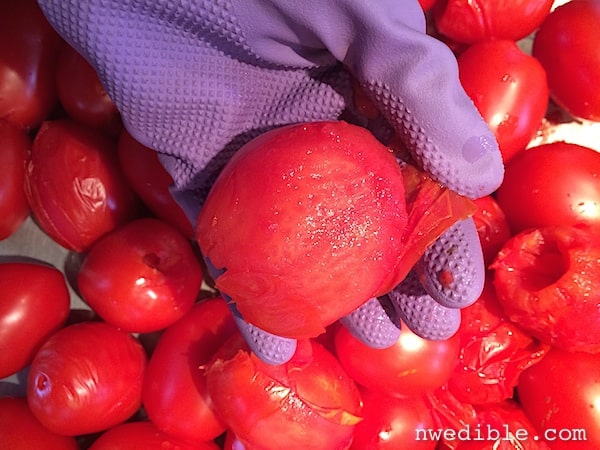 Here's a video that shows how the rubber glove-peeling works. Here I peel 7 tomatoes in 21 seconds, so I can comfortably peel one tomato every 3 seconds, or about 20 tomatoes a minute.
What I Skip And Why
I skip cutting the X in the tomato because, with the core removed, the tomato skin is already "broken" and it saves a bunch of time to only do the coring step which is necessary for further processing anyway.
I skip the ice bath step, because dropping tomatoes in water makes them….watery! Much of the tradition of blanching tomatoes comes from a haute cuisine technique of serving raw, peeled, seeded, diced tomatoes (tomato concasse) in salads, as a garnish, or in lightly cooked preparations like quick, fast pasta sauces. My method of using tomatoes is decidedly more casual, and since these tomatoes are going to be further processed into sauce, crushed tomatoes, ketchup, etc., I really don't care if they continue to cook for another few minutes on the sheetpan after blanching. They'll be fully cooked anyway before they go in a jar.
There is a case to be made for ice-water-bath shocking tomates you will raw pack whole, however, having done it both ways, I can't say I notice much difference in the texture of ice-water bath shocked tomatoes and sheet-pan cooled tomatoes. Raw, whole tomatoes are processed in the boiling water bath canner for 85 minutes, after all.
I skip peeling the tomatoes with the paring knife which – while fast – is not as fast as peeling with grippy rubber gloves. Fast is the name of the game when it comes to making the bounty of summer a little more manageable.
What are your tricks for processing big quantities?
83