Early last week, late in the afternoon just before I, with my farmer's hours schedule, was ready to sign off from my day job for Anonymous Giant Corporation, I received an email from my boss. It had all the hallmarks of something sent in haste, in response to someone else's urgent email, also sent in haste, in response to something hastily sent out from someone who might possibly work in HR.
"Nick, I need you to take five days off before the end of September."
Easy, I thought. I've already taken three days off this year and already have a day off planned for next Tuesday, so I'll just add a staycation day and get some garden chores done. Clearly there's some Big New Policy in place that's meant to keep contractors from over working or something like that.
An update followed the next day:
"Time off only counts time since August 1st. So I need you to take five days of vacation between now and the end of September. And a total of seventeen days by the end of the year."
Focus on the short term: there were five weeks between when this declaration of forced vacation arrived in my inbox, and the end of September. All of a sudden this had become, as we say around the office, "impactful." I'm your typical high-tech contractor, paid by the hour for hours worked with no benefits and no paid leave.
If I don't work five days out of five weeks, I'm taking a 20% cut in hours worked. That's a 20% cut in wages earned. So this makes September pretty lean, from the revenue side.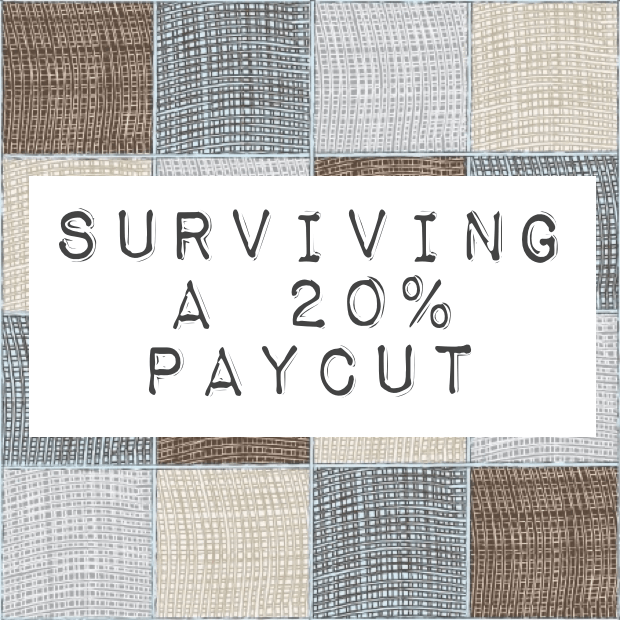 Our fridge died in April and we only replaced it six weeks ago. And our car had its entire brake system replaced because of the prior owner's incompetent maintenance. And it's summer, so we've splashed out for a few big garden projects that always seem to cost more than expected. And we'd just had our carpets cleaned (whereupon our son had a week of explosive diarrhea, because that's parenting for you). And it's back-to-school season, with all the necessities of pencils and protractors and new jeans and shoes for the rapidly growing littles. And, and, and….
So this is not the best time to be furloughed, albeit briefly.
As I write this, it's date night, the first one we've had in two months. Am I going to have to cancel my plans to take Erica out for a bottle of wine?
There's this thing we aspire towards. We call it the Income Quilt – a phrase inspired by farmer, author and inn owner Lisa Kivirist. The idea is that you don't rely on one source of income, and you don't expect that one source of income has you covered until the day when they hand you a gold watch at your retirement party.
Instead, you try to patch together multiple sources of income, any one of which, by itself, might not be sufficient, but which taken together create a cozy blanket of redundant financial security. This is income diversity and – just like food diversity – it is more resilient than an income monocrop.
My personal income quilt has one pretty huge swatch of fabric in it – that big corporate day job. But in the strange way that fortune provides, I'd just started penning an article about growing hops for a garden magazine (yeah, I'll admit it, I'm riding my wife's coat-tails). I'd wrapped up a side gig teaching standardized test skills to a room full of eager would-be graduate students. I kicked off a couple of emails setting up some tutoring work along the same line. I decided to go in and update the listings on my eBay store (where I sell vintage airplane flight manuals, because I'm just that geeky).
Each of these side gigs isn't that huge. But all of them, taken together, mean that September is going to turn out just fine.
Now, I don't want to undersell the fortune of my position: I can afford to maintain several side-hustles as a form of security and financial redundancy. Sure, there's some cost in terms of giving up a bit of free time, but I recognize that many people are working several full-time jobs just to make basic ends meet. So even having the ability to think of jobs two and three as "insurance" is a form of luxury. But this depth of income sources – this cash-flow pantry – is something I have deliberately cultivated over the past several years.
I decided that the Income Quilt model made the most sense after I jumped-ship from a very toxic workplace without any immediate prospect of full-time employment. I decided I never wanted to feel bound to slave away for a company that was doing unethical (and arguably illegal) things for fear of losing a few thousand dollars a month.
This is employment resilience, and I've found – perhaps ironically – that the more of it I have, the more I prosper at my main gig. A developed Income Quilt gives me a certain confidence to wait for the right position and to ask for what I am worth without that feeling of being backed up to a wall and out of options. This confidence, I think, also actually makes me more desirable to potential employers. This success lets us build savings and, in a happy upward spiral, strengthens the Income Quilt.
Sometimes managing this Income Quilt is a pain in the ass. I just got done working a 6-week long stretch of double shifts, 5 am to 11 pm, basically to keep a very good relationship alive and employer happy. Sometimes it's a pain to deal with a 120 year old customer from eBay who probably shouldn't be using a computer in the first place. Most nights I'd rather read old slide rule manuals (because – again – that's just how geeky I am) than figure out how to putty together the disjointed threads of an article that was due to the editor earlier that day.
The thing is, though, resiliency isn't just about what we think of as capital-D disasters. The vast majority of disasters are personal things – invisible to the wider world but impactful to one family or a few people. A layoff or an extended illness, or a 20% hit to the automatic deposit for a couple of months, or an unexpected expense (or three). Usually, it's some combination because that's the way life throws her curveballs.
So the week-over-week effort to keep that depth of the Income Quilt alive, just like the week-over-week effort to keep a pantry stocked and garden thriving, pays off.
Because date night is still on.
1