If you have kids then you know how toys can multiply, especially over the holidays. Here's how we solved the Kid Toy Madness issue our house.
We took the vast majority of our kids toys and moved them into The Toy Closet.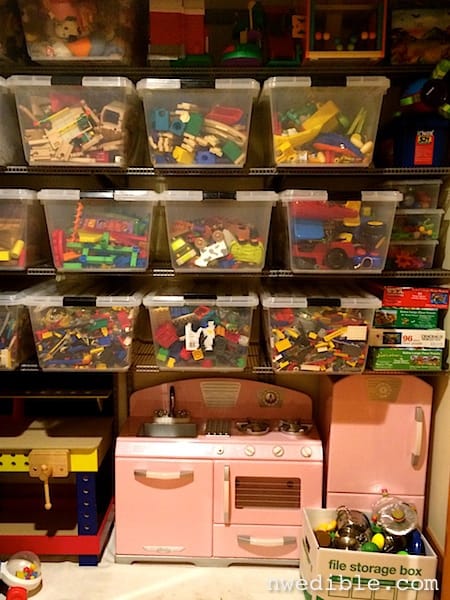 The Toy Closet didn't start out as a toy closet. It started as the hallway closet that we used for linens. But that was a stupid waste of premium storage space – sheets do not need their own damned room. And this closet is right between our two children's rooms – perfect for toy storage.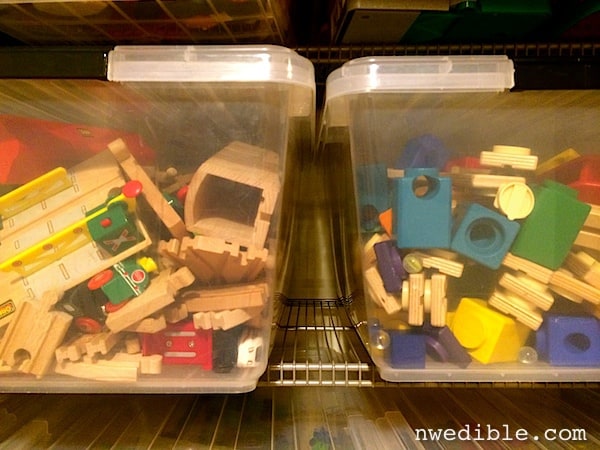 My kids are the only grandchildren on either side of the family. This means they have been gifted many high-quality toys. We are a pro-Lego family from way back, and with a three-year-old son, naturally there's a train set in the house. (Gender-stereotype busting alert! The wooden train set was actually a grandparental gift to my daughter when she was about three. Hah!)
So these aren't the kind of toys I really want to set fire too, except in my more manic moments of minimalism. But they do need containment or guess who ends up patiently re-sorting a huge, jumbled pile of 15 different toy building systems that don't actually work together? Not the three-year-old, I can tell you that.
Clean up is simplified with The Toy Closet. Every type of toy has a bin or a box.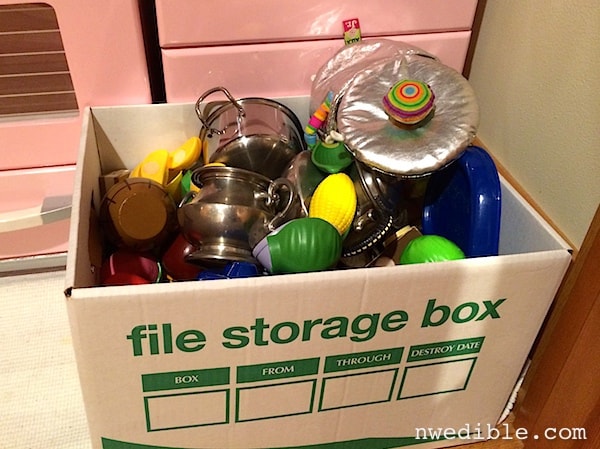 The Toy Closet Rule
The rule is, I'll get anything down for the kids, but I'll only get down one bin at a time.
The kids like this system, because it keeps their toys fresh. Bins that haven't been out for awhile have a sense of novelty, so they tend to play with each toy longer, instead of getting bored after 14 seconds.
I like it, because clean-up is easier, so the three-year-old can do it himself. It's just dumping one kind of toy back into the one bin it came from. No sorting, no looking around for little cases, no fragile and precious organization to be preserved. I do have to sing that terrible clean-up song, but that comes with the territory of parenthood.
Finally, the bins themselves form a limit to how much the kids can have. So I'll respond to a plea for more trains by explaining, "The bin is full. Sorry – that's enough train tracks to build an awesome train. We don't have room for any more."
(Legos seem to be the exception. We all have our problem areas.)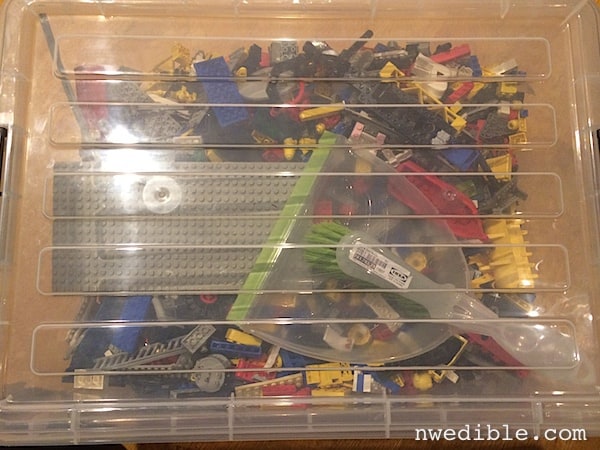 Lego tip: we picked up a small hand-broom and dustpan for a few dollars last time we were at Ikea and now we store that in with one of the Lego bins. Make's scooping up those little pieces easier.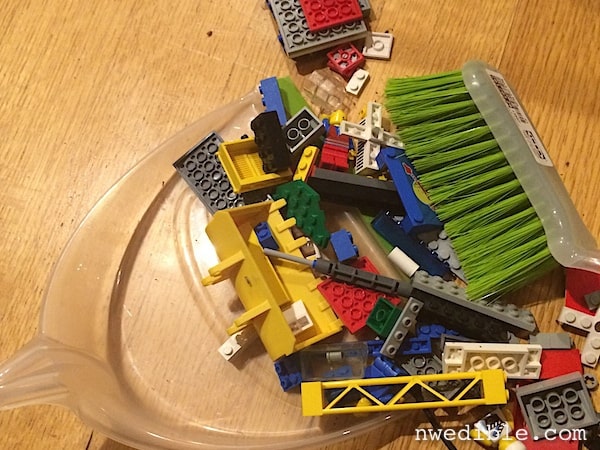 The kids can take a bin into their room or the living room, or they can play in the hallway. But before bed any toys not part of an active building project go back in the bin and up on the shelf for the night. Half-finished Lego creations and similar are, of course, exempt.
We've had The Toy Closet organized this way for about two years now, and I'm ecstatic with how it's helped keep the toys organized and how it's opened up the kid's rooms. With only a few toys and age appropriate puzzles and books in his room, my three-year-old is able to tidy his own room with far less help from me. My nine-year-old maintains or doesn't maintain her room as she wills – she's old enough now that her room is not my problem, and if it's too messy I just don't go in there.
We bought the clear plastic bins at Costco over a couple years. They always have a bunch of them at this time of year along with the treadmills and home gyms, because everyone is swearing this'll be the year they get organized and lose 25 pounds. These are the bins we use, but that price online is stupid. We certainly didn't pay that much, so if that size and style works for you, look for them at Costco.
I think having clear bins is very helpful so the kids can see what they want to play with, but you could use labeled, heavy-duty cardboard boxes, too. That would be cheaper and greener.
What's your best tip for keeping kids toys organized?
5