Happy chickens scratch. They scratch a lot.
Trees and shrubs are not so fond of having their roots unearthed by chickens, but that does not dissuade the chickens, who will happily scratch and dig until they practically uproot a small tree if they think there might be a worm in it for them. In my yard, even if given full range of the place, the hens manage to undermine currant bushes, young fruit trees and more with their unending scratching.
I discovered the (in retrospect) shocking obvious solution to this problem when I read Free-Range Chicken Gardens, an excellent book on how to combine chickens and gardens successfully. But just in case there are other chicken-keepers struggling to keep their hens from slowly toppling their shrubs and small trees, here's the solution.
Rocks. Big flat ones. Nice smooth river rocks or old concrete pavers or whatever. Encircle the trunks of vulnerable trees and shrubs with a collar of big flat rocks and the chickens won't be able to scratch near the trunk undermine your shrubs. Here's an example showing some of my cherry trees which are planted literally in the chicken run: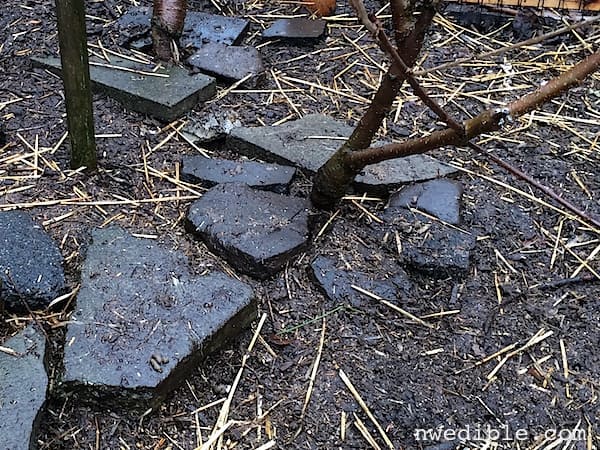 I know, I know. So easy, right? At this point you are either disgusted that someone actually needed to point out so obvious a solution, or you are running outside right now to shoo your hens away from your currant bushes so you can implement this immediately.
All I can say is, I had to learn this tip so I'm passing it on. It works, it's simple, it's free (at least in my yard that grows rocks better than anything else).
Now I just wish I had an equally simple solution that would keep the hens from eating the currants, too. And don't say bird netting – that stuff is not simple. Maybe I'm just particularly uncoordinated (likely) but I always end up caught like a salmon in a gillnet when I try to drape bird netting over anything.
Do your chickens undermine your trees and shrubs with their scratching?
36