For the past five days I've been living in an unreal, unearthly limbo.
I'm at a professional conference, in a 34 story hotel, in Chicago. I could easily have no idea what time it is. I certainly have no idea what the weather is like. My menus over the past few days read something like this:
Breakfast: slushy yellow paste – scrambled eggs? Maybe. Powdered eggs? Likely. Coffee.
Lunch: pasta, probably, though resources prevented thorough testing. Vegetables, possibly dating from Carter administration, certainly from Reagan. Coffee.
Dinner: Burger. Again. I believe my capacity to enjoy a pint of beer and a hamburger may finally be approaching its limits.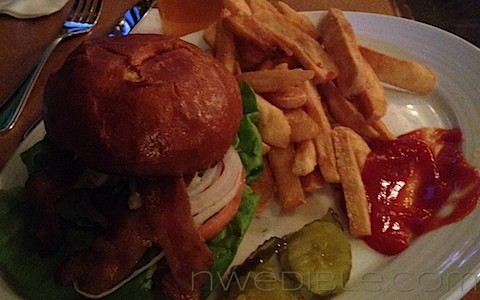 I think a lot of people live like this all the time.
I really have no idea who made any of these things. I don't know where they were grown, when they were grown, how they were grown, or by who they were grown. They just emerged from the bowels of the hotel. Somehow.
Moments like this remind me of how close I've gotten to my food. Sometimes I've known it by name (Bruno, you were a tasty, tasty lamb). Often I've helped raise it or harvest it or at the very least had some contact with the producer. Even when it does get to me through the long, long Rube Goldberg of the food supply chain, I've had the luxury of choosing ffrom what endpoint in that chain I will purchase it.
And that might be the most critical point of all – choice.
Even if I do fall off the wagon and, for convenience or indulgence or necessity, set aside my values and pick up a burger or order a pizza or grab something from the cafe at the office, I am the one saying, "Tonight I choose to compromise" and slapping a twenty down on the counter at Dick's and bringing burgers and fries home."
I am the one saying it. But there is no choice in the Synthetic Environment, not really.
Once or twice a year I end up at one of these shindigs, for a day or four. I'm hardly a regular road warrior or convention traveler. Every time I start of with a sort of gleeful secret inside me: hehe, I get to eat crap and not care or worry and it is totally getting paid for.
It is like a free pass, a don't-give-a-fuck-and-don't-feel-guilty card. Chicago's a fabulous food town but I don't have the time or the budget, sorry, so it's hotel food for me. I know I should be saving my body and saving the environment but the option just isn't there.
And for the first day or so, it is a joyous, liberating sensation. I'm not muddy or wet. I'm not chasing chickens back into the yard. I'm just sitting on a barstool with some mindless meal beside me and a book in front of me. I'm not caring about how much it cost or if it was the right decision.
Simplicity!
But now, on day four, I hate it. The food feels as synthetic as the HVAC-pumped air and the polyester comforter. Can I please have some kale? Are there any broccoli stems lying around in the kitchen that I can absent-mindedly munch on?  Why is this egg such a sad, flaccid thing?
Erica, honey, I know I'll be home soon, but do you think you could FedEx me some cauliflower?
0