Secretly, creeping through the brain and heart and blood of every mama there is a deep, dark fear that we are Not Mom Enough. We snap at our kids, or grab the sharpie out of their little hand a bit too roughly before they can decorate another piece of furniture, or are the last to pick them up from daycare, again.
We nurse and people in the street look as us like we're perverts. We don't and other mothers look at us like we're child abusers. No matter what we do there is the nagging feeling that it's not enough. It's never enough.
Are You Mom Enough?

-Time Magazine, 2012
Bravo, Time Magazine, for exploiting that fear with your latest cover. It's about time that we capitalized on the insecurities of Mothers directly. The indirect route used successfully for decades by ad makers looking to sell lipstick, formula, Happy Meals, dayplanner systems and everything else under the sun was getting a little too subtle.
So I'm glad you got it out there. Let's have all the cards on the table.
Yes, we do not feel like we are Mom Enough. You nailed it. You found the topic that keeps us up at night, that can move us to tears if we linger too long on the personal, particular details of why We Are Not Mom Enough.
All around us are reports of people who do it better: The Chinese Tiger Mom produces child prodigies because she cares more and is willing to put in the time. The chic French mom has children who are well behaved in restaurants and isn't afraid to let them explore the world. Now we have Time Magazine, profiling attachment parenting with the now-infamous "Are you Mom Enough?" cover on the cusp of Mother's Day weekend.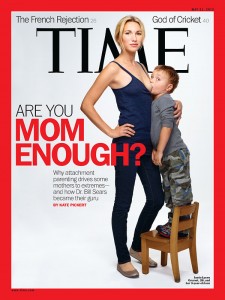 For moms, little pieces of trying and falling short of the impossible ideal pile up. They whisper that Good Moms breastfeed. Good Moms read at least 45 minutes a night to their kids. Good Moms set up playdates. Good Moms have kids who speak foreign languages. Good Moms put in the time. Good Moms take time for themselves.
Good Moms should work. Good Moms should stay home. Good Moms should volunteer. Good Moms never run late and they don't run out of diapers. Good Moms don't get angry. They discipline with love. They are patient and kind and they never think their kid is a little asshole. Not ever.
You furnish the pictures and I'll furnish the war.

-attributed to William Randolph Hearst, publisher of the New York Journal
And then someone like you, Time Magazine, comes along and forms that pile of insecurity and doubt and fear and shoulds into another mom. She is thin and beautiful and well-dressed and her nearly 4-year old kid is sucking on her tit.
You have capitalized on those mama fears and managed to get a tit-shot in as well. Combining blatant sexual overtones and female insecurity into one cover piece? Well played, Time – well played.
Thank you for making it abundantly clear that your Mother's Day cover is a sensationalistic ad job designed to sell magazines and nothing more. Sometimes the more subtle messages of Not Good Enough from Revlon and Disney stick like velcro to our psyche. They feel so much like truth that we can't bear to rip them off.
But not your message, Time. No, in yours it is so easy to see adman genius at its best. Look what a buzz! Look what controversy! Look how many hits and searches. Think of how many magazines this will sell.
You have furnished the picture that you know will furnish the mommy war.
And the war will sell the magazine.
What, Sir, would the people of the earth be without woman? They would be scarce, sir, almighty scarce.

-Mark Twain, January 11, 1868
Time has shown that they are more than up to the task of furnishing the pictures, but I feel quite sure we moms are up to the task of not furnishing the war.
All it takes is a radical act of Mother's Day defiance.
It is a radical act of defiance to look at yourself and your mothering and all you give and say: "My parenting is enough. As good as I can do is good enough. I am mom enough."
It is a radical act of defiance to trust other mothers to make decisions for their families that are different from your decisions and not hate them for it.
It is a radical act of defiance to trust that there are a lot of ways to raise good kids.
It is a radical act of defiance to know that a good yellow journalist could turn your family into a poster child for divisiveness, too, and laugh in the face of such an obvious trap.
It is a radical act of defiance to understand that not all children respond to the same "system" or technique.
It is a radical act of defiance to keep motherhood in perspective: the most important job in the world, sure, but not a unique one by any stretch.
It is a radical act of defiance to become the greatest parenting expert in the world when it comes to your kids, and not let anybody take that away from you.
It is a radical act of defiance this Mother's Day to be kind to yourself as a mother, and kind to all the other moms out there who are doing their best. Even when their best doesn't look exactly like your best.
Happy Mother's Day to all my fellow defiant, radical moms.
0