This is one of many similar fermentation experiments I make that I think of as "Salad Kraut." The idea here is a moderately fermented condiment that you can enjoy as a ready-to-go vegetable side dish. It's somewhere between a salad and a sauerkraut…so, Salad Kraut.
This particular variation was so good I had to share. Miso, sesame, and lemon flavor this kraut, while carrots and green onions boost the salad value. The whole thing tastes a bit like a really good Japanese/macrobiotic fusion side dish. I've been enjoying bowls of this kraut as-is, and alongside roasted salmon and chicken. For a simple and frugal meal, add this Salad Kraut to a bowl of brown rice and top with a poached egg.
Miso Sesame Kale Salad Kraut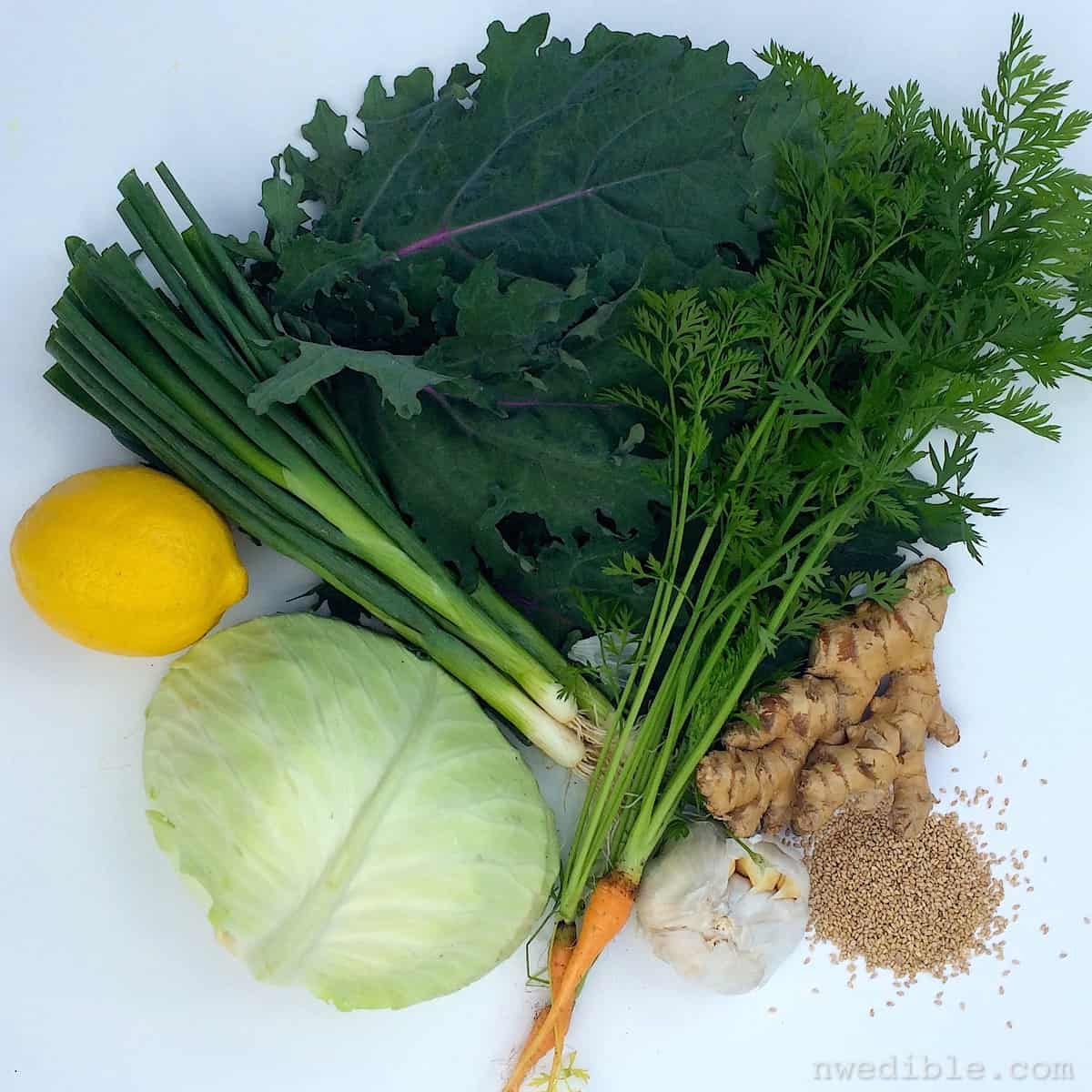 You can adjust the proportions of the vegetables in this ferment as you see fit. I made this with a base of 2 parts cabbage to 1 part kale. Unless you already know you like fermented kale, I wouldn't increase the ratio of kale. Kale and collards both ferment "strong" – you know that kale pungence? Fermenting tends to brings it out.
Now, I happen to like that brassica funkiness, but I'm weird. If you aren't sure, err on the side of less kale and more cabbage.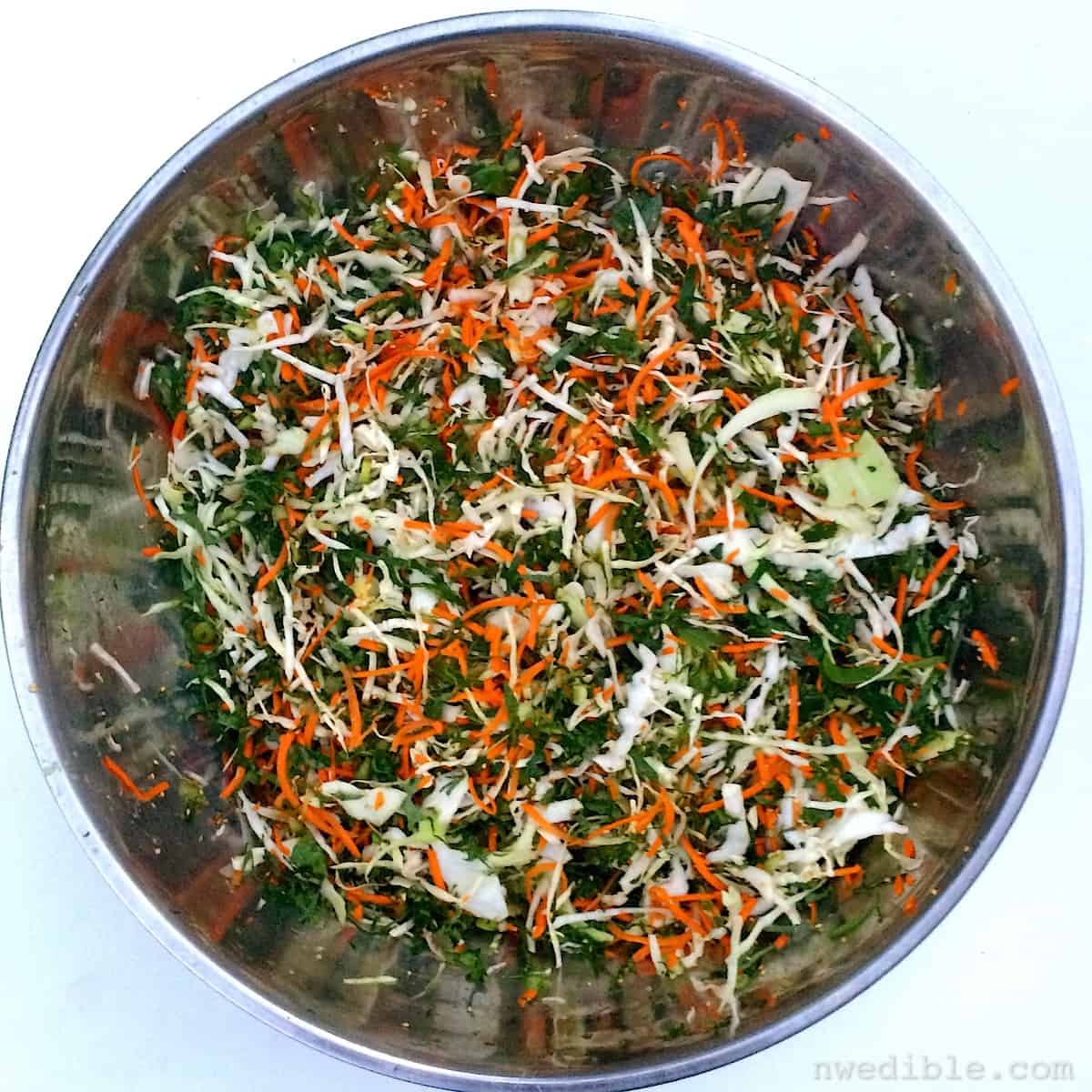 Shredding all these vegetables is very easy – if you have a food processor. If you don't have a food processor, why are you reading this blog when you should be out buying a food processor? Seriously, my food processor is probably the most-used small appliance in my kitchen.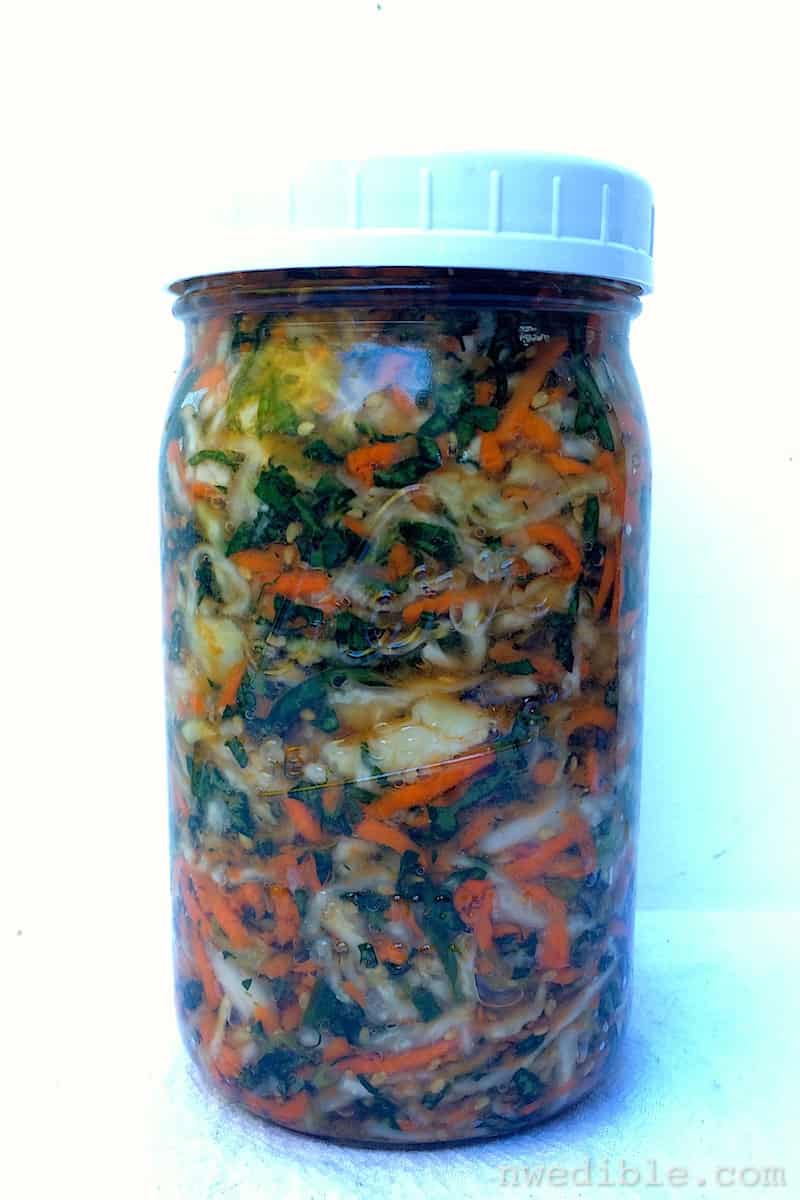 This recipe will make about two finished quarts of Salad Kraut. I recommend fermenting in a single batch in 2 liter or half-gallon crock or jar, but if you pack the living daylights out of the ferment as you put it into jars, you should be able to get it into 2 quart jars. If there's some Salad Kraut that won't fit into the quart jars, just eat a bowlful fresh, as a slaw.
I like this lightly fermented and still crunchy, so I let it culture for 2 or 3 days before moving to the fridge. If you like a stronger, tangier, or softer ferment, you can let it go longer.
Printable Recipe For Miso Sesame Kale Salad Kraut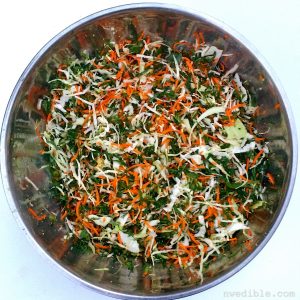 Print
Miso Sesame Kale Salad Kraut
A kale-enhanced sauerkraut salad with a great nutritional profile. Try this alongside steamed fish and brown rice.
Ingredients
2 pounds shredded green cabbage
1 pound shredded kale or collards
1 tablespoon white miso paste
4 carrots, peeled and shredded
4 green onions, sliced
Zest and juice of one lemon
1 tablespoon minced fresh ginger
1/4 cup sesame seeds
40 grams salt (about 2 tablespoons + 2 teaspoons fine sea salt)
Instructions
Add all the ingredients into a large metal bowl. Massage everything together until the vegetables give off moisture and the miso is fully dissolved around the vegetables.
Transfer the Salad Kraut to a scrupulously clean 2-liter/half-gallon crock or jar, pressing down firmly with clean hands as you go, to eliminate any air pockets in the ferment. Maintain at least a 1-inch headspace at the top of the crock or jar.
Weight down the ferment. There should be enough juice from the vegetables to rise up and fully cover the solids. If there isn't, add 1 tsp of fine sea salt to a cup of water, and add enough of this brine so that the liquids fully cover the solids.
Seal the crock or jar, and leave the Kale Salad Kraut at room temperature out of direct sun, for 2 to 4 days to culture.
Check the ferment daily. Look for bubbles and other signs of fermentation, burp the lid to release any pent-up carbon dioxide in the jar and taste the development of the Salad Kraut with a perfectly clean spoon.
When the Salad Kraut is cultured to your taste, transfer the ferment smaller jars for cold storage in the refrigerator, where it will keep for at least 6 months.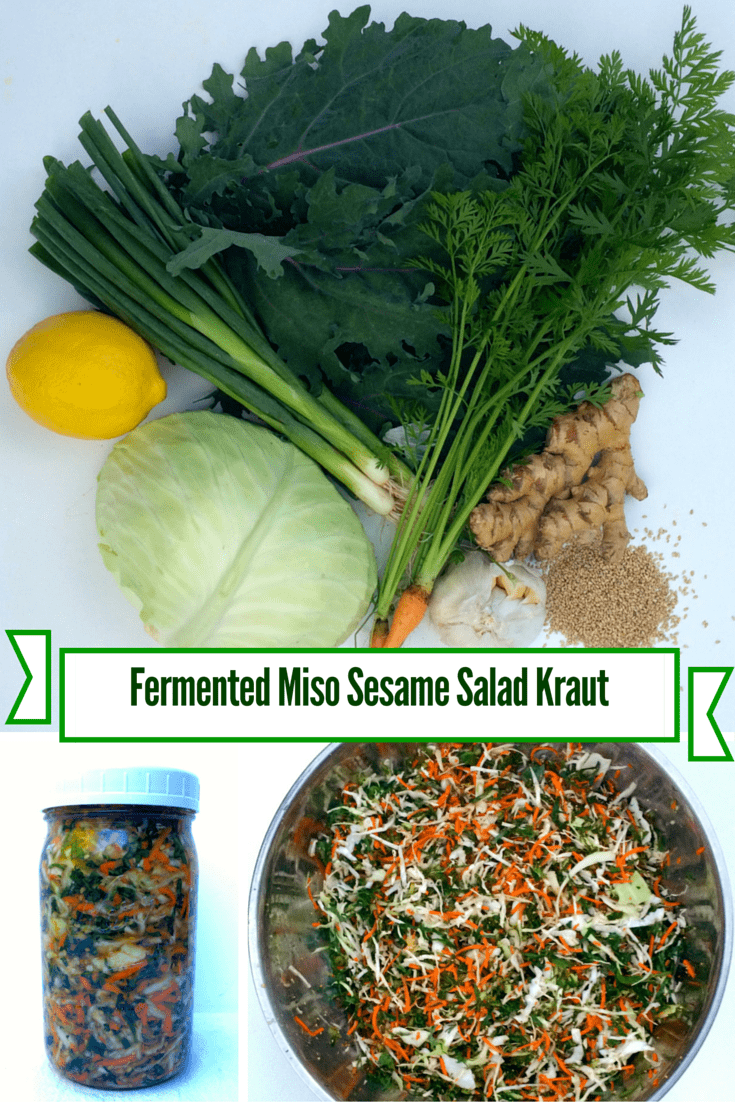 21