There are three things to manage if you want the most successful lacto-fermented vegetables:
Salt levels
Fermentation temperature
Oxygen exposure
When it comes to that third thing – oxygen exposure – the goal is none.
The Lactic Acid Bacteria that ferment veggies into tangy deliciousness are anaerobic. They do their best work far away from nasty corrosive oxygen.
I can't blame them. Oxygen is a clingy, co-dependant a-hole. He's constantly going around undermining everyone else's cell integrity. That's why antioxidants are such a big deal – they're protection against the destructiveness of oxygen.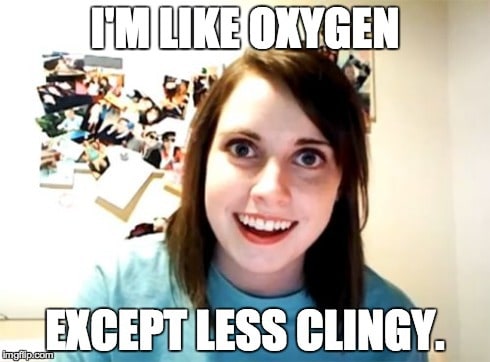 One time-tested and effective way to keep vegetables away from A-hole Oxygen (AO2?), is to weigh down the vegetables so that they are fully submerged under brine.
Sometimes this brine is added (like pickles) and sometimes it comes from the juices of the vegetables themselves (like sauerkraut).
Either way we have to press all the veggies completely under the brine and keep them submerged, or the stuff at the top that's exposed to oxygen will be attacked by non-friendly bacteria and molds. Ack!
After much experimentation, I believe I have developed the ideal DIY lacto-fermentation weight for mason jar ferments. It's re-usable, cheap, versatile and effective.
I knew from my success with brine-filled-plastic bags that the best weights for lacto fermented vegetables spread out to evenly weigh down the entire surface of the ferment. But that pesky plastic bag aspect bothered me.
After a few months of pondering my options for a reusable, durable, food safe way to weigh down my ferment, my mother downsized her kitchen gear and gifted me with her ceramic pie weights.
Some months later, an a ha! moment struck.
I could use mom's pie weights to make a weight for my vegetable ferments!
Easy DIY Lacto-Fermentation Weight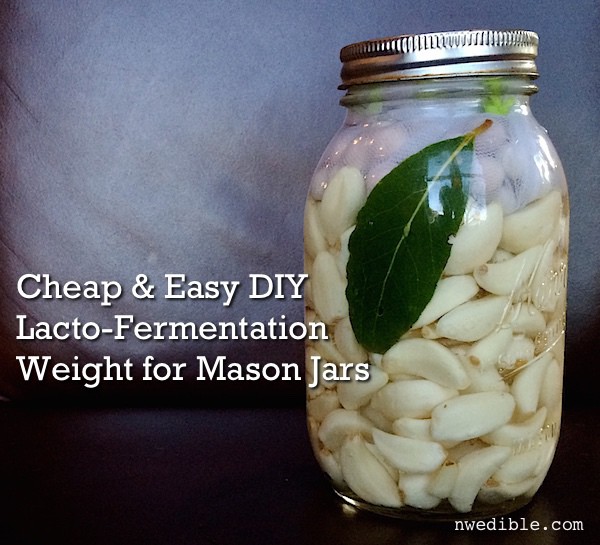 I'l happy to say, after a few experimental versions, the pie weight fermentation experiment worked beautifully. I'm now enjoying tangy, spicy lacto-fermented pickled garlic.
You Will Need
One small food safe polyester or similar mesh produce bag. (I used one of these, which I've had for years.)
Clean ceramic pie weights. (The ones my mom gave me look similar to these.)
All pie weights should be food-safe, but after some research, I'd advise you look for unglazed pie weights that advertise themselves as non-porous or washable. If you are concerned about any leaching from the pie weights, there are also stainless steel pie weight chains available.
The mesh bag will probably be made out of food safe polyester or a similar poly-type resin. This is a kind of plastic.
It's hard to get away from synthetics in this application. You need something flexible, that will move with the pie weights to fill up all the surface area of the ferment.
Experiments I tried with pie weights tied in cheesecloth and up-cycled cotton fabric didn't work that well for me. These fabrics absorbed and wicked the brine up and away from the vegetables, got moldy, and had a tendency to float up a bit during the natural off-gassing of fermentation. If you are a strict no-plastic-ever person, but like this concept, please play around with natural fabrics. If you find something that works, please share!
Personally, I'm comfortable using low-reactivity food-safe plastic mesh in non-heated situations like this.
Whatever pie weights and bag you use for fermentation should be kept for just fermentation. Don't take your garlic ferment pie weights and later put them against the crust for your lemon chiffon pie.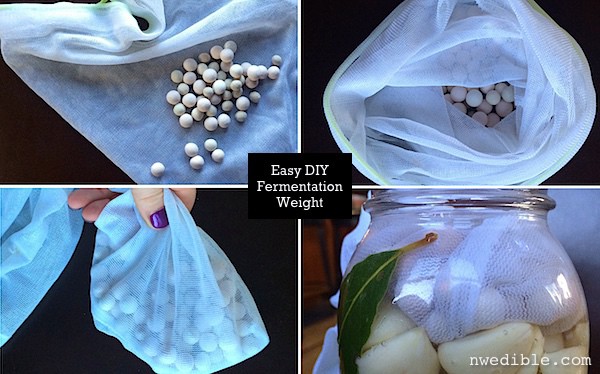 To Assemble The Fermentation Weight
This is pretty basic. Rinse the clean pie weights just in case they are dusty from storage, and put a handful of weights in the bag. Twirl the bag around to make a kind of seal.
That's it.
When I say easy, I mean easy.
Use the fermentation weight to hold your lacto-fermented veggies well under the brine. Just pile any extra "tail" from the bag up on top of the jar like a tidy little turban, then screw a 2-piece mason jar lid onto your ferment just fingertip tight. Or, for extra insurance, screw on a DIY Mason Jar Fermenting Crock lid.
My Experience
I fermented my garlic under this weight for 16 days at cool room temperature.
On day 2 or 3 the huge puddle on my counter reminded my to set my jar on a sheetpan to make clean up easier. I used a standard 2-piece mason jar lid (no airlock this time), and saw very vigorous, effective fermentation. There was no mold, scum or other evidence of yeast or undesireable microbial growth.
When I was satisfied with the tang of my garlic and ready to transfer it to the fridge, I washed the pie weights by hand in a bowl of soapy water and rinsed well. I put them on a clean sheetpan and, because my oven was already preheated for something else, popped them in the oven for about 20 minutes to dry completely and sanitize. The mesh bag was washed in the washing machine and hung to dry, which is what I normally do.
It took more effort to type that last paragraph than it did to clean the components of the DIY Fermentation Weight, is what I'm saying.
This one's a keeper.
48