Throughout this No Spend Month I've talked (and talked…and talked) about financial values.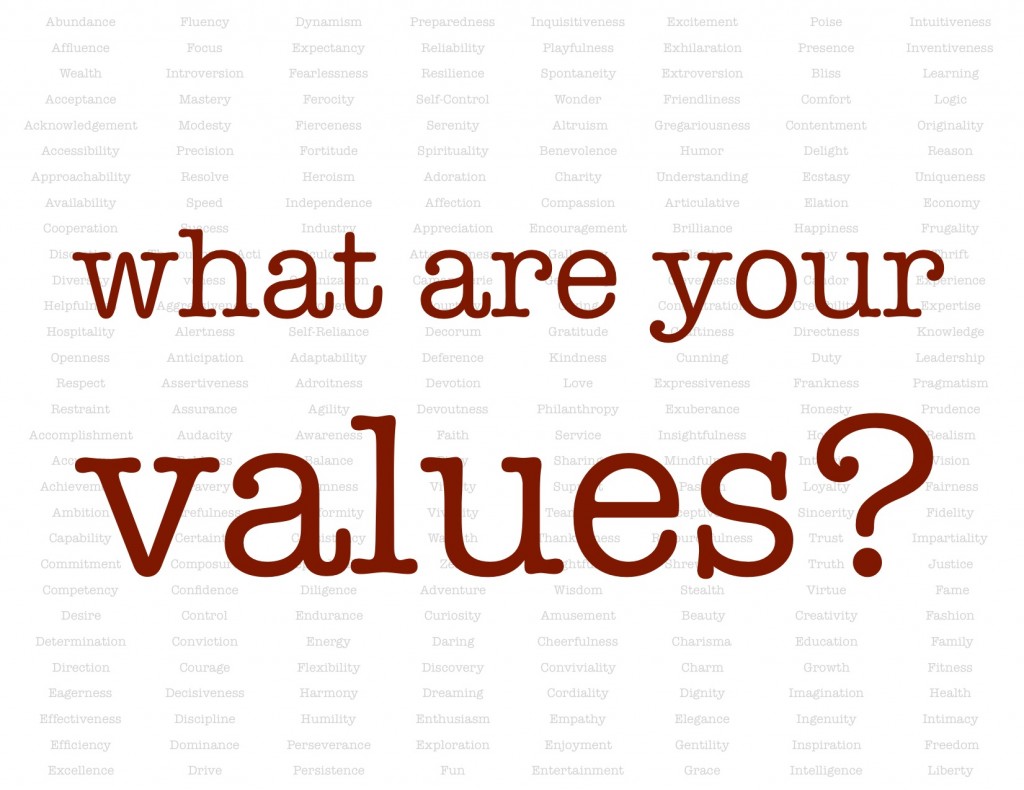 Well, now I have a confession to make. There really aren't any financial values. There are just your values. Financial management and financial goals are big tools to help you live in accordance with your values, but they are not the same as values.
If this seems a little strange now, don't worry. By the end of today's Mini-Money Challenge it will make more sense.
Every single decision you make and every action you take either supports your values or it doesn't. But if you haven't clarified your values, you don't really know which actions support what you love and which don't.
That's like working at a job without knowing what your title or job description is. Sure you might be able to muddle your way through the gig, but are you likely to get a promotion? Could you even figure out if you wanted a promotion? How could you judge if you were spending your time in the best way? You couldn't.
Well, your values are like your own personal job description for being you. Get those defined and suddenly it's a lot easier to figure out if you are spending your time, your money, your energy and your love on the right people and things.
In the world of thrift and frugality a lot of people want to tell you how to be a better tightwad, or set yourself up for early retirement, or instruct you on what investments are right for you.
There is inspiration and information to be found in so many sources, but money and spending and your long-term goals are such personal things, at the end of the day, you have to have your own values framework for what is important to you.
Let's make one.
Your Mini-Money Challenge: A Values Framework
Today's challenge is to get to the heart of it all. Write down your five most important values. Take some time with this.
Is security your most important value? What about fun and excitement? I know people who value lifelong learning and people who value health. Many people value a relationship with their kids, their partner or their God above all else.
Just remember, a value is not a goal. A goal is something you want to do or work towards or acquire ("I want a larger property"). A value is more about who you are. It's a base-level thing ("I value self-reliance.") It's what you work backwards into when you play the "Five Why's Game" with your goals.
Except it's much more powerful to work forward from your values to your goals. Doing this lets you efficiently rule out entire classes of goals as not in keeping with your values that might have otherwise have seemed appealing. Think of the time, energy and effort you can save if you stop working towards things you don't really want!
Here's some examples of values that may resonate with you:
Compassion
Recognition
Honesty
Freedom
Integrity
Family
Adventure
Faith
Career
Friends
Personal Growth
Education
Self-Control
Health
Charity
Tranquility
Kindness
Hospitality
Capability
Peace
Security
Creativity
Thrift
Challenge
Want a bigger list of values that's still not exhaustive? Check this out.
There is no right or wrong here. Your values are your own. Your values list is also not locking you into anything. While my top five values have stayed pretty constant, since I've had children I've come to increasingly value Rootedness, the making of a life in the same community over a long period of time.
Before kids I had a pretty serious travel bug, and would have listed Adventure as a value of mine, but that is a bit less critical to me now. Your values can evolve over time, and you can re-do this exercise as often as you like.
What Financial Pros Say About Values
If you'd like a little more structure while doing this exercise, David Rich, the Finish Rich and Latte Factor personal finance guy, has made the entire "Values Circle" chapter of his book, Smart Couples Finish Rich, available for free in PDF.
In this chapter there is a big long lead-in about why you should identify your values (I'm not the only person yammering about this) and then you get to his Values Circle Chart, which you can print and fill out for yourself.
I will admit that I am not a huge fan of the graphic layout of his particular chart, but it will do as a starting point, and there is a table just after it which helps to clarify the difference between Goals and Values.
Just Do It. Really.
This challenge is one of those things that is easy to skip because it doesn't have that "immediate win" feeling of shaving $30 off your internet bill with a phone call, but it is so, so worth it.
No Spend Month is almost up, and our final Mini Money Challenge will bring together all the hard work we've done so far. But you gotta have your values written down first. Please, tackle this challenge today.
If you haven't yet finished the Occupy Your Brain Challenge or the Own Your Numbers Challenge, get those finished up too. The big finale is just around the corner.
What are your Top Five Values? If you want to, please share with us in the comments.
1