My mom used to make me a special cake on my birthday. It was a four-layer white cake, each layer filled with lemon pie filling. The cake was frosted with Seven Minute Frosting – which is basically like marshmallow fluff – and coated with sweetened shredded coconut.
I loved this cake. It went down like sweet, fluffy air and the acid from the lemon pie filling (from a can as I recall, not that I minded) just slightly offset the sugar-bomb joy that was the rest of the cake.
The first time I made homemade lemon curd, my mind went back to that cake. It was like lemon pie filling had grown up, discovered mascara, and slipped into a damned sexy strapless sundress. Lemon curd was a head-turner. Lemon curd had something going on – sweet, bright with citrus flavor, just a bit tart, smooth and equally at home at a casual picnic, alongside a wedge of Almond Cake or as the star of a high-end French tartlet.
I was in love.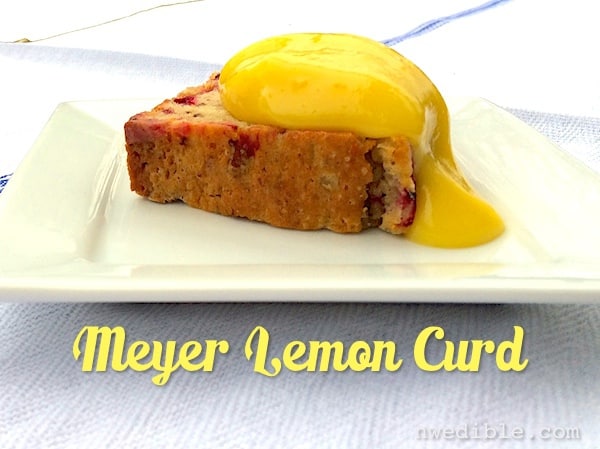 It's Meyer Lemon season now, which means it's time to make and stash away a few jars of Meyer Lemon Curd so the love affair can continue.
Meyer lemons are less tart than the Eureka (and similar) lemons that you are likely to find at the supermarket, and their skins are thinner and more golden-orange in tone than yellow. If you can't track down Meyer lemons, this recipe is equally delicious (though a bit more puckery) with regular lemons. Or substitute lime juice and lime zest for lime curd. You really can't go wrong.
I never water bath can my citrus curds – although it's possible with the right recipe (not this one), the shelf life is quite limited and the powers-that-be insist that bottled citrus juices be used for safety. Using anything but freshly squeezed juice in a curd recipe would be an absolute offense. Don't waste your butter.
Instead of canning, I freeze my curd for longer storage. It freezes perfectly for several months – probably longer, but I've never had a batch last more than 3 months because it's that good. In fact, frozen curd is a treat in itself, and I have snuck more than a few spoonfuls straight out of a jar in the freezer to eat like the world's most delicious lemon sherbert.
My favorite lemon curd recipe comes from Fine Cooking. The proportions given here will make a triple batch – enough to get 6 or 7 half-pint jars of curd stashed away.
Bulk Peeling and Juicing
You're going to need about 10 medium Meyer lemons for this recipe, but it's best to have a few extras on hand in case your specimens are smaller or less juicy. Lemon zest is infinitely useful, so when I have a lot of lemons to juice, I take a bulk approach to zesting and juicing.
First I wash and dry all the lemons. I recommend organic lemons, but if all you can find is conventional, be particularly vigilant about scrubbing the peels well to remove as much wax and pesticide residue as possible.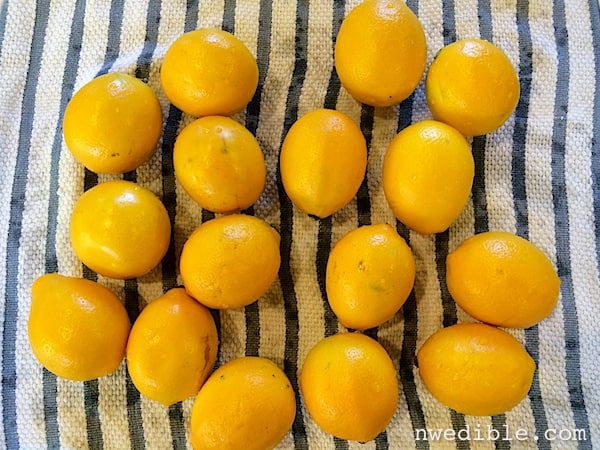 Next I peel each lemon with a vegetable peeler.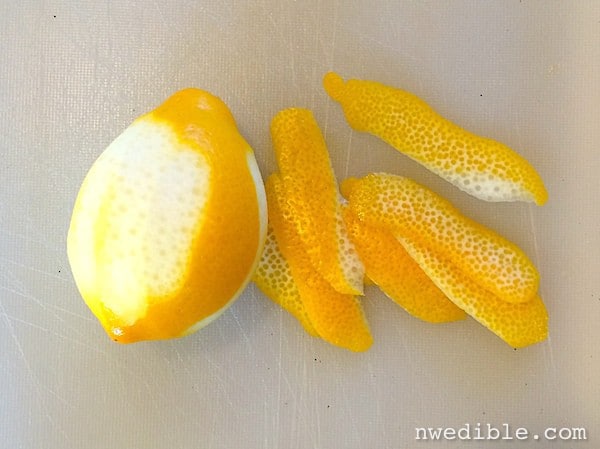 All the peels get set to one side and the naked lemons get set to the other.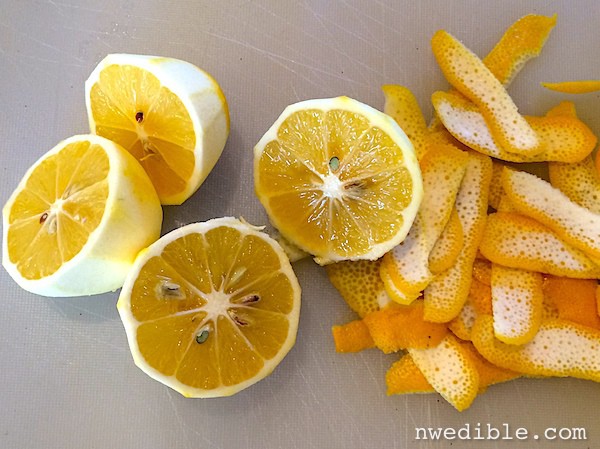 Now you can process your lemon peels in bulk – I just popped all mine in the food processor to mince them. I used what I needed fresh in a few recipes and then dehydrated the remainder. Easy peasy.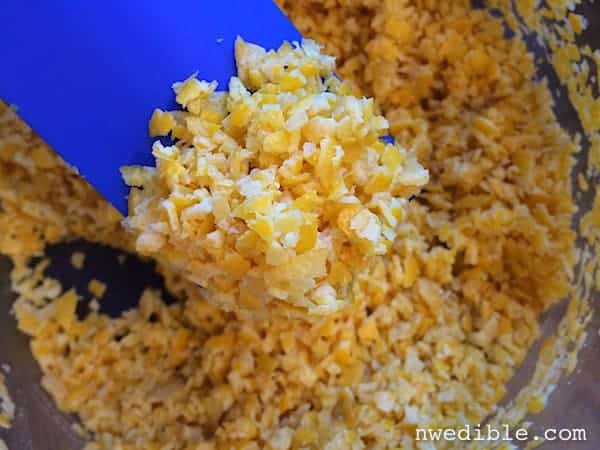 I turned the lemons over to my son for juicing. He did great!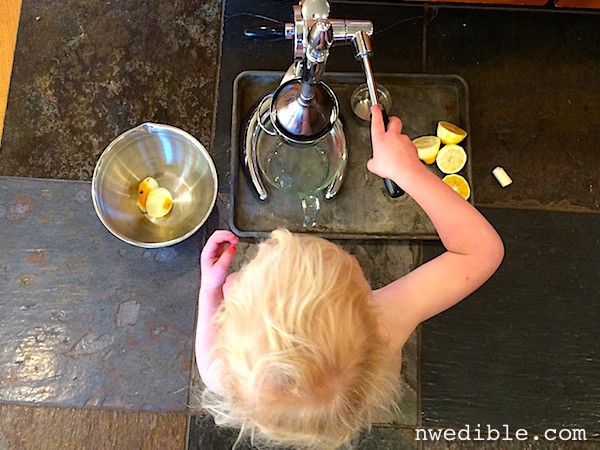 Meyer Lemon Curd Step-by-Step
Combine the butter, sugar and lemon zest in the bowl of a food processor.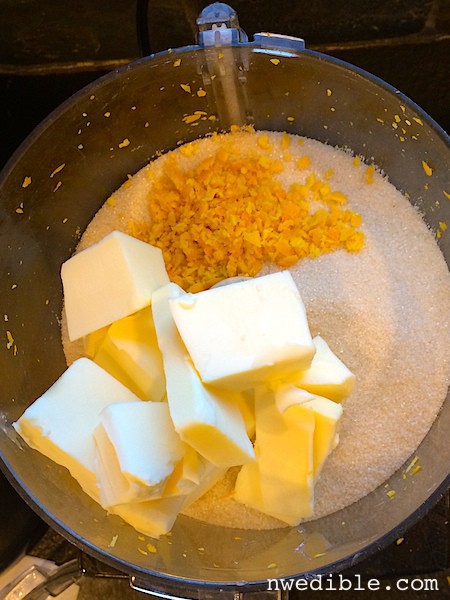 When all the butter and sugar is well combined, add in the eggs with the mixer running.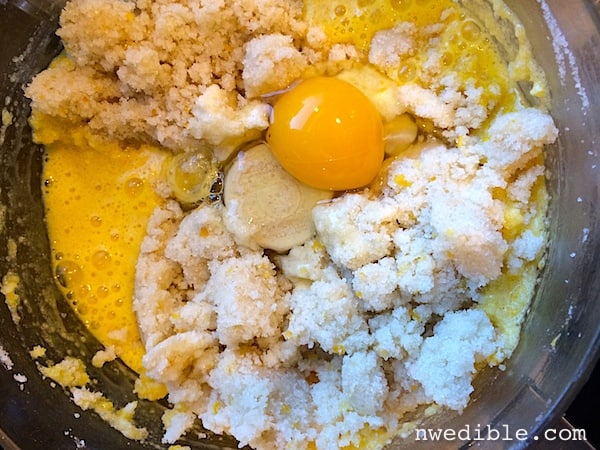 Scrape down the bowl once or twice and process until smooth.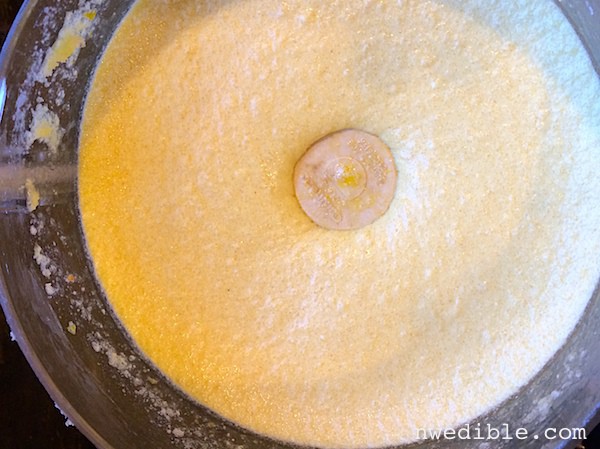 If your food processor is large enough, add in the lemon juice and process to combine and then transfer the curd mix to a heavy saucepan. If you don't have enough room to blend the juice in the food processor, just scrape the butter-sugar-egg mix into a heavy saucepan and whisk in the lemon juice. If the mixture looks a bit curdled, don't panic. It will be fine.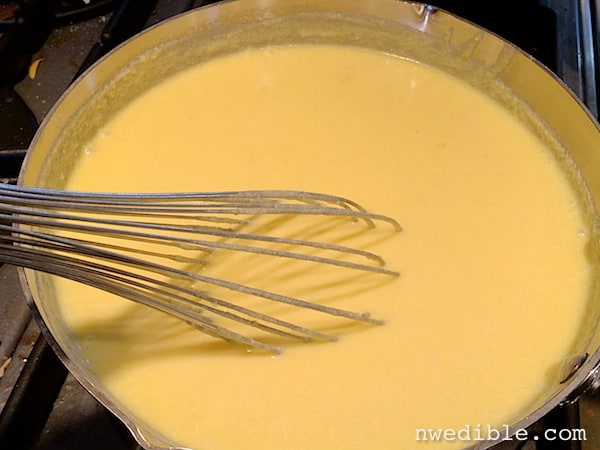 Heat curd mix over low-to-medium heat, depending on how ballsy you are. Stir consistently until mixture thickens and changes from pale yellow to bright lemon yellow. It is done at 170-degrees, or when you can run your finger through a dollop of curd and the line of your finger stays. If you get the curd too hot you'll have sweet, lemony scrambled eggs – not so nice.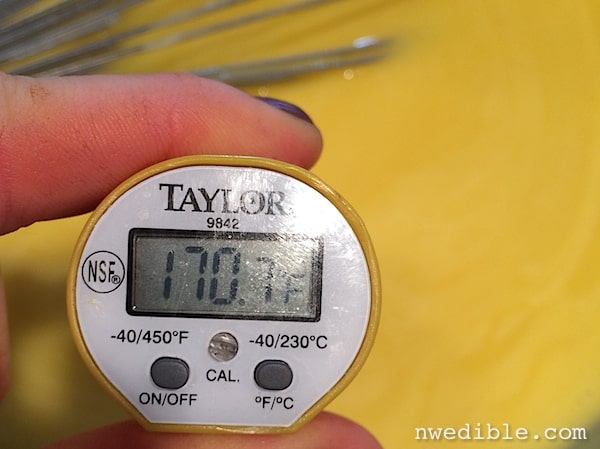 At this point, if you want you can strain your curd. If you are concerned you may have a little bit of floating scrambled egg in there, or if you prefer your curd without the lemon zest, strain. I don't – I like those little flecks of zest. Ladle the curd into clean, dry half-pint jars.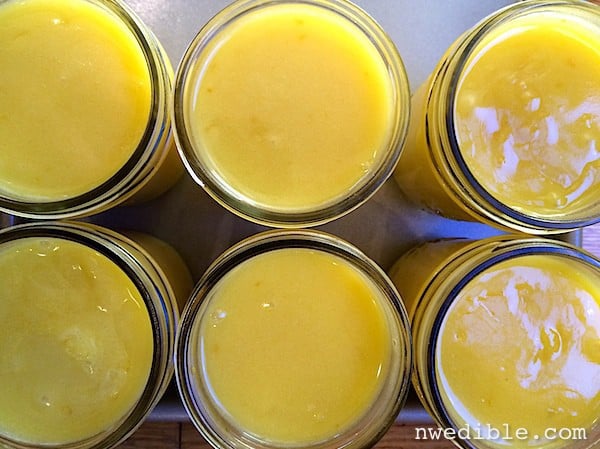 I press small squares of plastic wrap down on the top of the curd to help keep a skin from forming. This is optional. You can also use waxed paper.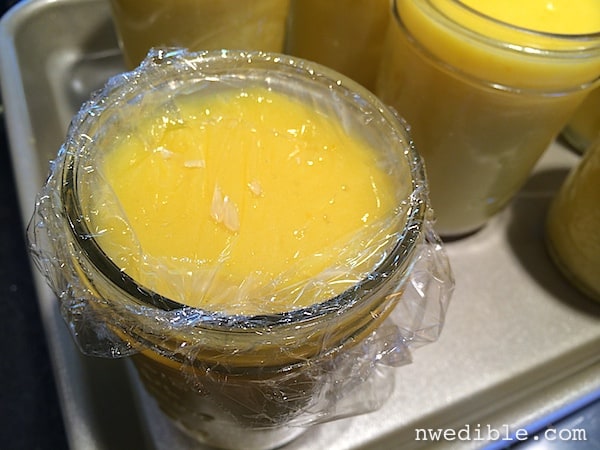 Transfer the curd to the fridge. It will firm and thicken as it cools. Transfer whatever curd you won't eat within a week to the freezer for longer storage.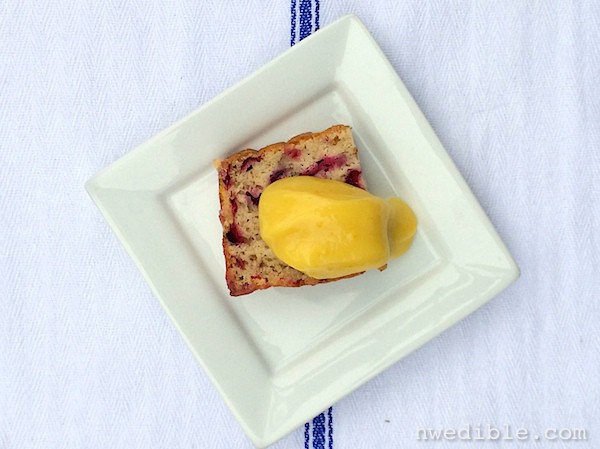 Printable Meyer Lemon Curd Recipe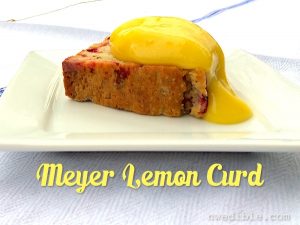 Print
Meyer Lemon Curd
A delicious and easy Meyer Lemon Curd Recipe, lightly adapted from from Fine Cooking (http://www.finecooking.com/recipes/lemon_curd.aspx?). For lime curd, substitute fresh lime juice and lime zest.
Ingredients
9 oz. (18 tablespoons or 2-1/4 sticks) butter, softened at room temperature
3 cups sugar
1 tablespoon grated Meyer lemon zest
6 large eggs
6 large egg yolks
2 cup freshly squeezed Meyer lemon juice
Instructions
Have 7 clean, dry half-pint jars standing ready.
In the bowl of a food processor fitted with the metal blade, pulse butter, sugar and lemon zest until combined.
Run blade for about a minute to fully mix butter and sugar, then add in the eggs and egg yolks while the food processor is running. Blend for about a minute, until creamy, pale yellow and a bit frothy looking. Scrape down the bowl to ensure the entire mix is fully blended.
If your food processor is large enough, add the Meyer lemon juice to the egg mixture and blend. Transfer mix to a large, heavy-bottomed saucepan. If your food processor is not large enough to accomodate the lemon juice, transfer the egg-sugar mixture to the saucepan, add the lemon juice and whisk together by hand. The mixture may look a bit curdled at this stage, but it will be fine as it heats up.
Turn the heat to low and cook Meyer lemon curd mixture until it is smooth and thickens, stirring consistently. When the mixture reaches 170 degrees and becomes thick enough to coat the back of a spoon and hold the lines of your whisk, remove curd from heat.
Remove the curd from the heat and ladle into the waiting half-pint jars. I recommend using a canning funnel to cut down on spills. Cut small squares of plastic wrap or waxed paper and press down onto the curd to prevent a skin from forming. Lid jars and transfer to the refrigerator.
Curd will thicken as it cools.
Curd will keep for a week at least in the fridge. For longer storage, freeze for up to 3 months.
What is your favorite way to use Lemon Curd?
7