Apparently the average American gains ten pounds between Thanksgiving and New Years.
This bourbon pecan toffee bark will be responsible for 9 of my 10 pounds, I am sure of it.
I was reading my current favorite cookbook, America's Test Kitchen DIY Cookbook, and staring at the recipe for chocolate toffee bark while drinking an aged Canadian rye whiskey that tastes much like the world's most grown up caramel.
"The only thing that would make this recipe better would be if you could substitute the water for bourbon," I thought to myself.
As it turns out, you can.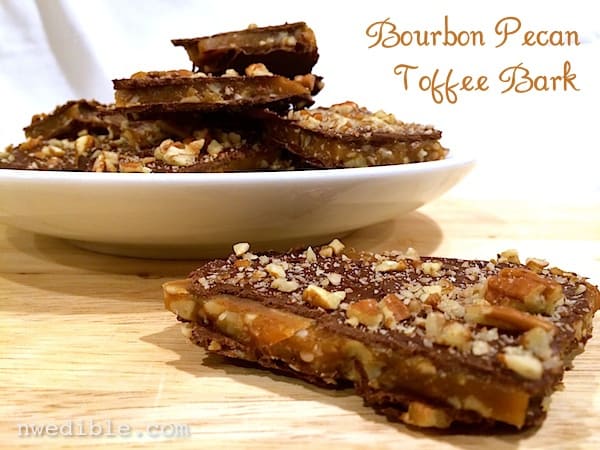 Bourbon Toffee Bark Step-by-Step
You really want to have everything prepared before you start. When the toffee is ready, it's not gonna wait for you to get your pan out. So have a pan ready. Line it smoothly with foil and grease.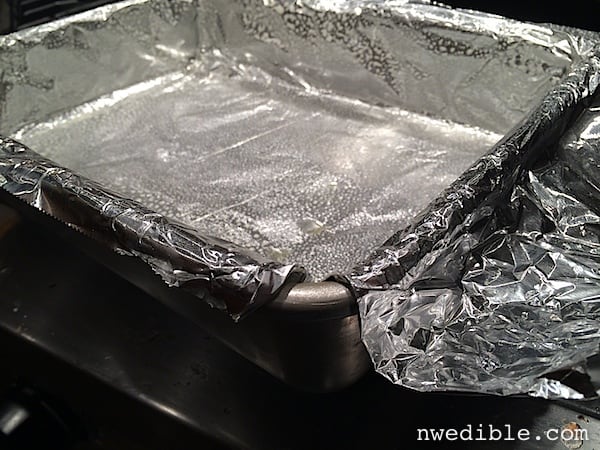 Heat the bourbon and butter together in a generously sized, heavy saucepan. The toffee will bubble up a lot as it cooks, and you do not want it to boil over. (Ask me how I know, and how long it takes to scrub burned toffee off your stove.)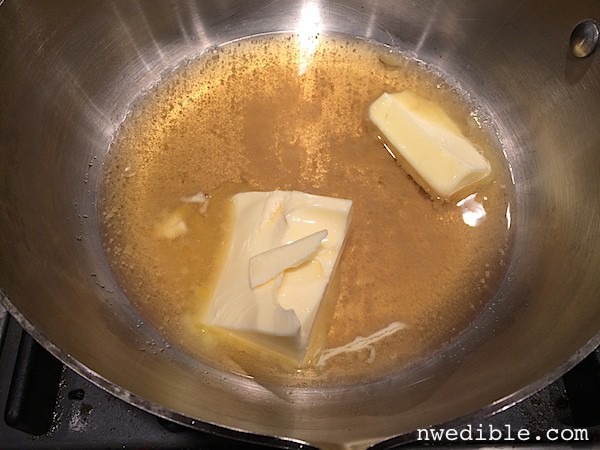 Add the sugar and salt into the middle of the pan – make a little sugar mountain that does not touch the sides of the pan to prevent the dreaded sugar crystallization issue.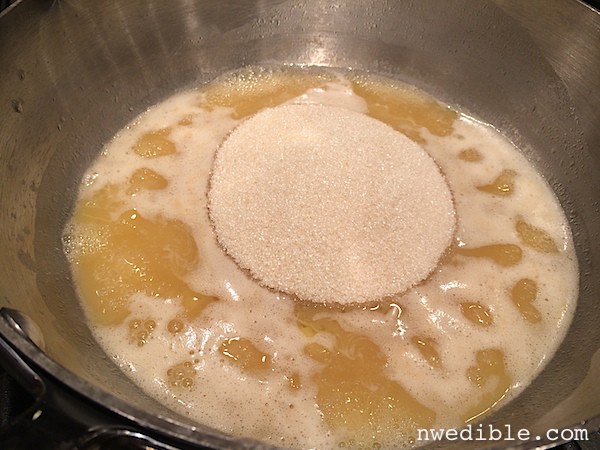 Smoosh the sugar down into the simmering bourbon but do not stir. Keep those sugar crystals off the sides of the pan.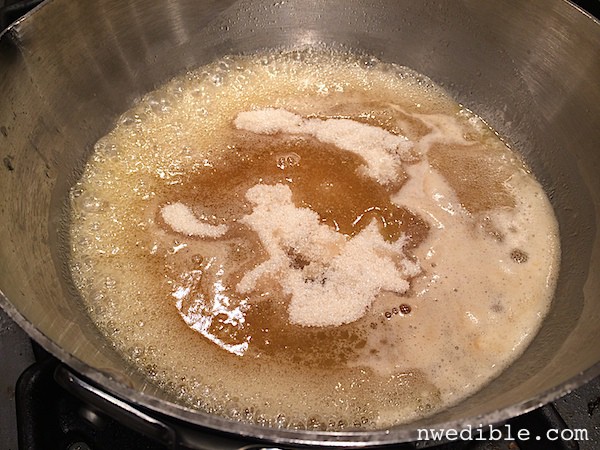 Cook without stirring until the toffee is a light caramel color, then watch carefully, swirling the toffee in the pan as needed.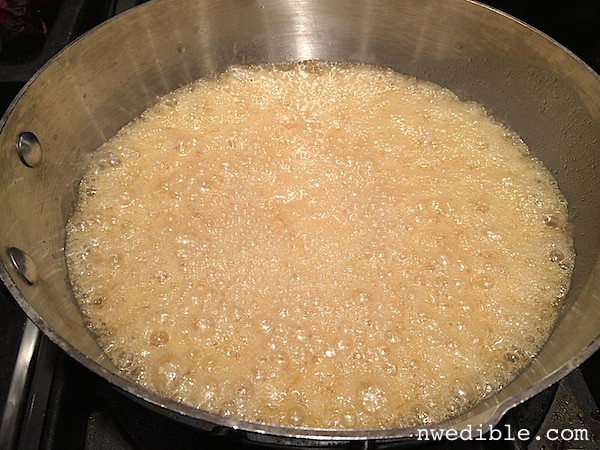 At 325-degrees F the toffee will be a rich, amber color. (Note: I am at basically sea level at my house. The temperature at which your toffee will hit the proper sugar concentration will vary by altitude. If you are making this at higher altitude, your "finished" temp will be lower. You want a dark golden-amber color and a heavy caramel – but not burnt – scent.)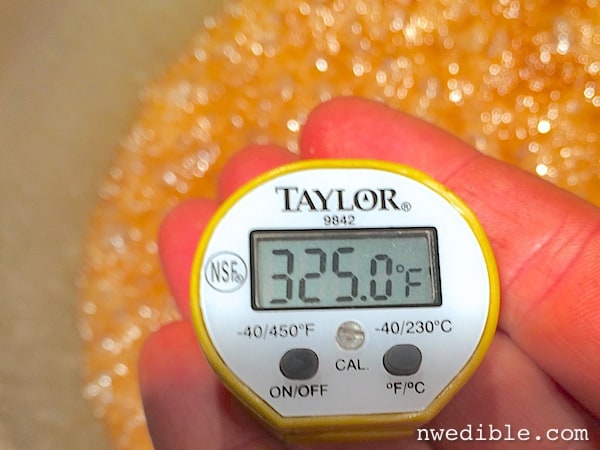 Get it off the heat right away and stir in one-third of the pecans.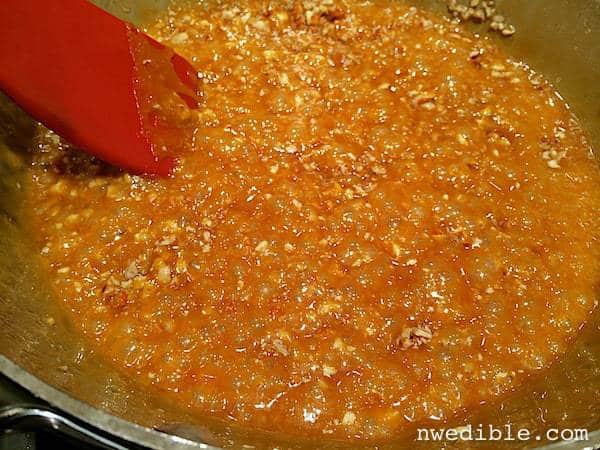 Scrape toffee out into prepared pan and chill until firm.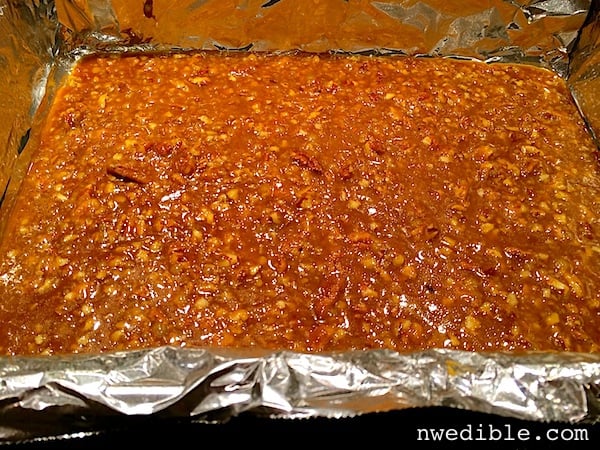 Melt chocolate and coat the first side with half the chocolate. Sprinkle melted chocolate with another third of the pecans and let set up.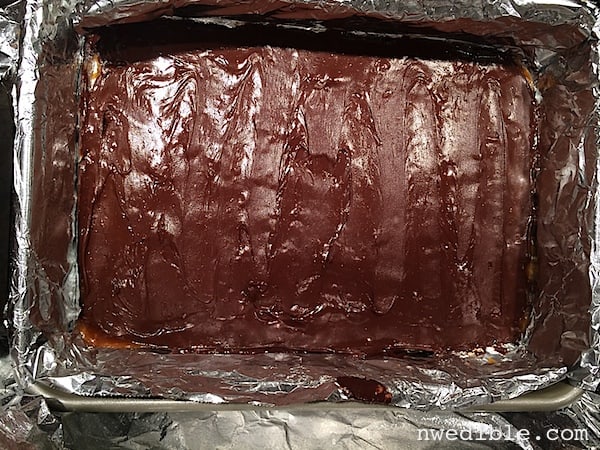 Flip toffee over by placing a piece of greased foil or parchment paper over the chocolate coated side and carefully flipping everything over.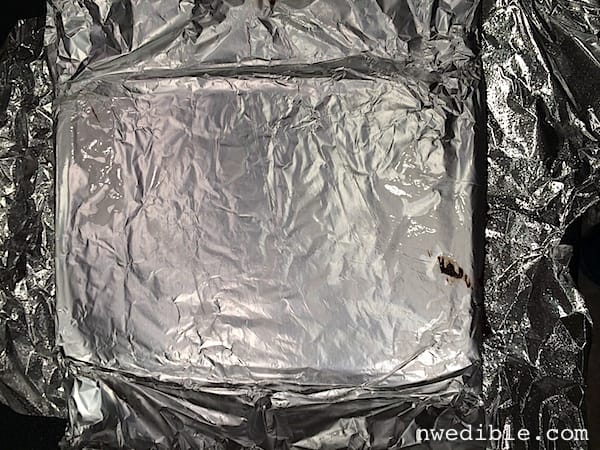 Peel off the layer of foil to reveal the second side of the toffee. Coat this with the remaining chocolate and sprinkle with the remaining pecans.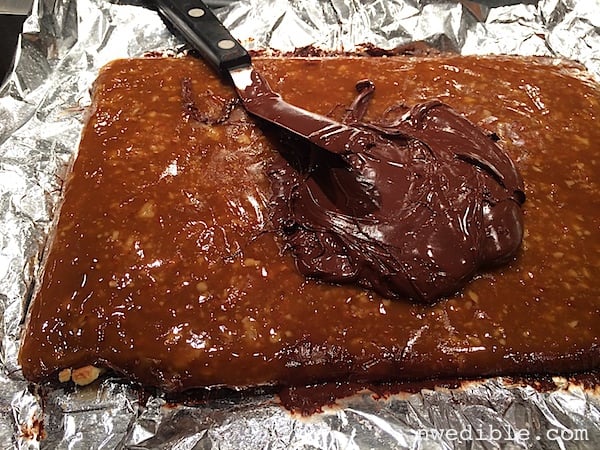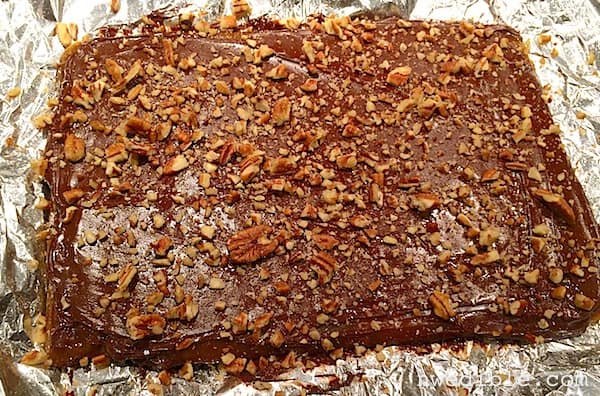 Chill toffee uncovered until fully firm and set, about 15 minutes. Break toffee into hunks with your clean hands, and eat it all like a freaking glutton store in a cool, dry place for up to two weeks.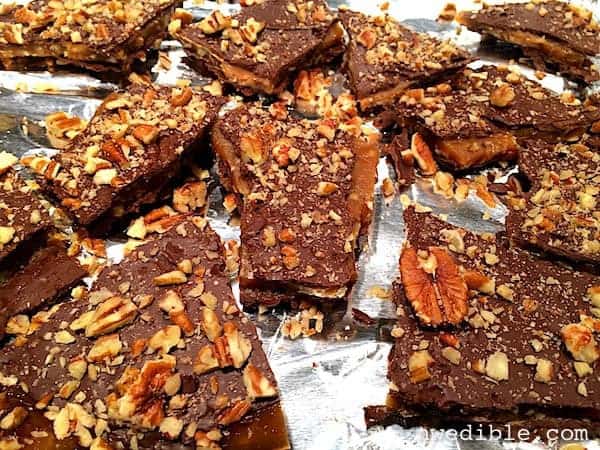 Makes an excellent homemade holiday gift.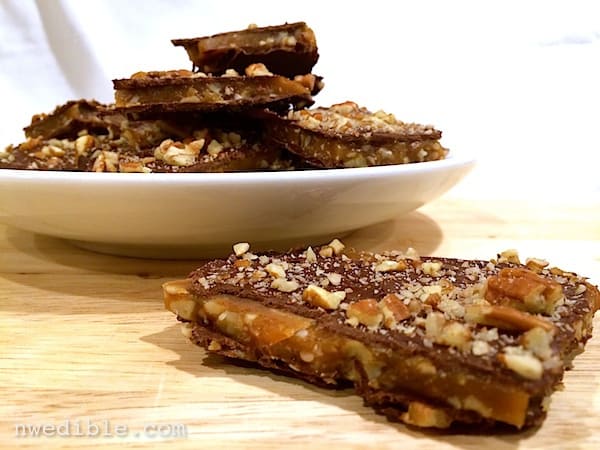 Printable Bourbon Pecan Toffee Bark Recipe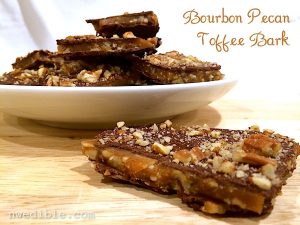 Print
Bourbon Pecan Toffee Bark
Delicious holiday toffee bark with pecans, chocolate and bourbon. Recipe lightly adapted from the America's Test Kitchen DIY Cookbook.
Ingredients
4 oz. (8 tablespoons) butter
1/2 cup bourbon (I used Jim Beam)
1 cup sugar
1/2 tsp. fine sea salt
1 1/2 cup (6 ounces) pecans, chopped fine and divided into 3, 1/2 cup portions.
12 oz. semisweet chocolate, chips or chopped bars
Instructions
Make Toffee
Have everything ready before you start. Toffee waits for no one.
Line a 9x13 pan smoothly with foil; use enough foil so that foil runs up the edges of the pans and makes handles. Grease the foil with vegetable oil or butter.
Heat the butter and bourbon in a medium saucepan over medium-high heat until the butter is melted.
Pour the sugar and salt into the center of the saucepan like a little mountain. Gently push the sugar down into the bourbon mixture but don't get any sugar on the edges of the pan.
Cook sugar without stirring until it's a light golden color and measures 300-degrees F on an instant read thermometer.
At this point sugar will darken quickly, so reduce heat to medium, watch carefully and swirl pan to ensure toffee cooks evenly. When toffee is medium-amber in color and measured 325-degrees F, pull it off the heat and stir in 1/2 cup chopped pecans.
Immediately pour toffee into foil-lined, prepared pan and smooth. Chill until firm, about 15 minutes.
Chocolate Coat The Toffee
Melt chocolate in the microwave at 50% power, stirring frequently, or in a double boiler set over simmering water.
Pour half of the chocolate over the hard toffee, smoothing with a small offset spatula. Sprinkle 1/2 cup pecans over chocolate and gently pat down. Pop the toffee back into the fridge for 5 minutes or so, just to set.
Place a piece of parchment or greased foil over the chocolate-coated toffee and carefully invert the toffee onto a sheetpan or cutting board.
Peel away the bottom layer of foil to reveal the uncoated side of the toffee.
Warm remaining chocolate if necessary and spread over the second side of the toffee. Sprinkle with the final 1/2 cup pecans and pat down. Return toffee to the fridge, unwrapped, until fully set, about 15 minutes.
Break (don't cut) the toffee into generous pieces. Store in a cool, dry place in an airtight container for a week or two.
Related Stuff…
(The Amazon links are affiliate links. Purchases made through these links cost you nothing extra but allow me to continue to shoehorn whiskey into as many recipes as possible. Full financial disclosure here. Thanks for your support, guys, I would totally share my toffee bark with you.)
America's Test Kitchen DIY Cookbook. You may remember this book from the Giant DIY Bacon Tutorial. I am slowly making every recipe in this book. It's the perfect gift for nerdy DIY enthusiasts. Highly recommended.
Williams-Sonoma Handcrafted Toffee. One pound for $24. This isn't an affiliate link or anything – I just wanted to make it easy for you to do a store-bought vs. DIY price comparison. This recipe makes about 1 1/2 pounds. So, in Williams-Sonoma dollars, this is about $36 worth of toffee. I figure ingredients for this recipe were about $10.
25