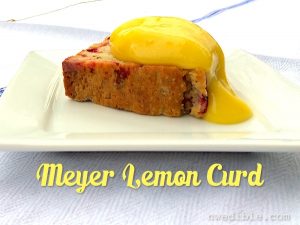 Meyer Lemon Curd
A delicious and easy Meyer Lemon Curd Recipe, lightly adapted from from Fine Cooking (http://www.finecooking.com/recipes/lemon_curd.aspx?). For lime curd, substitute fresh lime juice and lime zest.
Ingredients
9 oz. (18 tablespoons or 2-1/4 sticks) butter, softened at room temperature
3 cups sugar
1 tablespoon grated Meyer lemon zest
6 large eggs
6 large egg yolks
2 cup freshly squeezed Meyer lemon juice
Instructions
Have 7 clean, dry half-pint jars standing ready.
In the bowl of a food processor fitted with the metal blade, pulse butter, sugar and lemon zest until combined.
Run blade for about a minute to fully mix butter and sugar, then add in the eggs and egg yolks while the food processor is running. Blend for about a minute, until creamy, pale yellow and a bit frothy looking. Scrape down the bowl to ensure the entire mix is fully blended.
If your food processor is large enough, add the Meyer lemon juice to the egg mixture and blend. Transfer mix to a large, heavy-bottomed saucepan. If your food processor is not large enough to accomodate the lemon juice, transfer the egg-sugar mixture to the saucepan, add the lemon juice and whisk together by hand. The mixture may look a bit curdled at this stage, but it will be fine as it heats up.
Turn the heat to low and cook Meyer lemon curd mixture until it is smooth and thickens, stirring consistently. When the mixture reaches 170 degrees and becomes thick enough to coat the back of a spoon and hold the lines of your whisk, remove curd from heat.
Remove the curd from the heat and ladle into the waiting half-pint jars. I recommend using a canning funnel to cut down on spills. Cut small squares of plastic wrap or waxed paper and press down onto the curd to prevent a skin from forming. Lid jars and transfer to the refrigerator.
Curd will thicken as it cools.
Curd will keep for a week at least in the fridge. For longer storage, freeze for up to 3 months.
Recipe by Northwest Edible Life at https://nwedible.com/meyer-lemon-curd-a-love-affair/