Do you run short on reusable, environmentally-friendly containers when you are packing lunches?
In the, "this may be too obvious to be a blog post but may also change your lunch hour for the better" category, I'd like to talk about using your stash of mason jars for things other than canning (or margaritas).
Like brown bagging it.
I have collected quite an assortment of jars of all sizes, and find them indispensable for packing lunches. For a long time I was making a big effort to phase out all the plastic reusable containers in my tupperware drawer and to phase in a bunch of new, glass containers with snap-on plastic lids.
Then, in a palm-to-forehead moment, I realized I already had dozens (ok, probably hundreds) of variable sized, rugged glass containers that would serve lunch container duty perfectly well.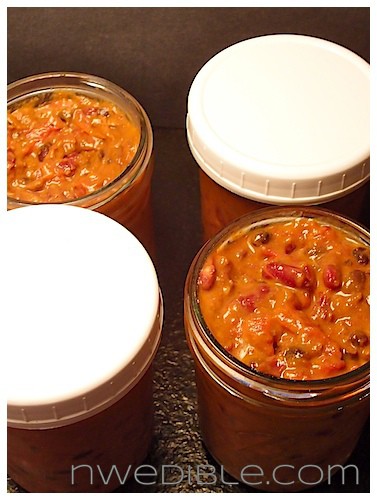 The Daily Muse had a great article on how to pack a salad in a quart jar. I loved this article, and now that salad season is officially here, I'll be trying out their entree-salad-in-a-jar recipes.
But don't stop with salads, or with quart jars.
I often make a big batch of something filling and easy, like chili, and just keep it in the fridge, eating it down as the hunger strikes over the course of a week, or sending it with Homebrew Husband as a ready-to-go brown bag lunch. It's basically the same amount of work to fill five jars as it is to fill one, so in a matter of minutes Nick's lunches for the week can be done.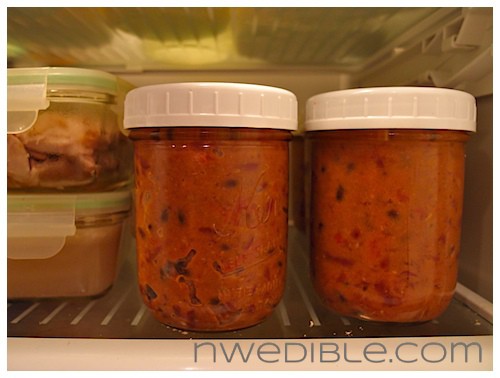 Pint size mason jars are the perfect size for a hearty serving of chili, pasta with sauce, stew or chowder. We have a bunch of reusable plastic screw-on mason jar lids for this kind of thing, which I find simpler to wrangle than the two-piece canning lids.
I like the ½ pint (8 oz.) and ½ cup (4 oz.) size jars for side-dish items like berries, yogurt, pudding, applesauce or dried fruit. The 4 oz. jars have been shockingly indispensable in packing the kid's lunches and stashing small portions of homemade baby snacks in the fridge or in the diaper bag.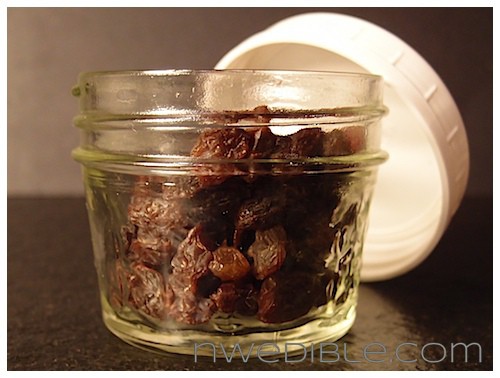 The glass, with a bare minimum of care, is rugged enough to handle a commute, and though Nick does make an effort to keep the jars more-or-less upright to prevent oozing, the kids certainly don't and no harm or major leaking has yet happened. I used to worry about sending the kids off with mason jars but have since relaxed. I haven't found them to be any less rugged or more leaky than the "official" glass snap-lock containers we also use.
At the office, microwaving lunch is simple and worry free (take the lid off and there aren't any plastic leachates to worry about heating up). Nick likes the way the microwave heats the mason jar contents evenly and quickly. At school, Bella is more than able to handle twisting the plastic lids on and off her mason jars.
Lately I have taken to attaching a reCap to a 4 oz. or narrow-mouth ½ pint jar filled with slightly runny apple or pear sauce. This is my homemade answer to those new foil-pouch squeeze-fruit things that are everywhere.
Oliver, at not-quite-two, pops the top on the reCap and tips the applesauce back and into his mouth with no problem. Drinkable fruit, without the $1.65 each price tag or the waste. That's what I'm talkin' about.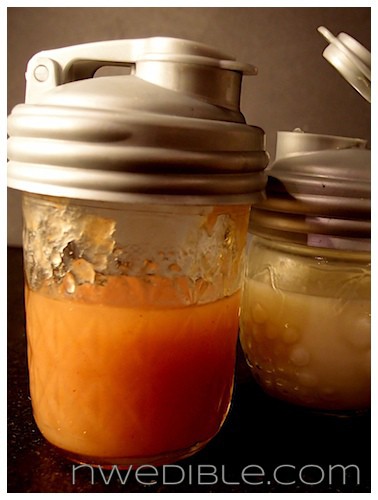 ReCaps work well to turn any mason jar into a sippy cup, too. Though not spill proof, the pour spout on the cap is definitely easer for small people to handle than a full-sized glass, and most of the spills I see from Oliver with the reCap lid are of the deliberate "lets see what happens when I dump this out!" variety.
For us, the investment in a few kinds of reusable plastic lids (they are about 70 cents each, or only about a quarter more than new two-piece lids sold without bands) has helped make multi-purposing the mason jars more convenient. If you had a bunch of used canning jar lids looking for a purpose, or were trying to avoid any degree of plastic use, you could certainly go the two-piece lid route too.
Mason jars are great for picnics too, with one big disadvantage: they are heavier than an equivalent plastic container. So if you'll be hiking miles to the beach, or carrying your lunch and the baby and the umbrella and the dog and the fourteen-hundred beach toys, you might consider if the additional weight of the containers will drag you down.
I'm a big fan of anything that makes packing lunches easier, and never running out of containers certainly makes it easier.
Do you use mason jars when you are packing for a meal away?
4