I've been thinking about self-sufficiency: what that means, and what is truly achievable in a small space, such as our 1/3-acre property.
The key to eating more food from your own backyard, it strikes me, is to have a diet that focuses more on foods that can be grown in your backyard.
Even though we are relatively serious when it comes to the grow it-cook it-eat it philosophy, the vast bulk of the calories we consume still come from somewhere else: our meat, fat, grains and sweeteners travel some distance before arriving at our fork, and I still happily buy pineapples and bananas and the like periodically. And chocolate and coffee are just a given, right?
So if we were to start thinking about getting more and more of our calories from our own land, small as that plot of land is, what would that look like?
This is what I came up with: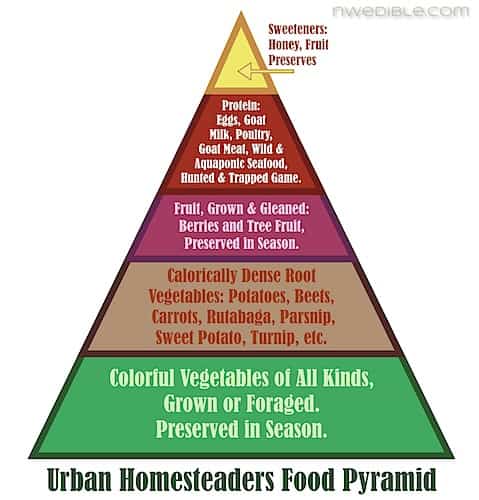 This pyramid is a thought exercise based on our diet (which includes animal products), our space limitations and our climactic realities. It isn't a recommendation for any specific dietary plan nor a suggestion that the diet pictured is the healthiest or best in any way.
It does take into consideration space, which is of course at a premium on a micro-farm. There is an emphasis on expanding beyond the physical boundaries of the backyard to glean berries, harvest wild greens and hunt or fish as your time, location and circumstance allows.
Through intensively managing the growing space in an urban homestead, and though taking advantage of any other wild foods that might be free or low-cost for the picking, I think something sorta close to a self-sufficient diet might be possible in limited space.
But this would require turning the typical diet – even the typical eco-aware diet – on its head. Grains would be gone because they simply aren't space efficient when compared to starchy root vegetables like the potato.
Animal products would be very possible, but eggs would be by far the easiest way to get animal fat and protein into the diet. Backyard rabbit-keeping and off-farm hunting and trapping would expand meat options.
Personally, if I were to embark on a mini-acrage self sufficiency quest, I would put a lot of energy into researching aquaponics, the hybrid system for growing greenhouse-perfect fruits and vegetables with the waste nutrient of fish raised for seafood.
In aquaponics, the general idea is you feed the scraps to the worms, you feed the worms to the trout (tilapia in warm climates), you feed the fish poop to the plants, and you get to eat both the fish and the plants. I've read that in a well-run aquaponics system, greens and strawberries and trout can be harvested all year round from a small-space, closed system. Very exciting stuff.
Sweetener would be honey, that nectar of the bees, of course. Beekeeping at a small scale requires very little space and bees are far more self-sufficient than any other backyard productive animal. Most recipes that call for sugar can be adapted to honey. And besides, without flour, you wouldn't be doing that much baking anyway.
This is a Food Pyramid that reflects our space and climate and how we might be able to eat, if push came to shove. I don't mean it to be a suggestion or a proscription at all – your Urban Homesteader Food Pyramid might look very different from ours.
If your diet came only from your backyard, how would it change? What would it look like? Could you do it?
1