I bake almost all my quick breads and cakes in square 9 by 9 pans. I'll admit that this started out as a happy accident.
Six years ago, in an effort to earn a little extra holiday cash, I took a seasonal job as the Holiday Food Demo Girl at my local mall's Williams-Sonoma store. As holiday work went, hanging out for minimum wage in a high end kitchen store right after the financial crash of the Great Recession was pretty chill. There just weren't that many people coming in to buy the (mostly excellent, if overpriced) Williams-Sonoma branded cookware in December, 2008.
So in between keeping the Peppermint Cocoa topped up and washing my hands with the Peppermint Soap and asking people if they'd like to try a sample of the Peppermint Bark, I had a little time on my hands.  I spent most of this time browsing all the shiny, tempting, wonderful cookware on offer, and honing down my personal Holiday Must-Have List.
As you might imagine, I bought my own Christmas presents that year, and – even with the generous employee discount – I managed to spend far more than I ever made at my Williams-Sonoma holiday shifts that year.
One of the items I purchased was a heavy-gauge, non-stick, square 9 by 9 baking pan. (Basically this pan, but for more money.) Actually, I bought three such identical pans, with hip, modern, square layer cakes on my mind.
Over the past six years, those pans have seen a lot of action. I have actually made layer cakes with them. When our best friends got married and needed a small square cake to top their cupcake display, my pans didn't let me down. When a particularly wonderful personal chef client of mine commissioned a celebration carrot cake, I was able to make a rather stunning (if I do say so myself) cube of moist, delicious, lightly-spiced cake separated by clouds of cream cheese frosting. Another guy – a Colonel in the Army – called me up from Iraq and asked me to make a chocolate birthday cake for his wife while he was away on duty. Cake mission accomplished, sir, with a little help from my 9 by 9 pans.
Somewhere along the way, I stopped cooking for other people so much, and started focusing more on food preservation and cooking under my own roof. I started cooking obscenely large quantities of zucchini bread, simply because I had a ton of zucchini on the counter. I started making plum cake and applesauce cake and pear cake and pumpkin cake – all in those 9 by 9 pans, and all to use the bounty of my garden that spends a few months every year at this time, threatening to overtake me.
During these bulk-bake-sessions, I realized that 9 by 9 pans create baked goods that fit absolutely perfectly in 1-gallon zip-top freezer-bags.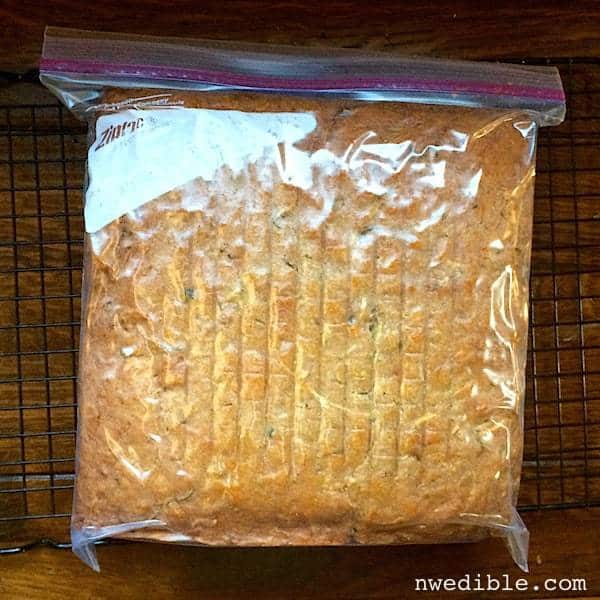 Now, if you eschew all plastic in your home, this may not matter to you, but as a fallible person of many compromises and many freezer bags, this discovery rocked my world.  When I'm hip deep in preserving, being able to slip six loaves of zucchini bread into perfectly sized bags, squeeze out the extra air, and stack them politely in the freezer is like a very small miracle.
4