In today's episode of the Grow Edible Podcast, I chat with Michael Judd, the author of Edible Landscaping with a Permaculture Twist about how to create a food forest. Michael has an interesting history; he spent his early adulthood  in rural Latin America, including living with a Mayan community in Guatemala. These experiences gave him a unique opportunity to see mature food forests managed by indigenous cultures who have literally thousands of years of experience maintaining sustainable perennial food systems.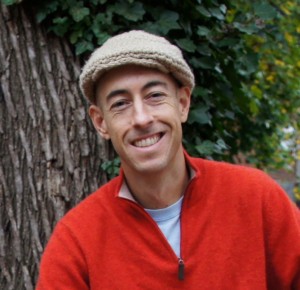 Michael's Easy Step-By-Step Mini Food Forest
In this show, Michael talks about his step-by-step plan to create a food forest, even if you don't have very much room.
Step One: create a large "patch" of super fertile soil with layered, top-down mulch, including a thick layer of woodchips to feed the fungal layer.
Step Two: Plant your anchor tree in your prepared patch – something like a dwarf apple, a persimmon, or even a large fruit shrub is good if you are very space limited.
Step Three: Surround your anchor tree with four types of perennial support species. Include nitrogen fixers like wild blue indigo or lupin, living mulch "chop-and-drop" plants like comfrey, insect habitat plants like yarrow and pollinator plants like echinacea.
Step Four: make as many patches as your space will allow, allowing them to eventually merge together. If you only have room for one patch, that's ok too! Even one patch of a tree plus support plants counts as a mini food forest.
Step Five: As you expand, add additional layers to your patch: try edible groundcovers like alpine strawberries or edible vines and brambles like thornless blackberry to add depth and layered texture to your food forest.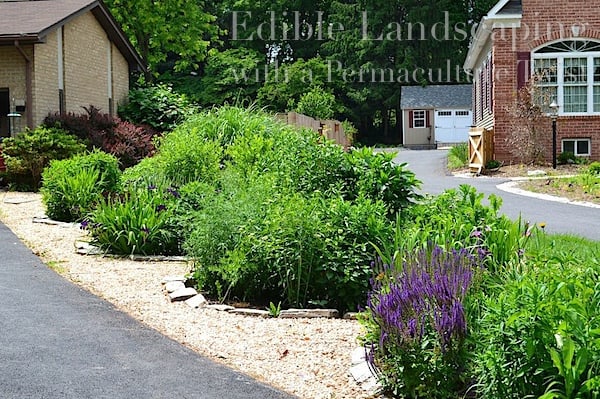 Show Notes
Today Michael and I discuss:
How to make a super fertile soil patch with layers of compost, woodchips and cardboard.
The psychology of Chop-and-Drop mulching.
The four categories of companion plants Michael recommends for a food forest "guild".
How to adapt the food forest concept to small scale and urban backyard environments.
Why temperate-climate gardeners need to spread out their food forest plantings to account for lower light-intensity.
What "sneaky" edible plants you can grow to discourage feral hippies, confuse zombies and fool the HOA landscape committee.
How to save money implementing a food forest, and where it might not make sense to go the cheap route on your edibles.
Michael's favorite unusable edible fruit for vodka infusions.
Why fruit growers should consider embracing alcohol fermentation as an efficient way to deal with seasonal bounty.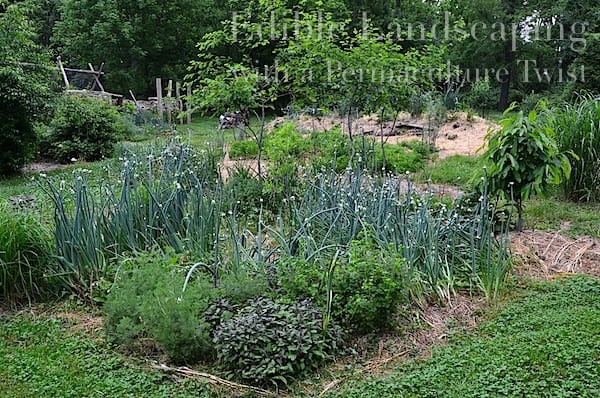 Resources for Today's Episode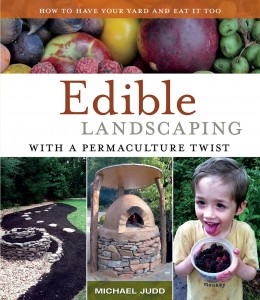 The Giveaway!
Michael has super generously agreed to give away three copies of his book, Edible Landscaping with a Permaculture Twist.
To be entered to win one of three copies of Edible Landscaping with a Permaculture Twist, leave a comment below telling me what your dream food forest would look like!
Contest open until Wednesday, August 27th. Winners will be notified by email and shall have 24 hours to claim their prize. US addresses only due to shipping (sorry international readers!).
Good luck!
Podcast Stuff
Not seeing the podcast player? You're probably viewing this in your email. Click here to be taken to the web-version of this post, complete with podcast player where you can play or download this podcast.
If you like this new podcast series, you might want to subscribe in iTunes or add the Podcast RSS feed to your preferred podcast reader. If you think I should keep this up, help me grow the podcast by leaving a good review or comment in iTunes – that really helps.
The theme music for the Grow Edible Podcast is Rodeo, graciously provided by my dear friend, the supremely talented Kristen Ward. You can find Kristen's music on iTunes and Amazon. Rodeo is off the Last Night on Division album – it's one of my favorites!
Perpetual hat tip to Erik and Kelly of Root Simple, the cool Godparents of the urban homesteading movement. Erik and Kelly put out a sharp and edutaining podcast in addition to writing great books, running a fantastic blog and generally spreading their urban farm wisdom far and wide. They graciously allowed me to steal their phrase "audio companion."
3