Way back in 2012, I wrote what became a fairly popular and referenced article on the Monsanto buyout of a seed company called Seminis. To briefly recap: Seminis was a provider of lots of garden seed to lots of different seedhouses. Then, overnight, they were a Monsanto subsidiary and seed companies like Johnny's Selected Seeds and Territorial Seeds found themselves in the awkward position of buying seeds from Monsanto.
These two seed houses (and perhaps others but I'll stick to the companies I've researched) – Johnny's and Territorial – both began divesting themselves of their relationship with Seminis and, as of December 2012 when I wrote my original article, Johnny's was carrying 15 varieties from Seminis and Territorial was no longer carrying any Seminis-sourced seed.
Fast forward to mid-February, 2018. My neighbor texts me and wants to know where his kid can buy some GMO seeds locally for a science experiment. I do a lot of hand-waving and gesticulation and sputtering (as one does when confronted with a pet peeve) and then explain that you can't just walk into the local Big Box and buy GMO seeds.
But, because I like my neighbor and because it's been a few years since I've pulled on my transgenic boots and grabbed my radiation gun and waded into the murky waters of GMO seed technology, I pop over to the Seminis website to see what they're up to in the world of garden seed these days.
A Visit To The Seminis Website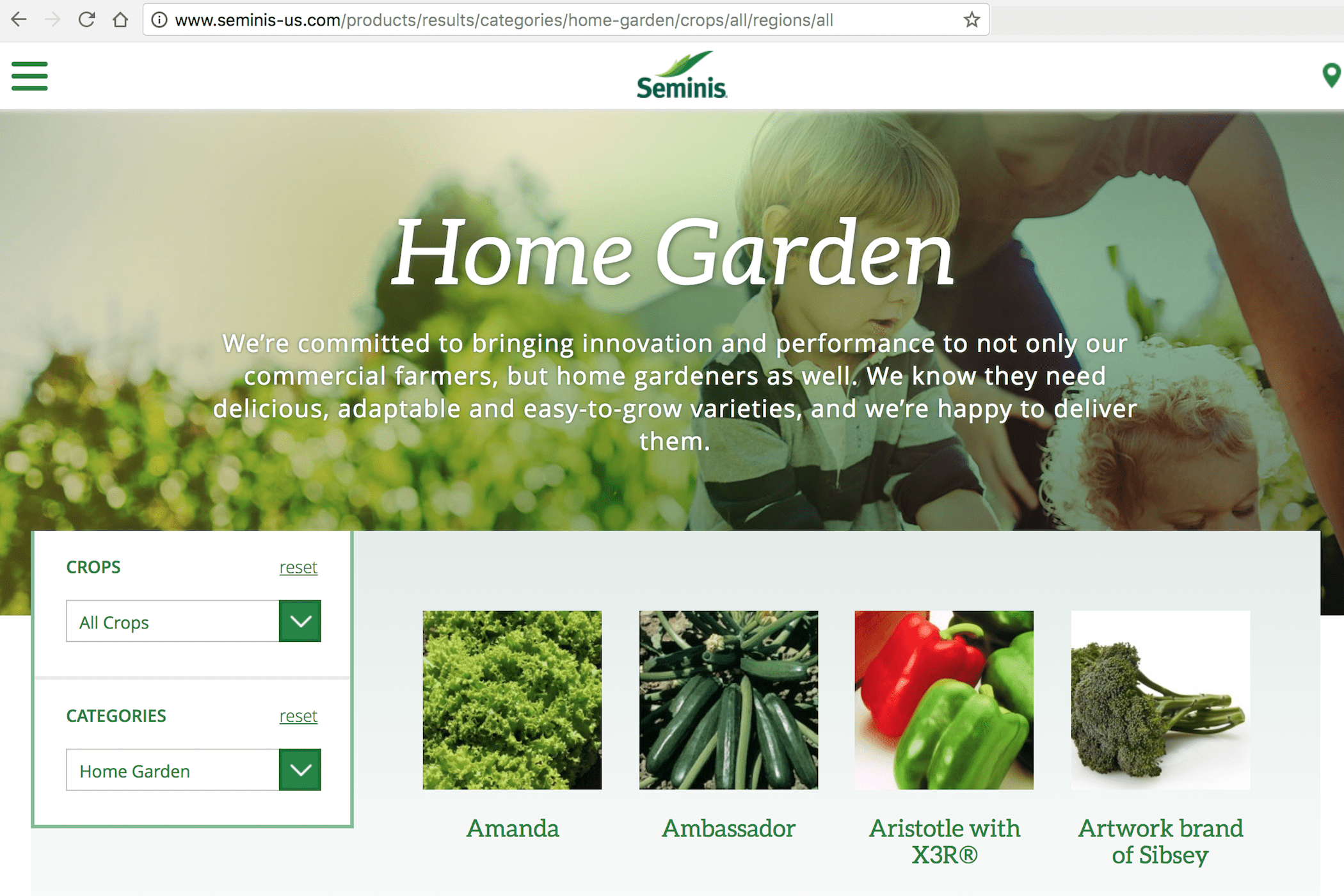 What Seminis is up to these days is lots of research into disease resistance in peppers. See those peppers with X3R®? I will admit when I saw them an eyebrow went up. What is this X3R®? I must know.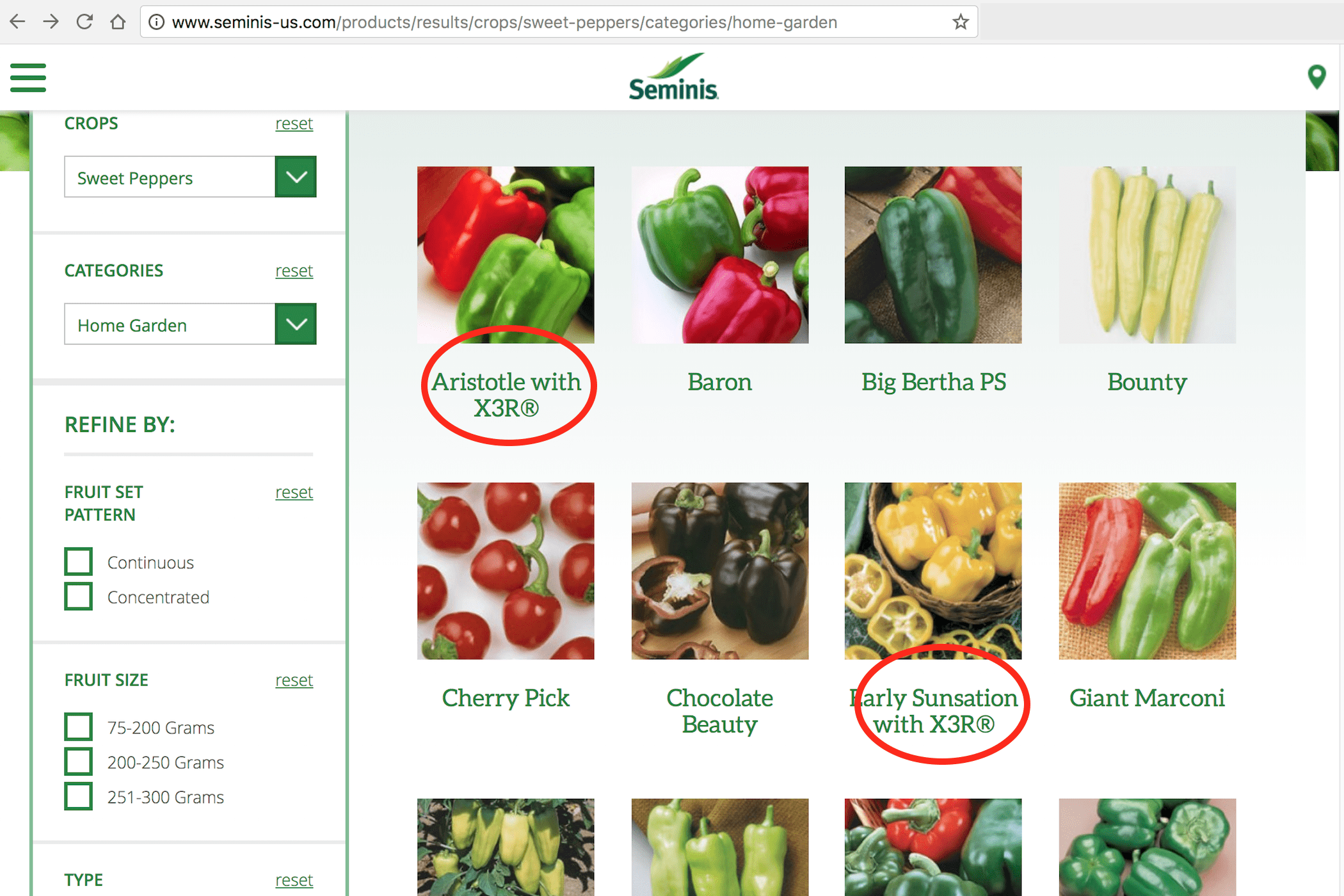 Way down at the bottom of the detail description for a pepper called Red Knight with X3R®, I find what I'm looking for: "XR Technology refers to races of Bacterial leaf spot (Xanthomonas campestris pv. vesicatoria) in peppers. X3R® means the hybrid has resistance to races 0-3, and races 7, 8. X5R® means the hybrid has resistance to races 0-5, 7, 8, 9 and X10RTM [sic] means the hybrid has resistance to races 0-10."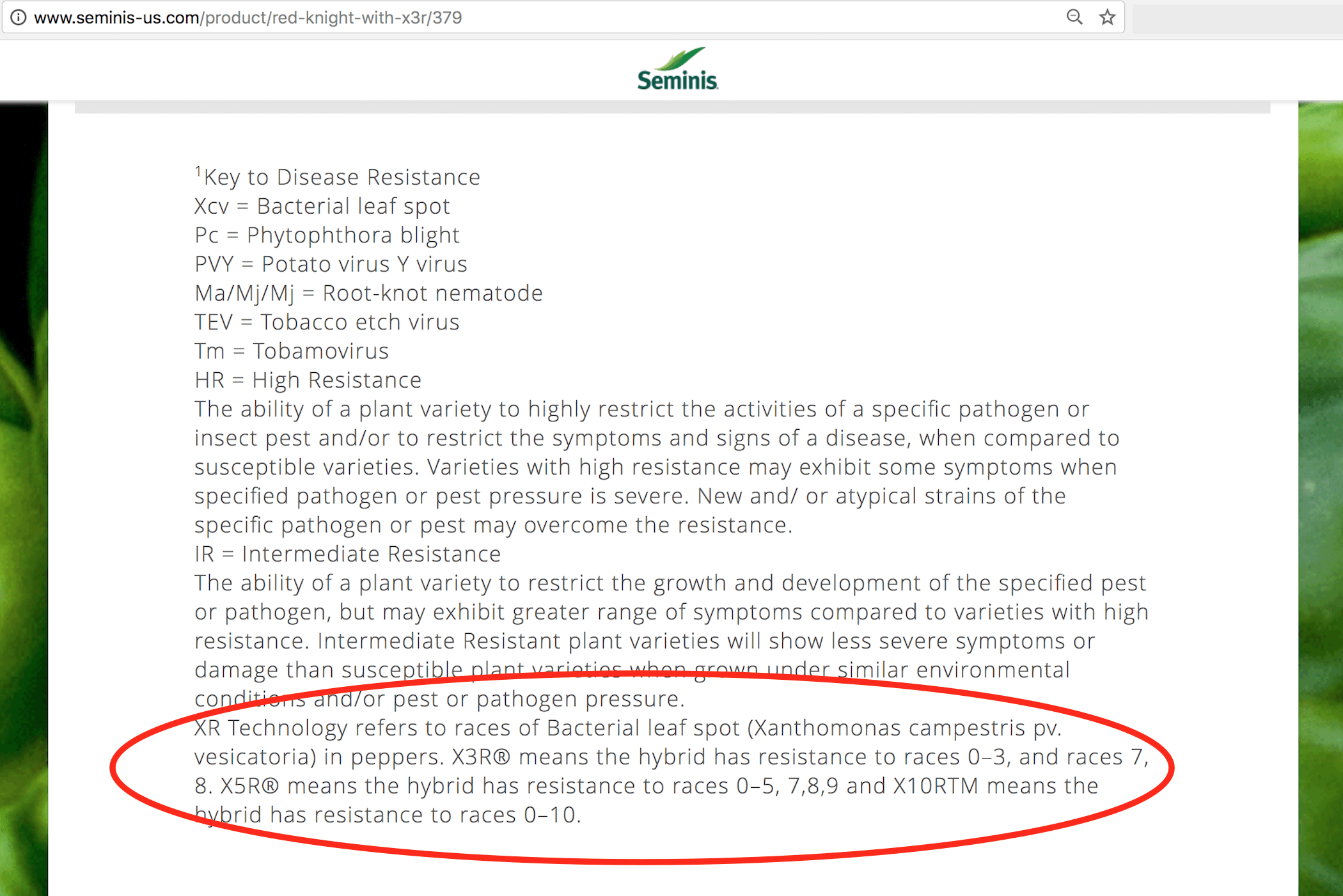 Ok, so X3R® (or X5R® or X10R®) is a conventionally-bred (not GMO) hybrid pepper with crazy levels of disease resistance to bacterial leaf spot. Got it. The X3R® designation is the Seminis trademark for the particular combination of disease resistance traits they bred.
Bacterial Leaf Spot and Why A Grower Might Want X3R® Peppers
Bacterial leaf spot is an infection that can be fast-moving and horribly damaging to peppers and tomatoes, especially those grown in warm, humid climates like greenhouses.
Because this disease is bacterial, controls in the 1950s used to include treating pepper plants with the antibiotic streptomycin! But then the bacteria developed antibiotic resistance (as they do) and these days the use of antibiotics in horticulture is quite limited, and targeted mostly at fruit trees. (More info on that here.)
These days pepper seeds are treated with an alkaline chemical dip to kill bacteria on seed surface, and growing plants are treated with bactericides/fungicides like copper to stop the spread of the leaf spot. Bacterial leaf spot hurts yields, and dealing with it costs lots of time and money.
I can understand why bred-in resistance to leaf spot bacterium would be a real blessing to commercial pepper growers, especially commercial greenhouse growers.
Johnny's Select Seeds and Monsanto in 2018
When I searched for additional information about X3R® peppers, I was a little dismayed when Johnny's popped up in my search results.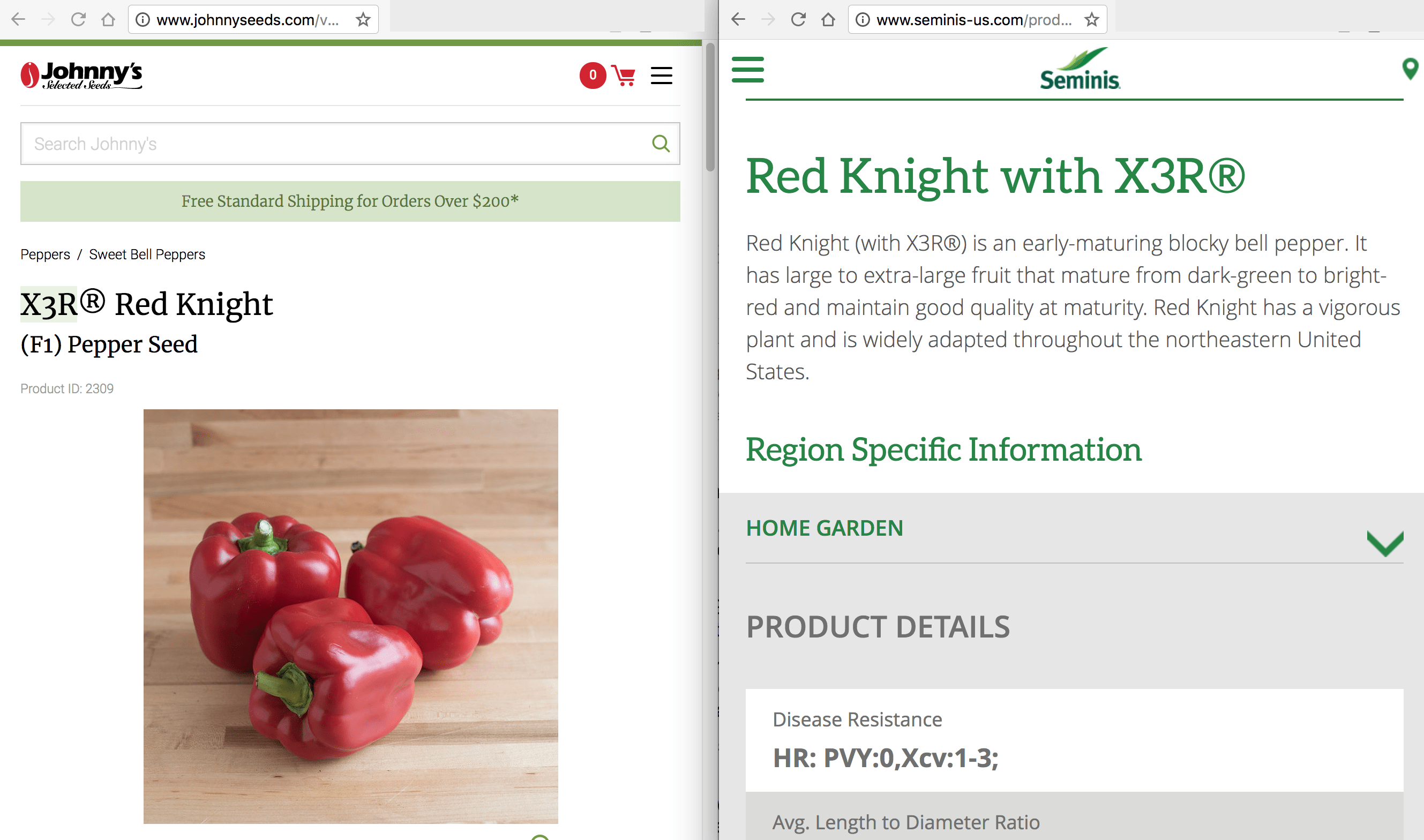 I had rather hoped (and, perhaps naively, assumed) that Johnny's had continued to divest of their Seminis relationship. It's been over five years since I wrote my initial article about why we should all calm down about the Territorial and Monsanto / Johnny's and Monsanto relationships, and in that time I've personally purchased hundreds of dollars of seeds and supplies from Johnny's and recommended them as a preferred seedhouse (along with High Mowing) countless times.
So my first reaction was denial. Surely, this pepper must also be grown by other seedsmen and Johnny's is buying from one of them? Impossible. The X3R® designation is a trademark of Seminis. No one else is selling seed with that naming convention without getting a visit from the Seed Police's Lawyers.

I reached out to Johnny's, who confirmed for me that they are still selling seeds from Seminis. The number of varieties sourced from Seminis as of February 2018 is 15, including the X3R® Red Knight pepper. This is the same number they were carrying in December of 2012.
This is a miniscule fraction of Johnny's total offerings, and I think it's important to keep the proper perspective. Johnny's is still a great seedhouse, they consistently provide top quality information to both market growers and home gardeners and the seed they sell performs consistently.
Furthermore, you can make a strong argument that hybrid vegetables with disease resistance stacks like X3R® actually are the ecologically preferential choice compared to the multiple doses of sprays needed to control something like bacterial leaf spot. I'm very much in support of breeding for strong disease resistance in fruit and vegetable varieties, and I have no inherent problem with hybridization.
On a personal level, I've always had great, responsive customer service from Johnny's, and every time I've asked a question, representatives from the company have been phenomenally generous with their time and have even provided me with documentation about stuff like in-house germination standards.
But. 
My Personal Reaction
Without taking away from all those good things about Johnny's, I gotta say, I'm disappointed.
One of the peppers I ordered this year from Johnny's was Seminis-sourced seed. Oh for f$%&s sake. Of all the gin joints, in all the towns, in all the world, eh?
So that's not a great feeling. I would never have ordered that particular variety had I known that the seed was coming from a Monsanto subsidiary. Not because I'm incorrectly worried the pepper is GMO, not because I'm panicky about moral contamination, not even because I'm rabidly anti-GMO. I just don't want my drop-in-the-bucket seed money trickling up to Monsanto.
Johnny's does not make their list of Seminis-sourced varieties generally available to the public, telling me they, "prefer to address [their] customer's concerns directly at the time of purchase. This ensures that the information they are using to make their decision is up to date and accurate, since this information is subject to change at any time."
I'm a little disappointed because Johnny's is so transparent about so many things – exact germination rates come to mind – and is the best in the business at providing information comparing things like disease resistance across different cultivars. But that transparency doesn't extend to this.
There may be very good business or legal reasons why Johnny's "typically [does] not share specific vendor information," but upfront disclosure of Seminis-sourced seeds would simplify purchasing decisions for the customer who prefers to avoid seed from a Monsanto subsidiary but would still do business with Johnny's.
For example, if the Seminis seed I ended up buying had been tagged on the website "Seminis-sourced" or something similar, or if there had been a list of current Seminis varieties kept somewhere on the site for people who cared enough to look, I might have simply crossed that particular cultivar off my list and selected another.
As it is, if you want to buy from Johnny's generally, but avoid seed from Seminis specifically, you have to email a customer service representative and specifically ask for that information. It feels a bit like security through obscurity, like: "if we don't mention it, no one will notice."
I mean, I get it. Anything involving Monsanto is potentially a huge political headache. A lot of people panic first and think….well, never. I wrote my original article about Johnny's, Territorial, and the Monsanto buyout of Seminis specifically to help calm down irrational, viral misinformation. A big part of the web runs entirely on irrational, viral misinformation, so I know this would be a risk for Johnny's, but as a customer, personally I'd rather know.
What comes to mind is a hashtag from the GMO transparency activists:
#JustLabelIt
For myself, I'm not going to run off in a huff and angrily declare that I'll never buy from Johnny's again, but this has been a learning experience for me that makes me less likely to spend my seed money with Johnny's.
Having to go through the hassle of cross-referencing my shopping list with a customer service representative every year to make sure I'm not buying Seminis seed just adds a layer of complexity to ordering from Johnny's. That additional layer of complexity makes other seed houses more attractive to me. And that's a little sad to me, because I've always appreciated the quality and level of nerdy detail Johnny's provides.
Territorial Seeds and Monsanto in 2018
I also followed up with Territorial Seeds and asked them if they were carrying any Seminis-sourced seeds as of February 2018.
They are not. At all.
It was a very brief conversation.
Does this information change how likely you are to buy from Johnny's Select Seeds? Would you prefer that any Seminis-sourced seeds were clearly labeled?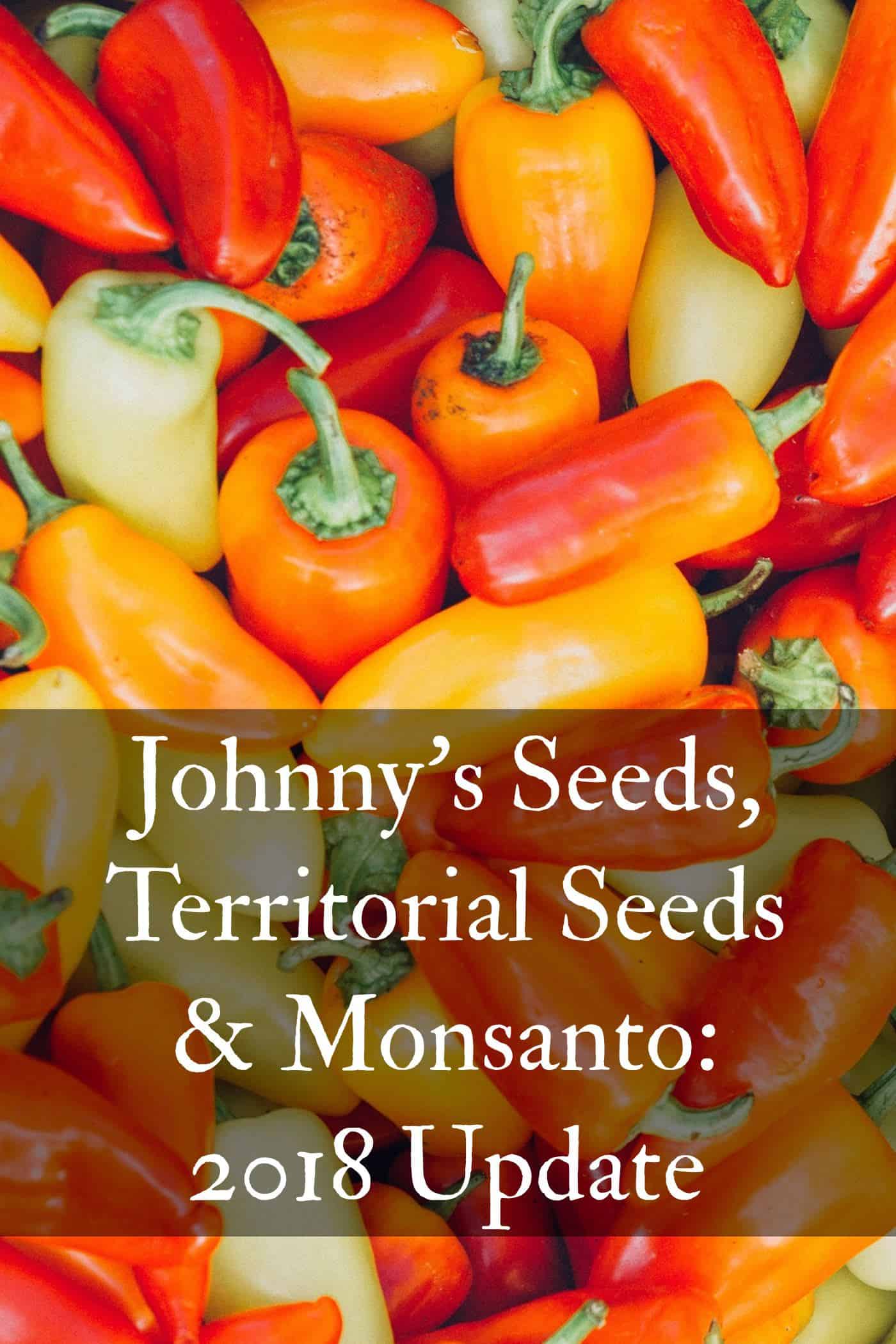 119