The following is adapted from a note I published on Facebook in February 2012. Since I'm still getting questions about Territorial Seed and Monsanto, I'm publishing it here to make it more widely available.
It's seed catalog time! The dripping seed lust of gardeners at this time of year, flipping through pages filled with new introductions and old heirlooms, is exercised though countless Sharpie-circles around countless tempting pictures of vegetables.
When the seed catalogs start arriving in the mailbox, I start talking about Territorial Seed, from whom I buy about half my seeds. And inevitably that's when someone emails me or says something on Facebook like this:
"Don't you know that Territorial Seeds is owned by MONSANTO!!!! (AKA – The Devil)! How can you support them?!?"
Ok, that's a bit of an exaggeration – just – but I have had multiple readers contact me expressing concern about my support for Territorial Seed.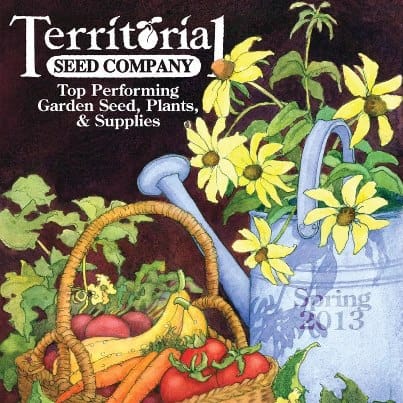 People are under the impression that Territorial Seeds and other beloved seedhouses are owned by or otherwise eager to peddle Monsanto seed onto unsuspecting home gardeners. While this story line has found a lot of play on various websites, it's inaccurate and, I believe, does a lot of harm to very ethical seed houses who are doing everything they can to provide the best product to their customers while making business decisions that allow them to stay in business.
So, if you will allow me, I'd like to take a minute to provide a bit of back story.
What Really Happened
Territorial, Johnny's, Fedco and most other seed houses had an established relationship with a company called Seminis. Seminis was a dominant, well-regarded independent seed company specializing in vegetable and fruit seed. They were (and remain) huge – breeding, trialed and growing out more vegetable seed than anyone else in the world. And a lot of these seeds were for vegetables varieties you probably love: golden acre cabbage, gypsy pepper, celebrity tomatoes – we're talking quality varietals.
Monsanto bought Seminis in 2005 and left a lot of good seed houses in the awkward position of having to either find immediate alternate seed sources for the seeds Seminis was providing (which is many cases didn't exist because Seminis was so much larger than any other seed grower) or do business with what was now, overnight, a Monsanto subsidiary.
Some companies, like Fedco, dropped all Seminis/Monsanto varieties more of less immediately. This left gaps in their seed offerings but their customer base was very supportive. (See more here.)
Many, like Territorial and Johnny's, began to phase out their relationship with Seminis, maintaining their product inventory while beginning to seek out new seed sources that would allow them to divest of their Monsanto relationship. (See more here.)
These are big companies (by seed house standards) selling product to very particular customers – small farmers and market growers and discerning home gardeners – and I understand their decisions not to slash a huge number of seed offerings from their inventory overnight. I believe that seed houses who began to distance themselves from Seminis and find alternate seed options as quickly as possible while being sensitive to the potential business hit from lack of inventory were reacting to the Monsanto buyout of Seminis in an ethical way.
In the world of seed development it's not like you just call up and order the plastic widget from another factory – often times generations of breeding and years of work in the field are necessary to get a stable strain of seed with the same disease resistance or ripening or flavor attributes as seed that was offered through Seminis.
Territorial and Johnny's have been doing just that – pairing down Seminis offerings year by year, breeding more in house, finding alternate partner seed growers. And the good news is, it's really working – Johnny's, for example, which has an enormous catalog of seeds, is down to just 15 varieties from Seminis, all of which are pre-buyout varieties. Territorial as of last year's offerings (2012) no longer purchases any seeds from Seminis.
Meanwhile, Seminis, now under control of Monsanto, began to dramatically downsize the seeds they offered. Variety lost out to classic profit-makers. Now, the Seminis Home Gardener offerings are slim and not particularly impressive: one green cabbage, one red one. A single variety of broccoli.
While the vast, vast majority of gardener and market-grower marketed varietal seeds, even from Seminis, aren't themselves GMOs, Seminis has begun offering a "Performance" series of corn that is. This corn is developed with both an internal Bt-based insecticide and that old Monsanto classic, "Roundup-Ready Technology" that makes the corn able to survive multiple applications of the (Monsanto owned, naturally) glyphosate herbicide, Round-Up.
In other words, Seminis has become progressively less and less relevant to the needs of garden and market growers, while becoming more and more like its parent company. No real surprise there.
Because, after the Seminis buyout, Territorial and others were purchasing some seeds from a Monsanto subsidiary, some really nasty rumors got started that Territorial, Johnny's and others are  owned by Monsanto. This just isn't true. Territorial is owned by Tom and Julie Johns, who have owned the company since they bought it from its founder, Steve Soloman.
I hate to see seed houses like Territorial and Johnny's tarred and feathered with the Monsanto brush. The truth is, in the real world of real business practical considerations, I think they are both running superb businesses and doing much to educate gardeners. Territorial is amazing at bringing Cascadia-specific varietals to the seed market, something I greatly appreciate.
While I understand people's horror at the idea that they have unwittingly brought Monsanto into their backyard, I think it's important to remember the context of this buyout and not blame the wrong people. I believe Territorial handled the Monsanto buyout of Seminis ethically and reasonably, and have been happy to do business with them through this protracted transition as they have worked – successfully – to replace all their Seminis varieties with other successful strains of seed.
I hope this helps to clarify the relationship between Territorial and others and Monsanto, and why I have continued to support Territorial Seeds and Johnny's with my purchases. Of course, now that Territorial is totally Monsanto free, I'm even happier. I may go plant some seeds to celebrate!
I encourage all gardeners to do their own research into where to buy seeds. There are many, many wonderful regional seedhouses that are working hard to get the best seeds to the gardeners in their biozone. All else being equal, buying local is a good idea with seeds, as with so much else. Any seed house worth supporting will be thrilled to talk seed with you and answer whatever questions you have.
Please feel free to pass this along when you see – as you will – misinformation or confusion about this issue.
Happy seed shopping!
---
This is the full text of the email I received from Territorial in regards to their Monsanto ties:
Erica,
We are owned by Tom and Julie Johns. They purchased the company from Steve Solomon in 1985. Steve and the Johns' have been the only owners of Territorial Seed Company.
We no longer purchase seed from Seminis, and have not purchased since 2012.
Thanks,
Marlece
---
This is the full text of the email I received from Johnny's in regards to their Monsanto ties:
Erica,
Thank you so much for your inquiry regarding our situation with Seminis Seeds.  First and foremost Johnny's adheres to the Safe Seed Pledge (you can view our pledge here). We do not knowingly buy or sell genetically engineered seeds or plants. We believe this pledge is important and is consistent with our value system.
Presently we offer 15 or so vegetable seed varieties from Seminis, all of which pre-existed their acquisition by Monsanto.  This is a very small percentage of our overall seed selection and we do not see this relationship growing in the future.  The seeds we get from Seminis are GMO free and were bred using traditional/conventional breeding practices and the varieties we continue to sell are critical to a great deal of the success of most of our growers.  We have been asked to continue to carry these items until a suitable replacement with adequate supply is obtainable.
We have many cooperators from all over the world that help us bring the best varieties of seed to our customers.  We will continue to plant our own trials where we can observe growth and yield performance as well as conduct our own taste tests to insure our customers are getting the best of the best.  As we find improved varieties to our Seminis offerings we are replacing them.
We continue to add many heirloom and OG seeds, at the level of quality that our customers expect, as quickly and as reasonably possible.
I hope that this explanation helps to clarify and answer your question.  If you have any further questions or concerns, please do not hesitate to email us or contact us at 1-877-564-6697!
Danielle Murray
Customer Care
52