Dear Friends,
Merry Christmas! Twenty-twelve is drawing to a close. The clock struck midnight not too long ago, and Homebrew Husband and I donned our Santa hats and crept down the stairs to place a decidedly modest stack of presents under the tree.
This has been the most mellow holiday season on record at our house. My parents will be joining us for dinner tonight and I'm cooking a simple meal of roast beef, potatoes from the garden and black forest cake. Beef and potatoes, step one: put in oven. Step two: eat. See, simple.
The cake is one of those looks-fancy-but-isn't deals. I made a chocolate genoise a few days ago and popped it in the freezer, and the cherries were canned back in July so really it's just an assembly job. Cake, cherries, whipped cream, repeat. My mom is bringing a salad. Simple. Everything feels really simple and I love it.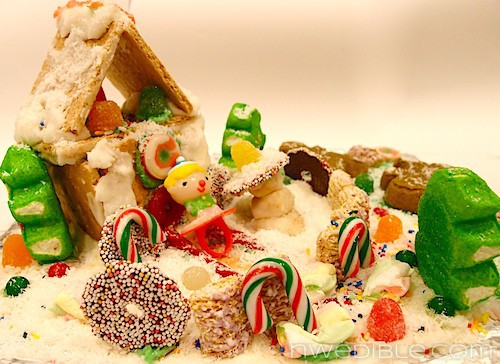 We barely have presents for anyone. Nick turned to me yesterday and said, "So, I really, truly don't have anything for you for on Christmas." "Good!" I replied, "I don't have anything for you either." And that feels peaceful to me. There is nothing we particularly want, and so shoehorning in giving just for the sake of doing it would be another thing to juggle. Opting out to the degree we want – giving ourselves permission to opt out – that's been the biggest gift this year.
My husband and kids spent a good portion of the day playing on the floor with legos. I've been writing. It's been lovely and mellow. The floor needs scrubbing and the pots need washing and the laundry – let's just not talk about the laundry. But for some reason none of it bothers me. It's Christmas and for the first time in memory, I actually feel relaxed, like, "Hey, I'm here, this is my home, mess and all. There are my kids. It's so wonderful to see you. No really, I mean that. Come in, sit down, have wine."
You know that saying, "the simple life"? I hear that thrown around a lot in connection to the kind of productive homekeeping activities I participate in: cooking from scratch, gardening, chicken-keeping, etc. I'm not sure who came up with that phrase, but it sure wasn't a woman in the middle of an August canning session.
Here, surrounded by my family, scaling down Christmas to a level that works for us, I feel like maybe I've touched the simple life, and it's lovely.
Thank you so much for being part of this community over the past year. As regular readers know, the second half of 2012 wasn't the most fun for me. There were a few weeks of infrequent posts, and you've hung tight as my mind and writings have wandered to and fro and sometimes away from the garden. (But don't worry, I'm heading back there – I can feel it deep in my seed-catalog-carousing bones.) Thank you for that. I'm tremendously grateful and appreciative to have such a supportive readership.
I'm clocking off now and I'll be offline though the first week in January to enjoy this quiet mellow holiday. I'll be back the week of  January 7th and I hope to see you then.
I wish you all peace, health and happiness in 2013. May all your tomatoes ripen, may every slug get lost on the way to your garden. May the rain be gentle but not continuous (Seattle folks, you know what I'm talking about). May your chickens eat cutworms and not chard, and may your soil be always free draining yet moisture retentive.
Happy gardening, Merry Christmas, and a very, very happy New Year.
Bring on Twenty-thirteen. I'm ready.
Love,
Erica
0