We had a lovely couple over to dinner for the first time a few days ago and the lady of the pair kept to a gluten free diet (and has for like 17 years, so you know it's not a passing thing).
I know what you're saying: "Hey, I know someone who is gluten free!" or maybe, "Hey, I'm gluten free!"
That's right, Gluten Free People are everywhere. Gluten Free foods are one of the fast-growing segments of the food industry, with total sales in the past year of somewhere between $4.2 billion and $12.4 billion depending on who you believe and how you define "gluten-free food segment."
When it comes to gluten free cooking, generally everything is all fine and dandy through the salad (skip the croutons, natch) and entree course, but if you get to dessert you might be faced with the same dilemma I was: how to make a gluten-free cake.
Of course, you could buy a gluten-free cake. The world of commercial, gluten-free dessert options has exploded along with other gluten-free analogues, but….um, how shall I put this delicately?… of the dozens of gluten-free cookies, cakes, muffins and other baked goods I've sampled in my day, a depressing number tasted like someone mushed beans and chalk together and called that a recipe. Faced with cake that tasted like that, I'll take ice cream and berries.
Gluten Free People deserve better! Gluten Free People deserve this cake! And you know what's nice for everyone? No weird ingredients required. With the exception of the almond meal, you probably have all this stuff in your kitchen already, and almond meal is easy to DIY if you want.
Psst…Paleo people, if you can get past the sugar, this cake is cool for you too.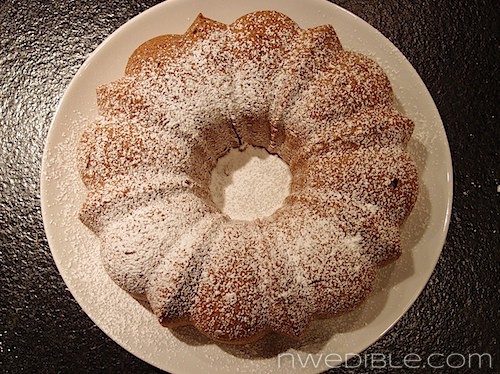 Gluten Free Almond Cake with Citrus
adapted from How To Eat by Nigella Lawson
Ingredients
2 1/2 cup (8.5 oz) finely ground almond meal
2 cups (8 oz) powdered sugar
8 eggs, separated into yolks and whites
zest of one large orange
Tools
one 10 to 12-cup Bundt or ring cake pan (you might be able to make this cake in a standard rectangular or round cake pan, but I haven't tried it. If you do, let us know how it turns out in the comments!
Method
Preheat oven the 325 degrees and grease a 10 to 12 cup Bundt pan or ring mold cake pan.
Toast almond meal in the preheated oven for 10 minutes. It should warm, and be very fragrant, but the color of the almond meal should not noticeably change. Remove the almond meal from the oven and let it cool slightly, about 5 minutes.
While almond meal is cooling, beat together egg yolks, powdered sugar and orange zest in the bowl of a standmixer fitted with the paddle attachment, or with handheld beaters, until the mix is pale yellow and creamy looking, about 3-5 minutes.
Add warm (but not hot) almond meal to the egg yolk mixture a little at a time while continuing to beat. When all the almond meal is incorporated, the mix will look and feel quite thick and sticky, like nougat. Set aside while you beat the eggs whites.
Whisk egg whites to stiff peaks in the bowl of a standmixer fitted with the whisk attachment, or with handheld beaters. If, like me, you need to clean your standmixer bowl or other equipment to do this, make absolutely sure there is no remaining fat from the egg yolk mix on anything that will be used to whip the egg white. While you're at it, make sure to dry off any moisture, too.
Add about one-quarter of the egg whites to the yolk-almond mix and fold together as best you can without deflating the egg whites. The goal is to lighten up the heavy yolk mix so that you can gently combine it with the remaining whites. When the almond mixture is more pale and lighter in texture and the first portion of whites have been completely incorporated, add the rest of the egg whites and, using a big flexible spatula, gently – gently – fold everything together.
If the whole "egg white folding thing" feels confusing or intimidating, just watch this to see how it's done.
When all the egg white has been incorporated and you have a lovely, non-streaky batter, pour the batter into your prepared pan and bake for 45 minutes to an hour. Check cake. It should be golden brown and slightly pulled away from the sides of the pan. A toothpick inserted into the cake should come out clean.
Cool cake in pan 10 minutes, then invert onto a cooling rack. Let cool completely, and serve dusted with powdered sugar with a few canned cherries in syrup on the side or – if you really, really love your Gluten Free Person – with a big dollop of homemade lime or lemon curd.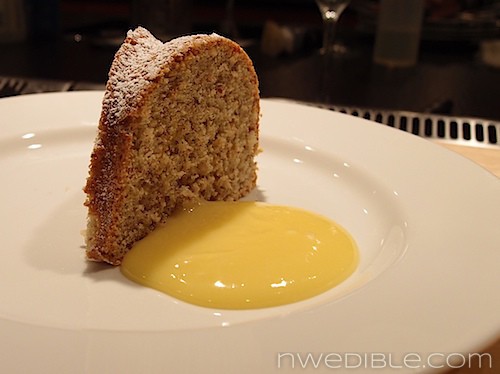 If you have any of this cake leftover, I may have reason to suspect that this cake, just possibly, is fantastic for breakfast. Not that I ate two pieces of it with coffee or anything. That would be glutinous. But, you know, trust me. Breakfast.
18