"Is growing your own food worth it?" When I get asked that question, people are talking about cash-in-hand not harvest-in-hand. They aren't saying, "Is it worth it to have the very freshest sugar snap peas?" or, "Is it worth it to see your child poke a bean seed in the ground?" because there is, clearly, only one answer to those questions.
No, when people say, "Is it worth it to grow your own vegetables," they want to know if they can save money by gardening. It's a tricky question to answer. When people ask me how much I save on my grocery budget through gardening, I usually defer answering.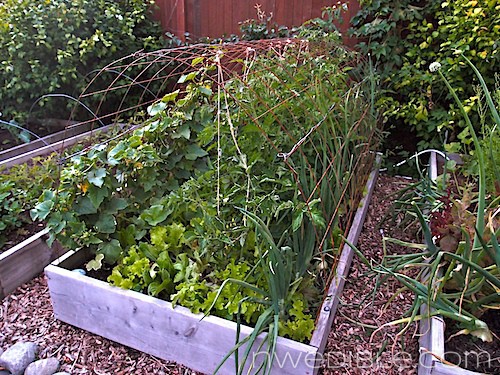 Partly that's because I still feel that I spend a lot of money on food, basically by optional hoity-toity foodie choice, and I don't want people to think it's not worth it financially to grow your own food just because I spring for big ticket items like salmon and game meats that skew my budget upwards of what it could be.
Partly I'm not sure about answering because, while I know we save money on a per-item basis, what and how we eat is totally different because of the gardening and DIY component.
I can say honestly we buy very few vegetables – onions, carrots and sweet potatoes are the only vegetables I regularly purchase – and we eat a lot of them. Berries too. What's the cost of 8 or 10 pounds of organic strawberries at the market these days? That's what we harvest every few days for a month in a good year. Raspberries? We pick 'em by the bucket. Tarragon we hack off in bunches as big as your wrist. Figs, apples, herbs, greens – that high-ticket stuff sure seems to pay for itself. But does that make it worth it?
If I didn't grow pounds of strawberries, would we eat pounds of strawberries? Probably, since I still supplement with purchased local berries for freezing in early summer. But I sure wouldn't upend a pint of organic golden raspberries at $5 a pop into each of my kids' pieholes every few days. If we bought those berries there would be some pathetic and unsuccessful attempt to, you know, savor every bite, which would really mean, treat every berry like you are swallowing a dime, because basically you are.
Being somewhat of a produce glutton, I would fail at this attempted moderation. I have never understood the logic that one does not appreciate the last bite as much as the first, or that measured slow eating is always necessary for enjoyment. When it's raspberries, you appreciate every damn mouthful even if you appreciate them fast. You pop those berries in, mush them between your tongue and the crenulations at the roof of your mouth and repeat, mouth full and oozing juice, looking around for more, rapid fire. At least, I do. My Slow Food cred probably just went out the window, but there you are. Pass the berries, please.
Would I be so gluttonous if I were paying by the berry? I don't know. Probably not. Yet I am confident I would spend at least $200 to $300 a month more on fruits and veg in addition to what I currently spend on groceries if I didn't garden. $50 a week on fruit and veg? Easy, I'm embarrassed to say. But then, I consider a typical supermarket bunch of kale to be a rather stingy single serving. Produce gluttony strikes again. So maybe the way we eat (differently and just…more, I think) doesn't apply for a lot of families when the question is, "Is it worth it?"
So that's $2400-$3600 a year savings on fresh produce alone, which seems shockingly unreasonable, since that is many families entire annual food budget. See why I hesitate to answer this question?
Here's another example. Pint by pint and quart by quart my preserves save money. In fact if anything the "value added" items like jam, tea, homebrew, etc. seem to contribute more to our grocery negabudget than the raw produce.
I saw jam that looked very comparable to the jam I make at the store yesterday. It was a half-pint of apricot preserves for $7. It looked great but I think I'd balk at paying that much for jam. This is a question I won't face anytime soon, as I got five cases of apricots for free last year, and so am very well stocked on apricot jam for probably the next two years. If for some reason I were faced with $7 jam, we simply wouldn't use as much, and that might not be a bad thing.
If I were paying $8 or $9 a quart for canned tomatoes – which as far as I can tell is the market price for tomatoes and tomato sauce like mine – instead of the roughly $2.70 I pay to make each quart of homemade canned tomatoes, I would be far more stingy with the tomatoes.
The thing is, I simply hate being stingy with food. I'm just not into it. Hospitality is important to us and our family is in the fortunate position that a lot of things would have to go south before household food rationing seemed reasonable to me. There is always room for another mouth at my table and everyone can always have another serving if they are still hungry. The idea that I might hesitate even a minute before sharing with a friend or having the neighbor kid stay for dinner kinda disgusts me, actually. Nothing is ever wasted, but there is always plenty.
I like creating plenty. It's kinda my gig. Plenty at the table, plenty in the garden. A philosophy of plenty. So if that's what it came down to: losing a feeling of plenty, or going for less expensive, less sustainable food, I'd have #10 cans of California tomatoes in my cart and to hell with BPA and local farm support before I'd tell a friend they couldn't join us at the table because there wasn't enough tomato sauce to go round.
Obviously, I try to avoid this dichotomy, and get the best of both worlds – local tomatoes preserved in glass for about the same price as commercial stuff in cans – by doing the labor myself. But that's just me. That's how I try to strike a balance. Other people weigh the same issues, of time, grocery costs, sustainability, food ethics and their other values and they find the solution that works for them.
So, enough hedging. Is it worth it to grow your own? In a strictly financial sense, if the hours you garden would be hours you were working at a decent paying job (whatever that means), it's honestly probably not worth it. The professional farmers can grow more efficiently and more cheaply than you can, which is why when anyone runs the numbers on householding and edible gardening and gives themselves a "living wage" the return looks pathetic…like, 14 cents an hour, or negative.
But this is an unfair comparison, because no one is suggesting people make the choice between gardening and working for wages. Gardening isn't farming, and as much effort as I dedicate to growing my edibles, I am not a farmer. Gardening fills in around the edges, like any other pastime. It takes time but it doesn't have to take full-time. So it's not gardening or job. It's gardening or Dancing with the People Who Have Cooking Talent Today (or whatever the latest reality supershow is). It's gardening or reading or writing or workouts at the gym or some balance thereof. The advantage with growing your food is that it is a productive hobby – there is something tangible to show for the time and investment.
No one asks a golfer if it is "worth it" to invest in new clubs, or a runner if it is "worth it" to get $80 running shoes. Whether it's worth it to grow your own food has to come down to, would you spend your time this way for free anyway, as with any other hobby? Gardening is consistently listed as in the top 5 or 10 most popular hobbies in the U.S., so plenty of people are happy to. And for us, oh yeah, it's totally worth it.
Is it worth it to you?
11