I cleaned my fridge this weekend, stepped back to admire my domestic handiwork and realized I'd become a total Portlandia cliche.
My fridge is half fermented vegetables and half backyard eggs. Every container is a mason jar. Oh, except for the basket. Right. There's a twee basket in my fridge.
You see where this urban homesteading thing leads? You think you're a totally normal suburbanite, you plant a cabbage, get a couple chickens, and the next thing you know, you're the kind of person with lacto-fermented cauliflower, homemade yogurt and a goddamned egg-basket in her refrigerator.
I can't tell if I'm proud, or mildly horrified. I think I better go get some take-out phad thai to put in there before shit gets really out of hand.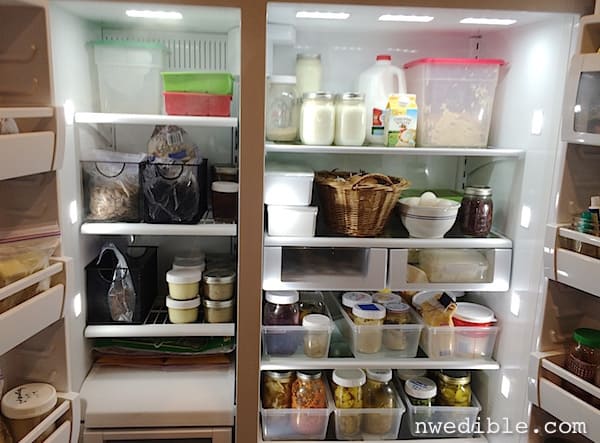 Le Tour de Fridge
Throw open the fridge door and this is what you'll see.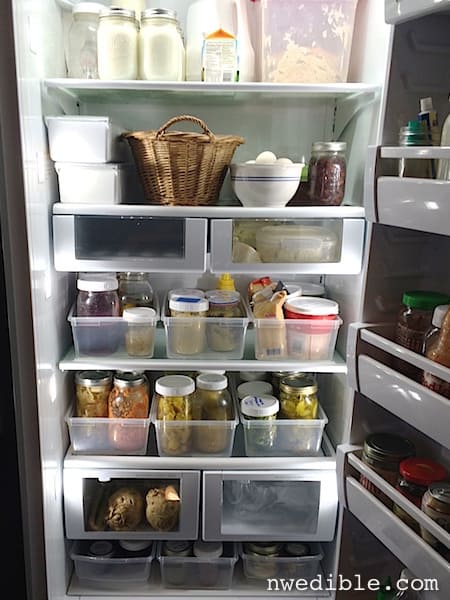 The top two shelves are mostly dairy and eggs. That thing in the tub with the red lid is my bread dough. Make a batch on Sunday and it will stay good in the fridge until Friday. The mason jars on the top shelf are full of yogurt. Nearly everything on the second shelf is eggs.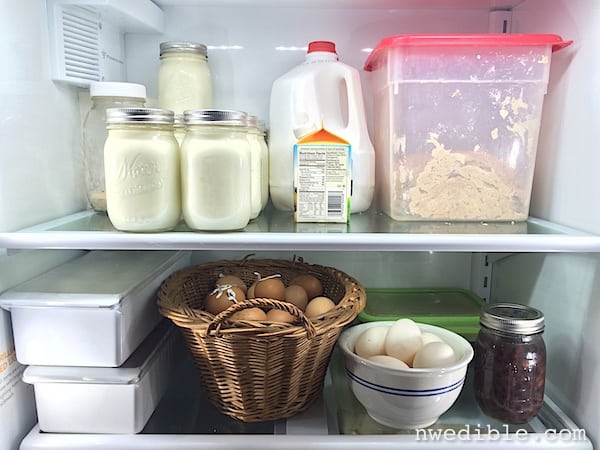 Below that we've got all my kooky ferments, pickles, mustards, curry pastes. etc.  I use these plastic shoebox storage thingies to keep everything organized and cut way down on drippage.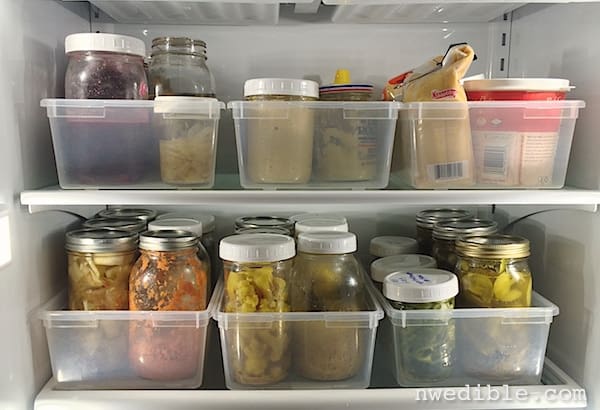 What I also like about these bins is that they basically turn shelves (where things get lost at the back and forgotten) into drawers. It's so much easier to access stuff at the back. Six of the cool new pint-and-a-half mason jars fit in these bins perfectly, or with some wiggling I can get five full quart jars in there.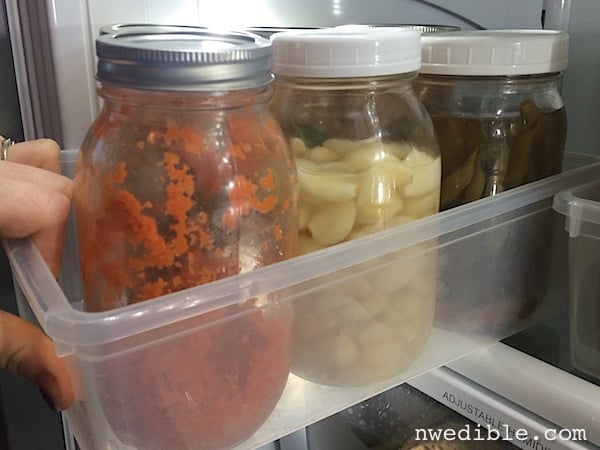 Bring it on down past Pickleville and there's your standard issue veggie drawers with far too few veg. In the summer there will be more vegetables than my fridge can hold, and everything will be overflowing onto counters, but right now pickings are slim and what veg we have (kale, brussels sprouts, mache, etc.) is perfectly fine in the garden until I need it.
That plastic bag on the right had a bunch of apples in it, until my kids ate them all in 14 seconds.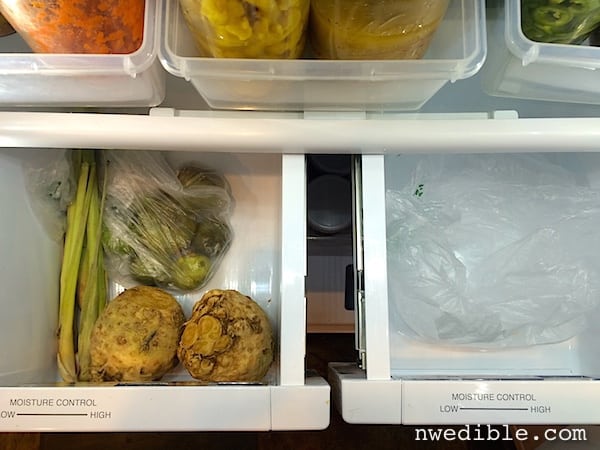 Under that, it's three more bins full of mason jars! (Shocking, I know.) These contain smaller opened jars – mostly jams, chutneys, sauces, and other stuff that make dinners fast. My collection of Better Than Bouillon (don't laugh, it's awesome) lives there too.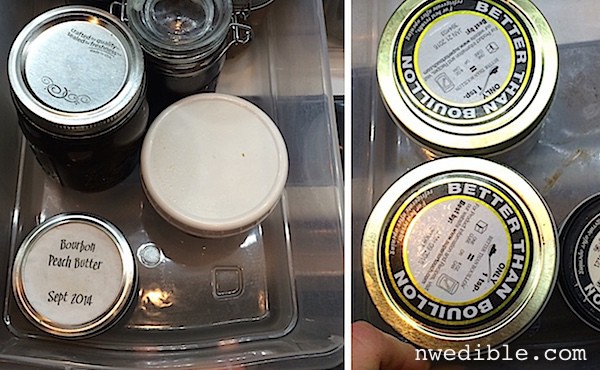 Which brings us to the bottom of the fridge, and meat. I have a thing about raw meat storage, honed from years of working in commercial kitchens. Raw meat is always, always, always stored at the bottom of the refrigerator.
Anything else seriously makes me twitchy. The logic is, if the raw meat is stored above something else, like say vegetables, and it drips it's raw meat juices onto that something, you now have the potential for a cross-contamination/food borne illness situation. Keep the meat low and you drastically lower the potential for raw chicken juice in your salad.
Even visualizing raw chicken above lettuce seriously made me shudder. Let's move on.
I have a deep freeze in the garage where I keep my meat, the majority of which gets purchased in bulk. Once a week, I pull all the meat I'll be using for the upcoming week's meals from the freezer to thaw.
I pulled our weekly meat-stash, and then Homebrew Husband had a crazy hankering for burgers, and picked up some ground beef at the yuppie-hippie market. Needless to say, this is a lot of meat.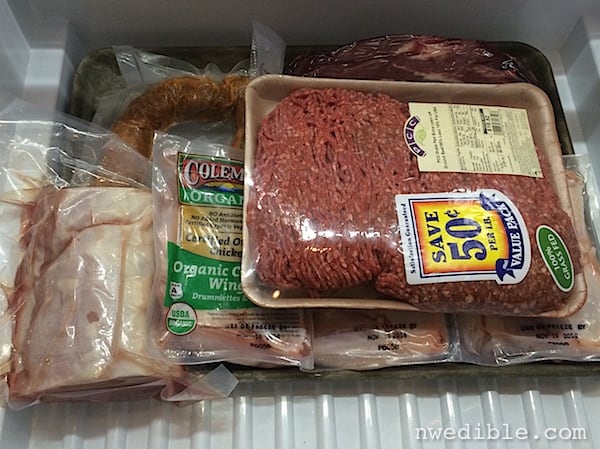 On the other side of my big ol' icebox, we have the freezer. It's not that interesting. Mostly, our freezer holds quick-access stuff. My random soup-scrap bin is at the very top. It's empty because I made stock recently, but as I get more carrot peelings and leek trimmings, they'll go in there until the bin fills up. And then – stock time again! Also up there: our giant ice cube trays for making giant ice cubes to go inside our glasses of whiskey.
After everyone in the world stopped needing CDs for anything, I repurposed our old CD bins into freezer bins. They are metal, so they don't crack from the cold. Highly recommended freezer organization hack! I love them in this application – they corral all the bags of nuts, home-dried fruit, muffins, kids lunch snacks and the like.
Also in the freezer: jars of pork rillette from the great Christmas pork adventure made possible by our farmer friends at Adalyn Farm, jars of slow caramelized onions and duck egg creme brulee.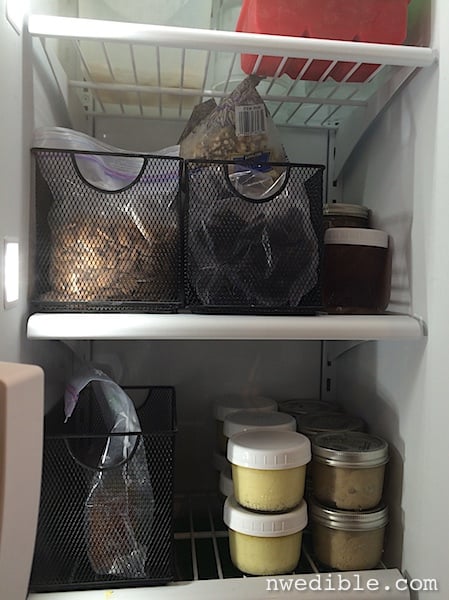 And that's about it! My kooky Portlandia refrigerator, soul bared for all to see on the internet.
What's in your fridge? Someone tell me I'm not the only freak with an egg basket in her fridge.
1