The job is reliable. You work in a clean office, and mostly you get paid to sit at a computer and type things. There are even a few nice benefits like accrued vacation and dental. You're living the dream, right?
Wrong.
The signs are there, there's no use denying them any more. Here are 22 signs you are desperate to quit your office job and become a homesteader.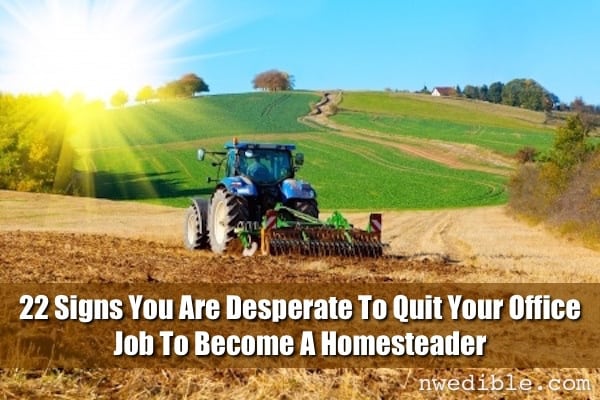 1. You run the world's tiniest farmers market. Out of your cubicle.
2. "Picking up chicks" means something totally different to you than it does to the 20 year old marketing intern with the greasy hair.
3. Everyone in the office is passionate about byflow conversion and you're like, "check out the germination rate of these peppers!"
4. The entire office break-room smells like kimchi. It's your fault, and you aren't Korean.
5. You don't understand why Carhartts and Muck Boots aren't appropriate for Casual Friday.
6. During pointless conference calls you browse seed catalogs. During virtual staff meetings you browse seed catalogs. On hold to IT to reset your password, you browse seed catalogs. During mandatory compliance trainings, you browse seed catalogs. During new project stack sessions, you browse seed catalogs.
7. You bring your dairy goat kids with you to the office and bottle feed them in the Mother's Room.
8. You openly mock your co-workers who play FarmVille on Facebook. Frickin' tourists.
9. You put in for a week of vacation to repair your mini-tractor and actually enjoyed yourself.
10. While peer-interviewing a potential new hire, you grill him for a firm commitment on his stance vis-a-vis determinate vs. indeterminate tomatoes.
11. Your LinkedIn profile lists your professional title as "Senior Weeder, Back Garden." You're a software developer.
12. When you explain things like interactive visual analytics, you start, "Suppose you have two dairy cows…"
13. There's an office crisis. Your coworker complains, "everyone is running around like chickens with their heads cut off!" and you respond, dead serious, "No they aren't. Less flapping and squirting here."
14. You stopped caring about the manure on your good office shoes 6 months ago, and the people in the elevator give you funny looks.
15. You bring your lunch in a mason jar. You keep the pens on your desk in a mason jar. You keep change for the vending machine in a mason jar. You keep business cards in a mason jar. You keep USB drives in a mason jar. You keep backup ethernet cables in a mason jar. You tried to keep your tablet, phone and charger in a mason jar but it didn't fit, so you brought in a wooden harvesting basket.
16. Other people bring in donuts on Friday. You bring in growlers of homebrew, and upper management is still deliberating how to react.
17. When you took this job, you did so in part because it was only 5 minutes away from the local grange.
18. Co-workers know which boring commuter car is yours because of the bale of straw in the back seat.
19. You use the giant white board in the fish-bowl conference room to bubble sketch your plans for an off-grid homestead. People mistake it for the new highly redundant data center architecture and you get a raise.
20. You have a nice little side hustle selling free-range eggs to your co-workers for $8 a dozen, and this still doesn't cover the cost of your chicken feed.
21. You've shifted from an 8 am to 5 pm shift to a 4 am to 1 pm shift. You're up at dawn to feed the animals anyway, and wrapping up early gives you more opportunity to work on fencing while it's still light out.
22. You know all about bullshit, and you see more of it in 20 minutes of office politics than on a 20,000 head cattle ranch.
7