Like most pretty serious cooks, I have a pretty serious spice collection. I've been a fan of buying my spices in bulk at my local Yuppie-Hippie Co-op for years now.
The spices you get in bulk, if you are in a place that rolls through their stock, tend to be fresher and of higher quality than the pre-packaged bottles or jars. You can also buy just the amount you need for a few months at a time, so your spices at home stay fresh, and often you can find organic bulk spices. And, because you are not paying for a bunch of little individual bottles and fancy marketing, bulk spices are cheaper! (Which, if you are like me, just means you will get more spices.)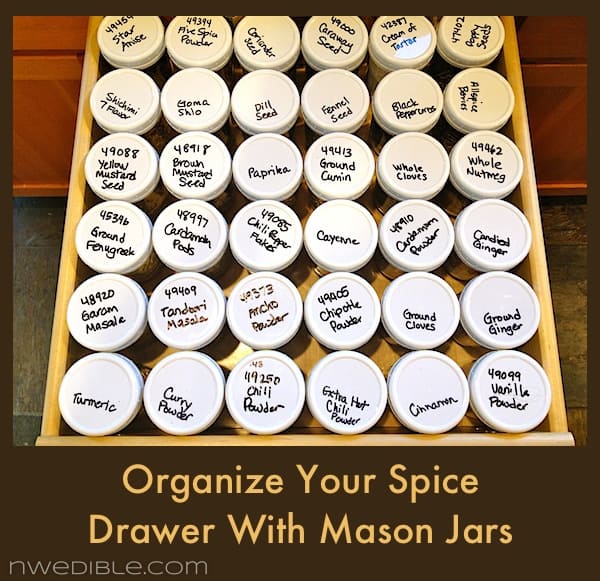 I have tried many methods of storing my bulk spice purchases. Fancy stainless magnetic jar things that looked oh-so-Martha when new proved disappointing as they aged: the magnets fell off and the plastic "window lids" were always falling though into the spices, causing clouds of cayenne to aerosolize all over my kitchen. DIY pepper spray anybody?
My frugal Freecycle score of a case of clean baby food jars influenced my next attempt at organized spices. Oh, how cute this project looked on Pinterest and crafty websites like this. The chalkboard paint! The squat little jars! Adorable!
The problem was, I hated the non-functionality of the jars. Those baby food jar lids are impossible to cleanly get on and off. They are really not designed for frequent opening and closing. It's more a one shot deal, as becomes apparent after you try to relid your chili powder for five frustrating minutes.
And then it hit me. Mason jars. Relatively cheap, super easy to clean, interchangeable (after washing) and big enough to hold a lot of spices. Topped with an inexpensive plastic mason jar cap, a half-pint jar became an ideal large spice jar.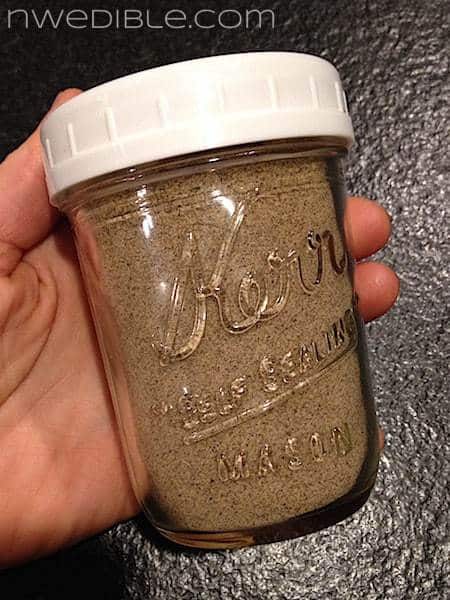 In what I can only describe as a kitchen miracle, 36 of this size jar plus plastic lid fits perfectly in my kitchen spice drawer. Hey, sometimes it's better to be lucky than right, what can I say?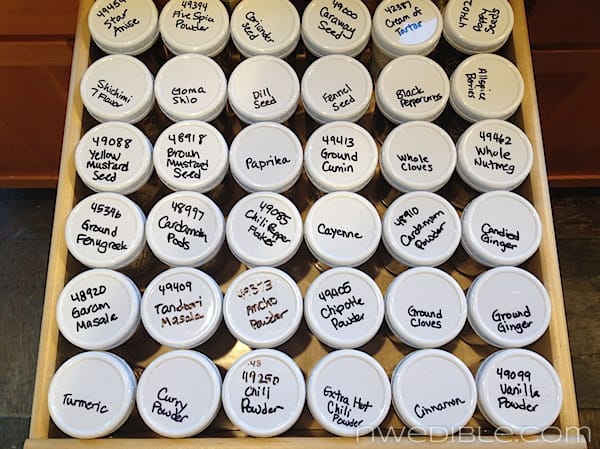 Because I am not nearly as crafty or adorable as the people who come up with things like chalkboard-paint-covered-baby-food-jar-lids, and because my goal was to make this as streamlined an organization project as possible, I just wrote the name of the spice on the plastic lid with Sharpie. Because I use these lids all the time, I know that I can wipe Sharpie right off them with a little vodka or rubbing alcohol.
I had been putting off restocking spices for quite while (because I hated my spice storage solution) but once my mason jars and plastic lids were in place I rushed right out to the Co-Op to stock up. And here's where this storage solution really shines.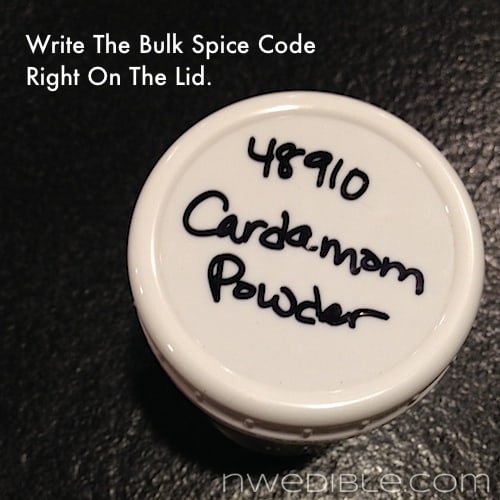 You can take the clean jars in to fill directly from the bulk spices. You don't have to put the spices in the little plastic drug baggie they give you, and spill a bunch, and mess around with those twist tie things and then try to find a pen to write on the twist tie and then get home and open up the bag and pour the spices into your container and spill more….
Nope. You just bring your Sharpie and write the bulk code right on the lid.
"But Wait!" I hear you yell, "I don't want to pay for the weight of the glass jar and lid!"
No problem. Any decent grocery should be able to take the tare weight of any (clean!) container you bring in to use at the bulk foods section. Tare weight is the weight, usually of an empty container, that you don't measure when weighing the contents of something. Tare rhymes with hair or bear, just FYI.
So on your way in, stop by a checkout counter or customer service area and just ask the checker to please note the tare weight of your jars so that you can use them in the bulk foods section.
If your checker looks at you like you are nuts, congratulations! You are probably a barnstormin' frontline trooper of waste reduction in your community and you are to be commended for helping to tear down the barricade of habitual wastefulness. Alternatively, if you live in some greenie-green place like San Francisco or Seattle or Portland or Boulder and your checker looks at you like you are nuts, that's just a sign you should find a better market.
The best part about buying spices this way is bringing them home….done. There's nothing to do except to put the spice jar back in the drawer or in the cupboard where you store your spices. You've organized your spices, eliminated that irritating transfer step, and saved a lot of plastic baggies from use.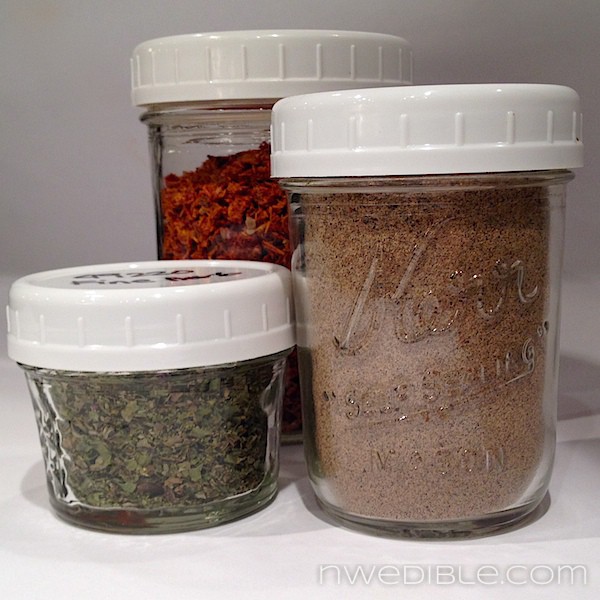 I keep most of my spices in the half-pint glass regular mouth mason jars, but some bulky stuff (like my dried tomato peel) gets a big wide-mouth pint, and some stuff that I only need a little bit of gets a small 4-oz jar.
Stuff For This Project
Mason Jars – In the extremely unlikely event one of my readers doesn't already have some mason jars kicking around, just make sure you check your cabinet or drawer for size before you buy a bunch of jars. You just want to make sure one of the standard sizes of mason jar will work for your storage needs and space.
I used mostly half-pint, regular mouth non-quilted mason jars like the ones below but many people may find the 4 oz. jars to be a better size for the amount of spices they buy.
Lids – you can use the two-piece lids that come with mason jars (this is a great project for reusing old flats, actually). You can even get crafty and paint the two piece lid with chalkboard paint and/or glue the flat to the ring to make it easier to open and close.
I went for the less cute but more functional and (I think) easier to use option of plastic lids. I use this kind (like the ones below) and they are great. I have a ton of these lids and love them for things in jars, like jam after the jar's been opened and is in the fridge.
I used regular mouth, but you should select whatever lids match your jars. Amazon is selling these lids for about $6 for a box of 8, but I usually stock up when I find them at the local hardware store for about $4 for a box of 8, so keep your eyes peeled if you think these lids would be useful for you. And, um, it should go without saying, but just in case: these plastic lids are not ever, in any way, to be used for water bath or pressure canning type food preservation.
Do you buy bulk spices? How do you keep your spices organized and in good shape?
32