I recently joined the Church of Dry Skin Brushers and would like to convert you. So let's talk about the best natural skin care technique you probably aren't using. It's called dry brushing and it's…heavenly.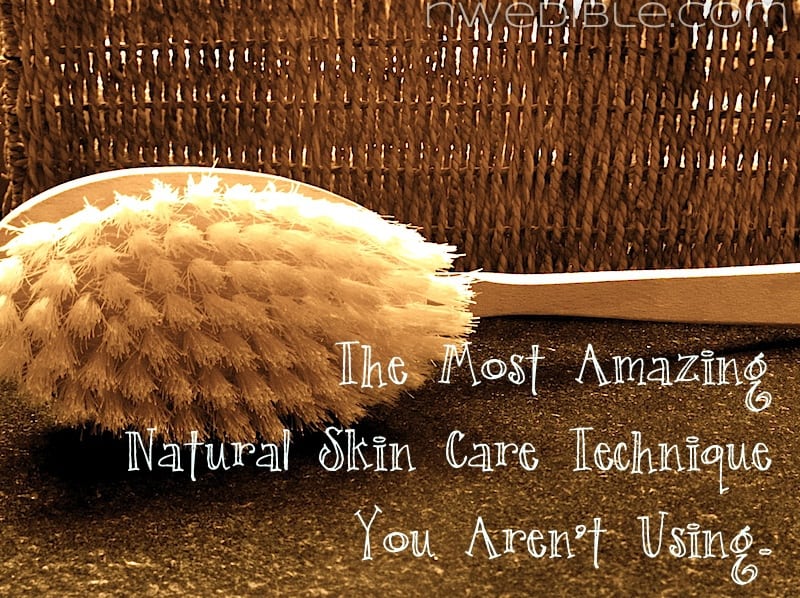 You want reasons to dry brush? Mr. Google will give you plenty:
Benefits to Dry Skin Brushing
Removes dead skin cells and unclog pores, leaving skin very soft.
Leaves skin more receptive to moisturizers and oils.
Boosts surface circulation and leaves skin with a healthy glow.
Improves lymphatic drainage and stimulates more effective natural toxin clearing.
Reduces the appearance of cellulite and increases skin tone.
Awakening and invigorating.
Who wouldn't want all that? I will admit that my impetus for trying dry brushing was the height of superficial. Lymphatic health be damned, I tried it out for the promise of natural, inexpensive cellulite reduction.
At this point I'd like to apologize to all the dudes still reading, since cellulite is something that seems to concern ladies almost exclusively. But I have had two babies and lost 110 pounds over the past decade, which means that there are areas of my body where my skin has had to accommodate some major volume changes, and a few (sure, a few, let's go with that) non-strategic dimples are the price I've paid.
I hoped that dry brushing would be a natural, low-cost way to perhaps improve my skin's texture in some of these hard working areas, so I gave it a shot. This photo from a HuffPo assessment of weird home remedies for cellulite looked like Hope In A Bottle stuff to me, but I figured I didn't have anything to lose that I wouldn't be just fine parting with.
After a few weeks of diligent, daily dry brushing, here's what I've found.
Dry brushing in the morning wakes me up like a cup of coffee. Seriously. And regular readers know that I do not mess around when it comes to my caffeine consumption. This Seattle girl knows how to tip back a cuppa or four. After a good dry brushing I feel awake and ready to get moving with my day.
My skin is soft. Really soft. Like, baby-ass soft. Even the areas that are perpetually dry and cracky in winter, like my ankles and elbows, are soft. Many people advocate rubbing skin with coconut oil, castor oil, avocado oil or another natural moisturizer after dry brushing, and sometimes I do but usually I don't. The softness is coming just from the dry brushing.
I think I'm actually seeing improvement on the cellulite front, too. I am predisposed to skepticism about this kind of thing (don't they always tell you there is no cure for cellulite?), but I really do think the dry brushing is helping. Now, I'm never going to look like a bikini model or anything – and don't expect any revealing personal before and after pictures of my thighs on this blog – but my tush and legs do look a bit smoother to me. And honestly? Even if all the skin improvement claims are bogus, dry brushing still feels great to me.
One of the YouTube Videos I watched on dry brushing said that once you try it, you'll start to evangelize it. As this post proves, that's true for me.
In fact, my mom came over the other day after going for a swim. The skin on her poor legs was so dry. My mom has really lovely skin – she has that Mediterranean olive complexion that just glows in the sun – but she had been neglecting skin care of the body.
I broke out my body brush and dry brushed her. With every brush stroke, a puff of dead skin clouded the air. After dry brushing I rubbed coconut oil into the skin on her arms and legs. The effect was amazing. Her skin went from dull and greyish to warm and golden, and from rough to smooth, in the ten minutes it took to dry brush and moisturize.
My mom was sold on dry brushing, too. She asked me to buy her the same body brush I use next time I place an Amazon order. (You can get the brush I use for about $9 here.) Yay! One person converted already!
Dry brushing is simple. Don't make it too complicated. You get a skin brush, and use long, smooth strokes to brush your nekkid skin pretty much all over, going in towards your heart with each stroke.
That said, you need the right brush. These things run $5 – $15 depending on how fancy you get, so this is not a bank-breaking investment, particularly if you compare a dry brush to the cost of a tube of almost-certainly-useless cellulite goo.
What To Look For In A Dry Skin Brush
Natural bristles that are stiff but supple enough to not scratch skin. No plastic brushes!
A shape that fits easily in the palm of your hand. This will give you the most control over your brushing.
A removable handle for brushing the back or a second brush with a long handle if you plan on brushing your back.
I've been super happy with the Yerba Prima Brush I use.
How To Dry Brush Your Whole Body
Use long, smooth brush strokes. Start with your lower body. I find it's easiest to prop the leg I'm dry brushing up on my bathtub or a step stool. Brush your feet, working back towards your core. I usually give my ankles and the soles of my feet a little extra buffing. I circle one calf, brushing each area several times, then buff my knees and dry brush up my thighs to my hip. I swap legs and repeat on the second leg.
Next I brush my arms, starting at the hands and brushing up towards my shoulders. I give my elbows a little extra love and continue on to brush the back and upper back as part of doing my arms.
Finally I tackle the torso. I start at my back, brush up my tush (no harm hitting this area twice, I figure) and toward my lower back. At this point I reach around my rib cage and brush following the lines of my ribs toward my front.
On my front, I start on each side and brush from hip, up my obliques, to the armpit. Then I brush my stomach from my left oblique to my right, stopping at the bra line. Sometimes I then brush from the front of my shoulders down and in towards the heart, over the décolletage. Since the skin in this area is quite delicate I'm very gentle.
Some dry brushers recommend that you brush the stomach area only in a clockwise motion to follow the directionality of your digestion. That might be a better way to do it, but I've been happy keeping all my strokes long and smooth.
Things To Keep In Mind
Brush skin while it is dry. In the morning before a shower is ideal. If you are new to dry brushing, a lot of dead skin may come off your body. You might want to brush in the shower (water off) to contain some of that skin dust.
Your dry brush should stay dry too – it's not meant to hang around in your shower getting mildewy. Periodically clean your brush with a teeny bit of mild shampoo or liquid soap. Wash the brush and bristles well, then blot as much water out of the brush as you can onto a clean towel. Hang or prop up the brush to dry completely. Keep it away from standing water.
Tougher parts of your body, like your legs and feet, can be brushed more firmly. Delicate areas like the inner thigh, neck and décolletage should be brushed very gently, if at all. The skin of the face is too delicate to brush with a dry body brush. Softer brushes are made for the face.
If you have a cut, abrasion, rash, etc. on your skin, don't dry brush that area. Use pressure that feels nice to you. Use common sense.
So what about you? Do you dry brush? If not, have I convinced you to give it a try?
50