In a recent weekly homestead report I voiced a desire to start celebrating marker points of the seasons as alternate holidays. As I put it in the post, basically I want to do traditional pagan holidays – celebrations of the solstice, equinox and the like – but secularized.
I'm culturally Christian, but not religious. Without a deep religious connection to Christ, modern American Christian celebrations like Christmas can feel more like a big fat consumerist circle jerk than a connection to the divine. This may be why Thanksgiving and New Year's have always been my favorite holidays. One is a traditional harvest festival celebrated with food and family; the other marks a new beginning with drink and chosen family.
The idea of inventing your own family traditions is kinda funny, if you think about it. A tradition is something you inherit, typically. But even the most traditional of traditions came from somewhere. Take the Christmas Tree. Someone was the first person to say, "Hold my beer, Hans, I'm gonna go light that spruce tree on fire."
So, I figure, why not try celebrating things that do resonate with me – like the seasonal rhythm of planting and harvesting?  Call it a little hat tip to seasonality, a little pause to acknowledge the passage of time, or a moment of appreciation for the earth and the life it sustains.
My holiday musings seemed to resonate with folks – several commenters on that original post mentioned that they do celebrate the seasonal marker days (the Wheel of the Year Holidays, I've learned they are called), or that they also have similar ideas for creating new family traditions.
Anyone who has a similar goal, it's a good time to start planning for the Autumn Equinox – the first day of fall. In 2017 the Autumn Equinox is Friday, September 22nd.
There are a few names for a celebration of the first day of Fall depending on what tradition you're following. Mabon, Ingathering and various Druidic names are used. One of my readers told me that the Harvest Home Festival was the traditional English celebration at this time. Harvest Home sounds so charming – like the name of an apple-scented candle you'd buy at Cracker Barrel. I love it!
Traditional Harvest Home festivities include "singing, shouting, and decorating the village with boughs. The…last sheaf of grain, which represents the spirit of the field, is made into a harvest doll and drenched with water as a rain charm. This sheaf is saved until spring planting." (Source)
I'm thinking my Harvest Home celebration will probably include music, food, and something involving apple cider. Maybe I'll rent a press for juicing fresh cider!
If you want to throw your own Harvest Home Autumn Equinox party, feel free to use this invitation. Just download and use your favorite PDF or photo editor to add your own party details to the invite.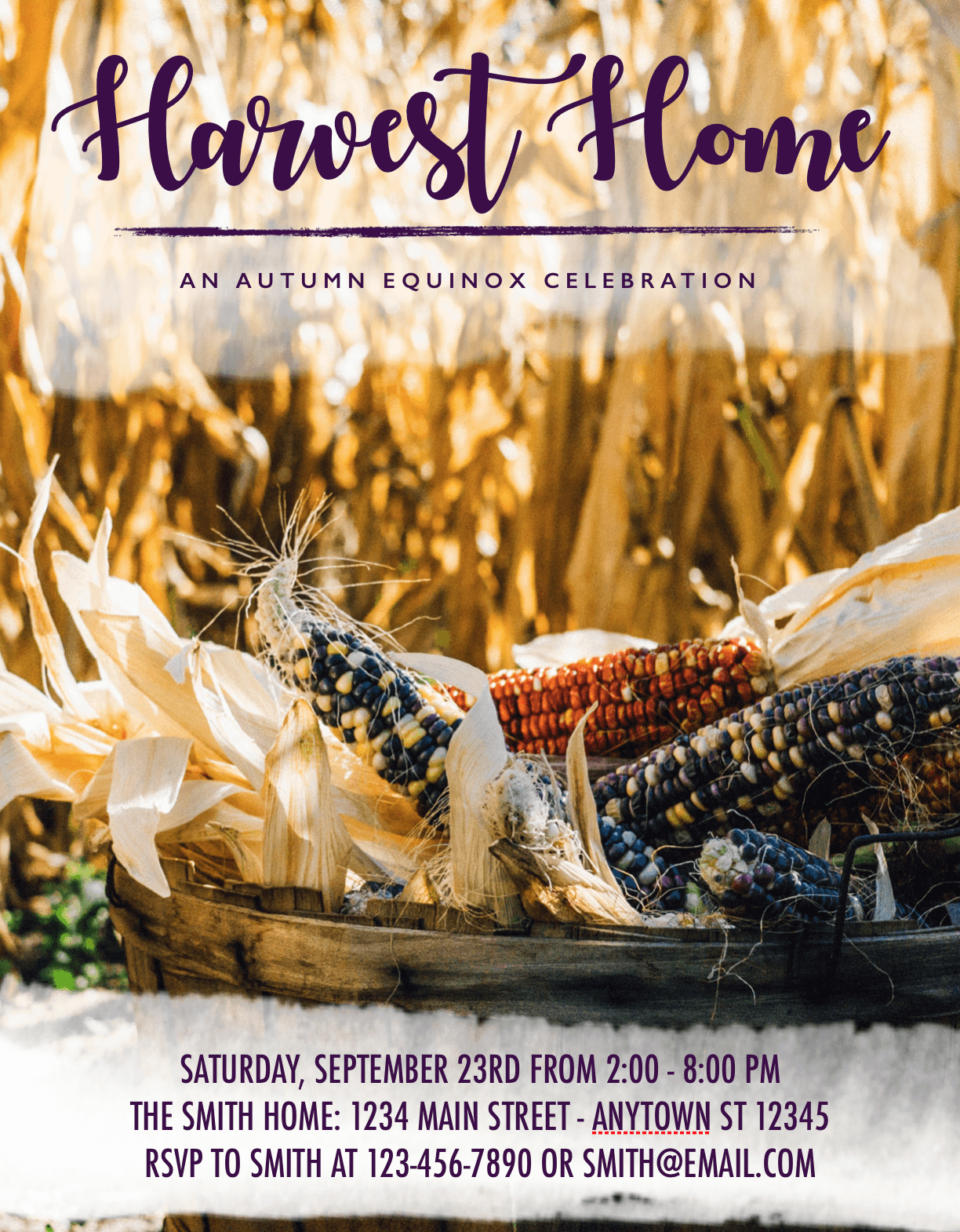 In the sample invitation, the font used for the details is Futura Condensed Medium in all-caps and the dark purple color is hex color #3b0e48. But modify as you like.
If you want to hold your party on the astronomically correct day (and not the nearest convenient Saturday) make sure you choose Friday September 22nd as your party date.
Theoretically, I suppose you could print this invite out in color and mail it to all your friends as a flier, but it's made with the assumption that you'll just email or even text the invite as an attached PDF.
Is anyone else planning on celebrating the Autumn Equinox?
0