I had about 18 hours before I was going to hop in the car and spend four days road-tripping through Eastern Washington and Idaho, and a fridge full of freshly harvested vegetables that desperately needed to be used.
A small mountain of cucumbers and corn and a little foothill of tomatoes were my biggest concern. I knew that by the time I returned from my trip, these fresh veggies would be way past their prime. Plus, my mother-in-law was going to be watching our son and she would need some room in my overpacked fridge.
I sat down with my current favorite canning book (the most recent edition of the Ball Book of Canning) to find a few recipes that would help me quickly convert my fresh veg into preserved…something.
The Eastern Shore Corn Relish (page 158 if you have the book) was just what I was looking for. It's a pretty standard corn relish, but the primary seasoning is Old Bay, which the recipe authors say gives this relish an Eastern Seaboard, Chesapeake Bay flavor twist.
DIY Kinda Sorta Old Bay Seasoning
Skip down to the next section if your pantry is fully stocked on Old Bay. I didn't have any, and I wasn't about to run out to the store to get some with the clock ticking down for my road trip, so I started out by mocking up some DIY Old Bay seasoning.
Warning to purists: I actually have almost no idea what Old Bay tastes like, since 'round these parts we do our crab the right way, steamed with butter and lemon or wok-fried with chili and Chinese black bean paste. Kidding, kidding, I love all seafood stylings!
I based my Kinda Sorta Old Bay blend off other internet suggestions. So no promises that it's accurate…but it did turn out pretty tasty, and it worked great in this corn relish. If you have real Old Bay, please use it. If not, this home-blended alternative is great.

Ingredients
1 tablespoon celery seed
1 tablespoon salt
3 dry bay leaves
1 tablespoon black peppercorns
1 teaspoon paprika
1 teaspoon dry ginger
1 teaspoon red pepper flakes
pinch nutmeg
pinch cinnamon
pinch ground cloves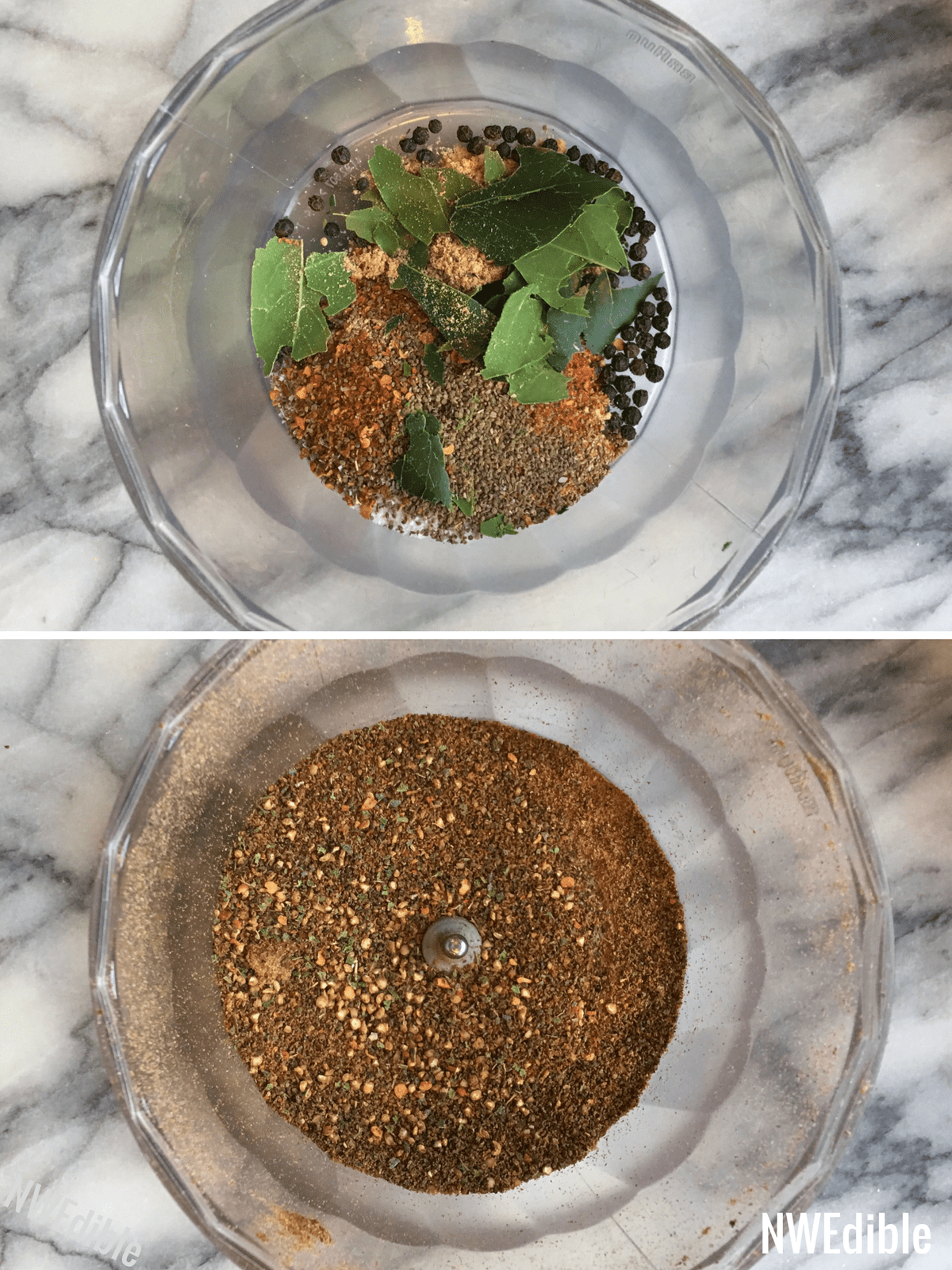 Grind all the spices together as finely as possibly. You can use a spice grinder, mini food processor, stick blender with chopper attachment, fancy blender, or a mortar and pestle. Whatever works for you.
If necessary, sift out large chunks of spices from the finer blend and continue processing the large pieces until everything is fairly uniform.
Set your DIY Kinda Sorta Old Bay spice blend aside until needed.
Old Bay Corn Relish Step by Step
Get yourself set up for water bath canning. You'll need 5 pint jars.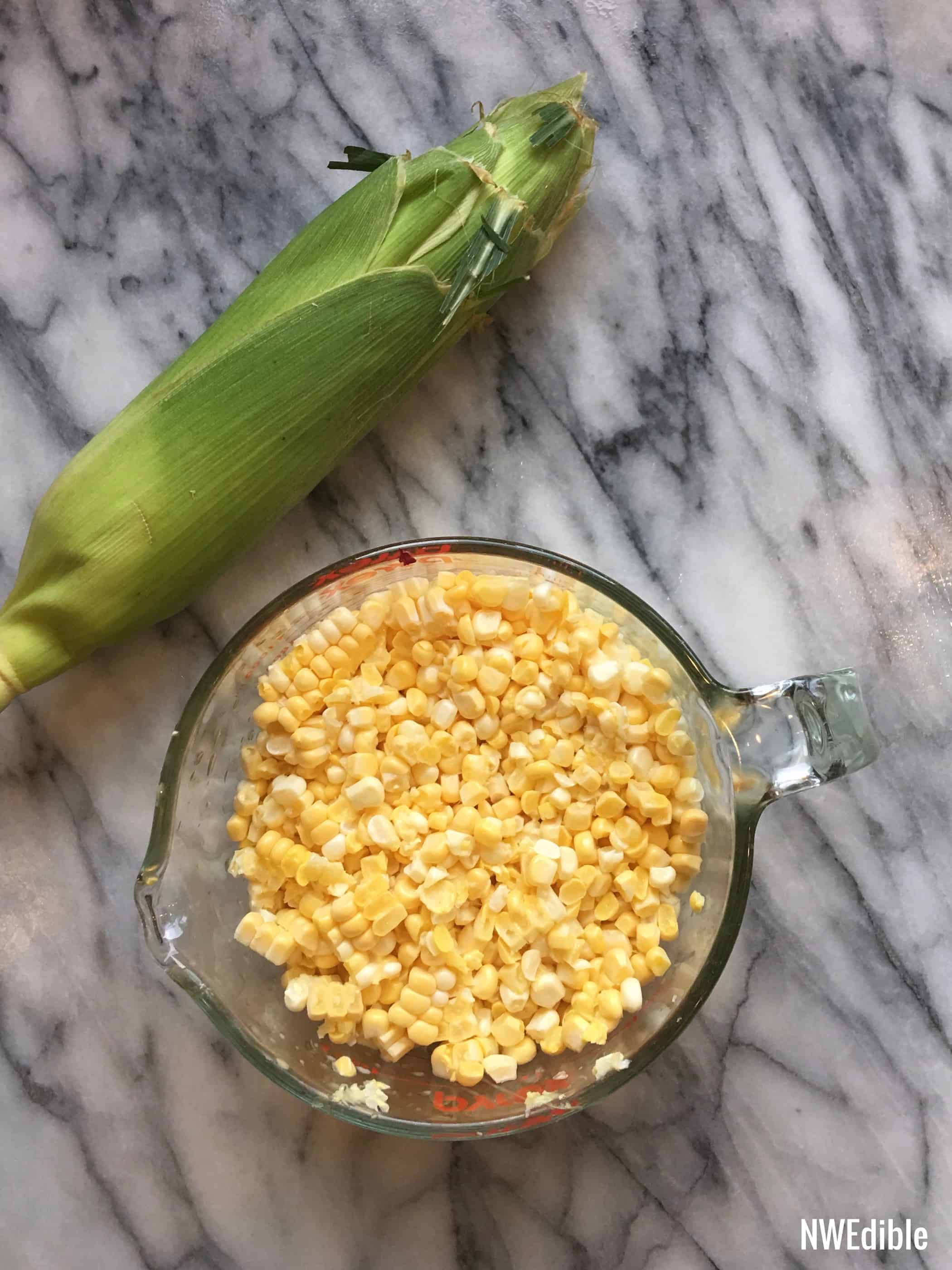 One of the things I like about this corn relish is you don't need to pre-cook the corn. That saves a lot of time, compared to other recipes that require a pre-blanch of the corn before cutting it from the cob.
You can use fresh corn here, as I did. Just husk and rinse your corn to remove any silk left behind. Slice the corn kernels straight off. Be sure not to scrape the cob – this can mess with the acidity of the relish in a way that might be unsafe. A good serrated knife makes this fast and easy. Frozen corn off the cob is also totally fine.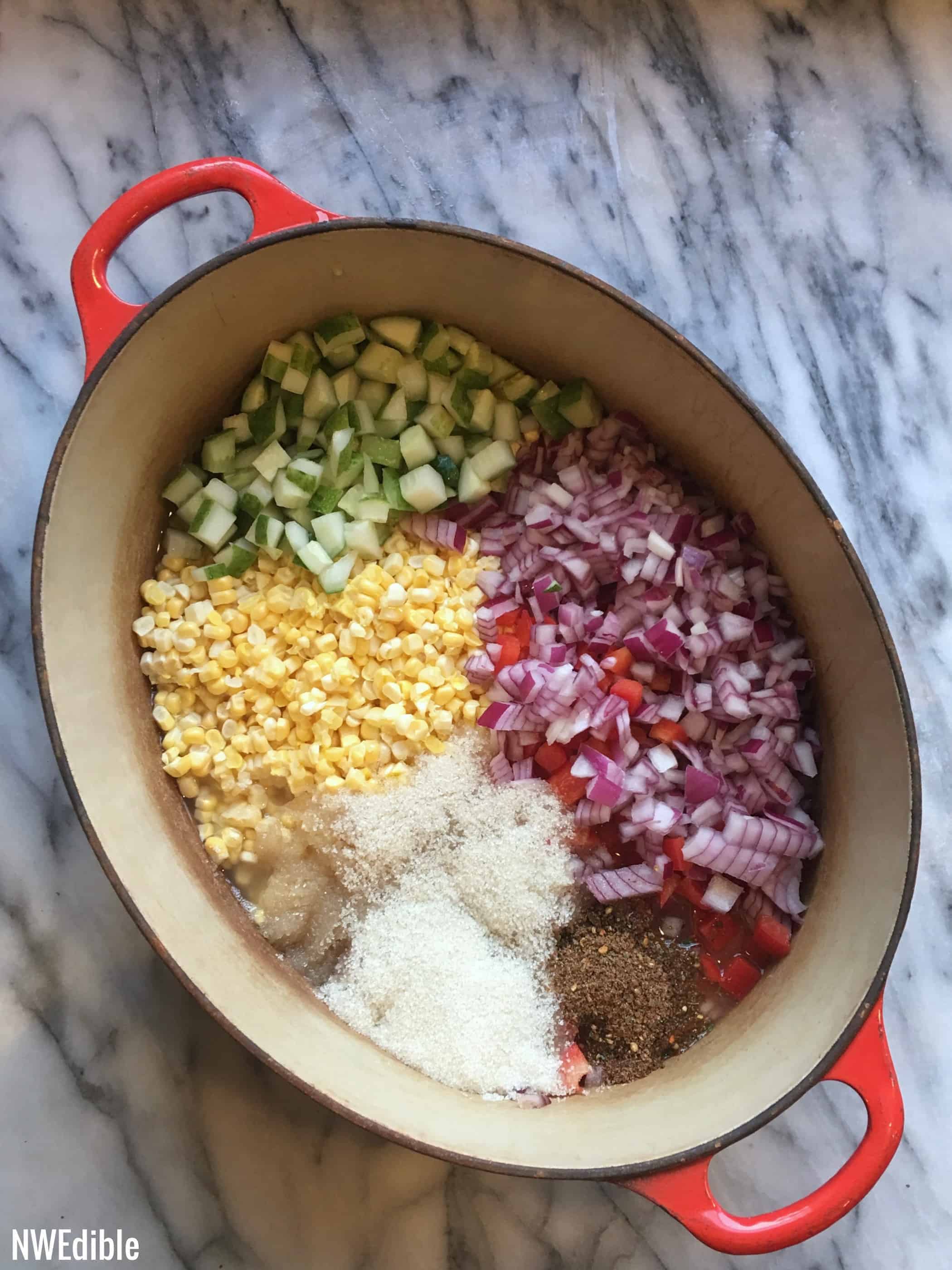 Get all your vegetables – corn, red pepper, red onion, and cucumber – prepared and put them in a wide, non-reactive pot or enameled Dutch oven that will hold at least 6 quarts. This is what I have, but there are many less expensive, good quality brands of enameled cast iron on the market these days to choose from.
Add vinegar, sugar, salt, and either Old Bay or DIY Kinda Sorta Old Bay seasoning blend to the mix, and bring everything up to a boil.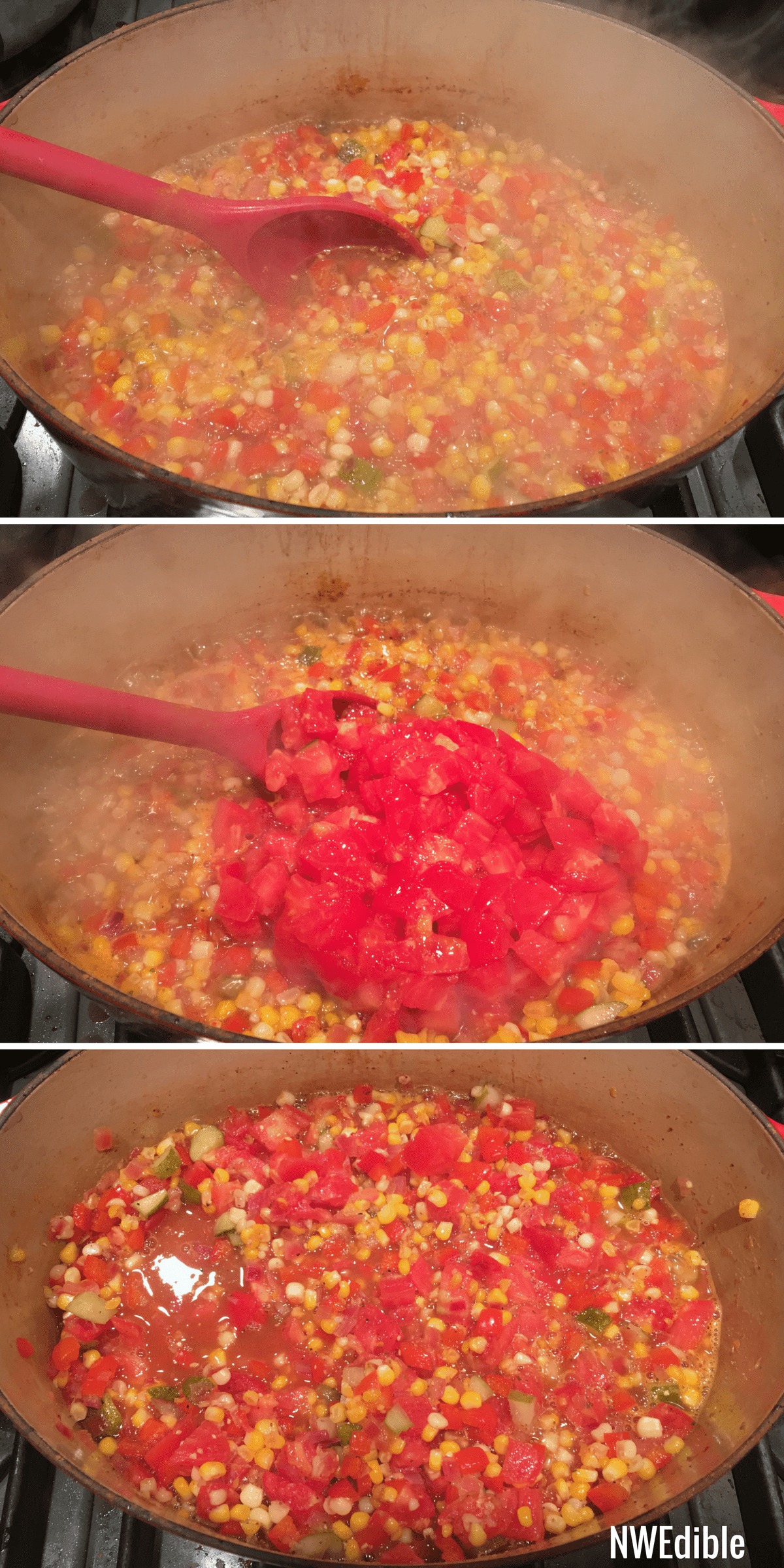 Simmer corn relish 10 minutes, then add diced tomatoes and simmer another 10 minutes. The corn relish will have some liquid but shouldn't look soupy.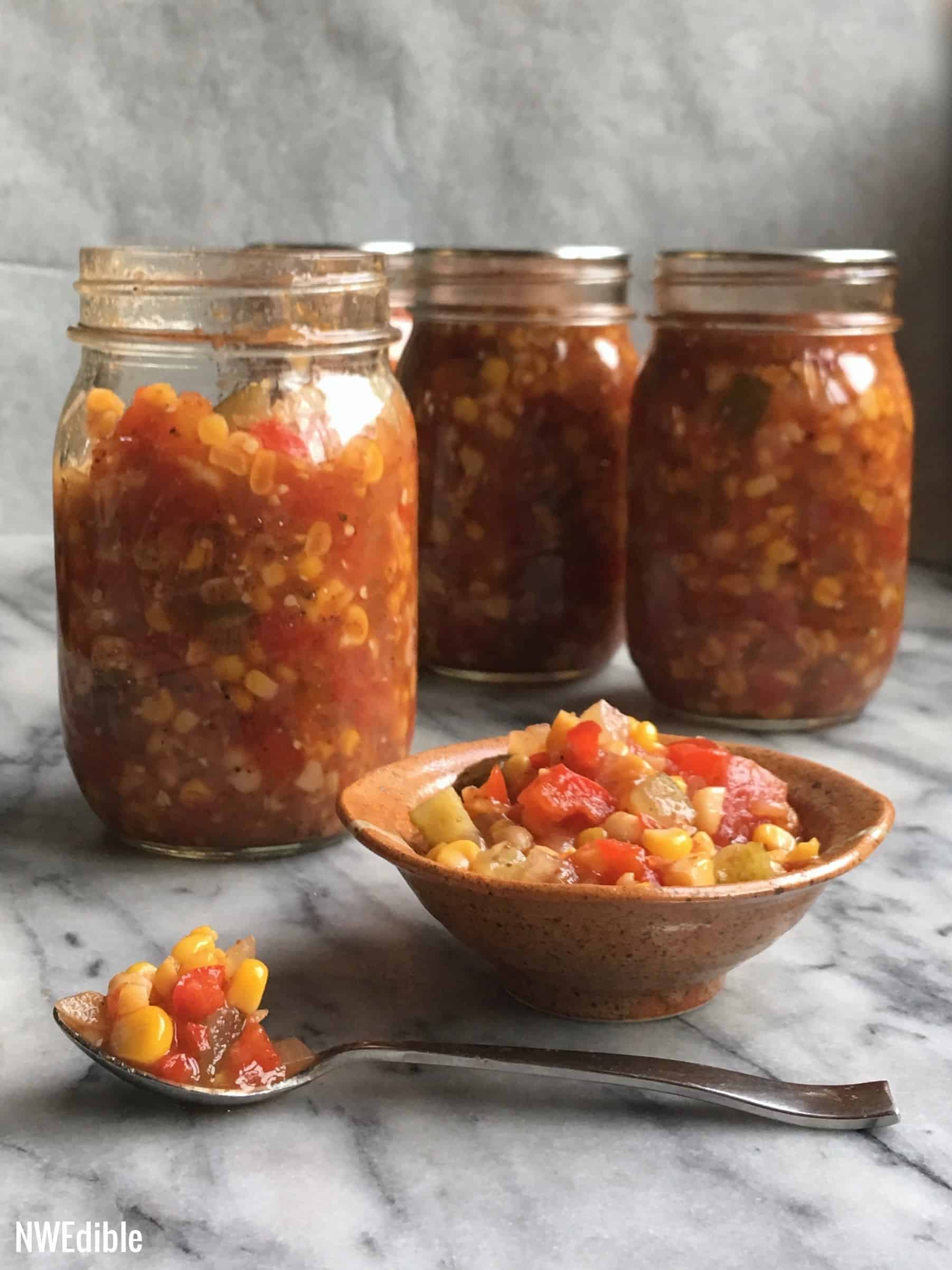 Following standard water bath canning processes, fill prepared, hot jars to 1/2 inch headspace, and process for 15 minutes, adjusting for altitude. You should end up with 5 pint jars.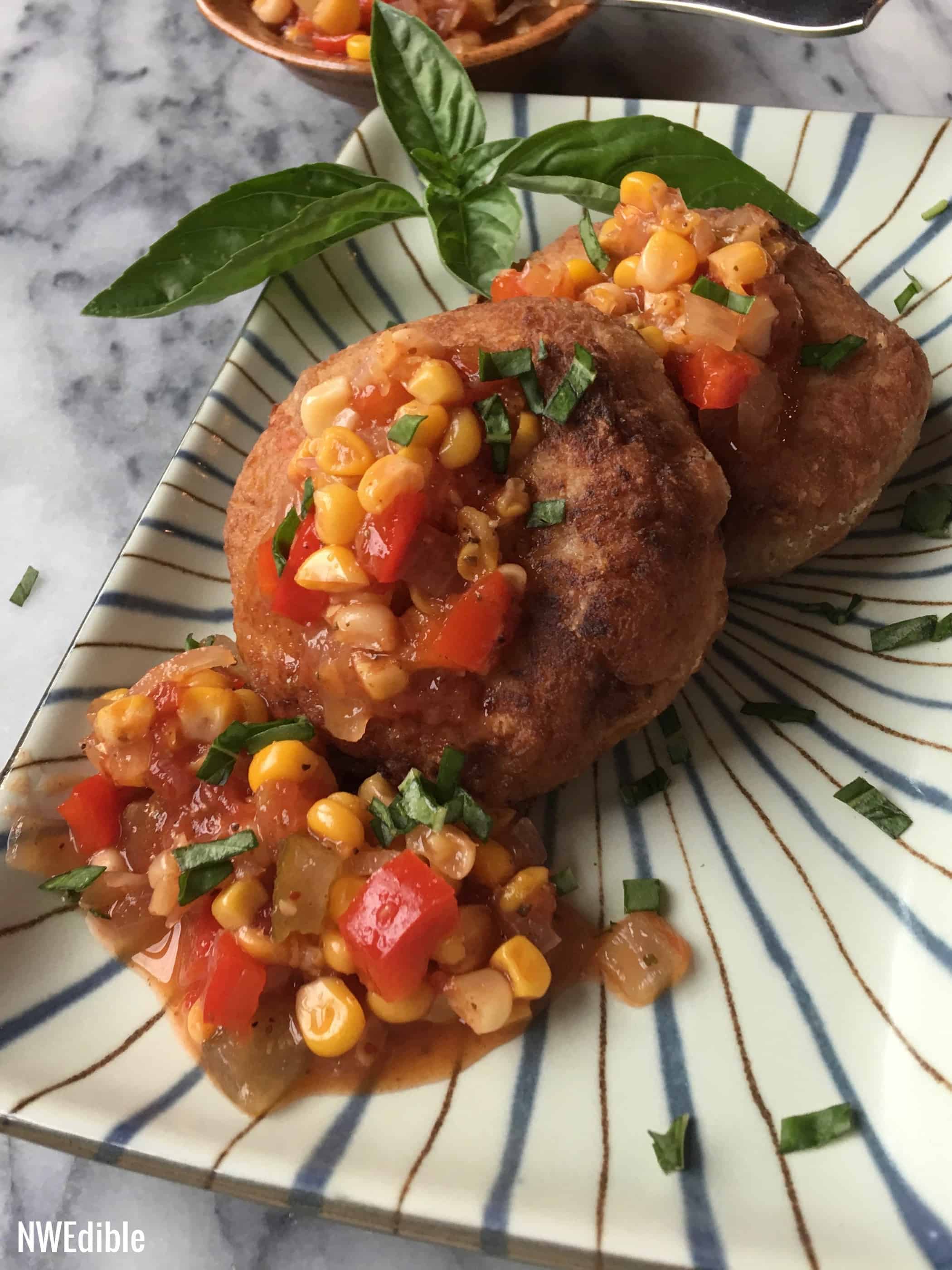 Use this relish with seafood, especially crab cakes or fried fish. It's also excellent mixed into tuna salad, or served with beans, rice, or chicken.
Printable Old Bay Corn Relish Recipe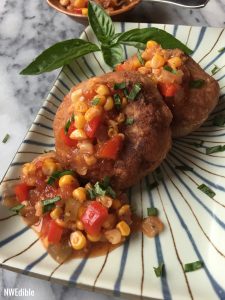 Print
Old Bay Corn Relish
Yield 5 pint jars
Ingredients
4 cups fresh corn kernels
2 cups diced red sweet pepper
2 cups diced red onion
1 cup seeded, diced cucumber
2 cups apple cider vinegar (5% acidity)
1 cup granulated sugar
2 tablespoons Old Bay seasoning or equivalent spice blend
1 tablespoon kosher salt
3 cups peeled, seeded, diced tomatoes
Instructions
Prepare a water bath canner and 5 pint jars for water bath canning.
Add prepared corn, sweet pepper, onion and cucumber to a large, wide, non-reactive pot or Dutch oven. Add the vinegar, sugar, Old Bay seasoning and salt to the vegetables and bring everything to a boil over medium-high heat, stirring occasionally.
Reduce heat to maintain a gentle simmer and cook vegetables 10 minutes. Add tomatoes to the relish, and simmer an additional 10 minutes. Adjust seasonings to taste.
Reduce the heat under the corn relish to low and quickly fill your hot, prepared pint jars with relish to a 1/2-inch headspace. Remove air bubbles, adjust head-space and wipe jar rims carefully. Lid your jars according to manufacturer's directions, then transfer your jars to your canner.
Process corn relish 15 minutes at a full boil, adjusting for altitude. While jars are processing, set a kitchen towel on the counter in a draft free place.
After jars have processed, turn off the heat under your canner and allow the jars to sit in the canner for 5 minutes. Remove the jars and set on the kitchen towel. Jars should begin sealing within a few minutes - you'll hear a sharp ping! as they seal. Leave jars alone for 12 to 24 hours to fully cool and set their seals, then check seals. Transfer any jar that hasn't sealed to the refrigerator and use it within 3 weeks. Store remaining jars at cool room temperature away from direct light. Corn relish is best used within a year.
Pin Me, Share Me, Save Me For Later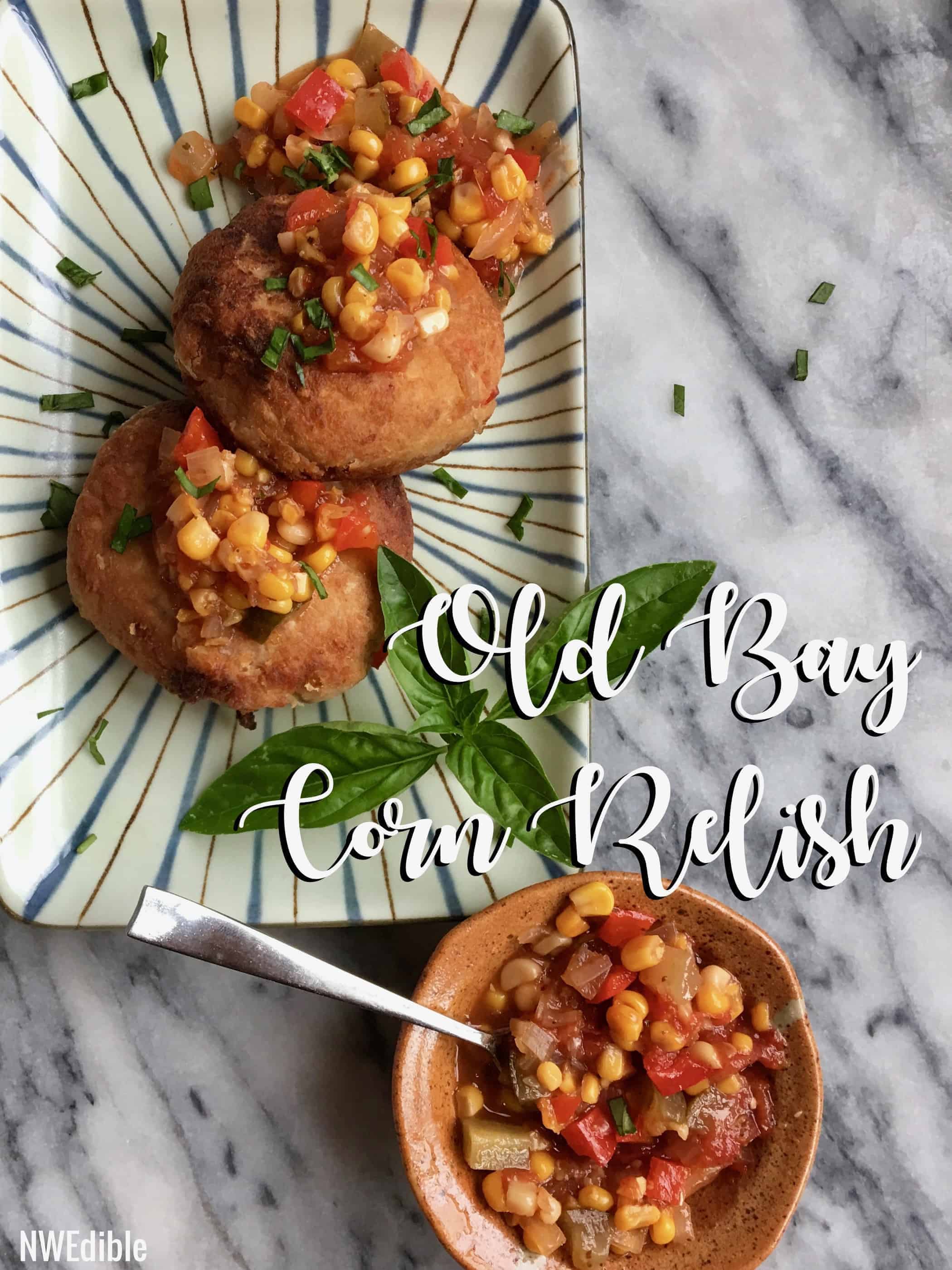 6