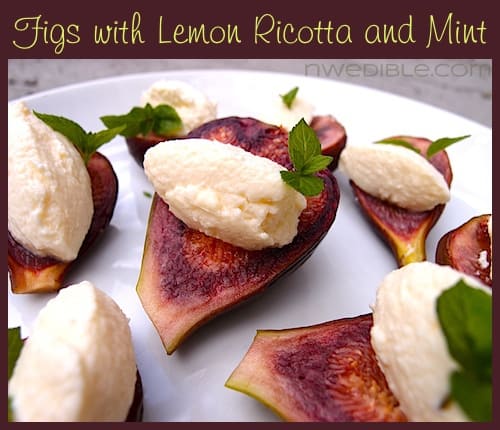 This is one of those dishes that, as a caterer, I could charge $3 per piece for and people would happily pay it. Perfectly fresh figs topped with homemade fresh lemon ricotta and sprigs of organic spearmint. Can't you just hear the cash draining from wallets everywhere?
Actually, figs are a beast to work with at a commercial level and I don't begrudge those still catering what they have to charge to put them on a menu. By the time they are ripe on the tree they are about 8 hours from rotting off the tree. Pick them under-ripe and people say, "Meh. I don't really care for figs. Kinda dry." Refrigerate them and their powerful sweetness dulls. Transport them any distance and they bump and bruise. Their season in the Pacific Northwest is painfully short.
These are the reasons figs are an expensive delicacy.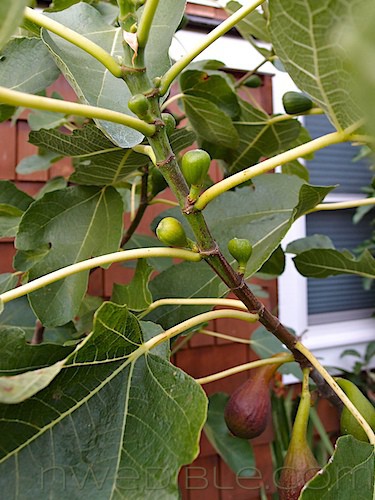 Unless you have a happy fig tree. And then suddenly you are giving figs away to neighbors and cutting whole limbs off the tree to slow the beast down. You are making fig jam and dried figs and fig vinegar. Figs find their way into every meal.
If you have a fig tree, there is a moment in late Summer when, whatever your bank balance, you get to eat like the One Percent.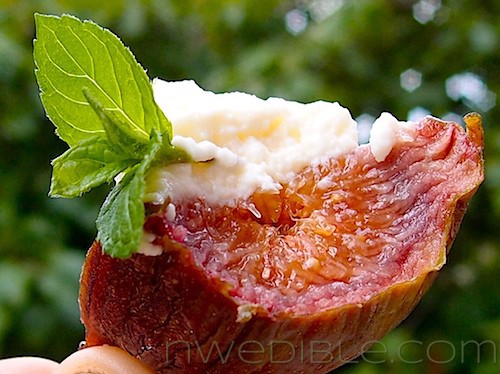 Figs with Lemon Ricotta and Mint
Slice fresh figs into halves and arrange on a plate. Scoop quenelles (that's a fancy cooking term for "little football-shaped blobs") of homemade lemon ricotta (see below) and place one quenelle on each fig half.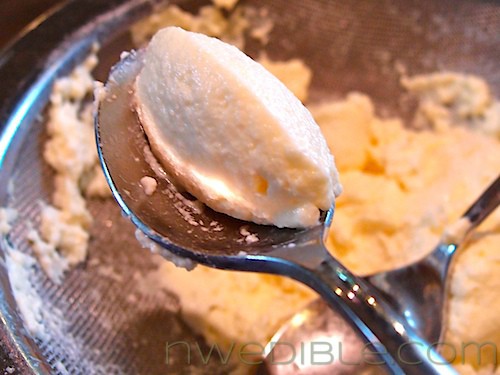 Sprinkle figs with small pieces of mint leaves. I used spearmint here but any tasty, non-fuzzy mint will work.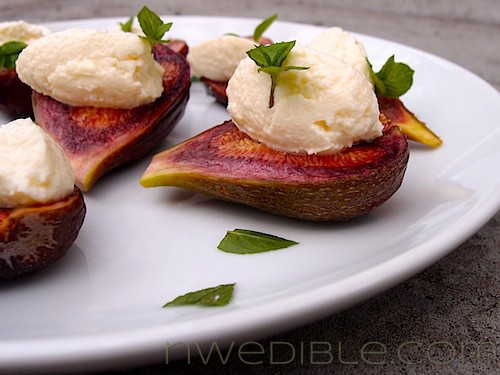 That's it. Three ingredients, nothing fancy. Practically free. And yet, everyone will think, "wow, that's really fancy!" All because you have that fig tree.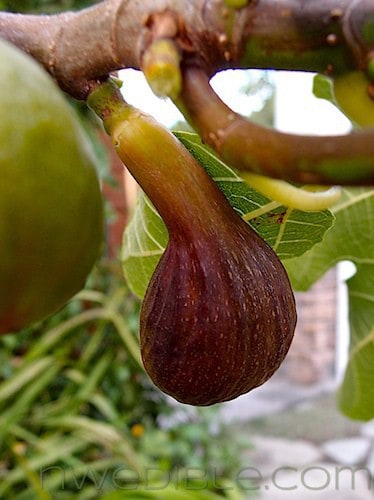 Homemade Lemon Ricotta
Makes about 3 cups of ricotta
Ricotta is the simplest cheese you can make. No rennet, no fancy cheese molds. All you need is milk, lemon juice and salt. To make the best, richest ricotta, add cream to your milk and prepare to be amazed. Adapted from the fabulous recipe at SmittenKitchen. Recipe may be halved.
Ingredients
½ gallon (8 cups) whole milk
2 cups heavy cream
1 tsp fine sea salt, or to taste
½ cup freshly squeezed lemon juice
2 tbsp. freshly grated lemon zest, or to taste
Okay, if you've never done something like this, I know the idea of making cheese at home can be a little intimidating. If you feel this way, I want to assure you that this is a super-easy three step cheese. Step One: heat milk. Step two: add acid (lemon juice in our case). Stem three: strain. Honestly, that's it. You can totally do this.
Step One: Combine milk, cream and salt in a big pot. Add a candy, deep-frying or clean probe thermometer so you can monitor the temperature of your will-be cheese. Heat over medium, giving your milk mix an occasional stir, until cheese reaches 185-degrees.
Step Two: When your milk hits 185-degrees, remove your pot from the heat, dump in your lemon juice all at once and give the milk one last stir around the pot. Now go walk away and do something else for half-an-hour. Or, stay and watch (but don't touch!) the super cool way the acid in the lemon coagulates the protein in the milk to form curds. Yes, this is the not-sexy way of describing cheese-making: milk protein coagulation.
Step Three: Place a large fine-mesh strainer over a large bowl. If your strainer is not very fine mesh, line it with a few layers of cheesecloth or a paper towel. Pour the ricotta mix from the pot into the strainer, refrigerate, and let the whey from the ricotta drain off for one-two hours, until firm and scoopable. If you prefer a firmer textured cheese, strain longer.
When your ricotta is the texture you prefer, fold in any additional salt to taste and the lemon zest. Eat the ricotta right away or, if you have superhuman willpower, keep it refrigerated and enjoy slowly, over the next several days.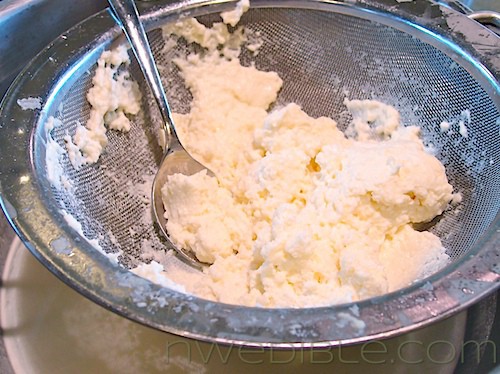 Enjoy.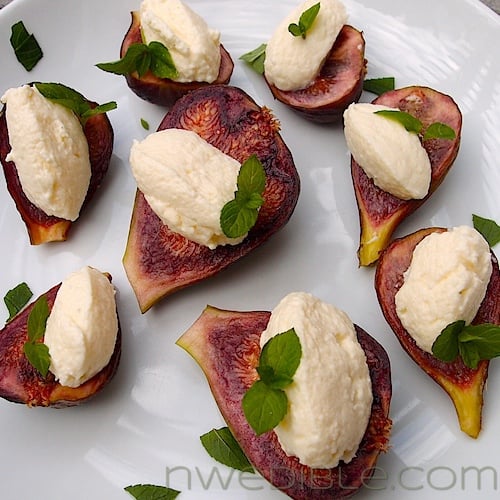 1