They say it takes 21 days to form a habit. As it turns out, "they" are totally full of crap, but for the purpose of this post that doesn't matter. We are at the tail end of this Eat From The Larder Challenge, and I feels like I've found my groove. It feels like the home cookin' habit has re-established itself.
It's not that I don't want the convenience of ready-to-go take out or the indulgence of restaurant dining if I stop to consider it, it's just that I don't stop to consider it very frequently.
This past week – most of it with a broken fridge – has actually been pretty easy. We had our friends over for brunch and it wasn't an issue at all to host. I served eggs, bacon, my dad's homemade sausage, chocolate chip zucchini bread and stewed nectarines. I don't think anyone went away hungry. Neighborhood kids came and went and there was always food for whatever mouths were under my roof at mealtime. I'm starting to feel like I'm in a good pattern with weekly baking and thawing of meat, and of course the garden is producing now so salads are easy.
After four weeks of eating down our larder, the breathing space in the freezer is wonderful. The frozen fruit and canned goods are dwindling just in time for the garden to start refilling the stores. It feels right, like the grow-it-store-it-use-it pattern is nicely flowing.
Dairy is our big limit. Milk has been gone for days. I'm fortunate my children aren't half-gallon-a-day milk drinkers. Yesterday I used up the last of some powdered milk I had in the back of the baking cupboard for sandwich bread. I think we have a teeny hunk of feta left and a cup of half-and-half our friends brought with them when they came to brunch.
Other than that, I'm not feeling like my cupboards are particularly bare. None of the basic dry staples – flour, rice, beans, pasta, sugar, etc. – have been used up yet. The hens keep making eggs at an impressive pace. There is still meat in the freezer. Hell, there's still bacon and butter in the freezer. We are a long ways from pease porridge hot, pease porridge cold.
It's worth pointing out that my goal – and I've been working towards this for over three years – is to carry roughly a year's worth of rotating food supplies in my larder. So if I had been feeling nervous about our food stores after four weeks, it would have demonstrated that I'd sadly misjudged how much we eat as a family. As it is, I feel pretty on track.
My husband and I have been talking about where we go from here. Frankly, we're ready to keep going, with maybe a small budget for replenishing dairy and the occasional staple food. Once the Week Two transition resentment ("What do you mean you're hungry again!?") faded, we've both found this challenge extremely rewarding.
But Homebrew Husband and I aren't the only members of the family, so I ambushed my daughter and interviewed her about these past weeks. The video below is about four minutes of her kid-perspective on this challenge.
If you don't want to watch, or aren't in a good place to, the short version of the video is, my daughter is totally game to do more Eat From The Larder Challenges and is perpetually surprised that she's now in the double digits (which makes two of us – when did I get old enough to have a ten year old!?). I suppose I shouldn't be too surprised about her positive take on this challenge – Bella adores watching Victorian Farm with me and wants a small log cabin when she grows up, so these step-back-in-time type activities are right up her alley.
I have a bit of a confession. A few hours after this post goes live, I will be at the grocery store for the first time in a month, buying celery. My son's preschool class is making vegetable soup tomorrow, and he drew celery as the vegetable to bring (I thought of providing a big bunch of lovage, which I have in abundance in the garden, but ultimately decided not to be that mom). I figure this food purchase is in the same category as paper or crayons or other school supplies and is, therefore, exempt from the prohibitions of the challenge.
In other confessions, I learned recently that Homebrew Husband has been buying PowerBars and beef jerky from the office vending machine. There were a total of four vending machine purchases, totalling exactly $1.00. (The vending machine at his office is subsidized so everything is twenty-five cents.) HH would like the reading audience to know that at least one of these purchases was made so that he didn't have to eat leftover chili dog immediately before interviewing his potential new supervisor. It's hard to argue with logic like that, and I think the spirit of the challenge has been adhered to.
What We've Been Eating
Sorry for the limited photos. I think as this challenge has progressed we've rather forgotten we're doing it. I've neglected to snap pics of several meals, including our fun brunch, some tasty steaks and random stir-fried of leftovers and eggs (the fastest food around!).
Breakfasts
Lots of eggs, oatmeal, and pancakes with fruit from the freezer. The kids licked this cherry topping from their plates.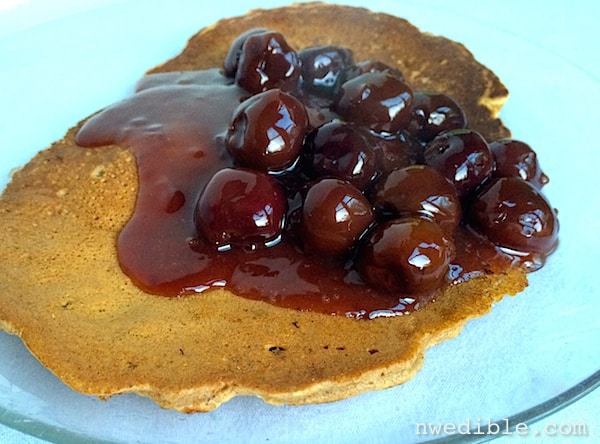 Lunches and Dinners
Our "fanciest" meal was salmon cakes with wild rice blend risotto. The salmon cakes were a huge hit with the kids – canned salmon, breadcrumbs, and egg got seasoned and shaped into patties. The grown-ups had their salmon cake with parsley-caper sauce. Also salad! I am so happy to have plenty of greens!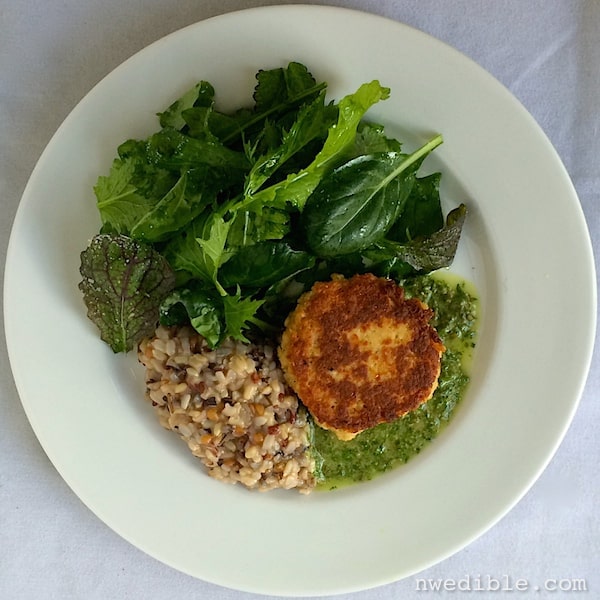 This was a Greek-flavored pizza-type thing. The sauce was a jar of fig-thyme preserves, with feta cheese, the last of a red onion and kalamata olives providing toppings.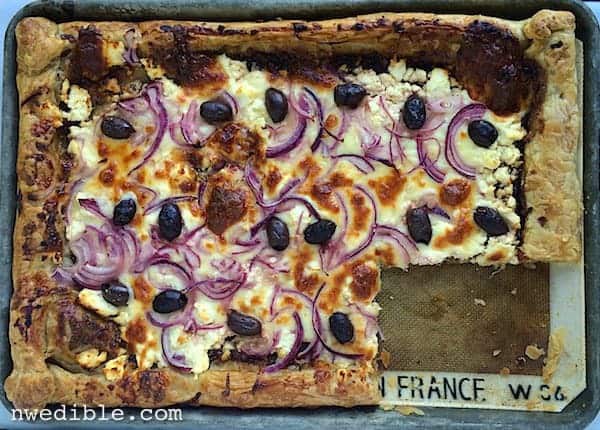 Tuna sandwiches on the best whole wheat sandwich loaf I've ever made (and it was easy!). I saved the recipe for this one, I'll be sharing soon. Homemade mayo and sweet pickle relish flavored the tuna.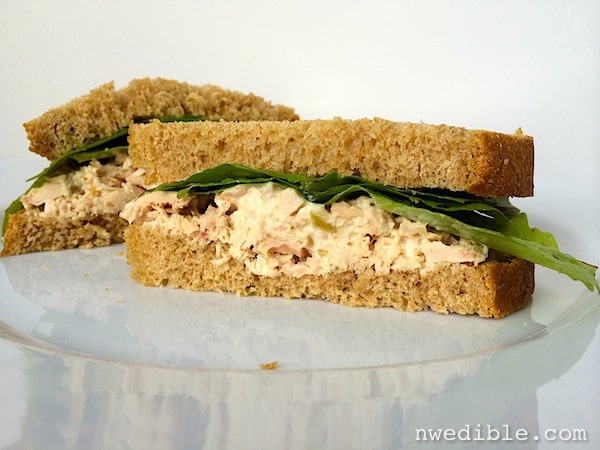 After our big brunch we had some leftover sausage which combined with other leftovers to make a sausage and sun dried tomato quinoa pilaf and….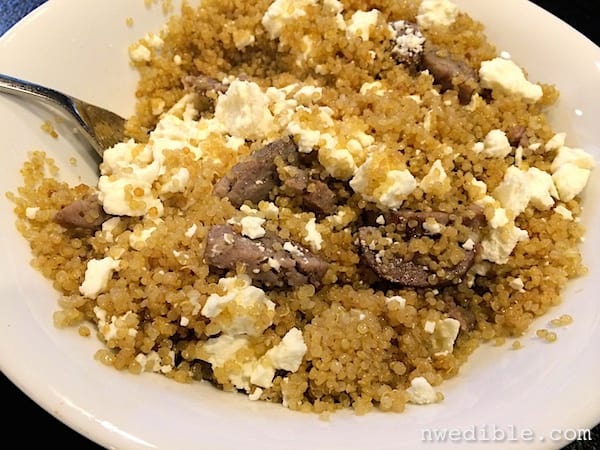 …Italian sausage skillet pizza.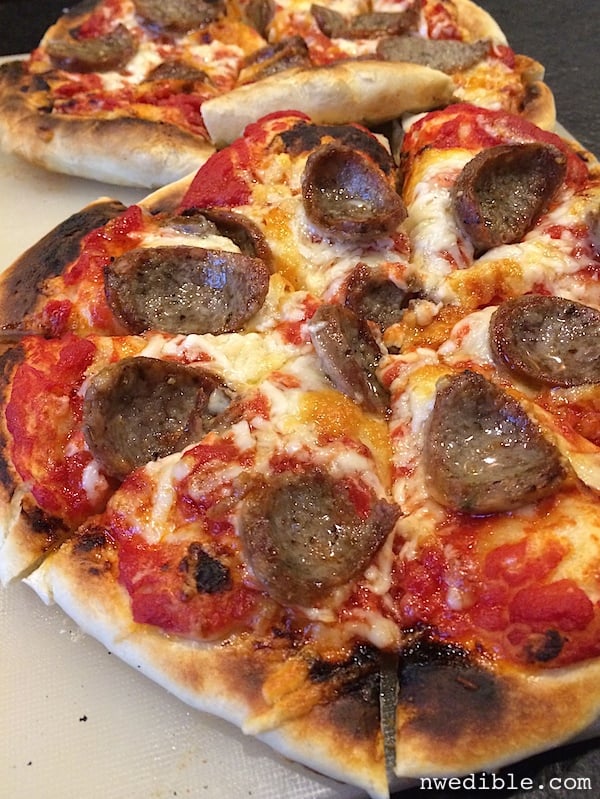 Chili with blue-cornmeal muffins made a good lunch while we were working in the garden.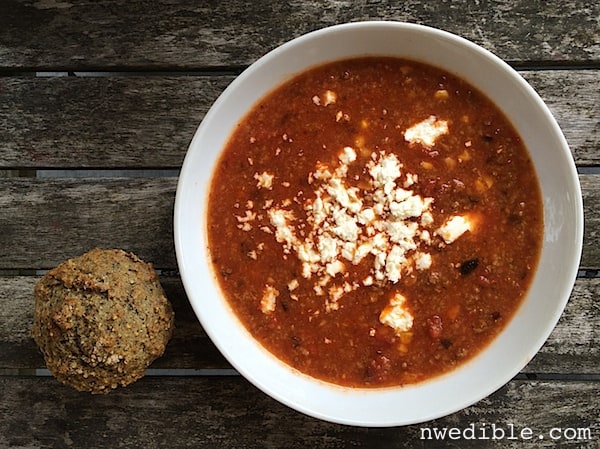 Did I mention the salad greens are ready?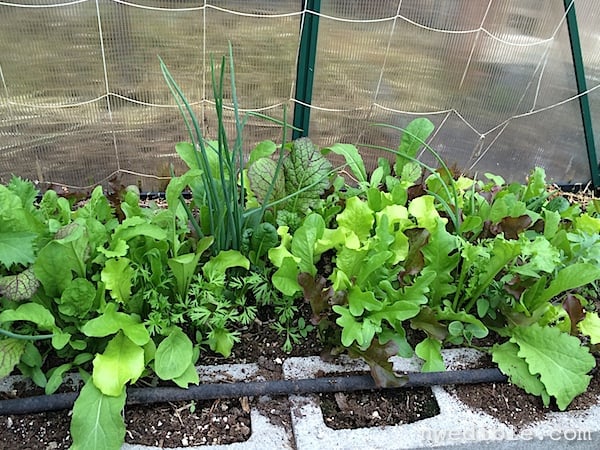 The last of the chili was served up with rice and polish sausages from the freezer to make a bun-less chili dog bowl. The leftovers of this is what Homebrew Husband declined to eat at work. And really, can ya blame him?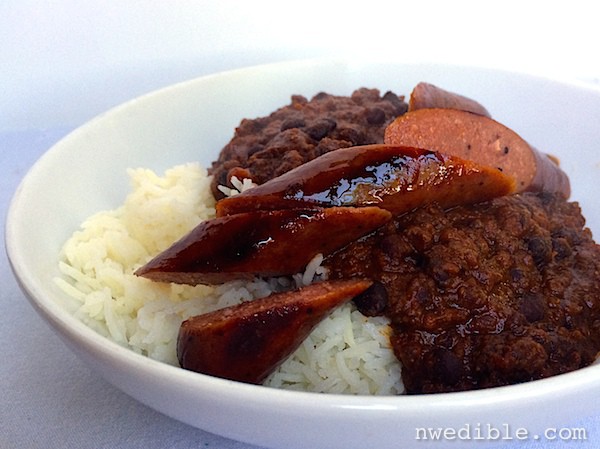 We are only a few days from completion of our Eat From The Larder Challenge. Except for the celery thing I'm going through towards May, and I know many of you are right there with me.
I've also heard from a ton of people who are participating less – they are Eating From The Larder to the degree their lives allow – and, guys, that's wonderful. Every step you take to learn how to work with what you have, every meal you would have stopped for take-out but instead cook at home, every dollar saved and information gleaned as you figure the best food storage fit for your family – that's what it's all about.
Whatever steps you can handle, at this stage for you, towards a bit more freedom, a bit more values-based spending, a bit more creativity in the kitchen –  those are the steps that mean You Win, you're doing it.
I'll do one last Wrap Up in a week or so, but I just want to sincerely thank everyone who's participated in the Eat From The Larder Challenge. I think we might have to make this an April tradition, what do you think?
0