I know this might come as a shock, but most evenings I don't actually want a boozey drink. And there are plenty of afternoons when a true cocktail would be inappropriate anyway (I prefer to be sober when I pick my kid up at the bus stop.) But sometimes I want…something.
That's where this easy, refreshing combo comes into play. A few good shakes of bitters in a glass of water or club soda gives you something with a background of flavor and a little bit of sophistication. When made with club soda or sparkling water, the result is a bit like a dry soda. If you prefer something sweeter, a teaspoon of simple syrup can be added to the mix.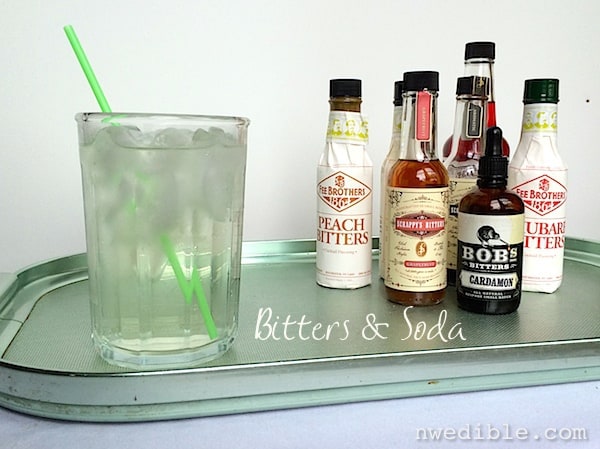 Now, bitters do contain alcohol – the flavors and botanicals are typically infused in high-proof neutral alcohol – so if you have to strictly avoid alcohol in any quantity, this isn't the recipe for you. But if you can enjoy bitters, I recommend this simple refresher.
Homebrew Husband and I have been getting into flavored bitters lately, and my favorite flavors for a simple DIY flavored waters like this are bitter orange, grapefruit and rhubarb. Traditional Angostura bitters are good too, but I like the fruity bitters best.
If you want to get fancy, fresh herbs or a squeeze of citrus juice can be added too, but bitters will give you a lovely complexity all by themselves.
22