So you've got some new little chicks-congrats! Now you have to keep them alive. First job, warmth. Check. Second job, water. Check. Third job, food.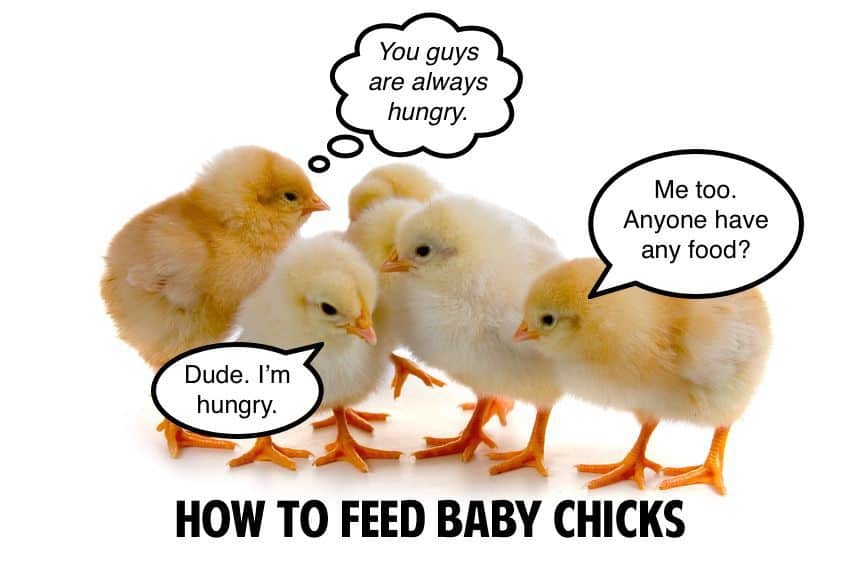 How To Feed Your Chicks
Ok, chick food. Here's where it get's interesting. Layer, starter, grower? Organic, or not? Medicated, or not? What the heck? Do you just buy the first bag with a hen on it you see at the feed store and cross your fingers?
As it turns out, this chick feed decision isn't that tough, if you know a few basics about chick feed.
Chick Feed: What It Is
If your little peepers are still in the "awwwe, cute!" stage, you'll want a dedicated chick starter feed. This is a high protein, low calcium, nutritionally balanced feed manufactured in a small size chicks can eat.
Why You Use It
Chicks have different dietary needs from laying hens, growing meat birds, or older, but not yet laying, birds. A dedicated chick feed provides enough protein (typically about 20%) to promote strong, healthy growth without supplementation and all the vitamins and minerals a little chickey needs to get off to a good start.
How Long To Use It
Go with chick feed from hatching until 2 months of age, or as directed by the feed manufacturer. At this point, transition your birds to a lower protein grower feed (16-18% protein) until the onset of egg laying (for laying hens), or slaughter (for meat birds).
Do not transition 2 month old birds directly to layer feed – it has too much calcium for birds that aren't yet laying eggs. From 4 to 5 months old, or at expected age of lay, pullets can move to a layer feed, which maintains a moderate 16-18% protein, but greatly increases calcium levels to provide sufficient mineral support for strong shell formation.
Organic vs. Conventional Chick Feed
Let me be really, really blunt. I grow organic, buy organic, and feed my chickens organic (I've fed my hens Scratch and Peck feed since I started keeping them). For me, the organic vs. conventional feed decision is a no brainer.
However, I like to play fair(ish), so this is the reality: organic feed is more expensive. That's the primary and, as far as I can see, only drawback. Organic feed promotes organic grain industries, funnels money to organic farmers, provides for your hens without supporting GMO corn and soy industries, and probably decreases the level of pesticide and herbicide residue in the backyard eggs your family eats.
But, yeah, like most organic options, organic chicken feed is more expensive. For me the few bucks a bag more is a moderately small price increase for a big values payoff, but this is an assessment every chicken-keeper will need to make for themselves, based on their finances, flock size and their comfort level with conventionally raised, GMO-commodity crop based feeds.
Medicated vs. Unmedicated Chick Feed
Medicated chick feed is offered by many feed manufacturers. The addition of a medication – typically Amprollium – in the feed offers chicks some protection against the development of a disease called coccidiosis. Coccidiosis is caused by a common intestinal parasite, cocci. You should assume that all chickens carry cocci and shed them in their feces.
Healthy chickens encounter the cocci parasite naturally, build up a natural resistance to it, and are typically unhurt by it. However, poor conditions including overcrowding, damp bedding, unclean coop and run areas, and warm, humid environments can lead to high levels of cocci. When this happens, chickens and chicks can develop coccidiosis, an overgrowth of the cocci parasite in the intestinal track. Coccidiosis leads to bloody feces and can be fatal to birds. As you might expect, chicks who have not yet developed their natural resistance are more at risk from coccidiosis.
Medicated chick feed is one of those areas where reasonable people can disagree. I believe preventative chick medication is typically unnecessary for the average backyard chicken keeper. In fact, unless you have had prior outbreaks of coccidiosis in your flock, I think it makes sense to let chicks build up their natural immunity right from the start. After all, they will eventually encounter cocci. The best thing you can do to prevent an outbreak of coccidiosis is to keep your coop clean, and small flock holders have little excuse for under-maintaining their chicken's environment.
However, if you raise a lot of chicks at once, or if you live in an area or have a chicken yard with a known history of coccidiosis outbreaks, medicated chick feed may make sense for you. So do your research and know why you are making the decision you are.
Natural-method chicken-keepers who prefer not to preventively administer meds can encourage healthy, balanced digestion in their flock and discourage parasitic buildup in the gut by adding 1-2 tablespoons raw apple cider vinegar to each gallon of chicken water and feeding probiotic-rich "treats" like yogurt. And of course, ensure your hens have lots of room and access to yummy green and growing things.
What Else Do Chicks Need?
Water!!!
This is so important it got three exclamation marks. Water – I mean it! Never allow chicks (or older chickens) to run short on fresh, clean water. They need constant access to a fresh water source.
Chick Grit
Chick-sized grit (basically broken up bits of rock) allows your babies to maximize the nutrition in their feed and develop their gizzard. If you are using a processed, pelletized or crumbled feed, grit is less necessary right off the bat, but since I feed my chicks Scratch and Peck's whole grain mash-type chick starter, I offer grit from Day One. You can feed your chicks grit free-choice by sprinkling it over their bedding or filling an empty (clean, duh!) tuna can with grit, or you can blend the grit right into the chick starter.
Greens
Who doesn't love a salad? Occasional treats of dark leafy greens that you would eat (think lettuce, parsley, kale, carrot tops, etc.) are great for chicks. Fresh lawn or grass untreated with herbicides or fertilizers is great too. If your chicks have free access to pasture, they will build their own salad bar as they like. If they don't, make sure to supplement with a little bit of the good green stuff. I don't give baby chicks big starch-bomb treats like pasta or leftover oatmeal. I know they need a high-protein diet and I don't want them filling up on the proverbial breadbasket.
Bugs
"All vegetarian feed" – what a stupid way to advertise "pure" eggs, huh? This egg carton slogan, designed to fool people who've never seen a chicken devour a worm or a frog or a plate of…well…chicken, conveniently side-steps the fact that chickens are omnivores. I watched one of my hens jump 3 feet into the air to catch a moth yesterday. So don't let the adverts fool ya, chickens are just tiny T-Rexs with wings.
As soon as it is safe to do so, start introducing your chicks to the wonder of small worms, little buggies, and other critters small enough to be a chick meal. Don't worry, they will figure out what to do. If your chicks have a mama hen, she will delight in teaching her babies the scratch-scratch-hop-back-and-peck dance and they'll be catching their own bugs in no time.
33