Maybe I didn't plan very well when I enthusiastically committed to doing another Eat From The Larder Challenge this April.
We already had a scheduled a family vacation. Non-negotiable. We already had a scheduled dinner-date with friends. Non-negotiable.
We were completely out of butter. Clearly, running out of butter is a dire failure of larder maintenance. I offer no excuse beyond, 9 months of book writing and editing distracted me from butter. (That should give you some idea how all-encompassing a book is. I forgot butter, which I consider a major food group.)

Anyway, all this to say that  Eat From The Larder 2015 has already gotten off to a rocky start. My internet pride is slightly less important than my son's inexplicable joy at complimentary breakfast buffet steam-table bacon, so for the 4 days we were on vacation early this month, we ate from the hotel's larder, ate from the Thai restaurant's larder, ate from the burger place's larder.
Honestly? It was pretty nice, other people doing the cooking for 4 solid days.
What I learned last year is that the practical aspects of eating from your food storage are actually not that tough. I actually like the creative aspect of ingredient restraint that comes with eating only from your larder.
In culinary school we had tests like this: "Here's four random ingredients. Tell me what they are accurately and make something delicious. Go!" Or, "Walk into the freezer. Turn whatever leftovers you find into something people will willingly pay good money for."
I loved that kind of thing. Other culinary students were excited by refined techniques and complicated multi-step sauces and I was scanning the freezer for leftovers, muttering stuff like, "How about duck confit chalupa? That seems legit, right?"
The creative, duck confit chalupa culinary improvisation aspect of working with food is (for me) a blast. So that's not a challenge.
The challenge in the Eat From The Larder Challenge is just showing up, day after day. Cooking when you'd rather not. Making something with rice, again, because that's what you have. Planning ahead. Finding a way to enjoy simple meals of staples when we're told every meal should be a food court, Whole Foods deli counter experience – an international buffet of options – all the time.
The vacation, the planned dinner out – those are all release valves in the mental pressure of cooking from the larder. 6 days on/1 day off or something similar might be a good long term cooking strategy, but it's not really a challenge.
So, that's where we are. I'm mentally re-starting our 1 month long, Eat From The Larder Challenge today. We haven't been in a grocery store since sometime in March, and we aren't restocking. Butter's gone, milk nearly so. I think I have a cabbage still in the fridge, but otherwise fresh food is pretty much whatever I can pick from my garden. So in a way, from a "use up the stores" perspective, this is a 6 week challenge for us.
But mentally, it's a month, which only seems fair.
---
What We've Been Eating
Breakfasts
Lots of egg-based breakfasts, naturally. We are long on eggs right now and they are a major protein source around here.

Omelettes get stuffed with whatever is hanging out in the fridge. In this case, leftover black beans, cheddar and cilantro.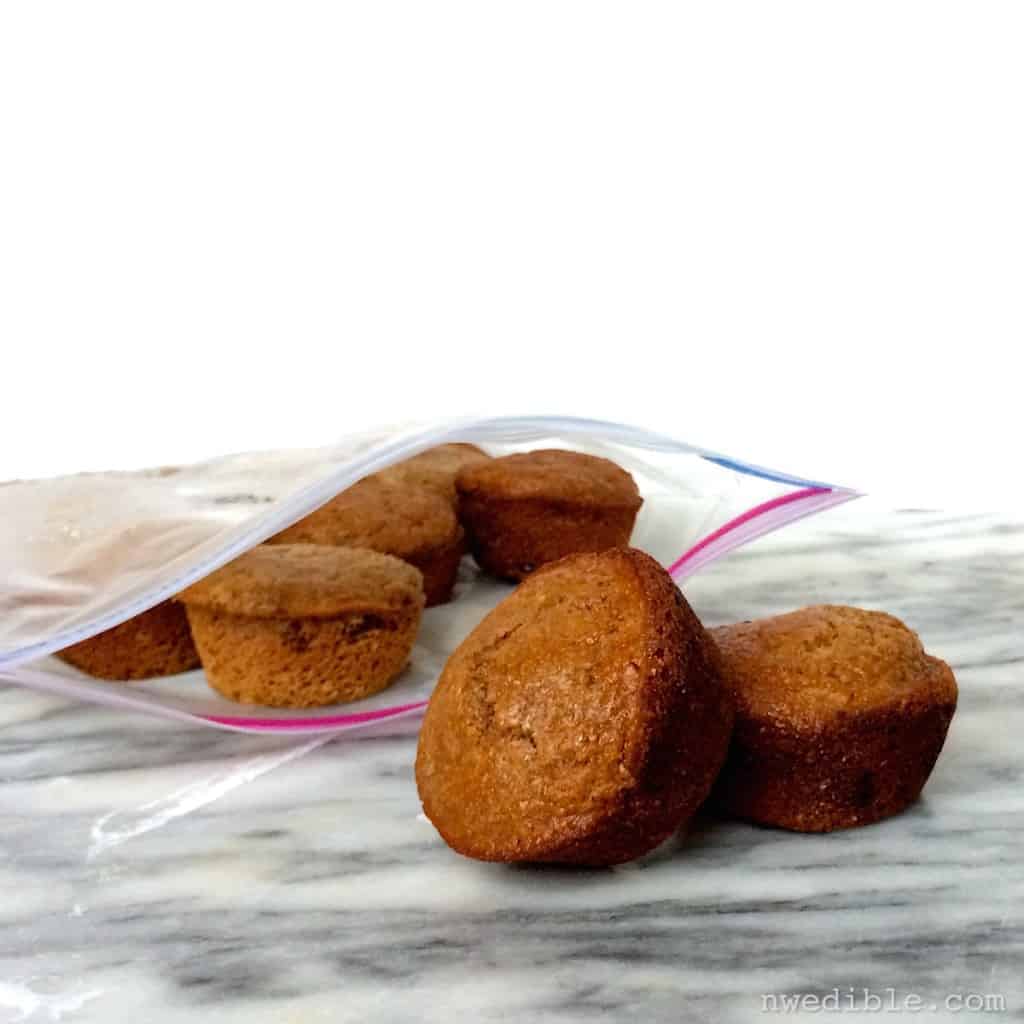 When I bake, I tend to make large batches of things and freeze them. The kids have eaten down a bag of pumpkin muffins and are working on these bran muffins right now.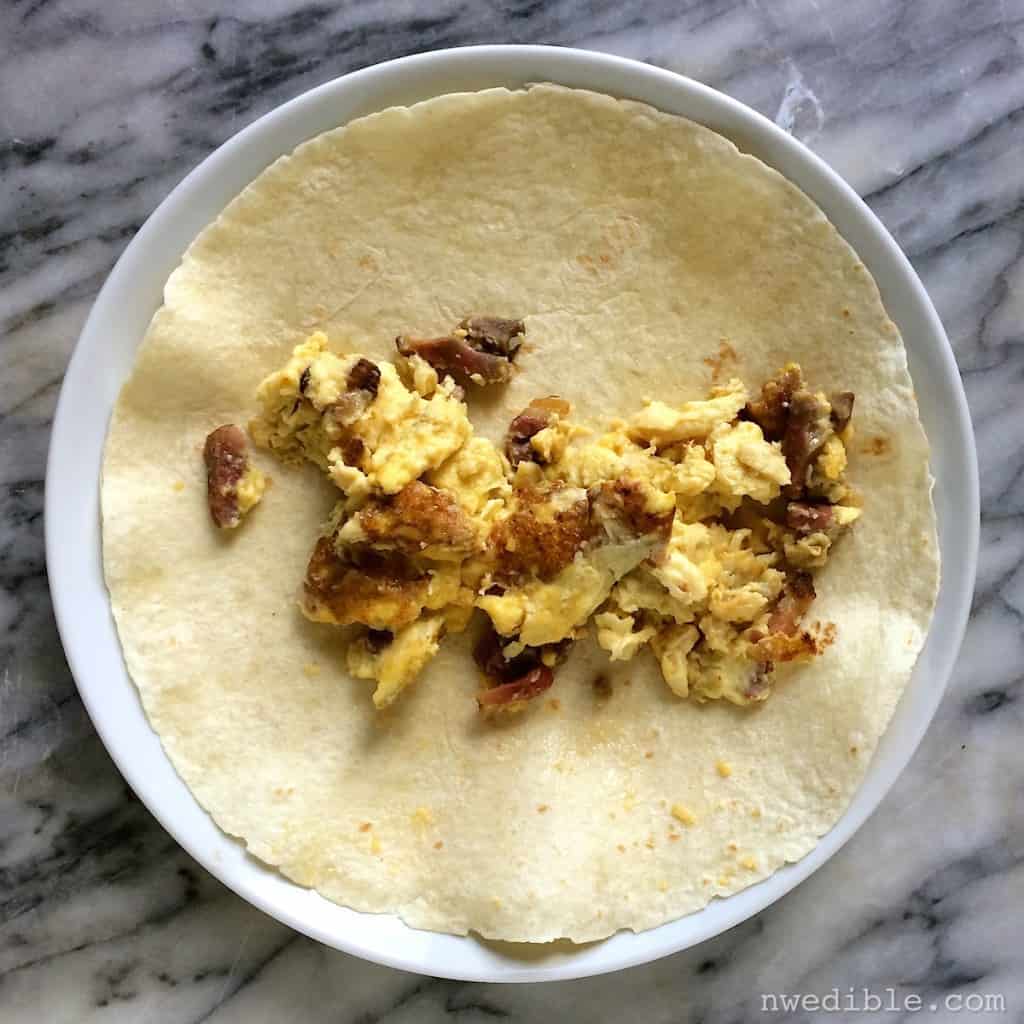 I found a package of store-bought tortillas in the freezer so even though they taste a bit like wallpaper paste compared to my homemade tortillas, they are convenient and we're using them. Eggs and some of my home-cured ham were scrambled together and served as breakfast burritos.
Lunches
I spent yesterday making a bunch of mason jar hearty salad lunches that we can grab as needed. I like turning meal prep into a project – and often will spend several hours on Sunday getting food made for the upcoming week. There's something about having a homemade deli case in my fridge that makes me happy!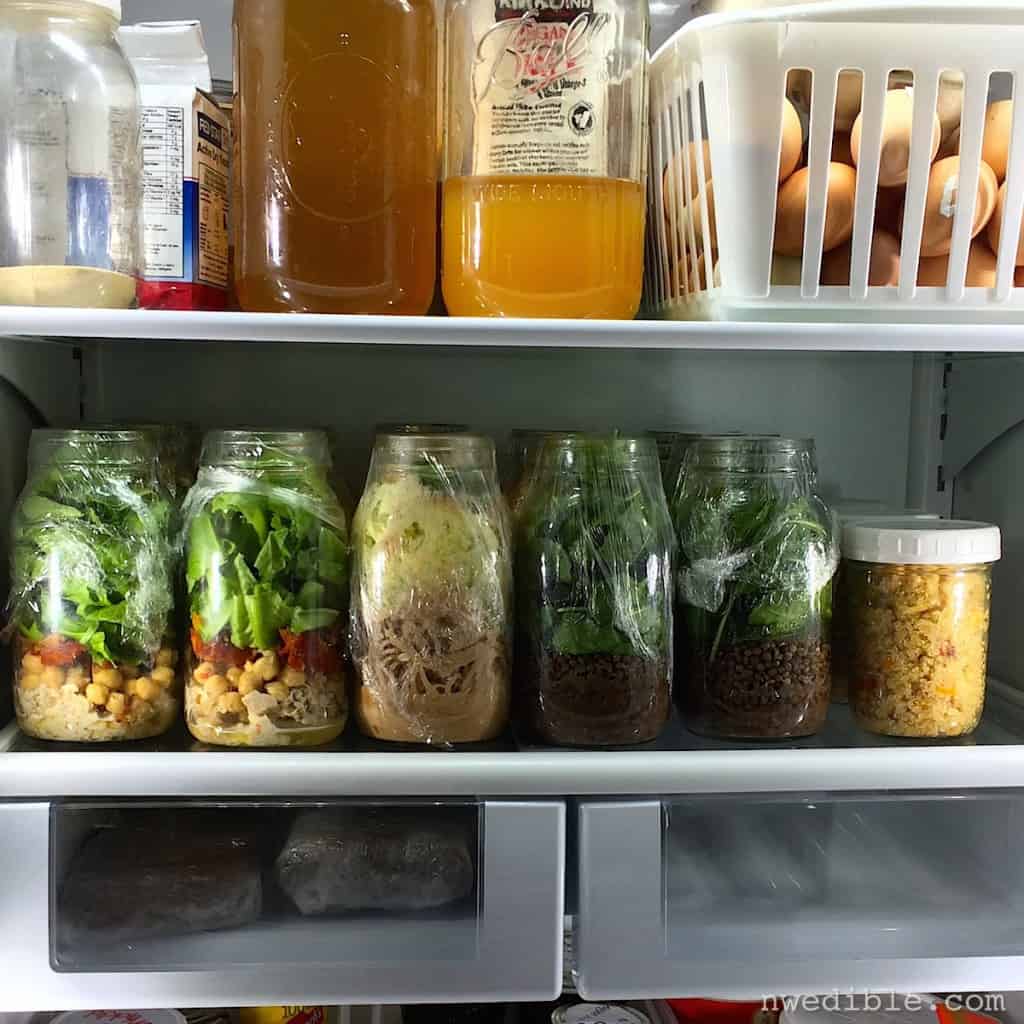 Mason jars everywhere!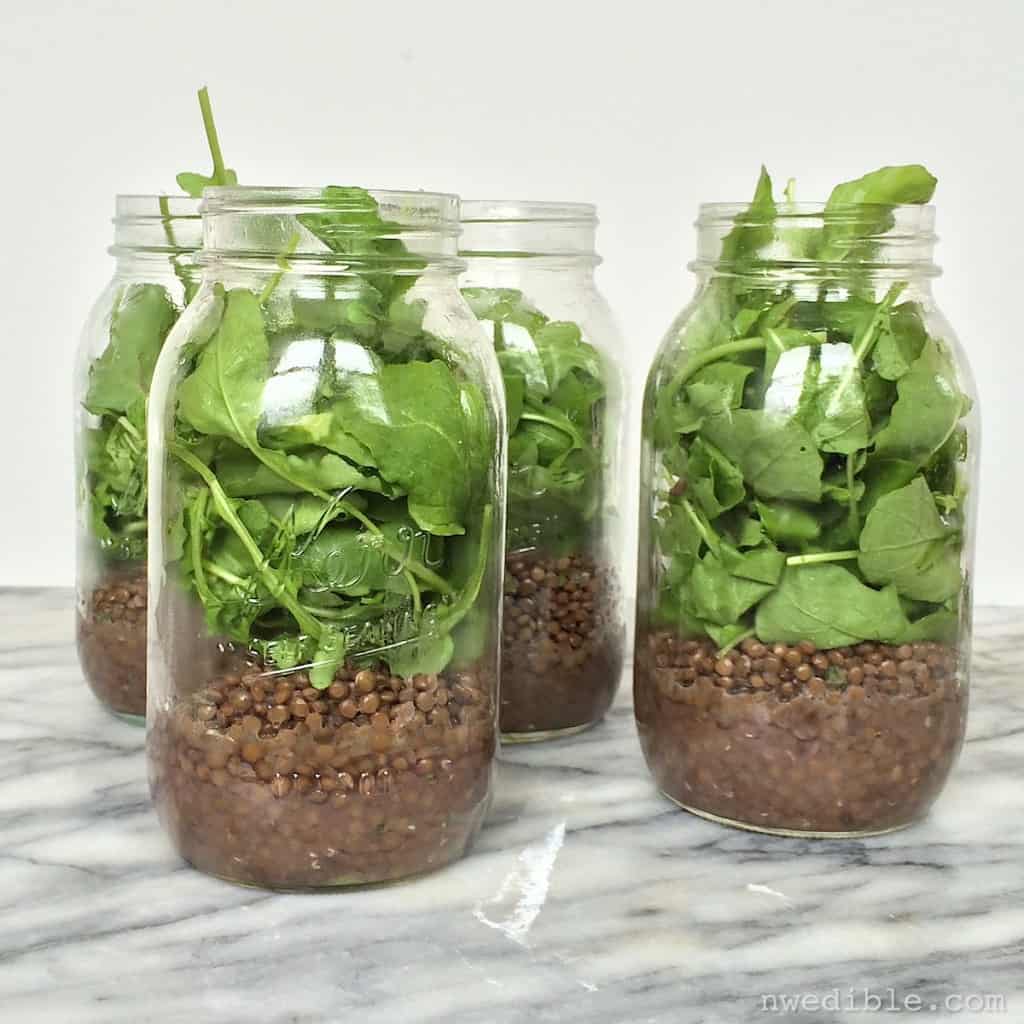 This salad is marinated French lentils with mint and oregano, topped with garden arugula. I adore lentils. I could eat this every day.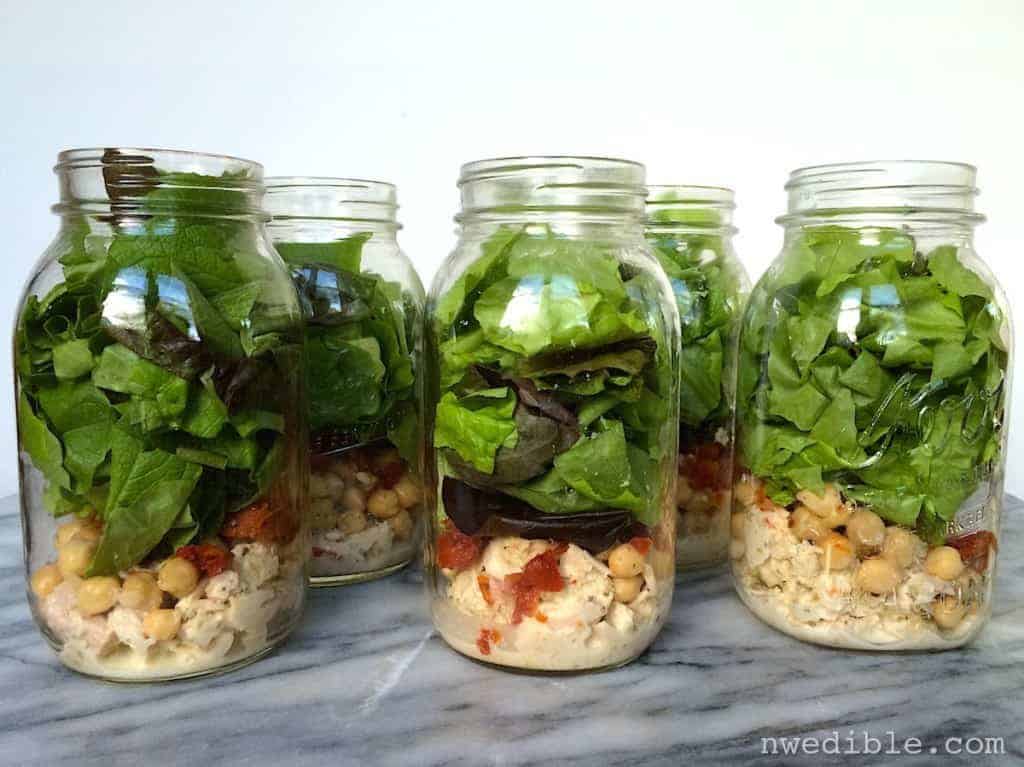 Tuna salad! Nothing says "pantry" like canned tuna, right? The tuna was mixed with homemade mayo and homemade sweet relish, then topped with garbanzo beans, roasted tomatoes (made last summer and frozen) and garden lettuce.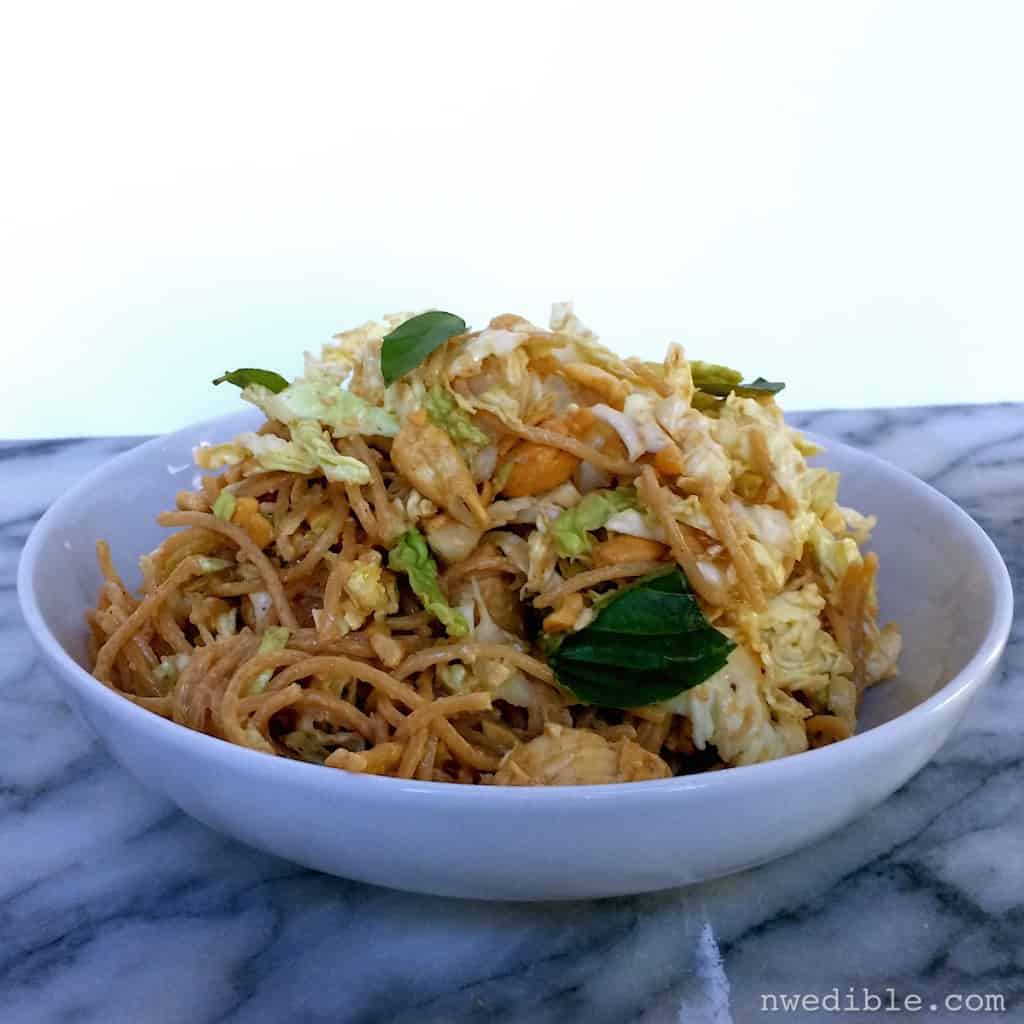 This one doesn't look so nice in the jar, but it's filling and kid-friendly once we pop it into a bowl. This noodle bowl is whole wheat spaghetti mixed with peanut and coconut sauce, topped with cooked chicken breast, shredded cabbage, thai basil, cashews and water chestnuts. I used up a TON of stuff from the pantry making this.
Dinners
We've been working eggs into many meals. We frequently eat Egg Rice, which is just fried rice that's extremely heavy on the egg.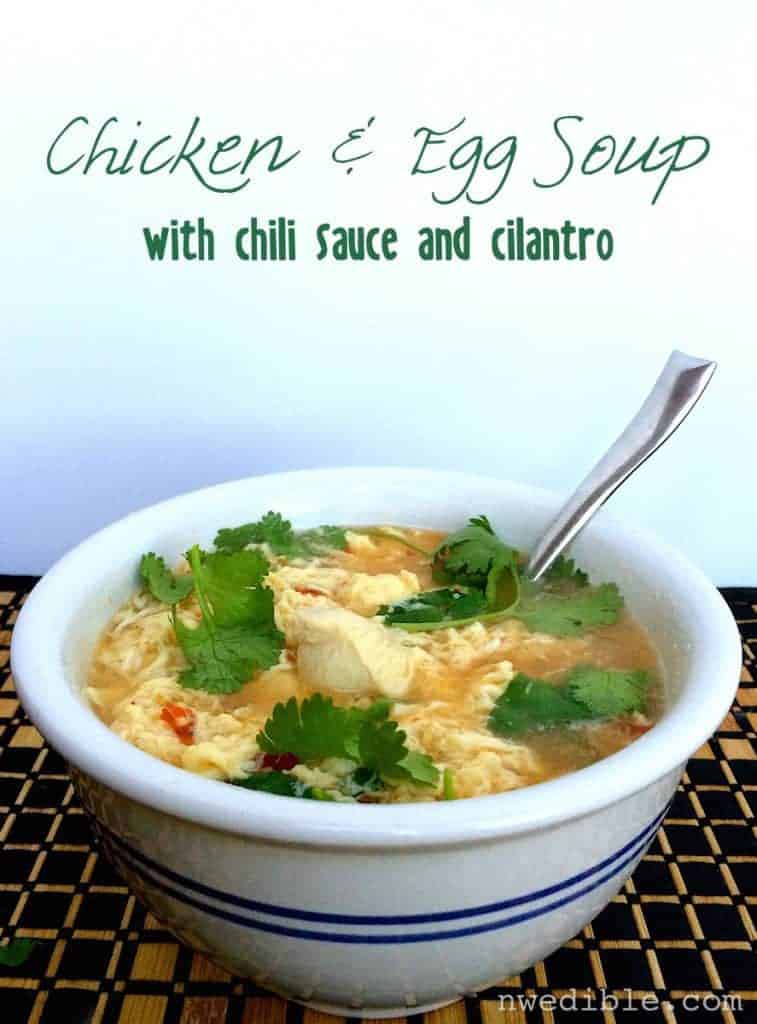 I love egg drop soup, and with duck eggs it's even better. One chicken breast was stretched across 4 servings of soup, but because there are so many eggs in there too, it was very satisfying.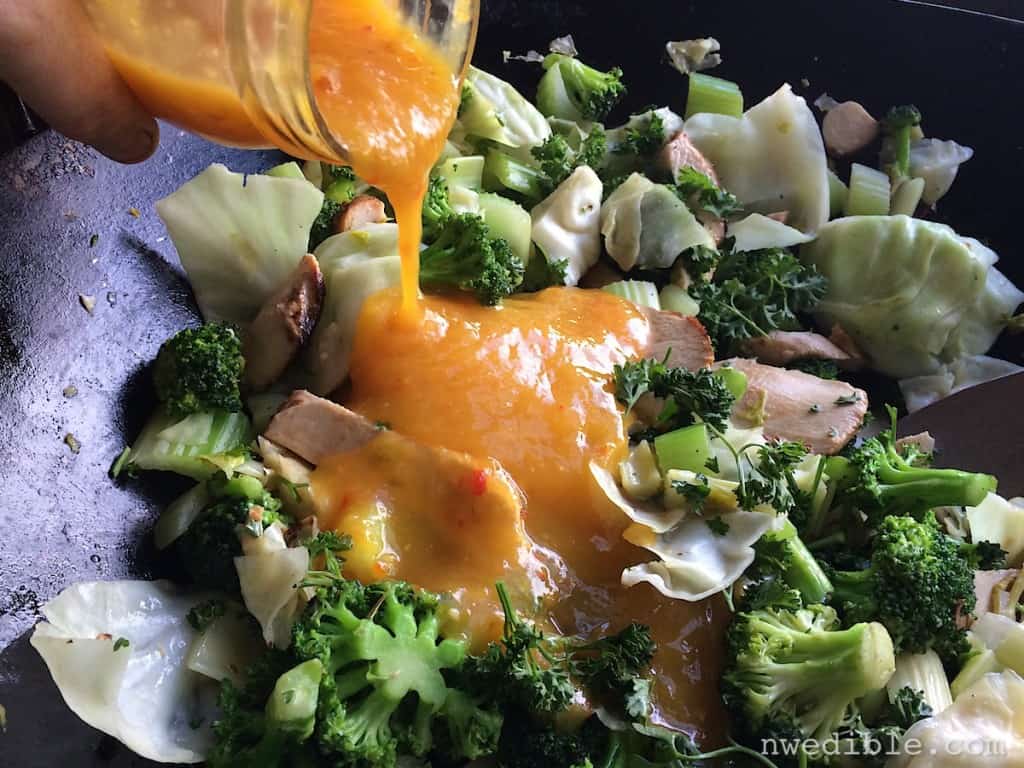 The last of my non-garden fresh veg went into this big green stirfry. There's some chicken breast in there (I was using up a thawed pack of chicken breasts, clearly) and I sauced the whole thing with a Thai-style mango sauce I canned several months ago.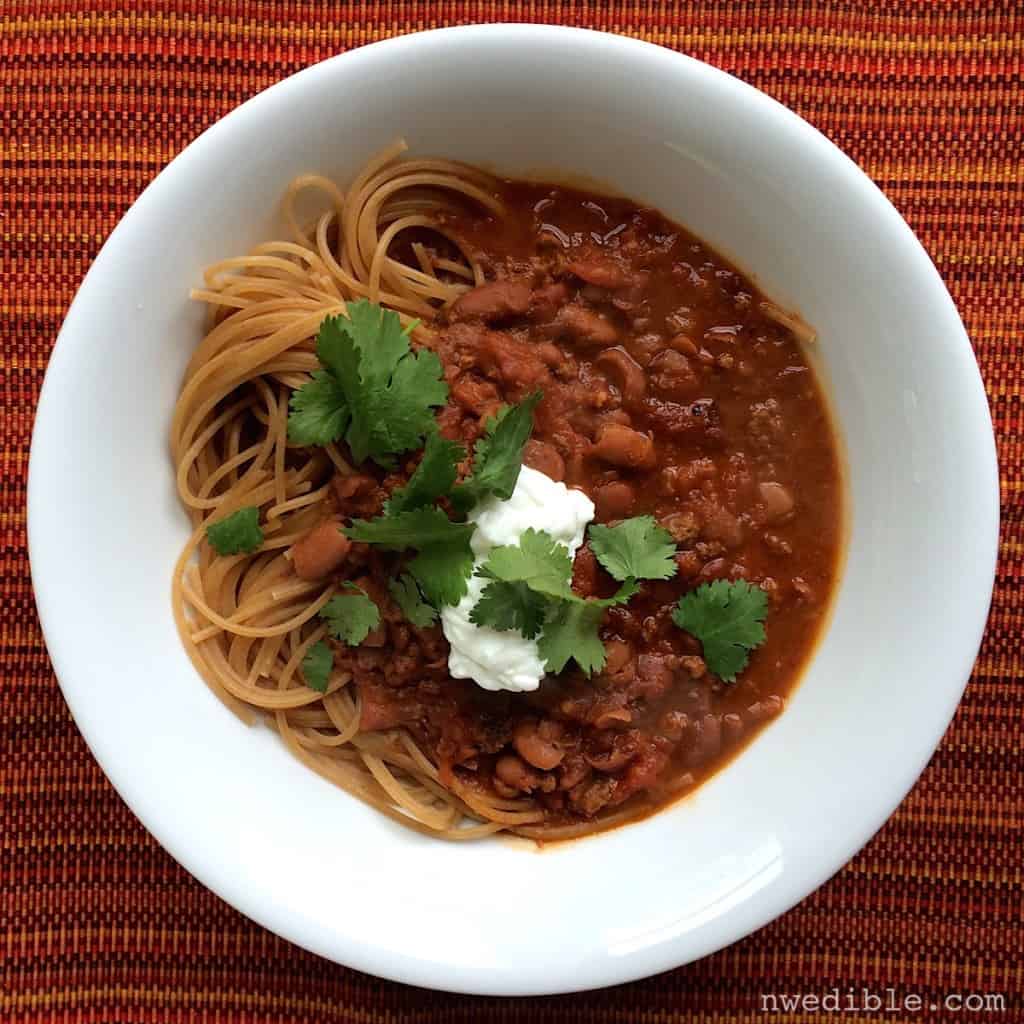 Here's a classic cheap but filling food – pasta and chili. I have several jars of canned pork, beef and bean chili from last year that we are eating down. It's a bit spicy for the kids as-is, but if I serve it as a pasta sauce, the spice is distributed over the plain noodles and they chow down.
Snacks, Treats and Miscellany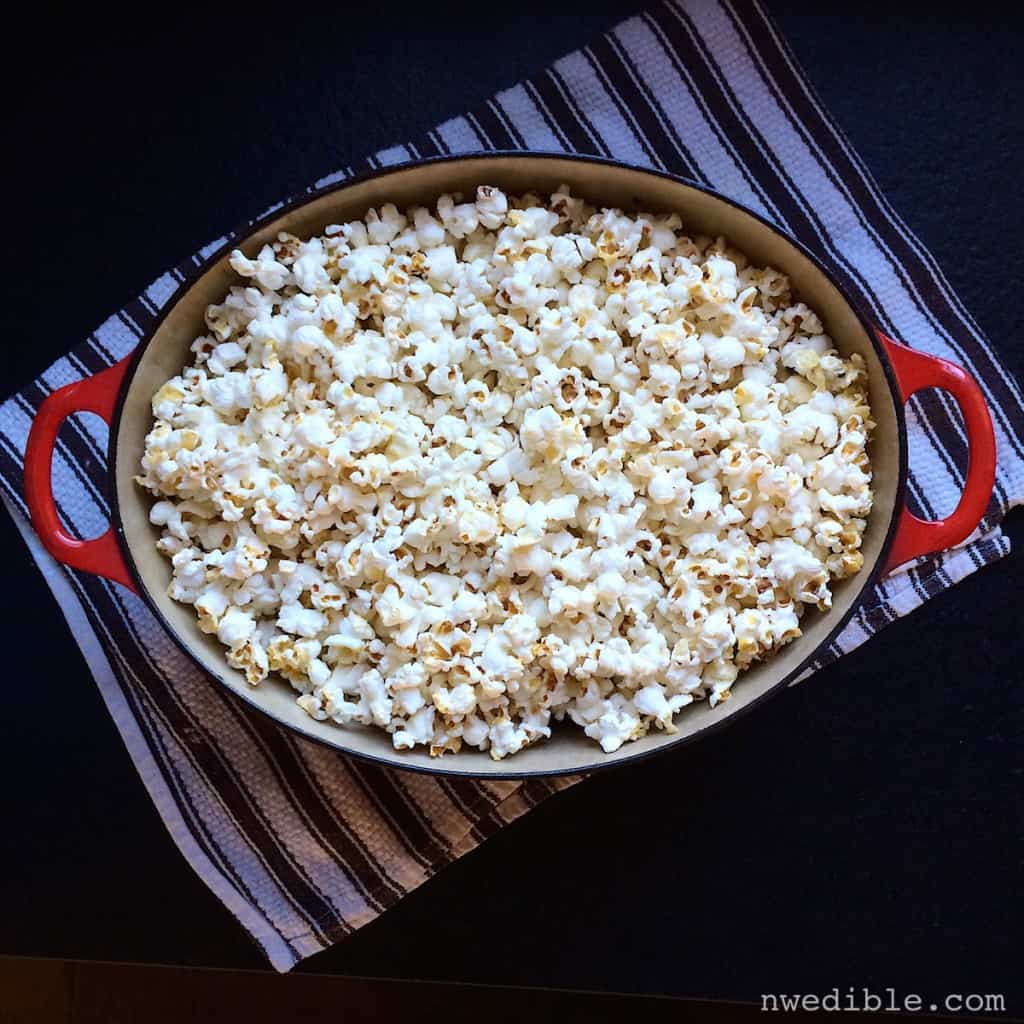 Family movie night with Big Hero 6 and stovetop popcorn? Yes, please.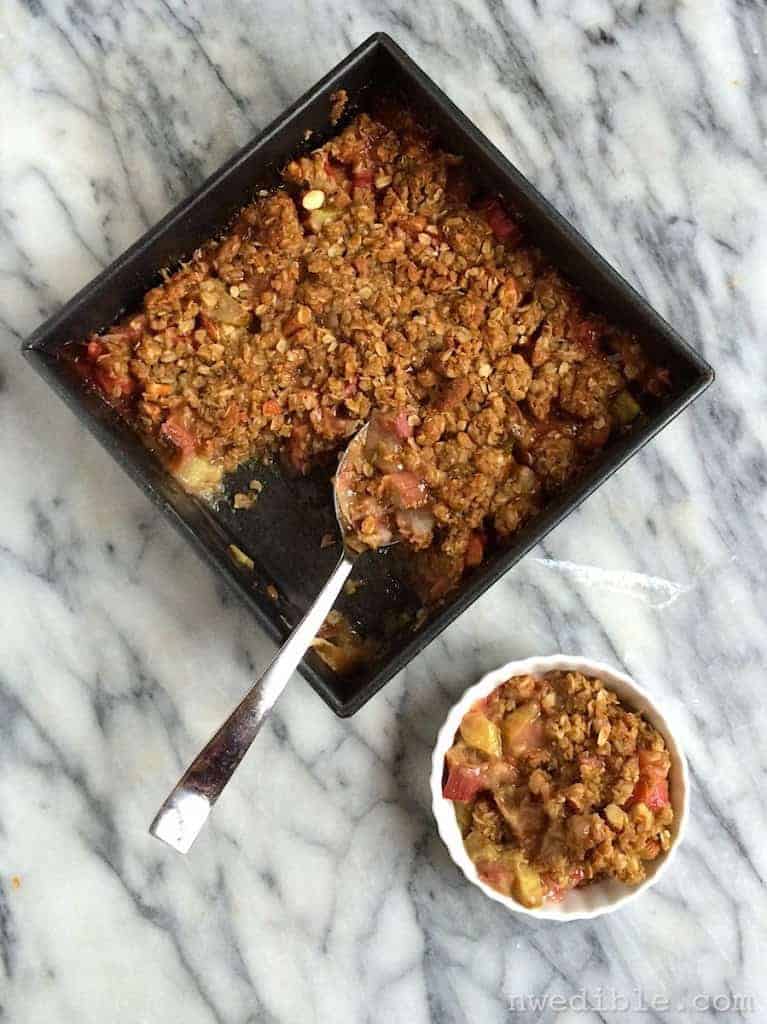 The rhubarb is producing well! This rhubarb crisp suffered a teeny bit because I didn't have butter for the topping so I used lard. It was good, but a bit porcine. Next time I'll try coconut oil.
Are you doing Eat From The Larder Challenge this month? How's it going?
1