You can always tell the non-gardeners. They're the ones who see the bland white butterflies with the black spots on their wings fluttering over my cabbage plants and say things like, "Ohmygosh how pretty! Butterflies!"
Poor, poor, misguided fools. They never go crazy, like I do, for the dive-bombing glint of dozens of dragonflies. They never squeal with delight over the first flight of the orchard mason bees. Nope – it's always those damned butterflies, parents to one of the most ubiquitous garden pests in the Maritime Northwest.
Caterpillars In The Garden
Caterpillars are the larva (babies) of moths or butterflies, and they are notoriously very hungry. It takes a lot of food for squiggly larva to build up enough energy to metamorphose into something with wings and a penchant for fluttering.
When the food is milkweed and the result is the awe-inspiring migratory Monarch butterfly, we have an insect people will move heaven and earth to save (even if sometimes it seems our best intentions just pave the way to hell.)
When the food is MY broccoli seedlings, or acres of commercial cabbages, and the insect is a bland, camouflaged green worm-thing, you have a major agricultural pest. The devil is in the details.
Imported Cabbageworm
One of the most ubiquitous and damaging pests in my garden, where cole crops are grown year-round, is the Imported Cabbageworm. He's a fuzzy little bastard perfectly camouflaged to blend in against a cabbage leaf. Like this: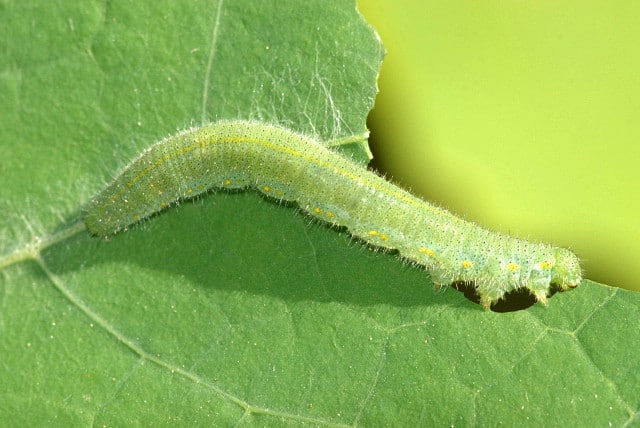 Who It Is
The Imported Cabbageworm is the larvae of the butterfly Pieris rapae, usually called the Cabbage White or the Small White. This is a white butterfly with black spots on its wings. As you'd guess from the name Imported Cabbageworm, the Cabbage White is not native to North America, but at this point you can find it nearly world wide.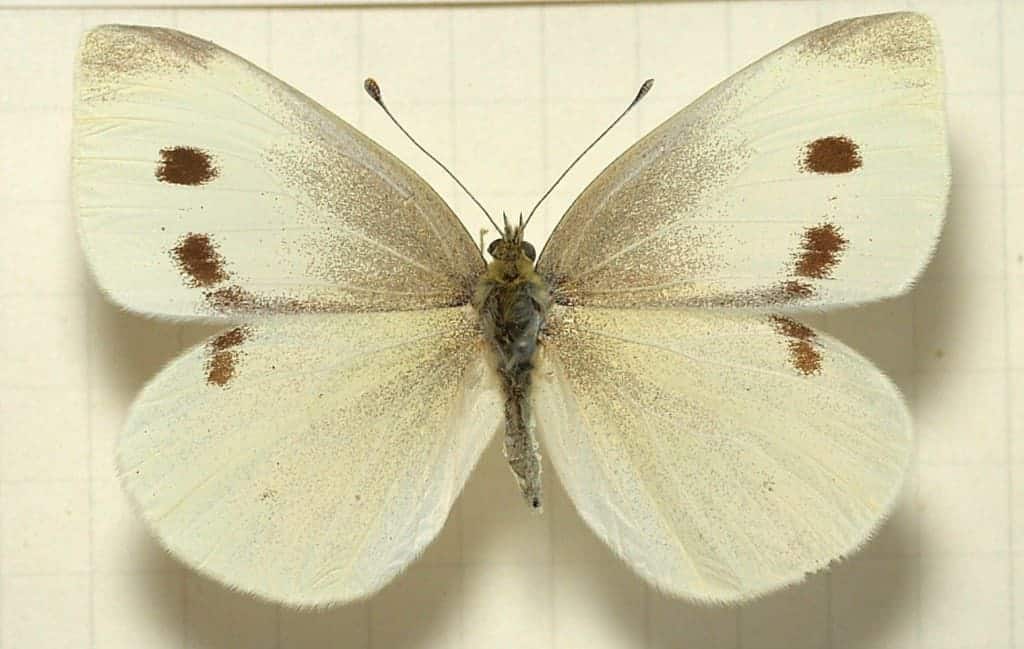 What It Does
Eat all the brassicas! The Cabbage White will lay eggs on almost any wild or cultivated member of the brassica family. (Brassicas include cabbage, broccoli, cauliflower, kale and more.) The eggs are laid on the underside of leaves where they are hidden from the gardener's view. Unless you know to look for them, they are easy to miss.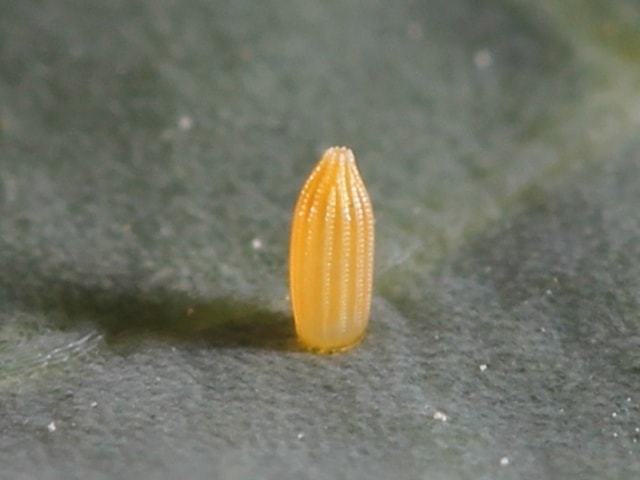 When these eggs hatch out, the larvae – the Imported Cabbageworm – start munching their way through their brassica host, and they do not stop eating until they are ready to pupate, some 2 to 3 weeks later, depending on time of year.
The Imported Cabbageworm is very destructive because he just eats so dang much, leaving skeletonized leaves in its wake. He'll happily chew his way into the center of a cabbage or head of broccoli, making the vegetable commercially unmarketable. Ignoring the good advice of HR professionals everywhere, the Imported Cabbageworm also shits where he eats, covering brassicas with goopy frass as it digests its way through its host.
This brassica seedling has been turned into green balls of caterpillar digestion. Ick.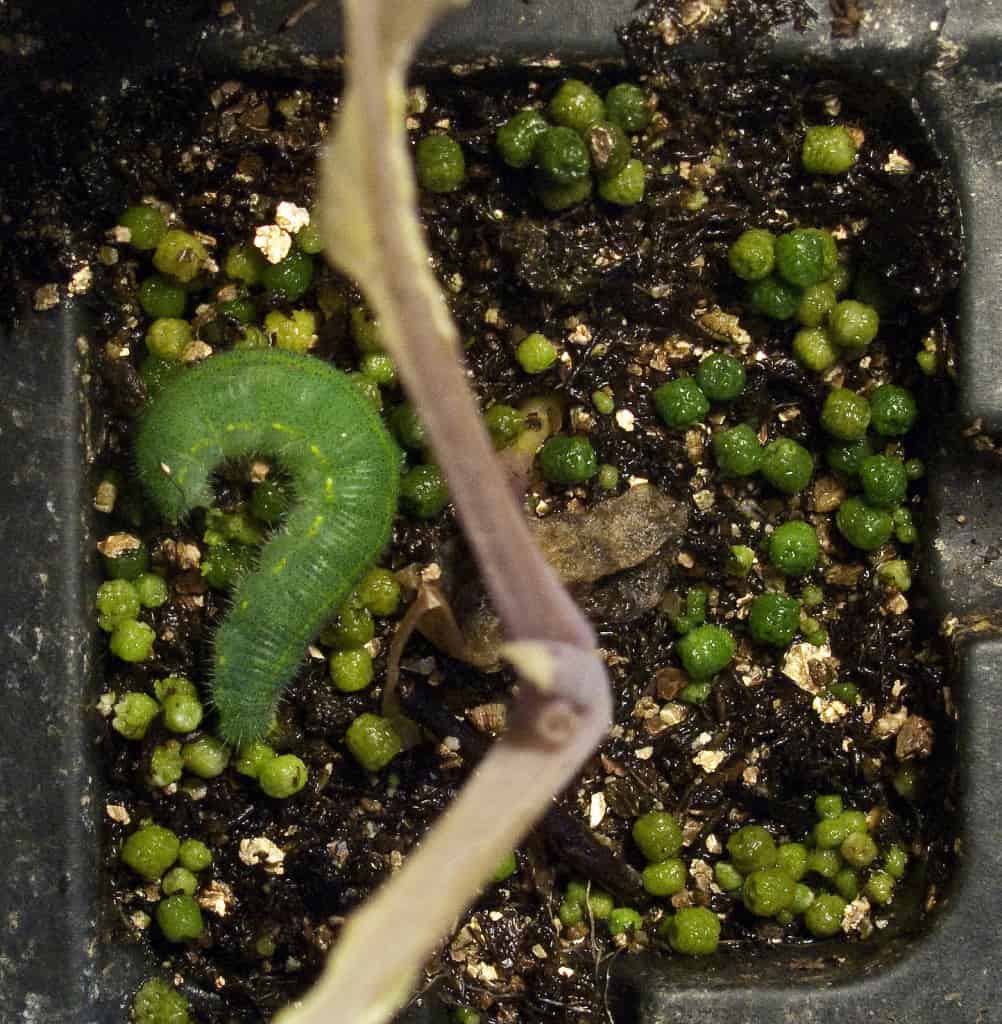 How To Control Cabbageworm
The Imported Cabbageworm is, thankfully, very easy to control. Here are several ways to thwart this pest in your garden.
Protect Your Seedlings with Row Cover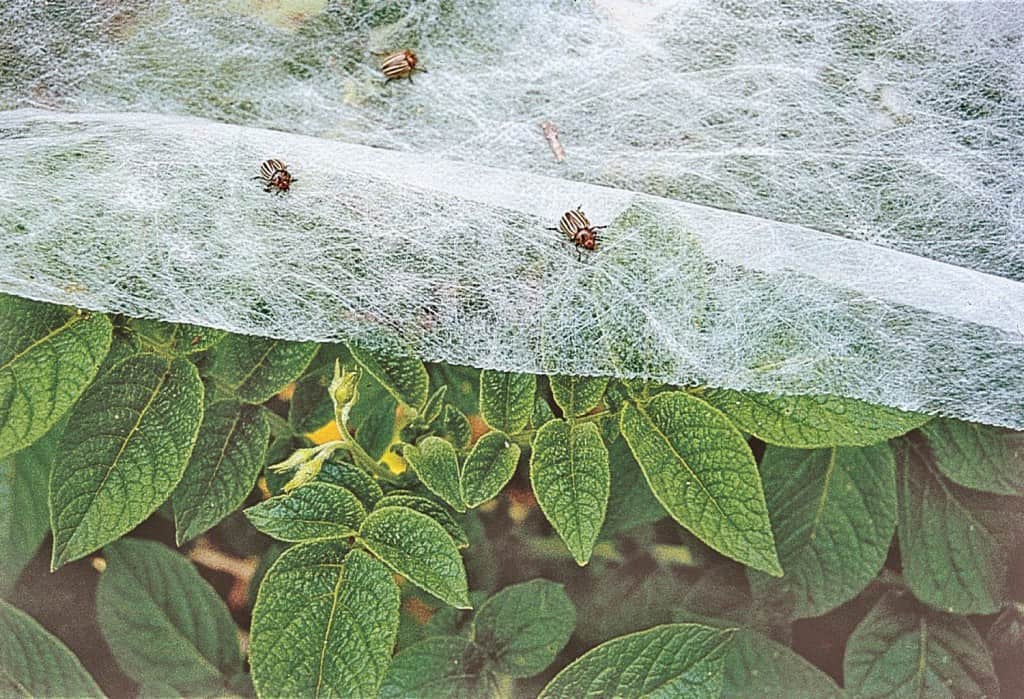 This is the barrier method of Cabbageworm control. The idea is – if you prevent the Cabbage White access to your brassica plants, she can't lay eggs and you'll never have to deal with the Imported Cabbageworm.
If you are diligent about covering a newly transplanted brassica bed with lightweight floating row cover or fine insect netting this method works extremely well.
Early Detection: Hunt and Destroy
If you have a small garden, handpicking Cabbageworms can be very effective – if you can find them. A week or so after you see the Cabbage White fluttering around your garden beds, go out and look very closely at the leaves of your plants.
The Cabbageworms start out very small – look for a green ridge, usually on the undersides of your brassicas' leaves, about the size of a grain of rice. They grow quickly to about an inch long. At this point, it's easier to see them but they've already done a lot of damage. Just squish the little ones right against the leaves if you aren't squeamish. Big ones make excellent chicken food.
Check over your broccoli, cabbage and cauliflower weekly for the caterpillars.
Encourage Natural Enemies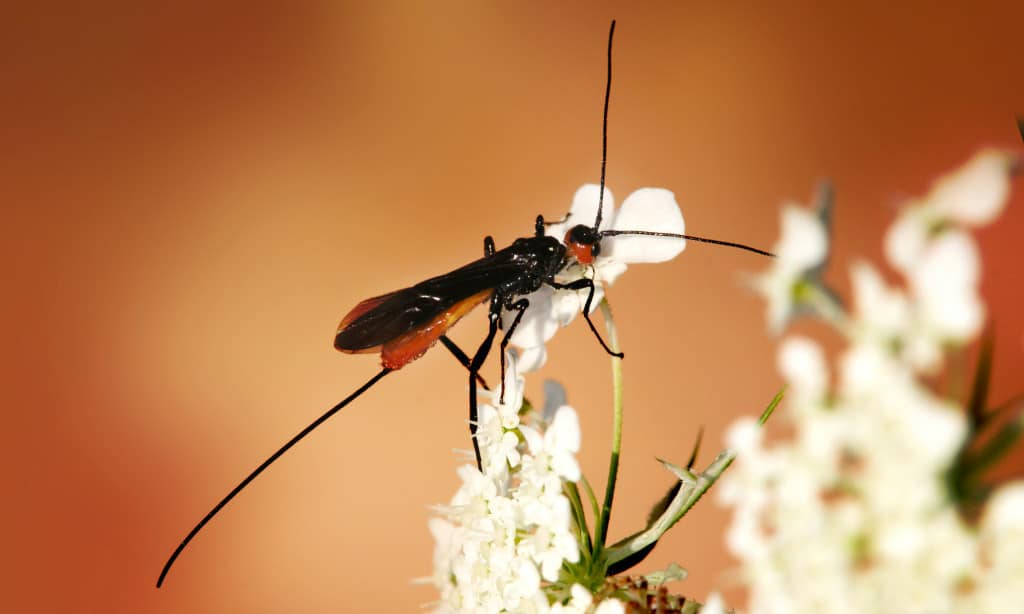 The truth is, there are many creatures out there who are better at finding caterpillars than you are, and probably more motivated to do so. In the spirit of, "the enemy of my enemy is my friend," we want to encourage these natural predators.
(Learn more: Three Simple Steps To Bring Beneficial Insects To Your Garden.)
Wasps
The year Bald Faced Wasps made a nest in my garden I had almost no Cabbageworm damage to my plants.
Braconid Wasps
Braconid Wasps don't sting, sip nectar and are extremely polite in the garden. That is, unless you are a cabbageworm – then they just seem like freaky, torture-loving sadists. Braconids are parasitic. They lay their eggs inside a living host species. Cabbageworms and tomato hornworms are both targeted.
The wasp larvae eat their way through the living host, slowly devouring it from the inside-out, and eventually killing it. (Nature is not sentimental.) This is a grotesque end if you are a caterpillar, but Braconids are some of the most useful beneficial insects you can attract to your garden.
Tachinid Flies
Very similar to Braconid Wasps, Tachinid Flies are also parasitic predators to caterpillars.
Other Beneficials to Encourage:
Birds – Numerous birds think caterpillars are a delicious tasty treat. In spring, birds will hunt and bring cabbageworms back to the nest to feed
Assassin bugs – These red predatory insects will hunt down cabbageworms and eat them like an eclair.
Lacewings
Ground beetles
Spiders
Insecticides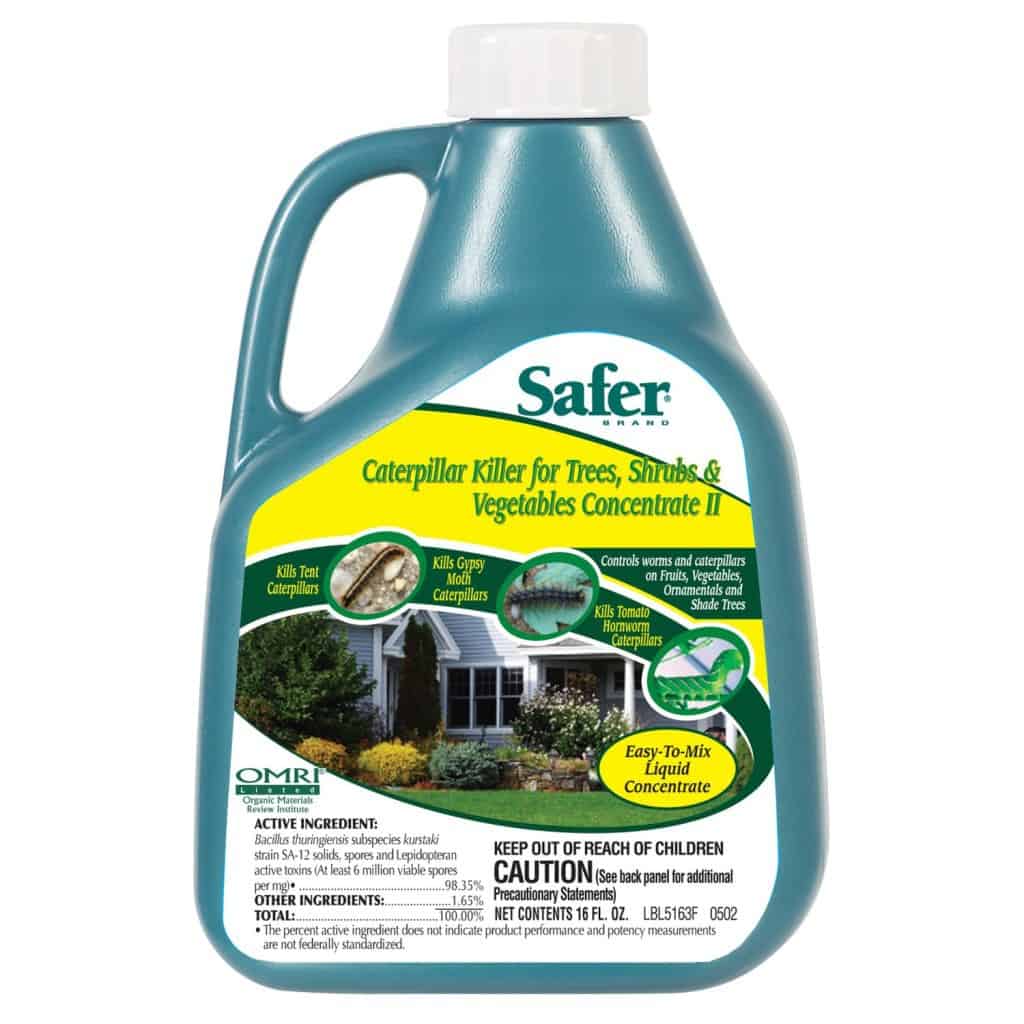 The Imported Cabbageworm can be managed extremely effectively with a targeted, biological, organically approved insecticide called Bacillus thuringiensis subspecies kurstaki (Btk).
Bt (pronounced "Bee Tee") is one of only two insecticides I use in my garden. (The other is Sluggo.) It's organically approved, and quite interesting. The Bt itself is a special strain of bacteria, not a chemical insecticide. It paralyses the gut of caterpillars who eat treated leaves. The caterpillars stop eating soon after ingesting the Bt-treated leaves, and die within a few days.
Bt is very effective against caterpillars, but non-toxic to bees and other, non-caterpillar beneficials. It's safe to use around kids, pets, etc.
You can buy Bt online – I use a liquid Bt concentrate – but there are also Bt dusts available. Well stocked garden stores will sell Bt as well – just ask for "Bee Tee" and they'll show you to the right area.
Bt breaks down in bright, sunny weather, so for complete control, you'll need to apply it a few times during the growing season. Commercial growers might spray weekly during times of high pest pressure. In combination with the other, non-insecticidal controls listed above, I find I need maybe two targeted sprays of Bt – once in the spring about a week after I first see the Cabbage White, and one in mid-summer, is usually enough to keep populations of the Imported Cabbageworm low in my garden.
How much of a problem are Cabbageworms in your garden and how do you control them?
189