I am the queen of perma-dirt. You know those lines of dirt on the edges of your index fingers and thumbs? With all the time I spend playing in the garden, that area on me looked like I'd gotten a dirt tattoo for about a decade. I once asked folks on my Facebook page how they kept their hands from getting that embedded dirt while gardening. A number of smart-asses lovely and charming readers asked, had I ever heard of gloves?
I love you guys so much.
Perhaps it's because I've never been particularly delicate about anything I do – no one has ever described me as lady-like – but I get dirt under my gloves, in my gloves, through my gloves. I plunge a gloved hand straight into muck and mud without thinking about it. I bust open the fingertips of my gloves and keep on trucking, because I'm not about to stop when the dirt is singing to me.
To give you some idea, when I really "go out to garden" I wear waterproof hiking pants over leggings and a waterproof shell over a sweatshirt and when I come back in I am so covered in mud that I strip my outer layer of clothes off at the back door.
So, yeah, maybe it's just me. But if this dirt-busting, creamy hand scrub can help me get clean hands, it'll work for anyone.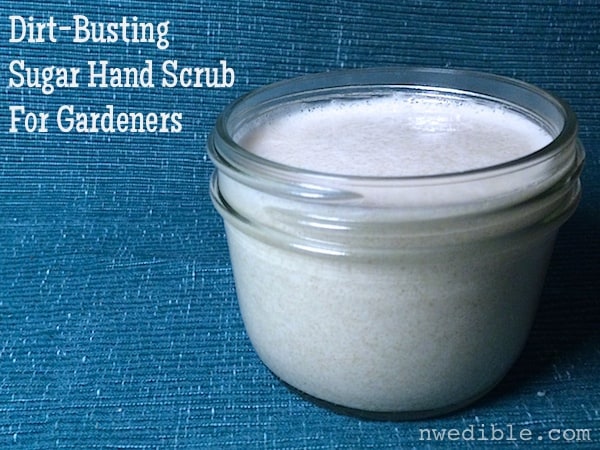 Dirt-Busting Sugar Hand Scrub
This makes a 3-cup batch, enough to fill 3, wide-mouth half-pint jars. Recipe can easily be halved. This scrub will last for a long time at room temp – several months. For even longer storage, or for a firmer texture, keep your jars in the fridge.
Ingredients
Mix It Up
Melt coconut oil in the microwave on half-power or in a heat-proof bowl set over a pan of simmering water. When coconut oil is liquid, add in soap. and sugar. Stir to combine.
Let coconut oil cool, then stir vigorously with a spoon. This will semi "whip" the coconut oil and give a pourable but creamy texture to the cleansing sugar scrub.
Add in skin-friendly and nice-smelling essential oils if desired.
Optional Essential Oils
For this batch, I used:
20 drops Rosemary Oil
20 drops Peppermint Oil and
4 drops Tea Tree Oil
This combo gives the scrub a nice, clean, woodsy smell that is gender-neutral and very refreshing. Lemon or orange would also be great if you don't have sensitive skin.
I buy organic essential oils from Simplers Botanicals and Aura Cacia at my local Co-op. Even though they are often cheaper on-line, I recommend you find a good yuppie-hippie market that will let you sniff-test essential oils before you commit to a brand. I have found that the same essential oil across different brands can smell very different, and sometimes one is lovely and the other is just nasty smelling. If you have a preferred brand for essential oils, shout it out in the comments.
To Use
This sugar scrub is both exfoliating (the sugar) and cleansing (the soap), which is why it works so well on grimy gardener hands. Moisten hands, apply a small dollop of scrub to the palms of your hands and scrub like crazy, paying particular attention to the skin creases where dirt gets trapped. Rinse and enjoy your squeaky-clean, grime-free gardener hands.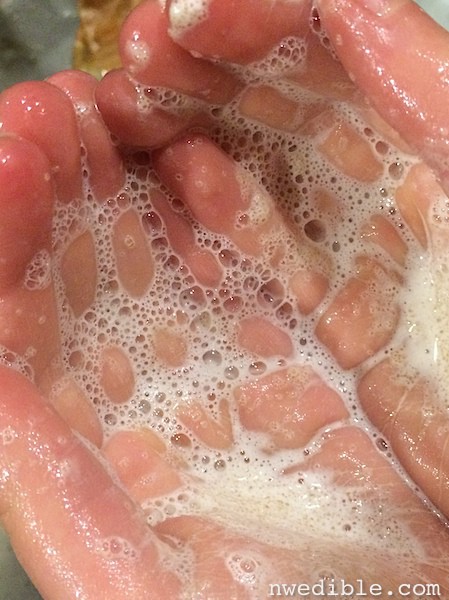 Well, at least until you get back outside.
11