When I first got hens, I didn't understand how critical they would become to the entire system of my productive home. I just had that fresh-egg fantasy. You know the one: pastel-hued eggs in a Pinterest-worthy little wire basket. They would be laid by happy, fluffy hens and I would have omelets that were as ethical as they were delicious.
I've learned it's more than just eggs. Way more. The chickens have become indispensable to my productive home and garden. They eat bugs and weeds and till soil. They generate the primary source of fertility for my vegetable garden. Their poop, composted with bedding and garden and kitchen scraps, saves me a ton of money on compost and fertilizer.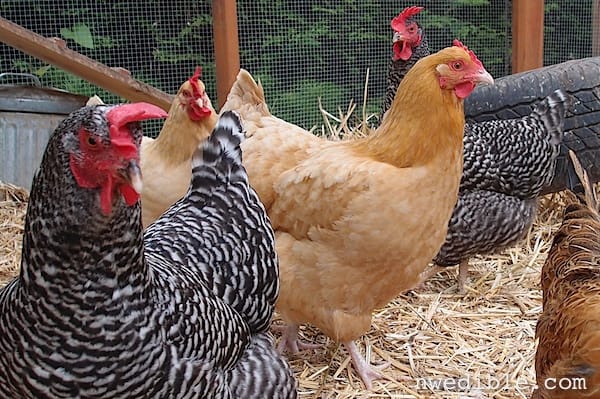 But three years ago, I was just thinking about enjoying the best, most ethical eggs possible. I started buying my chicken feed from a small, local, organic producer called Scratch and Peck Feeds and have been a very happy customer ever since.
As I've grown to observe the full role of the chickens in my garden, I think going with Scratch and Peck was one of the best decisions I could have made. My hens eat a diet free from GMOs or chemical herbicides or pesticides. The eggs we eat and the manure we compost for our vegetable garden reflects that. The input of high quality feed helps the whole cycle become healthier and stronger.
Meet Scratch and Peck
I reached out to the folks at Scratch and Peck Feeds and asked if they might want to come on board as a direct sponsor of NW Edible. I am beyond thrilled that they said yes, and I can share why I have been a customer of theirs for so long.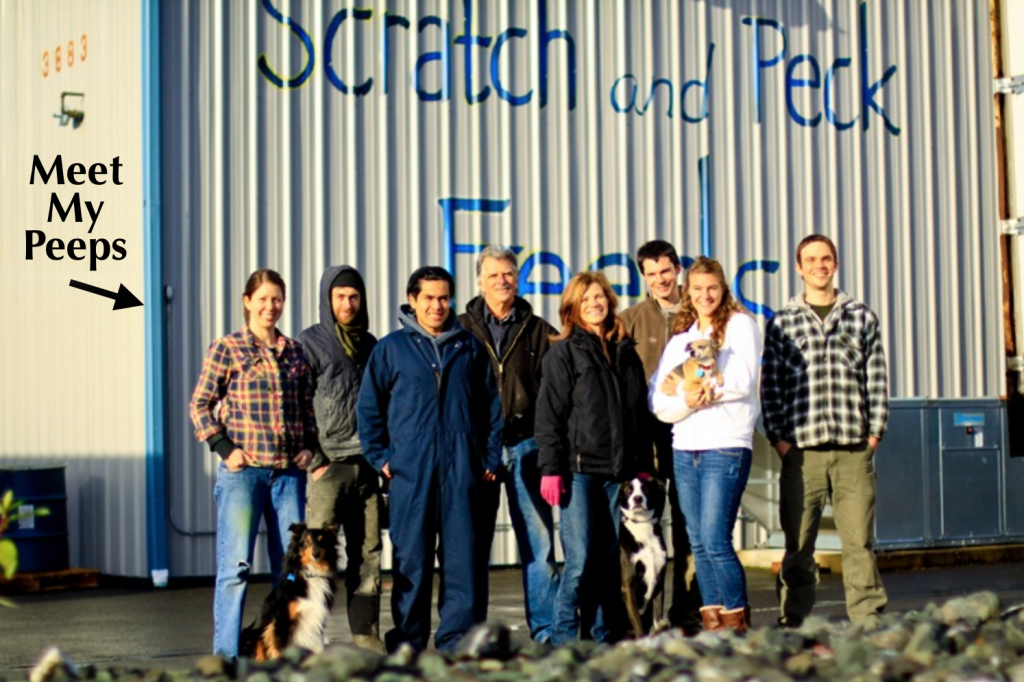 Scratch and Peck is a small family business, and shares the values that I and many of you do – organic production, support for local farmers and the importance of less processed foods (even for chickens!).
Here's what you should know about Scratch and Peck Feed when you're thinking about what to feed your flock:
Every bag of feed is certified organic and independently verified as GMO-free by the Non GMO Project. Scratch and Peck was the first feed company in the United States to achieve GMO-free verification.
All of Scratch and Peck's feeds are soy and canola free. Some blends are also corn free.
The grains and mashes used in the feed are not cooked, pelletized or reformed. Scratch and Peck's feed is made with raw whole and cracked grains and peas. It looks like something you'd find in the bulk grain section of the health food store. Pelletized chicken feed, on the other hand, is a processed product where the grains and other feed ingredients are steamed, pulverized and run through an extrusion die. This is akin to how something like Corn Flakes are made.
The bags used to package the feed are heavy paper and fully compostable, instead of the polypropylene used by most large feed companies. Let's face it, unless you are opening an Etsy shop, no one really needs that many repurposed feed sack totes. I often use mine under bark as a natural weed block, or to cover up fallow beds in fall, like this (photo taken last November, long before Scratch and Peck became a sponsor):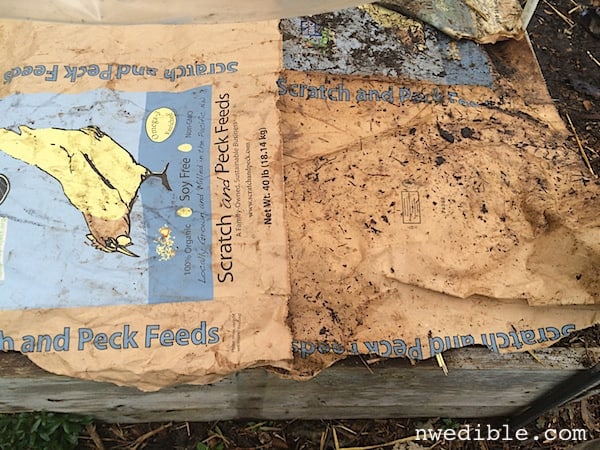 The grain used in Scratch and Peck's feeds is grown locally by small farmers in the Pacific Northwest and milled in Bellingham, WA. I love that I support farmers in my backyard, not anonymous growers of giant soy and corn fields somewhere, when I purchase Scratch and Peck.
Scratch and Peck's chick starter is unmedicated. Scratch and Peck makes their feed for folks like me – involved small flock owners who are providing a healthy, clean, non-industrial environment for their chickens. They believe (and I agree) that in these conditions it is not necessary to preventatively feed animals anti-microbials.
Scratch and Peck also makes feeds for turkeys, pigs and goats.
The Giveaway!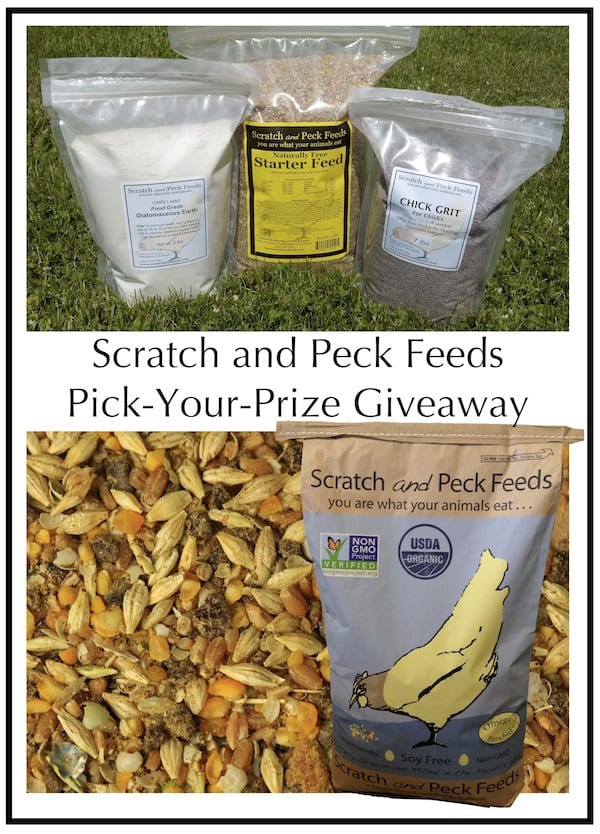 Time to make a tough decision.
Scratch and Peck is generously offering one lucky NW Edible reader their choice of either a Chick Starter Kit – which includes Chick Feed, Chick Grit and Diatomaceous Earth – or a 25-pound bag of Naturally Free Chicken Layer Feed.
To enter to win, leave a comment on this post telling me which prize you'll pick if you win, and something you love about chickens that isn't eggs. That's it, one comment and you are entered to win.
Then, please check out the brand new redesign of the Scratch and Peck Website and make sure to like Scratch and Peck on Facebook or Twitter. (Say hi and tell 'em I sent you – they are very nice!).
Just in case you don't win, between now and February 24th, Scratch and Peck is offering 10% off all products purchased on their website with the coupon code nogmos! (with the exclamation point).
Also, look, I'm gonna be frank about this: paying for shipping on something heavy like chicken feed can be prohibitively expensive. I get it. I strongly encourage folks to see if their local feed store is carrying Scratch and Peck. If they are, support your local feed store and buy there! If they aren't, let them know you'd like to see the Scratch and Peck organic and GMO-free option available locally.
One entry per person. Contest open to addresses in the U.S. only. International readers, sorry but you are not eligible to win because of shipping costs. Contest open until Tuesday, February 11, 2014 at 8 PM. One winner will chosen at random. Winner will be emailed and have 24 hours to respond to claim their prize.
Good luck, and a huge thank you to Scratch and Peck for helping to keep the lights on around here at NW Edible!
0