Let's be clear. There is a difference between meltingly soft, slow-caramelized onions and grilled onions. If you think a caramelized onion is basically a hunk of raw onion with some char on the edges like you might find in a nasty Panda Express mall stirfry, then you are in for a very pleasant surprise.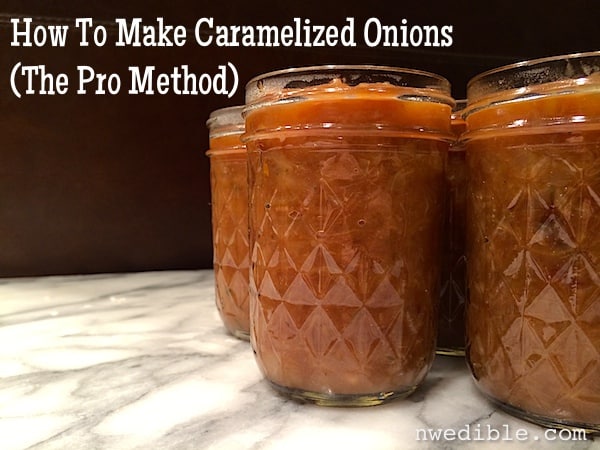 True, slow caramelized onions take time, but they aren't hard. The trick is to cook lightly salted, sliced onions in a tall pot on moderate heat so that they release their moisture before they begin to brown. Only after the onions throw off their moisture and make a kind of soup do you increase the heat and start the onions browning.
Because this process takes awhile, I like to make a big batch of caramelized onions in the winter when it's cold and I'm happy to stay inside. I spend several hours futzing on various kitchen projects, stirring my multitude of pots like a crazy alchemist, and come away with little golden jars of onions.
How To Make Caramelized Onions – The Pro Method
Start with a lot of onions – this batch used 8 pounds before peeling, or about 7 pounds after. You will wind up with about a cup of caramelized onions for each pound of prepared onion you start with.
Peel, core and slice your onions in half. Slice them in a food processor fitted with a 4 mm slicer blade.
Try to keep the onion positioned so that it is sliced go from root-to-stem, not from edge-to-edge. If all your slices look like half-circles, you're slicing the wrong way. You can also slice these onions by hand, if you have an extra seventeen hours to kill.
Get a large, tall stockpot and coat the bottom with olive oil. As your food processor fills up, dump the sliced onions into the stockpot. Sprinkle each onion layer with salt as you add it, and maybe get in there and toss the onions a bit with the salt if you want.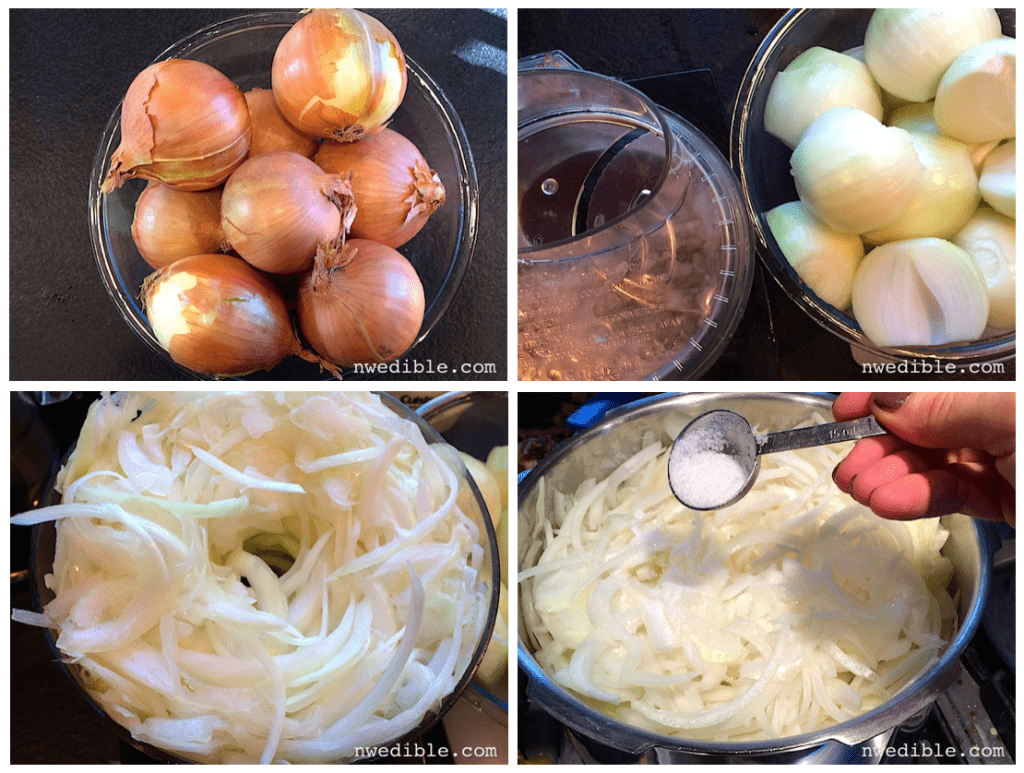 Your onions will probably fill your stockpot. Mine did. That's good – you want quite a few jars to show for your effort when this is all said and done.
Turn the heat to medium-low and put a lid on your pot. Cook the onions covered until they collapse and throw off a lot of moisture. Every fifteen minutes or so stir the onions to ensure the bottom layer doesn't start to brown.
When the onions look like a thick onion soup, remove the lid and start cooking the onions lid-off, stirring occasionally. Add in your tied bouquet of fresh thyme and push it down into the onion liquid. Tie that thing tight! Most of the leaves will fall off into the onions, which is good, and the string will let you fish out the twigs easily.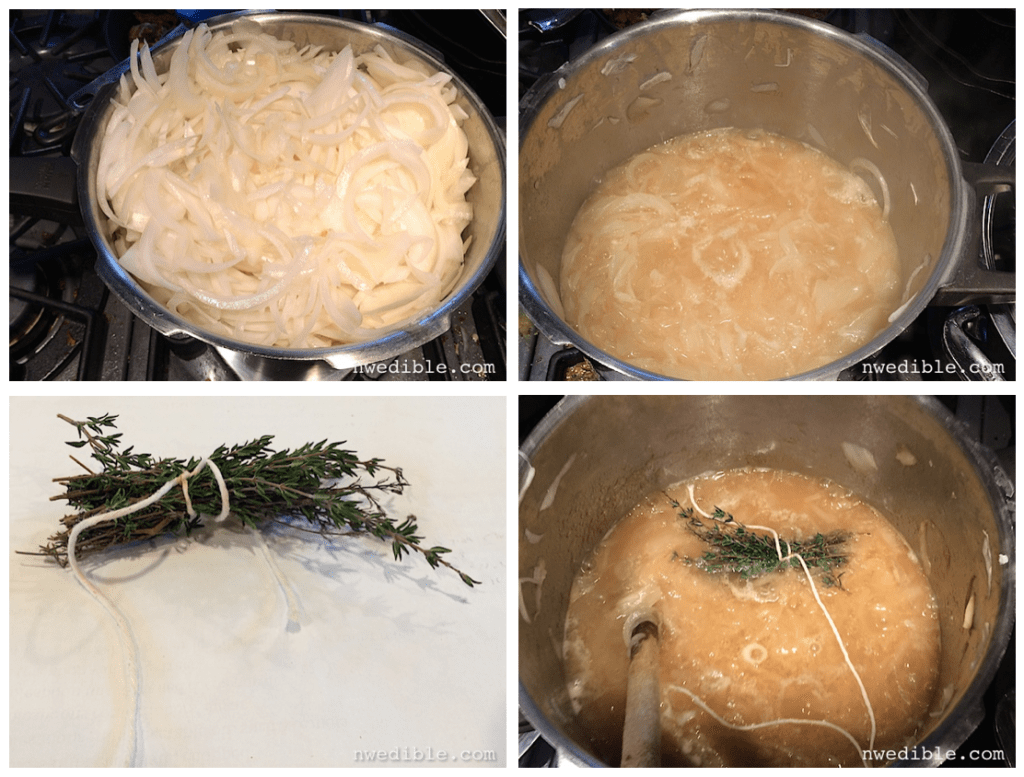 After another hour or two the onions will have lost their soupy look and will be nicely, uniformly golden brown. They will hold a mound when you spoon some up. At this point, add in the wine, vinegar and sugar and stir. Increase the heat to medium or medium-high depending on your stove and stir frequently – you don't want any scorching!
Keep cooking down the onions until they are a thick mass of caramel-colored jam, and look moist and glossy but not at all soupy.
Taste the caramelized onions, adjust seasoning as needed and transfer to half-pint jars. Keep refrigerated for up to a week, or freeze for 3-6 months.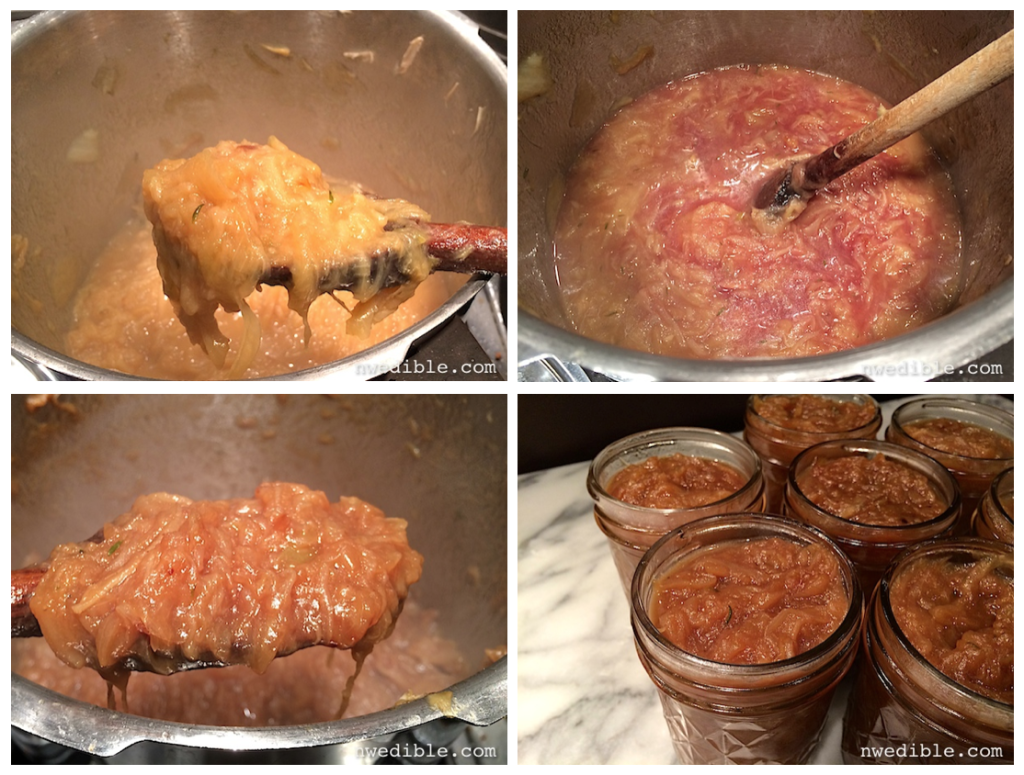 Printable Recipe for Caramelized Onions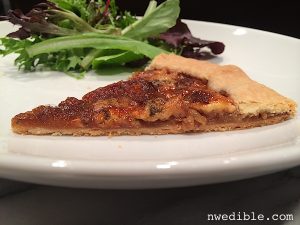 Print
The Best Caramelized Onions
Yield 7 half-pint jars
Ingredients
8 lbs yellow onions
3-4 tablespoons olive oil
1 tablespoon Kosher salt.
6-10 sprigs fresh thyme, tied in a tight bundle with kitchen string
1/2 cup red wine vinegar
1/2 cup dry red wine
1/2 cup sugar
Salt and freshly ground black pepper, to taste.
Instructions
Peel, core and halve onions.
Slice onions in a food processor fitted with a 4 mm slicing disk.
Coat the bottom of a large, tall stockpot with a thin layer of olive oil.
Transfer the sliced onions to the stockpot. As you add the onions, sprinkle layers of onions with the Kosher salt to help draw out the moisture from the onions.
When all the onions are sliced, turn the heat under the stockpot to medium low and cook, covered, until the onions start to release their moisture. Periodically lift the lid and stir the onions to ensure the onions do not brown or stick.
After an hour or so, the onions should have deflated and reduced by about a third.
When the level of moisture in the pot is about equal with the top of the onions, remove the lid and add the tied bundle of thyme to the pot. Use your spoon to push it into the mass on onions. Leave the lid off and allow the onions to slowly reduce and caramelize. This can take several hours. Adjust heat as needed and stir periodically so the onions do not burn but continue to darken. The entire mass of onions should slowly and uniformly take on color, getting progressively darker as the onions reduce.
When the onions are reduced by half or more, are no longer soupy, have taken on a light golden color and mound up when lifted with a spoon, add in the red wine vinegar, red wine and sugar.
Increase the heat to medium and finish caramelizing the onions. Stir often - at this stage the onions can scorch quickly - and cook until the onions are a rich dark caramel color and look moist but not at all liquidy.
Remove from heat, fish out the bunch of thyme and discard, and adjust seasoning with salt and pepper.
Ladle the caramelized onions into clean half-pint jars. Lid and transfer to the refrigerator.
Onions will keep for a week or so in the fridge, and for 3-6 months frozen.
How To Use Caramelized Onions
How can't you use these caramelized onions is probably a better question.
True caramelized onions are a gossamer balance of sweet and savory and they play well with others in the kitchen. They are a sophisticated base for soups or sauces or dips, a filling for savory tarts and quiche, a topping for pizza or egg scrambles, a side for charcuterie and cheese plates – these onions are infinitely useful in the kitchen.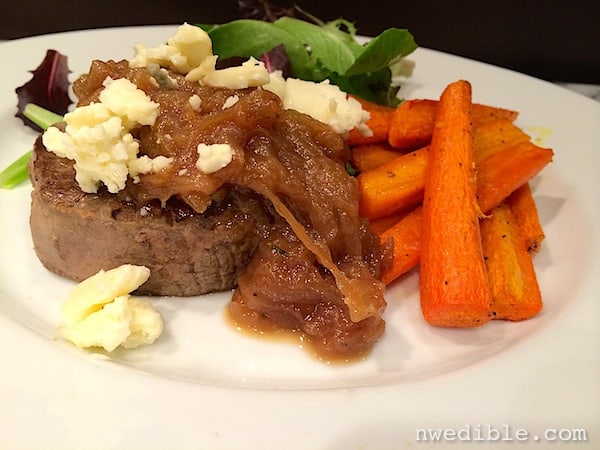 In the picture above, I used them as-is to top a steak. They are excellent with meat of all kinds. Saute some apple and add a jar of these onions and a splash of maple syrup and you have a quick and delicious sauce for pork loin. Top a fillet of halibut or salmon with a coating of caramelized onion and bake until just cooked through. Easy, moist baked fish. Combine a jar with a bit of stock and a splash heavy cream and now you have a creamy onion sauce for roast chicken.
Thin down a jar with beef stock for nearly instant French Onion Soup – add a toasted crust of bread and Gruyere cheese for the best winter soup in town.
Make a winter pizza with pear, caramelized onions and chopped walnuts. Smash a jar together with goat cheese and warm in the oven for a delicious spread to serve with baguette. Make a caramelized onion frittata or quiche.
With a pie crust I had in the freezer, a jar of caramelized onions and a handful of blue cheese I made this easy savory onion galette that Homebrew Husband declared the most delicious thing he's ever eaten. (See also: Drunken Pie Crust: The Secret to Great Pie.)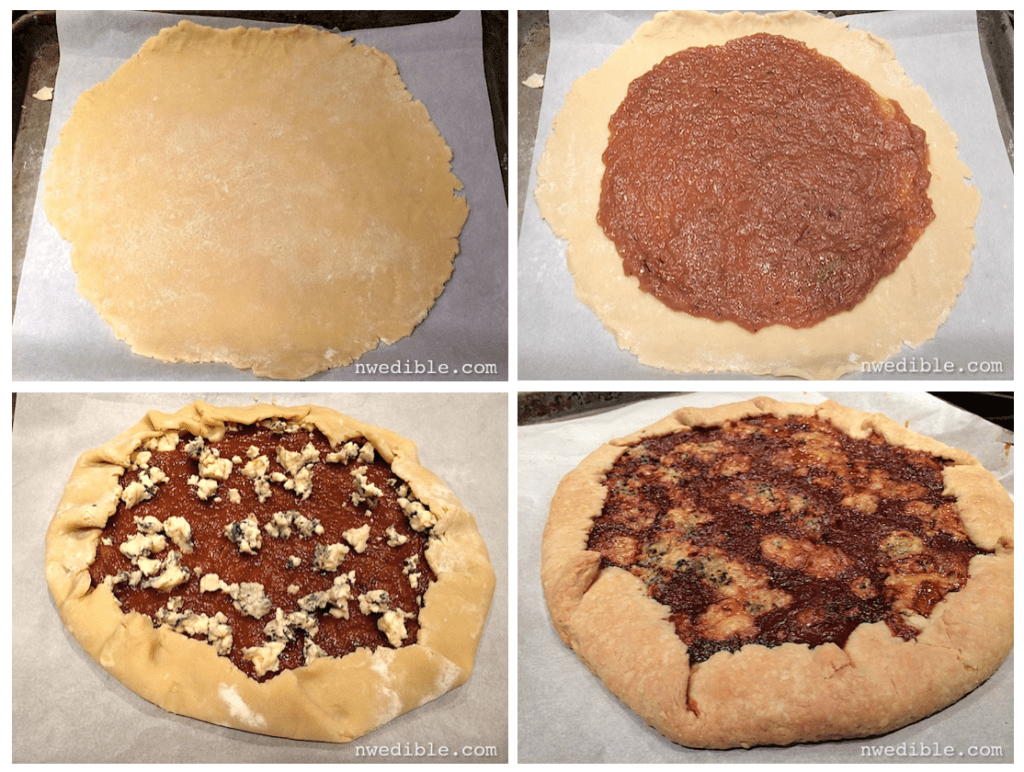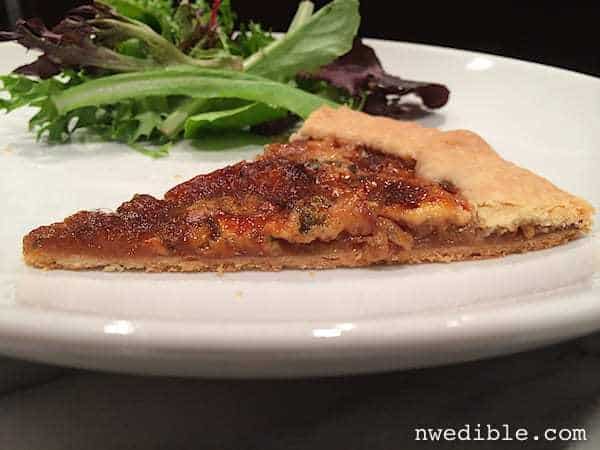 So really, the possibilities are endless.
Do you make caramelized onions?
19