Hi friends, I know it's been a while.
I had to do some behind-the-scenes admin stuff on my blog this morning, and realized that if I put up a post today then it wouldn't be an entire month since I last posted. Talk about sneaking that in.
I wish I had the hours in the day to keep up my normal, regular blog schedule and tend to my domestic life and make applesauce and cook dinner and write a book, and but it's hard to find the time. Story of all our lives – I know you guys understand.
September started out with a rather massive outdoor push to get ready for a visit from my good friend Theresa Loe. Theresa is the co-executive producer of the TV Show Growing A Greener World, and she brought her friends Joe Lamp'l, Carl Pennington and Chris Aelker with her. And all together (but mostly them) we filmed a TV Show.
Here's what I learned about TV: there is a huge amount of work that goes into making a show that no one ever sees. Before the crew even showed up at my house, there were weeks of storyline and script development and phone interviews. Think: massive, multi-week research project for every episode. And then, once on location, getting action caught on film takes a long time. Things like poor light and background noise from an airplane 2,000 feet away can derail an entire take – and they do actually call them takes!
The whole family got to participate. Oliver showed everyone where all the fruit was, and thought Carl and Chris were superheroes because they had these huge, super-cool, geared-up cameras. Bella was interviewed about her chicken keeping duties and she and I got to faux "clean out the coop" for demonstration purposes.
I was totally cool and nonchalant about the whole thing because I adore Theresa and trust she'd never make me look like an idiot, until Joe said, "Oh we reach a million people a week," in passing and the difference in reach between new media (like my blog) and old media (like a weekly TV show) sort of hit me like a cartoon piano.
And then this kind of internal dialog started: "A million people a week. Two million eyeballs that will witness me make a gigantic ass out of myself."
But I'm happy to say I don't think I made a gigantic ass of myself. It was a bit like dancing with a really great partner – you just follow along and everything seems to be okay. And working with the Growing a Greener World crew was a bit like having an after-dinner dance with a world champion tango master. If I look alright on TV, it will be because I followed their professional lead.
One of the big topics we covered was duck-keeping, and how it's a bit different than chicken keeping. Working with animals is goofy. Hat tip to my friend (and friend of the show) Robin Haglund who kept the ducks more or less in the pond through careful arm waving just off camera.
When all was over, we all sat back and enjoyed a well-earned cocktail or three.
The episode I'm in will also feature my friend and fellow homesteading mama Jessi Bloom. It should air sometime in December – I'll keep you posted as I know more.
As soon as the Growing A Greener World shoot was over, I had to seriously refocus on this book manuscript I'm working on. Oh, yeah right….the book. It's due December 1st. As it turns out (no surprise to regular readers here) putting a lot of words down on paper isn't really a problem for me – it's making sure they are the right words that's the challenge.
In fact, with just a few months to go until delivery-date, my publisher and I had to completely re-work the entire structure and table of contents of the book to deal with my verbosity. That's a bit like starting to build a house, getting everything framed and sheathed and starting to do stuff like plumbing and electrical, and then deciding the walls are all in the wrong place and ripping them down. So we proverbially ripped down all the walls of my book and I started re-building.
Spoiler alert: I'm still gonna be over word count. Hah!
On the homestead front, nature continues to hurl her bounty at me with slutty abandon. I harvested seven very respectable size watermelon yesterday, along with three Romanesco broccoli, a handful of other broccoli, and about 5 pounds of chard. Peppers need picking and the last of the tomatoes – both green and red – need to come in for processing or slow ripening.
Apples and pears have eaten my counters. A productive friend came over, looked at the Golden Sentinel apples that were falling from my tree of their own accord, sighed, then harvested the entire tree for me and ran about 40 pounds of those apples through one of those peeler-slicer things while watching my son. Community, man. Being an anti-social curmudgeon is all well and good until you realize how helpful good community can be.
After the Golden Sentinel was crisped, pie-filling'ed and sauced, I dealt with 80 pounds of pears and about 100 more pounds of apples. That was last week. We have more frozen apple pie filling than I know what do with now. I'm gonna be like Oprah this winter: "You Get Pie! And You Get Pie! Everybody Gets A Pie!"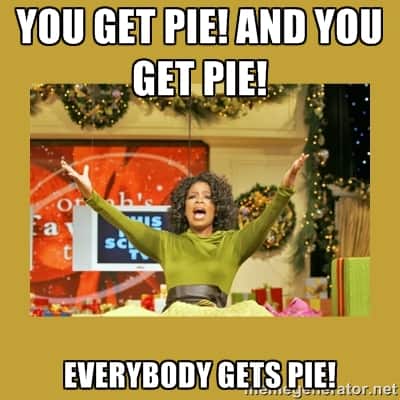 The other fall crops are just coming into their own. I'm doing a lot of wandering around the garden and sighing, trying to figure out how to quickly and easily preserve what we can't eat. (Pro Tip: Lacto-fermentation for the win!)
Although I'm trying to work as seasonally as possible in my recipe testing for the book and use as much of my own produce as possible, the fridge is stuffed with ingredients (mostly store bought) right now that leave precious little room for the homegrown. Whatever I can't use in testing immediately has to be put up or it ends up getting fed to the chickens.
It's a weird feeling to have a menu plan that isn't dominated by what I'm harvesting. What we eat is based on what I'm testing. Sometimes that means roasted chicken over and over and over.
If you get the sense that my life is dominated by the writing of this book right now, you are correct. I desperately miss writing here, in my own space, and the feeling of writing to a like-minded community. But my writing mojo is just blown at the end of the day, writing this stuff that I'm contractually obligated to write. Writing books is far lonelier than blogging.
So really, that's it guys. I just wanted to let you know what's been happening around here, and reassure folks that I'm not dead (I've had inquiries – thank you for your concern!) and that I've not abandoned the blog in any kind of permanent way.
I hope in a year or so, when there's a book to show for this, we will all think the time and effort was worth it. On that note, huge thank you to my amazing Book Helper Recipe Test Team. You guys are incredible. You'll be getting another batch of fall recipes today or tomorrow. If anyone else wants to join the Book Helper email list to get behind-the-scenes book updates and have the opportunity to test and critique recipes, you can learn more about that here.
I look forward to a return to blog normalcy. I miss you guys!
0