With beets, you get two great vegetables for the price of one. The greens are very similar to chard (beets and chard are closely related) but with thinner stems and a smoother, smaller leaf.
This easy preparation is a variation of my standard, go-to method for skillet cooking greens. Here, beet greens get paired with garlic, lemon, shaved white cheddar and pine nuts. Oh, and bacon. Because….bacon. (Read more: You Can Make Bacon At Home. And It's Delicious.)
If you don't have beet greens, use chard, kale, collards, mature spinach or whatever else works for you.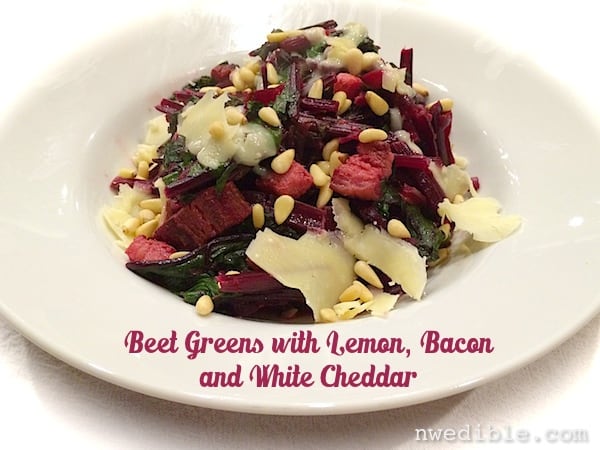 Wash your beet greens and shake off any big blobs of water, but don't break out the salad spinner to get these guys dry. Chop your greens roughly into 1-inch long pieces and divide the mostly-stem pieces and the mostly-greens pieces. Don't go crazy, it's ok if some greens end up with the stem.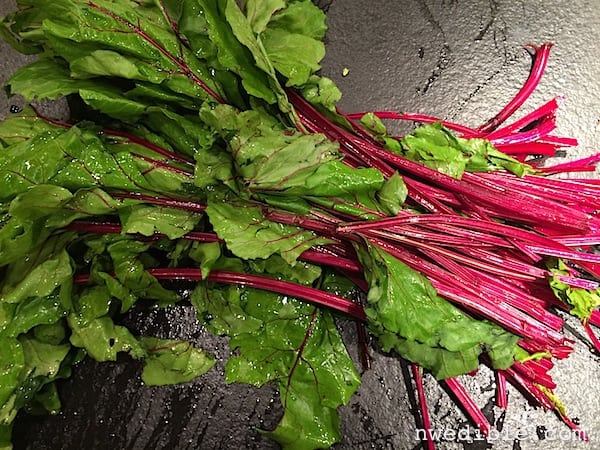 Saute bacon until it starts to render out some fat, then add onion and garlic.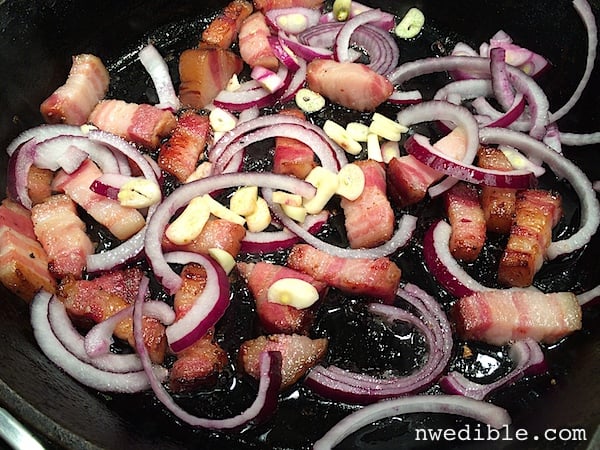 When bacon is nice and brown and onion and garlic is soft, add in the stem sections of the beet greens.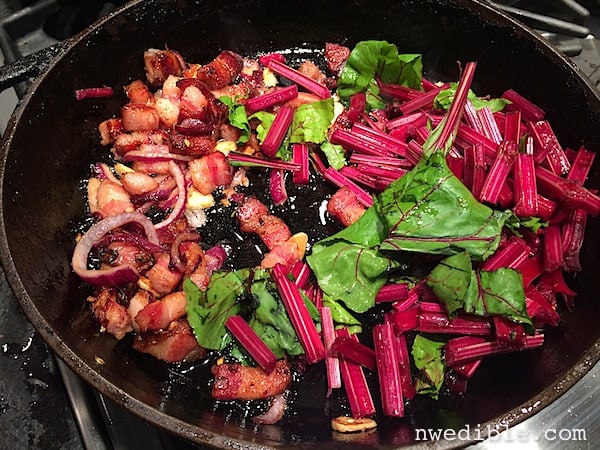 Cook until the stems are tender. Everything will turn pink!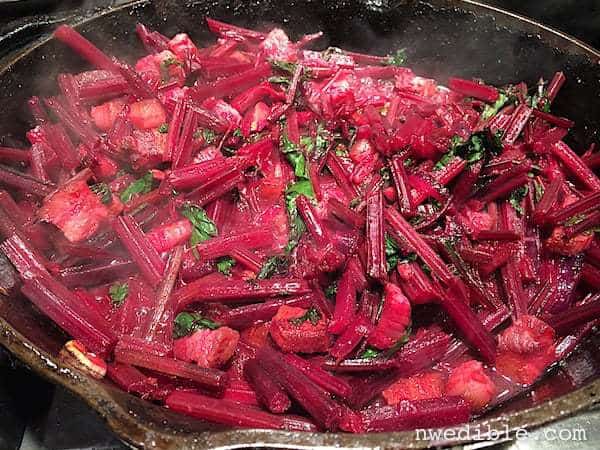 Add in lemon juice and zest, season to taste and add the beet greens to the skillet.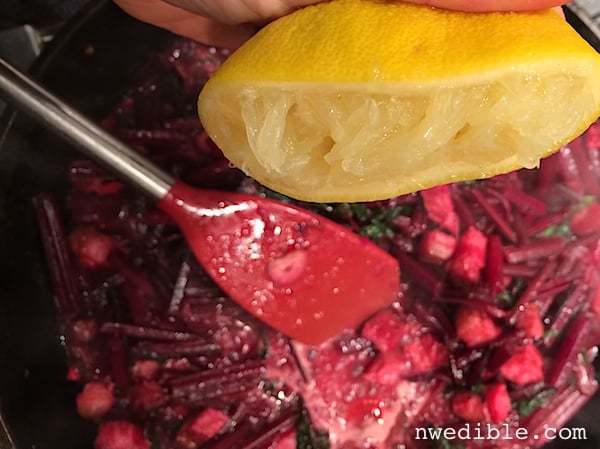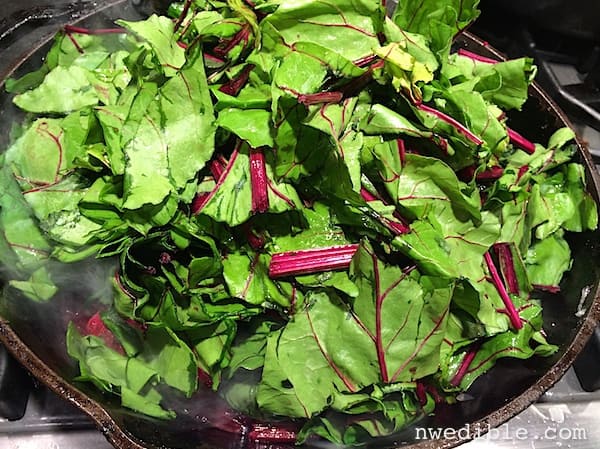 Cook just a few more minutes, until the greens are tender.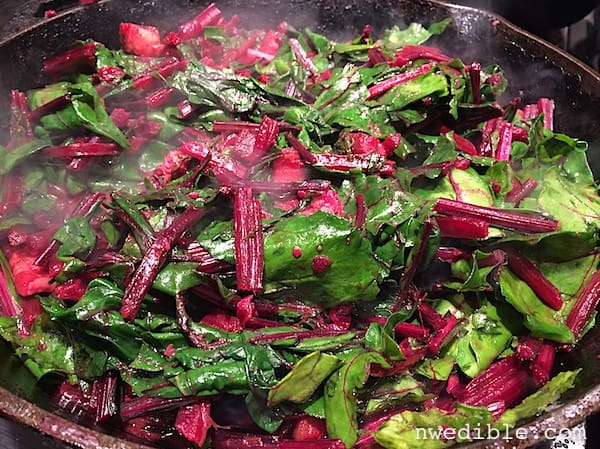 Shave cheese and sprinkle pine nuts over beet greens and serve right away.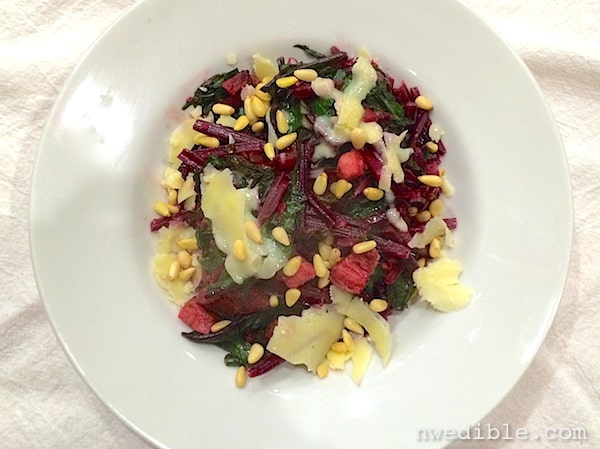 Printable Recipe
Vegetarians can leave out the bacon rendering and sauté the onions and garlic in a few tablespoons of olive oil.
This makes an excellent light meal or side dish. Or serve over cooked pasta or with soft polenta for a an easy meal.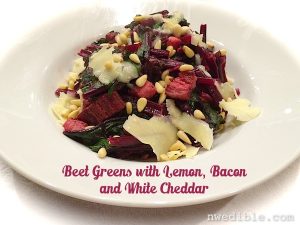 Print
Beet Greens with Lemon, Bacon and White Cheddar
Yield 4
An easy, delicious one-skillet preparation for cooking greens.
Ingredients
8 oz. bacon, cut into thick slabs
1/2 red onion, peeled and sliced into rounds
3 cloves garlic, rough chopped
3 bunches beet greens, washed but not dried and rough chopped into approximately 1-inch lengths.
1 small lemon, zest and juice
Kosher salt and pepper to taste
2 oz. aged White Cheddar cheese, or other firm cheese to your taste
2 tablespoons pine nuts
Instructions
In a large cast iron skillet set over medium heat, cook bacon until fat renders and bacon begins to brown. Add onion and garlic and continue cooking all together, until bacon is nicely browned and garlic and onion have softened and begun to brown.
Add the stem portion of the beet greens with any water clinging to them to the skillet and cook until tender, about ten minutes. They will release some liquid, which will evaporate as the beet stems continue to cook.
When most of the water has evaporated and the stems are fully tender, about ten minutes, add in the reserved beet greens, the juice and zest of one small lemon and season with salt and pepper to taste. Remember that the cheese you are using to topping the beet greens is salty too, so hold back slightly on the salt.
Stir everything together and continue cooking for a few minutes longer until the greens are just wilted.
Divide greens between bowls. Shave white cheddar or another firm, salty cheese onto each bowl of beet greens and top with a scattering of pine nuts.
Serve right away.
How do you prepare beet greens?
1