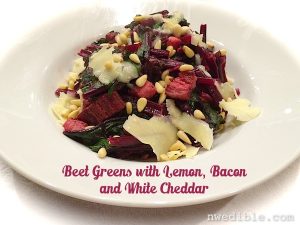 Beet Greens with Lemon, Bacon and White Cheddar
Yield 4
An easy, delicious one-skillet preparation for cooking greens.
Ingredients
8 oz. bacon, cut into thick slabs
1/2 red onion, peeled and sliced into rounds
3 cloves garlic, rough chopped
3 bunches beet greens, washed but not dried and rough chopped into approximately 1-inch lengths.
1 small lemon, zest and juice
Kosher salt and pepper to taste
2 oz. aged White Cheddar cheese, or other firm cheese to your taste
2 tablespoons pine nuts
Instructions
In a large cast iron skillet set over medium heat, cook bacon until fat renders and bacon begins to brown. Add onion and garlic and continue cooking all together, until bacon is nicely browned and garlic and onion have softened and begun to brown.
Add the stem portion of the beet greens with any water clinging to them to the skillet and cook until tender, about ten minutes. They will release some liquid, which will evaporate as the beet stems continue to cook.
When most of the water has evaporated and the stems are fully tender, about ten minutes, add in the reserved beet greens, the juice and zest of one small lemon and season with salt and pepper to taste. Remember that the cheese you are using to topping the beet greens is salty too, so hold back slightly on the salt.
Stir everything together and continue cooking for a few minutes longer until the greens are just wilted.
Divide greens between bowls. Shave white cheddar or another firm, salty cheese onto each bowl of beet greens and top with a scattering of pine nuts.
Serve right away.
Recipe by Northwest Edible Life at https://nwedible.com/beet-greens-with-lemon-bacon-and-white-cheddar/