I suspect anyone who has a chicken coop with a human-sized door has encountered the problem of door-blockage. Chickens adore kicking and scratching in the straw and dirt and debris of the coop floor, and tend to make little mountains and valleys from their scratching efforts.
Mulch Mountain
The mountain chickens create is always immediately in front of the coop door. This is a rule. Chickens are master earth movers and deliberately concentrate all their kicking efforts to create a giant litter pile in the one area that will make it most difficult for you, the silly human, to access the coop.
Relatedly, chickens will only ever scratch mulch out of beds on onto grass. They will never scratch in the opposite direction. I believe it has something to do with their union labor-sharing contract with voles, but I'm hazy on the details.
Mulch mountain might be fun for the hens, but it is a pain in the ass for the chicken keeper who only wants to change some water and top up some feed without breaking an ankle or re-building the coop door to get that thing closed again.
Our saving grace is that our coop was built with an out-swing door.
If you are currently building a walk-in coop like we have, or will be building one in the future, build an out-swing door. I cannot emphasize enough how important this is. If you contend with an in-swing door your ability to push through mulch mountain is severely limited.
In fact, I would encourage owners of chicken coops with in-swing doors to look at how difficult it might be to swap the direction of the hinges.
Deep-Litter Build-Up Blocker For the Door
Once your door opens out, there is a solution for Mulch Mountain. On the (retrospectively obvious) advice of friend and fellow blogger Apron Stringz, I solved the problem of deep-litter build-up at the door of the coop with the very sophisticated solution of A Piece of Plywood.
Yup, all it took was a scrap of plywood to create a very tall lip on the inside of the door. This lip keeps most of Mulch Mountain inside the coop where it belongs, and means that we don't have to clean the door jamb every time we need to shut the hens in the coop.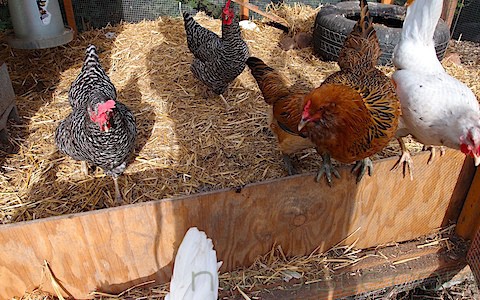 Instructions: get a scrap of plywood about 12 to 18-inches tall and as wide as your door. Wedge plywood scrap against the inside of your door. Secure in place with rocks, logs, or screws, as you see fit. Spend less time moving bedding back into coop.
It took the chickens about 5 minutes to figure out the up-and-over motion to hop the plywood. Now it doesn't slow them down at all.
I've said it before and I'll say it again: the dinosaur nature of chickens terrifies me more and more every day. Can't you just see pack-hunting velociraptors when you look at that photo?
Miscellaneous Coop Questions & Answers
If it seems like I've been chatting chickens a lot lately, it's because I've been inundated with questions about my chickens and the coop recently.
I think a lot of new chicken keepers are concluding, as I did, that the form and function of the Garden Coop or a similar coop design looks good but they need some additional info before they commit. So, in the interest of getting these answers public, a quick Coop Q&A:
Q: Do you give tours?
A: Not at this time. Please understand that it's not that I think you specifically are a creepy weirdo (and there are quite a few you's who have asked this question), it's just that there are creepy weirdos on the internet and I have kids….thanks for understanding.
Q: How's the smell?
A: Pretty much non-existant, but feel free to ask again in late August. Actually, I didn't notice a particularly strong smell last summer either. I really do think the key to keep the poop from smelling and attracting flies is to dry it and cover it. I am very pleased so far with how the hybrid system we're using accomplishes both of these things.
Q: Anything You'd Do Differently?
A: Plan for and plumb a nipple waterer-type system right from the get-go (like this one). Open chicken waterers get dirty, and I have yet to see a backyard waterer that isn't some degree of fetid. This isn't because I, or other chicken keepers, don't change out the water…it's because any open water inside a coop becomes contaminated with soil, bedding and poop almost immediately. A nipple-type waterer is our next planned modification to the coop.
I would also be much more considerate of the ranging needs of the chicken and set up paddock-type garden divisions at the time I built the coop. For more information on chicken paddocking and other ways to keep your chickens from destroying your vegetable garden, check out Free-Range Chicken Gardens by Jessi Bloom (you can see my review of here, but the giveaway for this book is closed).
Q: What is your favorite book on chicken-keeping?
A: Storey's Guide to Chicken Keeping is the only dedicated chicken care book we have and, so far, the only one we've needed. I would also recommend Backyard Chickens for a source of on-line information and opinion about all things chicken.
Q: How much did your coop cost?
A: Too damn much, but worth every penny. We hired a contractor-friend to build the coop. He did the job for us for $2000. We estimate that materials would have been over $1000. You can read details of our non-DIY anguish over the cost here.
Q: Does rain come in through the mesh walls of your coop?
A: No, despite living in Rain City, we have had no issue with water in the coop. I suppose a drop here and there might blow in when it's windy, but even though the winter the litter stays dry. There are two reasons why I believe we haven't had a problem with water. First, the overhang on the roof of the coop is 16″ past the mesh walls, which provides a lot of coverage. Second, the coop is sited directly North of our greenhouse and is in it's lee. The vast majority of our wind and rain comes in from the South, so the greenhouse protects the coop from the brunt of the weather.
Q: Can I see photos of your coop and detailed photos of how you built your coop?
A:  You will find many pictures of the coop here and can browse all coop posts here. Sorry, I haven't done a post about the construction of the coop and probably will not. We purchased detailed plans that we then modified from The Garden Coop.
Q: How deep is your litter in the run portion of the coop?
A: As deep as it needs to be. It builds up as I pile more straw on as is needed to cover up poop, and eventually it gets quite deep – at least 12 or 16 inches, more if it's "fluffy." After I fully muck out the coop (I've only done this once in the year + we've had the coop) and incorporate the compost around the garden or build up a new bed with it, I toss a full bale of straw in the coop and let the chickens distribute it as they will. No need for me to spread it around when they are born to scatter straw everywhere.
Q: Chickens need dark nesting boxes but the coop area where the nesting boxes are located has a mesh roof. Isn't this too light for the chickens? Do they lay in the nesting boxes?
A: We haven't had a problem. The nesting boxes themselves have a steep roof shading the interior. Our chickens seem to know that they should lay their eggs in the boxes and we've only had a few rogue eggs in other spots. Relatedly, do not let your toddler throw a white golf ball into the run. It confuses the girls and they start laying their eggs on the ground next to the golf ball.
Q: Anything you're particularly glad you did with your coop?
A: The pneumatic hood struts our builder pulled off a – and I'm not kidding, here – Cadillac from the junk shop work fantastically to keep the clean-out hatch up and out of the way. It is so easy for me to open the up-swinging clean out door with one hand (baby on hip or he'd eat the chicken poop, naturally) and rake out some chicken poop when the clean-out hatch stays up by itself and doesn't require two-handed fastening to a roof-hook or something.
Also, the plans as we purchased them called for the wire mesh hardware cloth roof to be stapled in place to the joists directly. Instead of doing a lot of overhead stapling, we instead built simple, tight-fitting roof frames, stapled the hardware cloth to the frames and screwed the frames to the joists. Much easier. And I say "we" on this because this modification was actually my idea and I stapled all the cloth to the frames after our builder threw them together for us. What can I say, it's hard for me not to DIY just a little.
If you were one of my readers with coop questions, I hope this has helped answer them. Got any more? Leave a comment and I'll try my best to answer. In the meantime, what would you do differently for your coop?
0