How's your larder looking? Mine is pretty spartan. This is a great time of year to assess your larder and see what you've eaten tons of and what hasn't been a hit. If you make some notes now about what your family really eats, before the furor of canning season comes upon us, there's a good chance you won't repeat the great blackberry molasses incident of 2009. (Or was that just me? It turns out there is less use for blackberry molasses than you might think when you are enthusiastically making 18 half-pint jars.)
Here's where my larder is sitting…scroll down for a free downloadable to help you jot down notes for your own inventory assessment.
Pantry
The pantry looks downright sad these days. The canned peaches? Gone. Pears? Gone. The canned tomatoes: one quart left, and I'm hoarding it for a special occasion. Tomato sauce – gone. Bruschetta-in-a-jar: two measly half-pints left.
All the dried fruit – plums, peaches, pears, apricots: gone. The only thing left are the dried tomatoes and a small bag of dried cherries.
Jams are still fairly well represented. Yet again my enthusiasm to make jam overreached my enthusiasm to feed the sweet stuff to my family. (My kids would certainly have eaten more if I let them; "JAM!" was one of Oliver's first declarations.)
Mostly, my pantry holds store bought stuff at the moment. I'm rarely in danger of running out of standard store bought condiments and bulk-buy items like beans, rice and oatmeal.
Freezer
The freezers (I have two) are each about 1/3rd full and it is on my to-do list for this week to dig through what's languishing in there and consolidate the contents into one mostly-full, re-organized freezer so I can unplug the other until it's next needed.
The fruit is all but gone, except for my lazy-girl peaches. The blueberries went first. Oliver could eat a pound a day.
The salmon is down to just a few filets, we've got one chicken, no lamb and little beef. I have pounds and pounds of ground pork, though. I'm thinking a lot of Asian-style lettuce wraps with seasoned ground pork are in our future this summer. I still have some game because I tend to save elk, boar, duck, venison and the like for special occasions.
A single jar of pesto awesome-sauce will have to last me until the basil comes on again.
Cellar
I finished off the last of the lacto-fermented salsa early this month. I lost a bunch of my sauerkraut to scary mold and the LF dilly beans are but a long distant memory.
The remaining winter squashes are in good shape but I have come to the conclusion that smaller-frame winter squashes like delicata and butternut and buttercup are far more manageable for us to store and use than the big boys like the hubbards and kuris.I have also found the flavor of orange and green hubbards I was so excited to buy last fall to be consistently disappointing.
Onions are long gone, potato harvest was a joke last year and the last of the garlic was tossed out a week ago, too soft and dusty to be used.
Lessons Learned
Looking objectively at what's left here in late-Spring, as we approach the end of larder-eating season, I note the following things:
Anything tomato based, savory or pickled goes fast in my house.
Dried, frozen and light-syrup canned fruit goes fast too.
Jams, compotes, syrups and other dessert preserves are lovely to look at and make excellent gifts but do not get eaten at so furious a pace.
Although I adore lacto-fermented pickled products, I should also do vinegar/brined, water-bath canned pickles, kraut, green beans, etc. to have those yummies on hand in the deep on winter, after the lacto-fermented stuff is gone or has gotten so strong that only I will eat it.
One cannot ever have enough basil pesto in the freezer.
One can very easily have too much shredded zucchini in the freezer.
I'll be sticking to proven winter squash winners like Waltham's Butternut in the future.
Stock is piling up. I make stock and freeze it in gallon ziplock bags. The minor inconvenience of attempting to break the ziplock bag away from all the other ziplock bags that it has perma-frosted too and then thawing the stock is often enough to keep my lazy ass from using it. Investing in a pressure canner to can stocks that are ready to go right from the pantry would likely induce me to use more of my nice homemade broth. This is something to investigate.
Downloadable Larder Assessment Sheets
Want to do your own larder assessment? Well, the simple way to assess is to just look at your food. What are you eating, what are you not. What do you forget you have, what can you use up?
But sometimes it's fun to have a chart to help with this kind of stuff. You get to feel all official about your home management. If you're into that kind of thing, I've put together a set of Larder Assessment sheets to help you remember what you need to make more of next year. There are three long-format charts, one each for the Pantry, Freezer and Cellar zones of food preservation. There is a forth sheet that combines all three zones onto one sheet.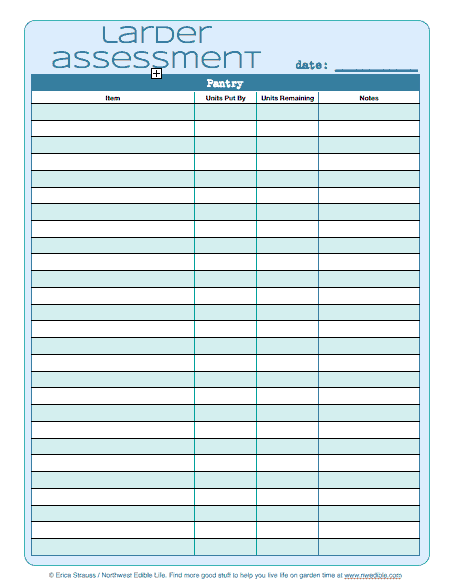 Larder Assessment Sheets are available for free download on the Downloadables page. Feel free to use them as casually or as formally as you like. For example, you may opt to not list every type of jam you made. Something like:
Jam  |  Made Lots  |  Most Left  |  No More Til We Use It Up!
or
Whole Tomatoes  |  24 Qt  |  Gone  |  Double
is just as valid as super detailed notes. Don't let perfect become the enemy of a little better when you're thinking about this season's preservation plan.
Do you take inventory of your provisions? What food preservation thing will you be doing differently this year?
11