We just passed the one year anniversary of our solar power system going live. How do things look after a full year? Pretty good.
First some numbers, then let's talk about how we got there.
When A&R Solar installed our system, they estimated it would produce 5,200 kWh of electricity per year. Based on past usage, that should have offset 39% of our consumption.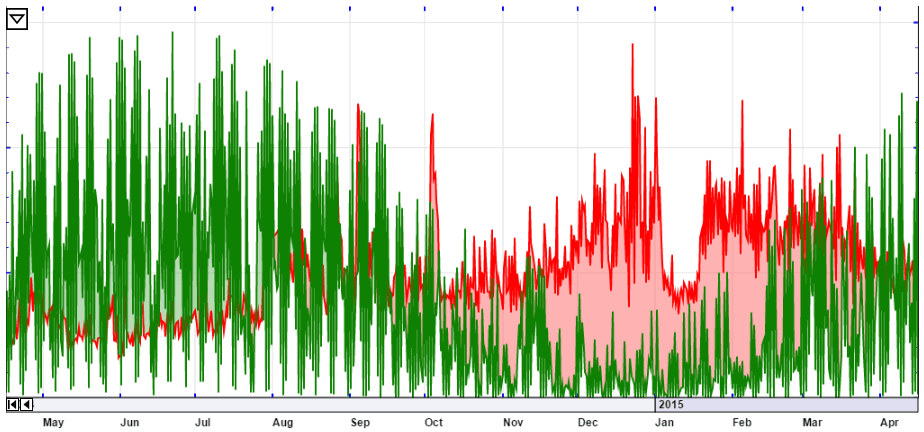 When we went forward with the installation, we also set ourselves the goal of reducing our ridiculous electrical use as much as possible, hoping that we could even live entirely within what we produced.
Overall, we did okay. Over a full year, we ended up producing enough electricity to offset 74% of our consumption, about twice what was forecast.

Some of that came from cutting our consumption and some from our system producing better than 25% more electricity than estimated.
We had a clear, warm summer in 2014 and that helped production. Some calculations with the data at the UW Department of Atmospheric Sciences show that for the twelve months I'm looking at, we got about 8% more insolation than usual.
Conservative bidding and an awesome installation job from our friends at A&R Solar also helped. One of the reasons we selected A&R was that they bid conservatively and avoided giving us pie-in-the-sky production figures (something we liked about them).
Now as for our part, I feel pretty good about a 33% reduction in our electricity consumption, yet I know we can do better. 2014-2015 was an outlier year in many ways because of the recipe testing for the book.
So, what worked? What didn't? What did we learn and can we do better over the next year?
What worked
Hand-washing dishes when possible (each dishwasher load uses about 1 kWh)
Avoiding our electric clothes dryer when possible (each load uses about 3 kWh)
Opting for "quick wash" cycles doing laundry or when we did run the dishwasher (this can reduce the electricity consumed by a load anywhere from 25-50% plus often save on water.
Being careful about "keep warm" options on the rice cooker and coffee pot and crock pot.
Not doing stupid things like brewing a pot of coffee and forgetting about it until the next morning or microwaving some leftovers and never eating them.
Replacing our grow-lights with more energy efficient versions and being more aggressive about getting plants outside when they are ready.
Replacing almost all of our interior lights with LEDs.
Planning ahead so we can defrost goods in the fridge rather than firing up the microwave.
Consolidating our two deep freezes into just one.
Better management of our central heat (it is gas, but the fan still consumes several hundred Watts) in the morning, letting the house warm up naturally during spring and fall mornings rather even though it is a little chilly until the sun comes up.
In general, being more conscious of our non-critical electrical loads like computers, TVs, stereos, and turning them off when not in use.
What was hard
While recipe testing for the book, lots of dishwasher and dryer discipline went by the wayside. When you're cooking twelve things in one day, you'll take all of the mechanical support you can get!
Maintaining routines that make it possible to do things like line drying laundry – it just isn't possible to do five loads to dig out of a backlog of dirty clothes without running the dryer.
Lights can still be a major consumer, especially in the locations we haven't yet upgraded to LEDs. These tend to be closets and our guest room and the like – rarely used rooms but also rooms it is easy to forget you've left a light on in.
Bored kids during winter break make for a lot of movies, lights left on, batches of cookies, and pots of coffee…
Sometimes you've just got to do what you've got to do…firing up a 300 Watt heat lamp to help brood ducklings might be a few kWh per day, but such is the price for…well…ducklings.
Trying To Do Better
There's still lots of room for us to home in on electrical loads we don't need. I've just gotten my own Kill-A-Watt (which we've used before to track some power hungry demons) so we can keep zeroing in on zombie loads and hidden consumers.
We've gone through another round of swapping out our few remaining incandescent bulbs for LEDs as the cost of this technology keeps dropping.
We're still sorting out some of the overall conservation/cost impact of some of our choices, too. Just how much more water and gas do we use by hand-washing dishes? It's all well and good to cut down on electrical use, but what if doing so increases natural gas use? Energy is a complex trade-space and we're still figuring it out.
Our very lifestyle imposes some energy demands we're still working on. Both Erica and I work primarily from home, so it's very unusual for the whole family to walk out the front door at 8 am and return at 6 pm. Similarly, things like grow lights, brooder lights, a deep-freeze, and a pump for the pond filter all require power. We could further reduce our electrical consumption without these things, but only at the cost of other things we value.
Tradeoffs. Always tradeoffs.
In general, almost all of this energy conservation stuff comes down to being mindful and having your routines together.
If life is a scattershot mess, then you're going to forget that bowl of chili in the microwave, need to run the dryer at 6am because you've no clean work shirts, break down and run the dishwasher because the sink is piled high with dinner plates.
The latter half of 2014 was a challenge in this regard. I've already plead the excuse of recipe testing, and you can see how dramatically that spiked our energy use when you look at the January "lull" in the chart below. That represents time when Erica wasn't actively testing for the book.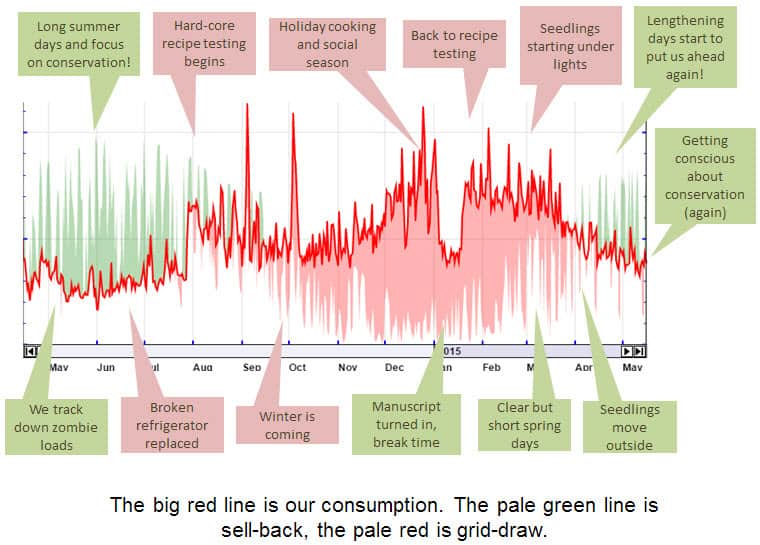 Our goal this year is to move further towards that goal of living entirely within the electricity we produce.
Overall, going solar has been a great experience. These sunny days are helping us "pay off" the electricity we tapped off the grid over the grey months of fall and winter and soon we'll be putting some in the bank against against this winter. If you're in the Seattle area and are considering "going solar" we heartily recommend A&R Solar – and if you tell them you came from Northwest Edible Life, we've arranged for you to get a discount of up to $500 on an installed system.
1