In early April, after about five years of deliberation, we had solar panels installed on the south and west facing portions of our roof. On April 15th our panels "went live" and since then we've had a chance to evaluate what it means to be solar powered in Seattle.
We've been sharing moments of our "Solar in Seattle" experiment on Facebook, and there have been a lot of questions about the process, technology, cost and more.
We plan on writing more about the practical, financial and technological aspects of solar panels in upcoming posts, but we thought we'd start by answering the most frequent questions people have been asking. If you have more questions please leave a comment and we will try to get back with answers.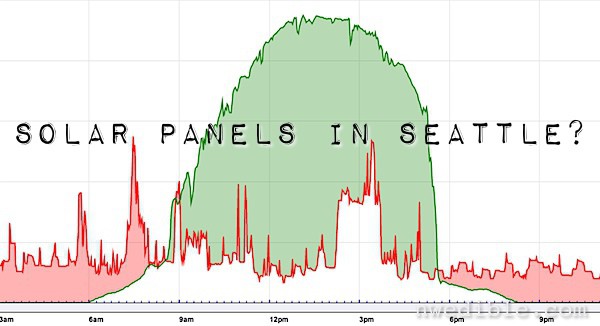 Q: Are the panels your main source of energy or do you still connect to the grid?
Our system is "grid-tied". That means that we've got both the solar generating capacity and a traditional utility grid connection. If we require more power more than we're producing (for example at night) then we can draw from the utility grid. If we're producing more than we're using (for example on a nice sunny spring day!) then we can actually push that excess back onto the grid, where it is used (statistically speaking) by people in office buildings. We only pay for our net energy use (more on that in a second) in any given billing period. Any surplus gets held on account by the utility as a credit against future needs.
In a stand-alone solar energy system, excess energy charges banks of batteries, which then supply energy when the solar panels themselves cannot. In a grid-tie system, the energy grid itself functions a bit like a big "battery bank."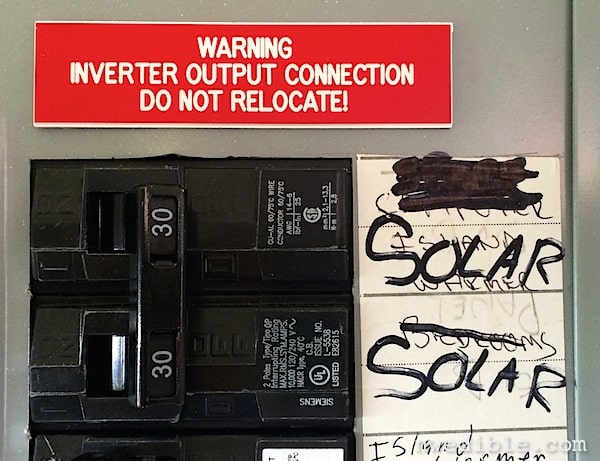 Understanding net metering is really important to understanding how this whole grid-tied solar thing works. The net use is the difference between our produced energy and our consumed energy. If in one billing period, we use 900 Kilowatt hours but only produce 700 kWh, then our electricity bill is for the 200 kWh difference. But if we produce 1,200 kWh and use 900 kWh, we pay nothing and the utility holds the credit and applies it on a bill where our production is less than our use.
This means we can not only average out the day-night changes in productivity, but also the summer-winter ones. During our long, clear, mild Northwest summer days the system will be banking power, quite literally, against those dour Winter months when six hours of gloom is what passes for daylight.
Q: What happens in a power outage?
We don't have a battery backup system. It just didn't make financial sense given that we're in an area with extremely stable utility service. While there'd be some comfort in having a short-term backup, the added cost and complexity (both quite considerable) outweighed the benefits of battery backup.
This means that in a blackout, our lights go out too…such is the tradeoff of a grid-tie system without backup. We may explore options in that direction in the future, but for this step battery backup just didn't make sense.
Q: How many panels have you put up?
We've got 22, 270-Watt modules on the roof – twelve of them in one big array on a south-facing portion of our roof and ten of them facing West in three smaller arrays. (An array is a grouping of panels) We had to set things up this way in order to deal with our very weird, complicated roofline and to find the "sweet spot" of maximum generating capacity for the installation cost.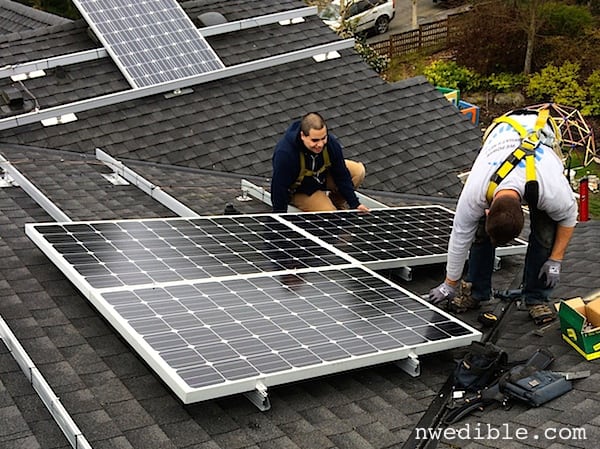 The panels connect down to two inverters in the garage. The South-facing panels feed energy to one inverter and the West-facing panels feed to another. This allows the inverters to do their job of optimizing power delivery from the panels as the sun moves across the sky and the light falling on the different sets of panels changes.
Q: I'm curious how much you'll save on electricity. Let us know in the future how it's doing.
Before we installed the solar panels, we went into "conserve electricity mode." Through basic conservation techniques like replacing most of our interior lights with LEDs, getting more efficient grow lights and being more diligent about line drying, we dropped our overall electricity consumption from an unconscionable 41 kwh per day average in 2012 to about 19 kWh/day at the beginning of 2014.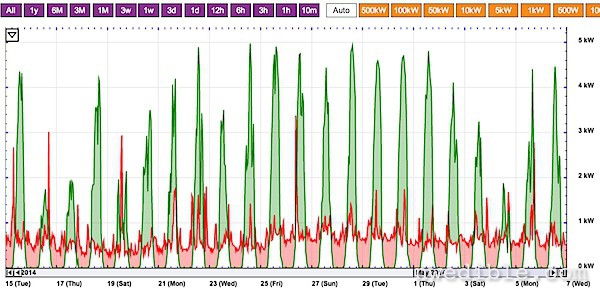 When we installed the solar panels, we got an awesome monitoring system which allows us to watch our energy use on a moment-by-moment basis. This spurred yet more energy awareness and we've dropped down to using about 15-16 kWh per day. This isn't too bad, for a home that is used heavily during the day, has multiple fridges and freezers and keeps four spoiled Westerners living in total comfort. With additional optimization of our own usage habits, we hope to get to a 14 kWh/day average and are on track to do so.
Based on our current use, our solar system should supply about 100% of our annual electricity use. So far we're doing great. In the three weeks since we "went live" we've generated 56% more electricity than we've consumed, and that over a series of pretty typical spring-in-Seattle days of mottled clouds, drizzle, and outright bluster.
Q: Do you have an estimated payback period?
Yes, the cost of the installation will be paid off (through savings and various incentive payments) in about 5.5 years. This is a lot better than when we started looking at solar! Our first quote for installing solar back in 2011 had a payback period of twelve years even though the system would have received subsidies for three more years.
The reason for the change is that price of solar installation has dropped, the equipment has become cheaper and the panels have become slightly more efficient in the past few years.
We ran a lot of financial models (that's sort of what I do for a living) on how the initial outlay would compare with the payback and how that would fit in with our particular savings situation and made the call that this was the right time for us to go for solar.
Q: I'm curious on the total cost to fit these. Also, were there any rebates? I know the government was offering them at one point. Do you get a tax break for next year for doing this?
Yes, there are considerable production and installation incentives at work which made installation economically advantageous.
In a nutshell, we get an annual production incentive from the State of Washington through 2020, a one-time installation incentive from our regional utility cooperative, and a one-time credit from the federal government. That's on top of the actual savings for not buying electricity (or buying less of it) from the utility through net-metering.
Typical systems seem to run in the $20-30,000 range in this area, and ours was at the high end of that range. The finances of solar are quite complicated, with incentives varying regionally and by utility. There are also financing options available in many areas.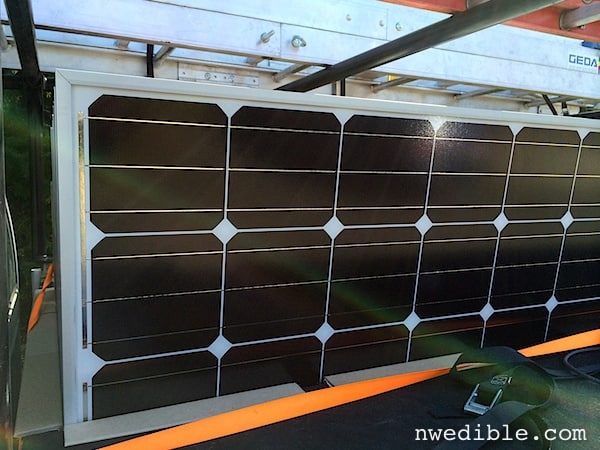 Here's how the numbers actually panned out for us:
$28,000 – cost of full system, installed
Over the next six years, we will see the following incentives and savings:
($17,700) – State of Washington production incentive*
($8,400) – Federal tax credit
($2,500) – Local utility credit
($4,000) – Six year electricity savings*
———
($4,600)
So what this means is, in today's dollars, in 6 years we are ahead $4600. This assumes the rates for electricity don't go up (good luck with that – if they do our numbers look better). The starred items are estimates based on the expected production of our system.
Now, to get finicky, you should also consider that the earned income spent on electricity is typically taxed, whereas savings on electricity through alternative production are not. In other words, we get to not buy electricity in pre-tax dollars.
Among these incentives is a federal tax credit of 30% of the installation cost. There's a state tax credit (in income-tax-free Washington) where we pay no sales tax on the system. Our local utility company loves solar installations and cut us a check for $2,500 as soon as the system was inspected. And the big daddy of incentives is from the State of Washington, which pays $.54 per kWh for all electricity produced in the next six years because all the components of our system were made locally here in Washington.
Many of these incentives apply to other renewable/alternative energy options as well. It is a dynamic landscape, so be sure to check the latest for your region.
Q: What company did you use? I'd love a review on the solar installers you went with?
We've been researching the possibility of solar since 2009 and talking to solar contractors since 2011. We ended up selecting A&R Solar out of Seattle to install our system. A&R impressed us with a proposal that really looked at the unique characteristics of our weird roof and really found that cost/benefit sweet spot.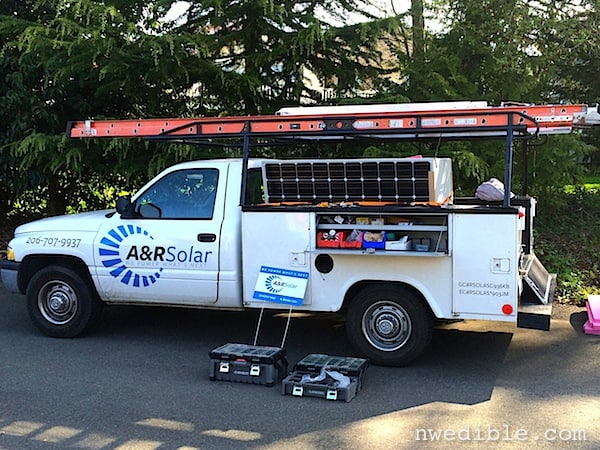 We've been entirely impressed with A&R and would unhesitatingly recommend them. Their crews were professional, efficient, and absolutely committed to delivering a quality result. One specific detail that really impressed me was their willingness to go beyond the basics and do things like painting conduit to match our house so it is less visible and help remove shelving in our garage to make way for the inverters. I'm used to contractors only working within their specific brief ("I'm an electrician, Jim, not a housepainter!") instead of showing some flexibility to get the customer's needs met. This was a very different experience from that.
We would fully recommend A&R, and if you contact them, mention Northwest Edible and you'll receive a "friends and family referral" discount of up to $500 on any system that they install for you.
Do you have a review of how the system is working?
Absolutely – we went live three weeks ago with our final connection from our utility company. By pure coincidence, this was the afternoon of April 14th and I'd pushed the button to e-file our taxes literally minutes before.
For the fourteen days since our first full day (April 15th), we've used 357 kWh of electricity and produced 556 kWh. That's 199 kWh surplus "sold back" to the utility. At an average daily use of about 15 kWh/day, that's a reserve of almost two weeks that we've built up. Now of course there will be times we need to use more (our tomatoes, peppers, and eggplants started hardening off outside and left their cozy grow-light crèche on the 16th, for example) and generate less (just wait for December…) but this is off to a great start so far.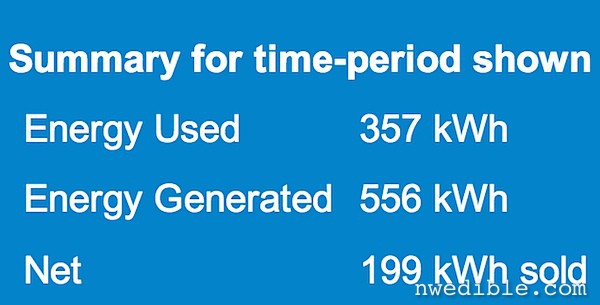 Our real-time monitoring system has done an incredible amount to raise our awareness of electricity consumption, not only on things like overnight "base" loads of refrigerators and deep-freezes and unnecessary zombie devices but also the waste of leaving a roomful of lights or a TV on (even our relatively small LCD TV consumes 150 Watts…fine if we are watching Edwardian Farm as a family but not ok if it's glowing in an empty room!).
Q: Do you think solar would work for me?
The answer's a big "it depends." What I can say is that solar can work in the Seattle area – we do get enough sun to make solar panels a reasonable way to generate some of our electricity. Economically, solar still remains a relatively pricy way to reduce your "grid" electricity consumption. If you're looking to cut down on your utility bill, identifying wasteful consumption, changing habits (line dry!) and swapping in LED lights and energy saving appliances as time and budget allows is going to give you energy reduction results for much less up-front expense.
But with that said, every Kilowatt-hour that you offset is a Kilowatt-hour you don't pay for, so even a system that doesn't completely offset your consumption will produce savings. Whether those savings are enough to justify the up-front cost or a financing option will depend on your site, your energy consumption patterns, your regional government incentives, your goals for cost and energy savings and your other values.
We've experienced a local utility company that is eager to encourage distributed solar, but I've read that some utility companies can be outright hostile to homeowners. The best advice I can offer is to contact a solar installer in your area (A&R was great) and have them take a look at your property. Using aerial photographs they can get an approximate understanding of the situation even without a site visit.
We know several families who've gone solar in the Seattle area – we weren't even the first on our block to take the leap – and pretty much universally people love their solar panels. Get the info for you and make the decision that's right for your life.
More Questions?
Got more questions? Ask away! Comments? Have you gone solar or thought about it?
43