Death
Monday was pretty rough. My daughter came in from her normal morning check of the chickens and ducks and said, "I think Frances was attacked."
Out I rushed, and my daughter led me to the trail of feathers, the splatters of blood, the slaughtered but uneaten carcass of our female duck, Frances. Her neck was mauled and her intestines were splayed across the leaf litter like knucklebones at a fortune teller's parlor.
Fucking raccoons.
Frances had been sitting a clutch of eggs, just at that stage where she was ignoring most everything else. She had found a spot inside the protection of the raspberry canes, and we had dithered, trying to figure out how to protect her in this location.
We dithered too long, but I could not dwell on that now. The recrimination and tears and guilt (sitting duck, sitting duck, goddamnit never again….) would have to wait until later.
For now, I had her genetics to consider. Her clutch of 8 eggs was unmolested, so I gathered the eggs and started making general pleas: "Does anyone have an incubator? It's an emergency."
My neighbors came through within about 20 minutes, passing their mini-incubator over the back fence. This is all further proof that the greatest emergency preparedness tool we can have is a decent community around us.
I set up the incubator and poured in the water and in went Frances' eggs. It was all we could do now. The important thing was the genetics.
Are the eggs viable? Will they grow? Will the incubator be sufficient? I'll know more in a week.
Life
Tuesday my husband called me over to his computer. He had pulled up the publication date of the last duck update (duck-date?). 4 weeks ago I'd talked about Minkie's broodiness.
"Ducklings should be hatching soon." He was trying to cheer me up.
The death of Frances made Minkie's successful hatch feel even more important. A month ago I had slipped 4 of Frances' eggs into Minkie's nest, so if Minkie was successful at hatching out her clutch, chances were excellent that some of the genetics of the ducklings would be from Frances.
To protect Minkie yet leave her undisturbed on her nest, we had built a cage of hardware cloth around her nest and placed fake "predator eye" lights around the cage.
These precautions seemed to be enough, but we went out to make sure the mesh enclosure was as secure as possible. When I got close to the nest, Minkie stood and backed off her nest long enough for me to see a tiny, fluffy duckling.
Just one, surrounded by brother and sister eggs. But one is a very good start.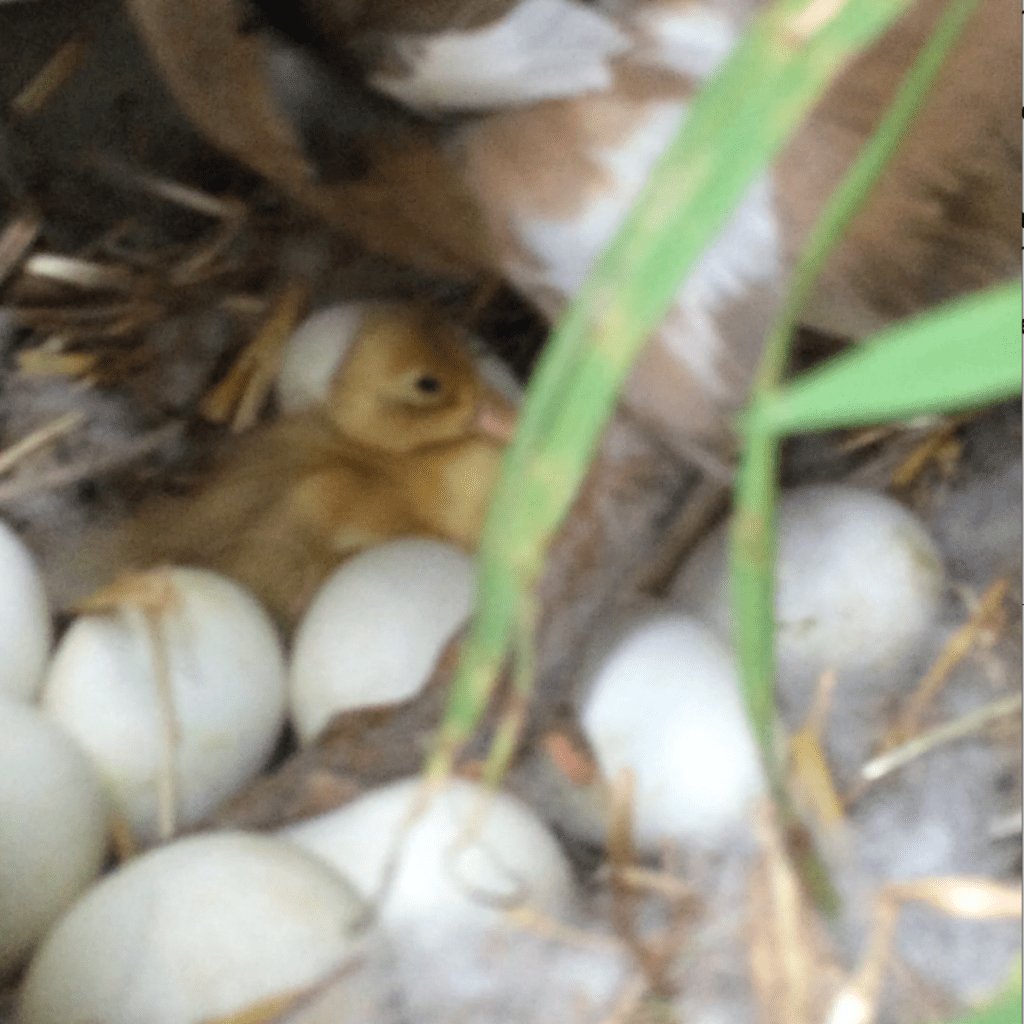 This picture is a still from a short movie I posted on Facebook of the new baby duckling. See the full short video here.
Keep your fingers crossed for us over these next few days, won't you?
37