"Hey, we were planning on getting together later today, right?" I asked my friend.
"Yeah, but after dinner."
"Can we push that back to later in the week?" I was exhausted from Can-o-Rama and the idea of a social commitment after dinner was more than I could handle.
"Sure. What's up?"
"I'm pretty tired. I stayed up until 2 in the morning yesterday wrapping up a weekend of canning."
Long pause.
"Um….why?!?" my friend laughed.
I muttered something about trying to have my year's supply of canned tomatoes be home-canned.
"Wow, ok. You're really crazy!"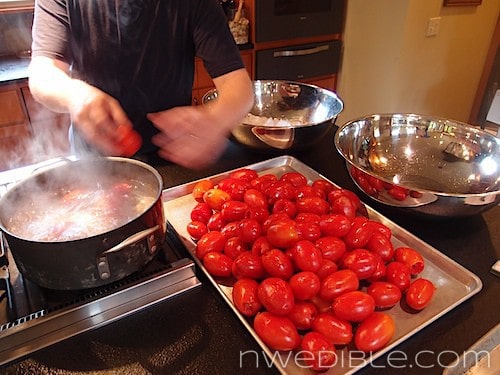 Why? Why do I do this?
I ask myself this question with some frequency, actually. When I have a list of a million things that all need doing and very short windows of time in which to do them, I ask myself what the point of playing urban farmer really is.
Chickens, crops, children, canning, cooking – not necessarilly in that order.
Chickens, crops, cooking and canning are entirely optional (children are optional too, I suppose, but only before you have them). Most people don't do these things. I have realized this lately. Most people don't even cook. Maybe they heat stuff up, but balls-to-the-wall, from-scratch cooking? That's more unusual than the popularity of cookbooks and Food TV shows and cooking blogs would lead you to believe.
Most people consider real, honest-to-God, from-scratch food to be entertainment, not a thrice-daily reality.
So, why? Why can my own tomatoes? Why grow my own lettuce? Why make my own deodorant?  Why use cloth diapers on my son? Why cook from scratch? Why check the thrift store first?
In a nutshell: why voluntarily take on the complications and efforts of the productive home when the economic system I live in means I simply don't have too? Why make life harder?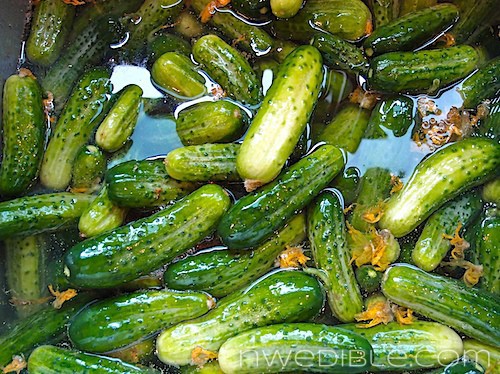 There's a lot of answers to that question floating around the world of the self-proclaimed Radical Homemakers, Urban Householders and Punk Domestic badasses.
A lot of the answers are political-economic. You'll hear that we owe it to local farmers to source directly from them and provide them with a market for their goods. You'll hear that rejecting industrial food undermines soul-less corporate interests and is, therefore, a radical political statement. At the micro-economic level you'll hear about the money that can be saved if you can your own tomatoes (a dubious claim unless your garden is putting out a lot of excellent-quality canning tomatoes).
There's rallying cries about supporting different markets – local markets, sustainable markets, alternative markets. Anything but the international, corporate-dominated, local-to-nowhere market we currently enjoy.
"Occupy your food supply! Make your own jam!"
"Be prepared for Zombies! Grow a garden!"
"Take out insurance against Midwestern crop failures – support your local farmers!"
These claims are how the lifestyle of the productive home is sold. They say: be a part of something bigger. Be a part of a movement. Help to change the world. Join our gang, we jump you in with homemade scones and really delicious bing cherry jam. You'll love our global fight for justice! We wage our battle at at the fair-trade, shade-grown coffee shop!
All these motivations are very good reasons to attempt to make your home a place of greater productivity and less consumption. And I'm not saying the world couldn't use a little changing.
But all that political spitfire, as much as I enjoy it occasionally, isn't really why I do any of this. I don't bake my own bread to fuck over Wonder Bread (owned by Hostess) or can my own tomatoes to stick it to Muir Glen (owned by General Mills).
While I do have some grave concerns about the just-in-time food distribution system that connects most people with their calories, I don't expect hoards of zombies to suck my brains out or neighbors to take my butternut squash at gunpoint any time soon.
The drought in the Midwest is bad. It's going to be very, very bad for farmers and ranchers and very bad for companies and consumers that rely on cheap cereal grains and products made from them. It's going to cost taxpayers a bundle, even though most will have no idea that they are paying for it, and the knock-on to the supply/demand curve will send grocery prices higher more-or-less across the board.
But that has almost nothing to do with why I visit the farmer's market, or buy boxes of fruit in season from the family farmer just over the mountains in Central Washington.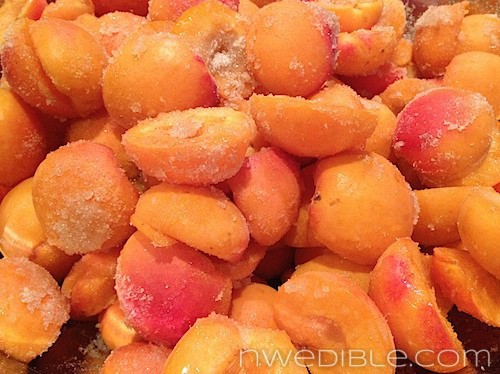 Really, I can my tomatoes, make jam, keep chickens, bake bread and – perhaps most consumingly – grow a rather large garden – because I enjoy doing these things. Even if once a year in late August that means a few late-nights in front of the canning pot, I still enjoy this life.
I think, against the backdrop of big reasons why productive homekeeping is A Very Important Movement and all that, the simple pleasures that come from nurturing and creating in the home are sometimes lost.
When we feel like we are obligated to do something, because doing that thing is how we make our political statement in a world gone mad, or keep our families safe against unseen, unknown, and as-yet-unrealized threats, or protect our assets against the vagaries of a complicated global economic system, we are acting from fear or from anger.
We are stretching out our hand to try to take some measure of control back from that which seems so out-of-control.
We are saying with clenched fist, "You and your peak oil and BPA and your global banking crisis and your housing collapse and your high-fructose-corn-syrup, pink-slime, diabetes-nation food system, you can push me into the dirt. But I will rise back up and when I do, I'll be holding these homegrown, organic cantaloupes, motherfucker! Yeah!"
There's nothing wrong with this, to a point. Anger that changes behaviors and fear that motivates people to examine their deep values can be a catalyst for great and positive change. But at the end of a long, long, long day of canning, or weeding, or sowing, something greater than fear and anger has to carry you along.
After 16 hours of processing tomatoes, if you have the energy to be fist-raising, passionately upset about anything, you should look really into anger management classes.
Nah, when push comes to shove, you have to do this stuff because you like it. You have to like patiently reducing strawberry syrup to get just the right texture in your jam. You have to like bullshitting with farmers and ranchers and going out on field trips to where the food is grown. You have to get a small thrill when you harvest an egg that is still warm, or find yourself covered with sticky gold from the beehives you've helped along.
You have to be in love with the miracle that is a sqush seed – no bigger than a fingernail but able to produce 100s of pounds of food in a single summer with only a little help from you, the gardener. You have to find a certain calm prayerfulness in the act of working your earth, even as your To Do list presses in on you ceaselessly.
You have to love food enough to work for it, and not in an abstract trade-space kind of way. Not in the, "An hour writing this code for the latest version of Microsoft Excel pays me enough to buy a month's worth of hamburgers on the road!" kind of way.
You have to be okay getting your hands dirty, and your brow sweaty, and your forearms scratched from the cuts of a thousand blackberry brambles. You have to not just survive that kind of labor, but revel in it.
Right now, we do have a choice – those #10 cans of tomatoes are cheap and easy to buy. Those pears from Argentina are available in June. That feedlot ground beef is on special for $2.49-a pound. McDonalds is on the way and Hot Pockets and Lean Cuisines are in the freezer section.
So why go to all that trouble? Why not run out and grab a can of crushed tomatoes and a jar of jam right alongside the Lean Cuisines and Hot Pockets?
Why?
Because I have a pantry that reflects a summer spent in relaxing work and joyful creation.
Because cooking dinner makes me proud.
Because the food is delicious.
Because this kind of work makes me happy.
That's why. And that's enough.
Why do you do it?
16