The pile of canned tomatoes and pickles and jams on my dining room table is begging to be put safely away in the pantry. The only problem: I like to Martha-up my jam with cute labels.
Although I have, in the past, recommended inexpensive cut-out labels for jam jars, many readers have enlightened me to the recommendation that jars of preserved goods not be stored with the rings on.
Which brings us to sticky-labels.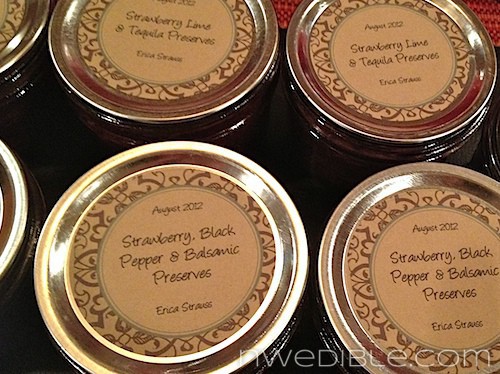 Sticky-labels are great for Mason Jar labeling. The 2.5-inch round labels from Avery and other label companies will fit a wide-mouth jar perfectly and a regular-mouth lid with just a little scrunching around the edges.
They are infinitely customizable and can give a really professional and/or homey look, depending on what you are going for. If you have a computer and a printer and basic word processing software, it is a simple process to turn these sticky labels into serious canning jar bling. You don't even need to be into graphic design.
The only drawback to sticky-labels for your jars is that they can be a little spendy. I ordered an off-brand pack of 1,200 labels for about $20. That's about 1-and-1/2 cents per label, which is worth it to me to have a more polished-looking preserve for holiday gifting, and even just for the pride and pleasure of a visually pleasing, Martha-freaking-Stewart'd shelf of jams. It might not be worth it to you. I get that. Sharpie is good too.
When I found these kraft-paper-brown labels I splurged the $10 and bought a pack for Can-o-Rama's jars, and I'm glad I did. There is something very "brown paper packages tied up with strings, these are a few of my favorite things!" about a kraft paper label that just seems so right with home canned food.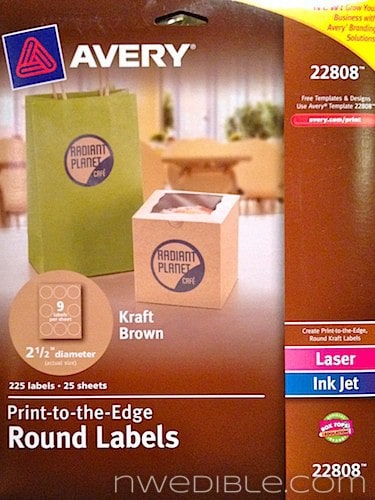 I was all set to invest a few hours developing cute original labels to share with you guys as Downloadables when I realized the people at Avery – label promotion experts that they are –  have completely beaten me to the punch. They have dozens and dozens of non-sucky, pre-formated label templates already on their site, like these: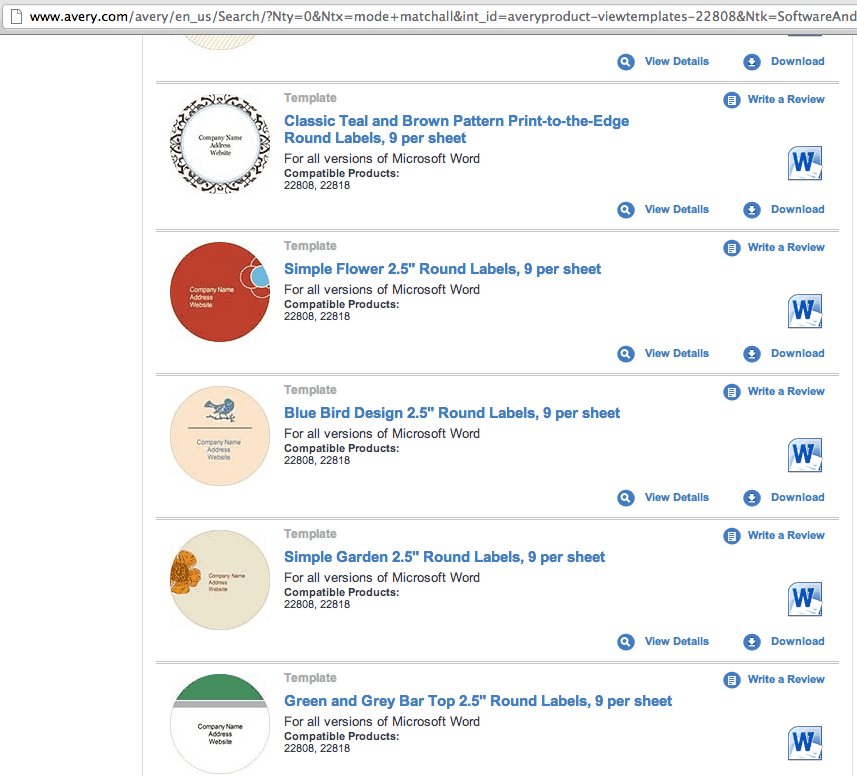 You can find a template or three that you like, then download them in Word format (works for Pages too, for my fellow Mac users). Then it's simply a matter of putting in the information you want on your canning jar labels and, if desired, changing fonts and sizes to get the look you're after.
So, for example, this: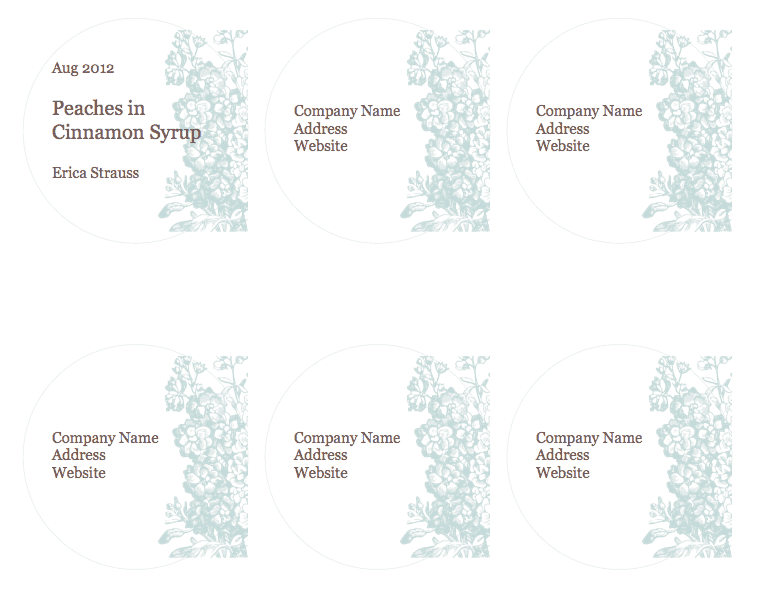 Became this: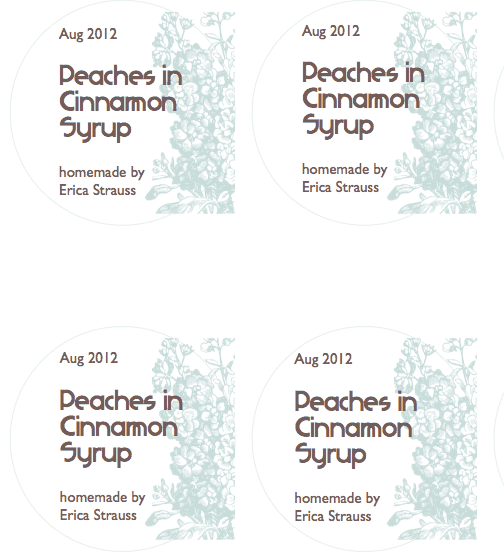 Became, when printed on the cool kraft paper labels, this: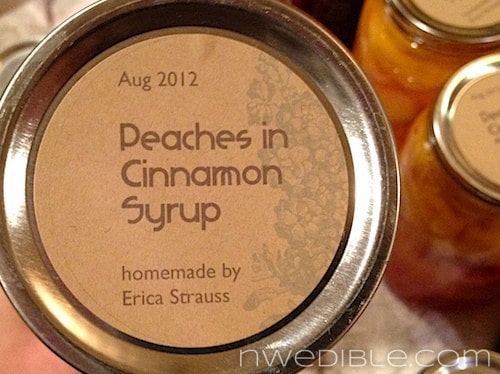 …all in about 5 minutes including print time.
Roma tomatoes got their own label treatment. Here you can see what a 2.5-inch label looks like on a standard-size flat. The whole lid is covered, more or less, but because of the concavity of the sealed lid you get a little crinkling on the edges of the label. This doesn't bother me, but sticker-sticklers might want to seek out 2-inch round labels. I prefer to only worry about stocking one size.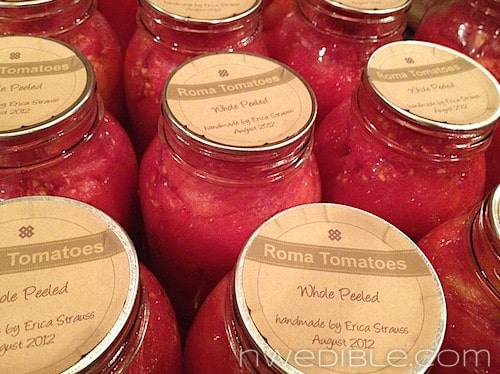 Strawberry Jam got yet another "look."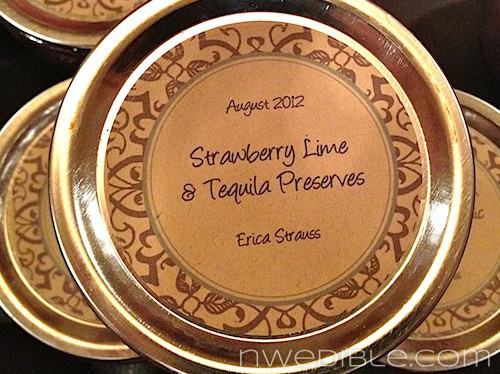 Some of these designs would actually be better on plain while labels, but I really do like my homey brown stickers.
Now all this label business is very close to so precious and froofroo that it kinda makes me want to smack myself. I mean, come on – how punk is a frilly jam label? Exactly none punk.
However, that feeling is largely countered by a certain domestic pride I get from the small pleasure of well-labeled jam jars. Plus, these labels give me the ability to legibly identify jars as fast as my printer can churn out labels. My sharpie lid scrawls – things like "Tom w/p WB c/a nacl" or "straw GM -ptn" – get notoriously difficult to parse after memory of a specific canning session fades.
So I highly recommend that, if you like well-dressed preserves, you check out the wealth of free downloadable label templates on offer over at Avery. You can pump out some good, visually pleasing jar labels with almost no work by taking advantage of what their design team has already created.
Because I am kinda gushing about this free corporate product perk, I just want ya'll to know that I am in no way affiliated with Avery and I get nothing at all from them to write this.
Do you like to occasionally dress up your jars, or is "sharpie-and-done!" as frilly as it gets for you?
15