Last August my husband and I embarked on a no spend month challenge.  We allotted ourselves $300 (jointly) in spending money.  We had to make that $300 count: all our groceries, gas and incidental spending had to come in under $300 for the month.
Since we had never done this kind of thing before, I just didn't know how hard it was going to be.  Gas money for my husband's 50 mile a day commute was going to take a big bite out of that $300, so I knew my grocery spending was going to need to be really tight to make our goal.
And that's what was on my mind when I found myself standing in the dairy section of the grocery store, looking at $2.00 gallons of milk and $4 quarts of yogurt.  Now I can do basic math: for the cost of one quart of store-bought yogurt I could make eight quarts of homemade yogurt.
I decided to try making yogurt. It worked!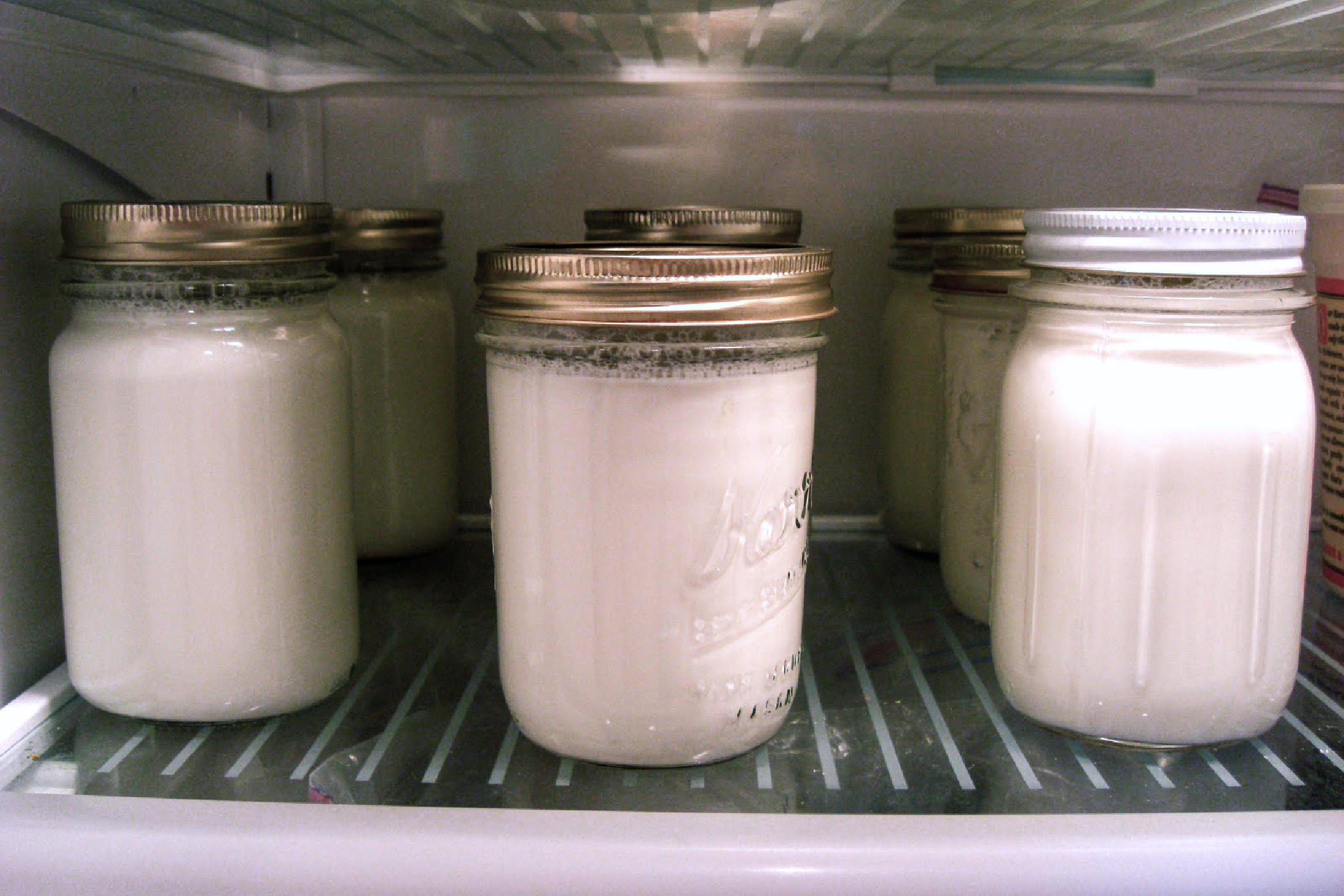 After sorting through various recipes, I found that most followed a common process: I looked on the internet and found lots of advice about yogurt making, and a few ads for yogurt makers
 that ran about $30-$50 or more.  I am not of fan of uni-taskers in the kitchen, and dedicated yogurt makers rank pretty high 
on my list of yuppie-hippie objects I can do without.
Heat milk to 180 degrees.
Cool milk back down to 110 degrees.
Add starter culture (½ cup starter yogurt per ½ gallon of milk).
Transfer yogurt mix to clean containers (large or small – doesn't matter).
Keep yogurt at or around 110 degrees for 7-8 hours.  There are lots of ways to do this, but since I have a warming drawer (talk about yuppie-hippie, huh?) I pressed that into service.
Chill.
To get my yogurt started, I used a little single serving size container of full-fat plain organic yogurt that said "live and active yogurt cultures" on it.  I think it was Nancy's brand.  It was a dollar at the co-op. The ingredients in the yogurt were milk and a bunch of cultures that started with Lactobacillus and Streptococcus.
I heated my milk up to 180 degrees in a large stainless pot, then just let it sit partially covered until it was down to 110.  This took an hour or so, but I had started with a gallon of milk.  Smaller quantities would cool off more quickly.  I stirred the yogurt right into the warm milk, then ladled the mix into clean out-of-the-dishwasher glass pint jars.  I loosely lidded them and moved the jars into my oven warming drawer, which I had set to 110 degrees.
I had a thermometer run into my warming drawer, and I periodically checked to make sure the temperature was staying in range.  I set a timer for 7 hours and when it went off I moved my jars into the fridge.
When the yogurt was cool we tried it and it was great!  The flavor was tangy but not sour, and the texture was pretty smooth.  The one problem I encountered was that the starter yogurt didn't melt into the 110 degree milk as I expected it to.  Instead it stayed clumpy. I have since solved this problem by whisking my starter yogurt with about a cup of 110 degree milk until smooth, and then stirring this mix into the rest of warm milk.
The other refinement I have made is to strain the yogurt as I am ladling it into jars.  I find that the heating to 180 degrees can cause some protein coagulation and I get a smoother product if I strain out any little bits of skin that have formed on the milk.
It's a pretty simple process. Do it once and you'll get it; do it twice and you'll be a pro.  Once you have a batch going, you just need to remember to save your last jar to act as a starter for your next batch.  It seems to keep for at least 3-4 weeks. We've certainly never had a jar go off on us.
I sometimes make 2 gallons at a time in order to turn half into greek-style yogurt (thicker) or yogurt cheese (thickest). After the yogurt sets and cools, I strain it by dumping it into a paper-towel lined strainer set in a large bowl.  I cover it with plastic wrap and after several hours I have really thick yogurt.  If I stir it and let it keep draining overnight, it'll become a nice soft cheese, similar to cream cheese and a great substitute for sour cream.  The drained whey is good for breadmaking and lacto-fermenting veggies.
Making yogurt turned out to be a great addition to our expanding set of suburban homesteading tools.  It's so easy and such a great way to use bargain milk (Organic milk goes on loss-leader sale?  Friend with a goat gift you with a few gallons of goat milk?  Solution: yogurt!) and it tastes better than commercial yogurt.
It's been 5 months since our initial no-spend challenge and we're still making our own yogurt.  In fact, when we embarked on our second no-spend challenge this month, one of the first things I did was make a big double batch of yogurt.  It's a great way to diy, save and bring production back to the home.  I doubt we'd ever go back to store bought.
15